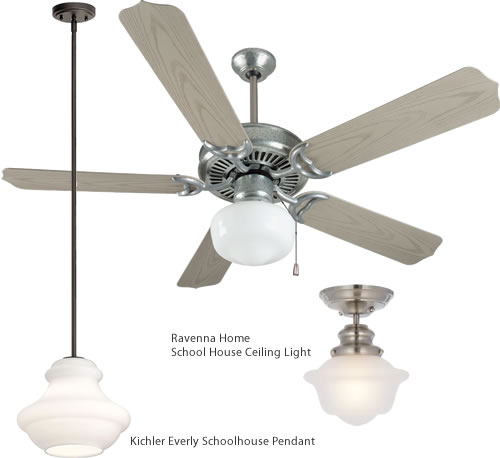 You probably already know what Schoolhouse Lighting looks like. When you shop for lighting, especially a fan light, it is labeled.
What I am going to write next is something I know. And it's one of those things I know that I don't remember where I learned it. So that means that the knowledge is suspect, because it was very likely from a fiction book. A lot of fiction books include facts, but those facts are suspect unless confirmed. We call them factions.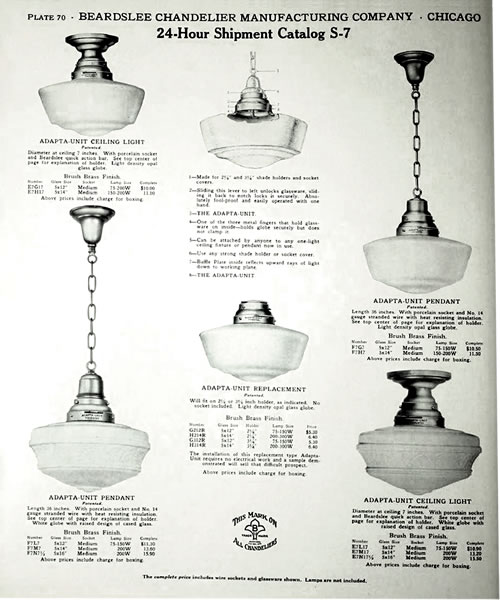 Why is it called Schoolhouse Lighting?
Faction: The shape we call Schoolhouse was one of the first types of shades for electric light. Public buildings like schools had lighting earlier than most people's homes. People's first sight of electric lighting was in schools. This is the lighting they saw.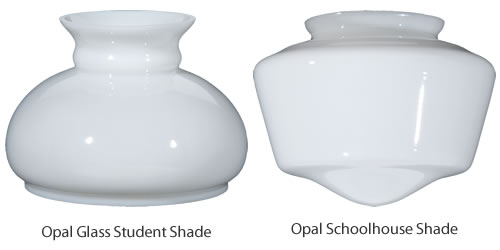 Why was this the shape of Schoolhouse Lighting?
Faction: It was similar to the shape of the diffusers of gas lighting that people were already used to.
Can I support these statements? Sort of.
The Popular Schoolhouse Lighting Look Revisited
September 25, 2009

The classic smooth appearance of an opaque schoolhouse shade brings to life nostalgic memories from the past. Schoolhouse lighting was a staple in public buildings in the mid 20th century when bare light bulbs on cords were first covered by opaque glass shades.

www.barnlight.com/inspiration/that-popular-schoolhouse-look-revisited/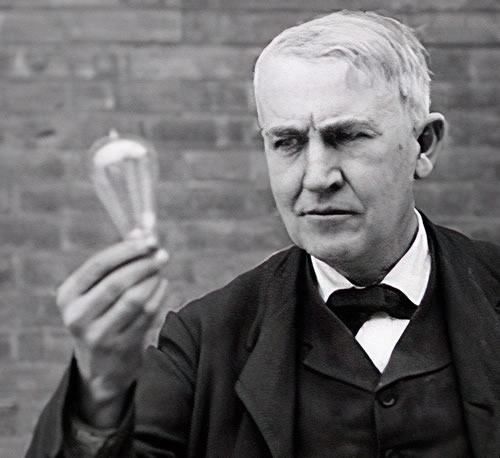 Why did they cover the bare bulbs?
Weren't original light bulbs pretty dim? Wouldn't that make even less light?
Yes and no. They put a diffuser over gas lights and they put out way less light than even the early electric bulbs.
Actually, some early electric lighting was extremely bright. Arc lamps don't use a bulb. Carbon arc lamps use two carbon rods. Voltage passes from one rod to the other, as the rods are moved apart, electricity zaps between them creating carbon vapor and emitting a super bright light. They were used as street lights before light bulbs were invented.
They weren't practical at all in a home, but they were bright.
How Diffusers Work
Or actually how your eye works.
You know when you walk outside or into a bright room, at first you are dazzled, then you get used to it. Your pupil gets smaller, lets in less light, and you can see.
Well that's what your pupil will do when there are very bright spots in a room. Your eyes will react and let in less light. So a bright bare bulb can sometimes make a room feel darker instead of brighter.
Diffusing that light allows your eyes to let in more light, the room seems brighter.
The light we call a Schoolhouse Light is an efficient, inexpensive light, ideal for a school.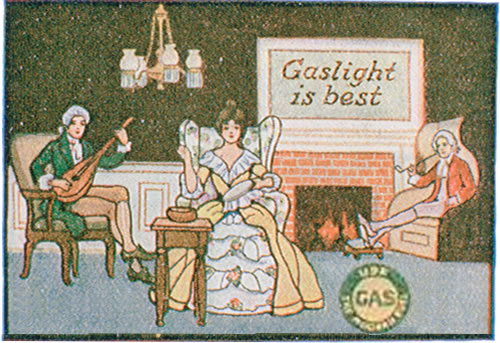 Why do early electric lights look the way they do?
People don't like change.
When people went from gas lighting to electric lighting, most of the electric fixtures looked exactly like gas fixtures. Sometimes they even just put wires into the gas fixtures through the pipe for the gas.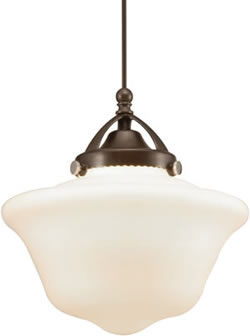 It's similar today. LED lights usually look exactly like the lights that we have always had. Very few homes you go into have changed lighting shape to go to LED.
WAC Milford Quick Connect Early Electric Style LED Pendant

LED
Power: 5.6W
Lumens: 370
Color Temp: 3000K
CRI: 85

A timeless classic featuring clean lines and authentic period perfection, good lighting design is always a welcomed constant. Milford brings the softer side of schoolhouse to a variety of spaces with a milky white glass shade that creates a warm glow, radiating charm and nostalgia for discriminating designers and homeowners.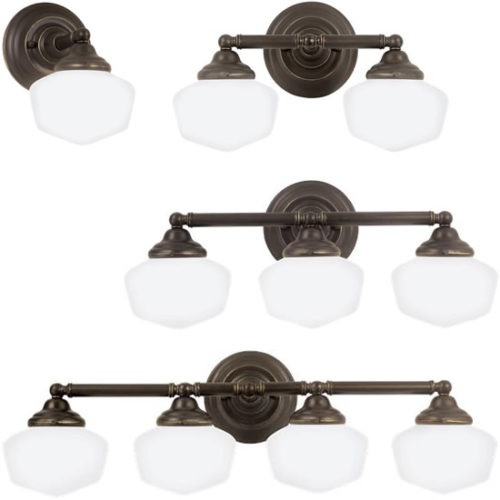 Sea Gull Lighting makes a collection of schoolhouse lighting in chrome, bronze,, brushed nickel and chrome. There are ceiling lights, pendants and bath lights in different sizes.
Sea Gull Academy Schoolhouse Lighting >
Farmhouse Style Bath Lights >
Modern Farmhouse Bath Lighting >
Possini Euro Design makes a collection of schoolhouse pendants, wall sconces, bath lighting and ceiling lights. The Brushed Nickel finish has Clear Glass. The
Black finish has White Glass.
Farmhouse Pendants >
Possini Euro Design Astrid Schoolhouse Collection >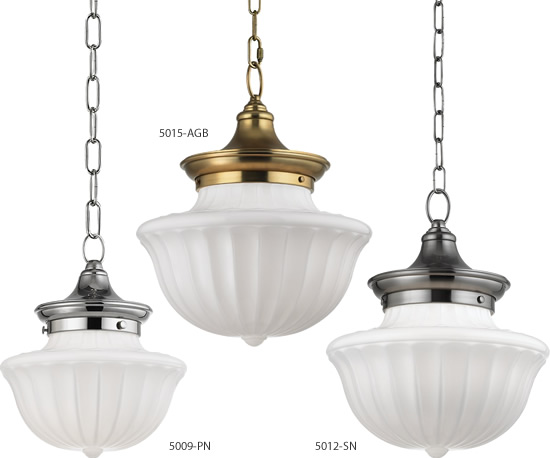 Hudson Valley Lighting Vintage Dutchess School House lighting has beautiful reproduction glass shades.
In the early 1920s, exposed-bulb light fixtures were jettisoned in favor of opaque glass globes that disguised the light source.  These pieces found popularity predominantly in schoolhouses, giving this style its name. Here, we start with a classic schoolhouse glass shape and take it up a notch with lovely fluting that beautifully diffuses the light. The uncomplicated metal work and the iconic glass shape call to mind a time when the world seemed a simpler place.
Hudson Valley Lighting Vintage Dutchess Collection >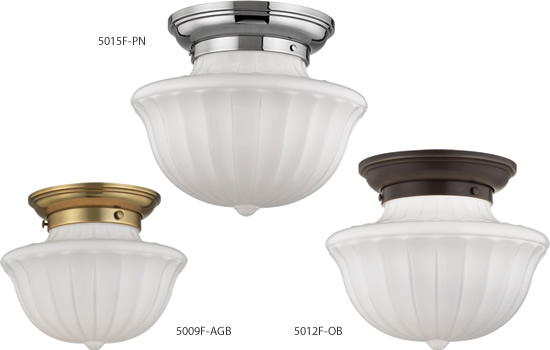 They come in Aged Brass, Old Bronze, Polished Nickel or Satin Nickel finish. There are three different sizes.
Timeline of Lighting History
The article A Timeline of Lighting History has an illustrated timeline of  lighting designs between 1865 and 1970. It starts with the transition from oil-burning forms to gas and kerosene through early electrics and ends with Mid-Century Modern.
www.oldhouseonline.com/interiors-and-decor/timeline-lighting-history
It doesn't cover Schoolhouse Lighting at all, but you can see how all of the designs are still available as electric lighting.
Ceiling Fan Light Kits >
Farmhouse Style Ceiling Lights >
Oversized Blown Glass Pendants >
Kichler Everly Pendants >