Madcap Cottage by Port 68 Oh, Pagoda Chandelier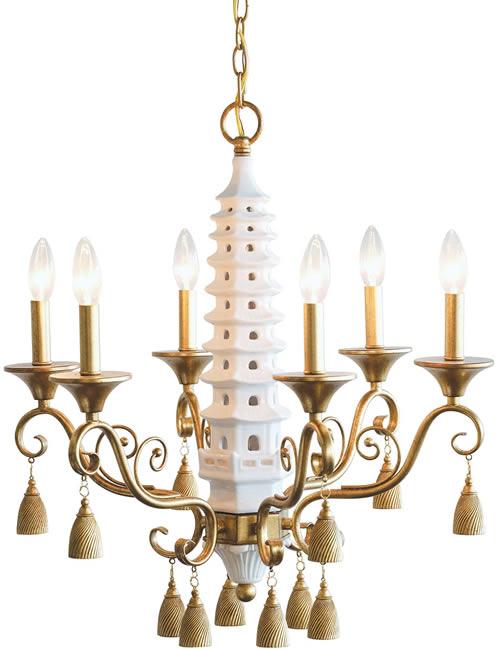 This chandelier showed up in my Pinterest feed. The link didn't go anywhere, but after some googling and clicking around I found out is the the Oh, Pagoda Chandelier from Madcap Cottage by Port 68.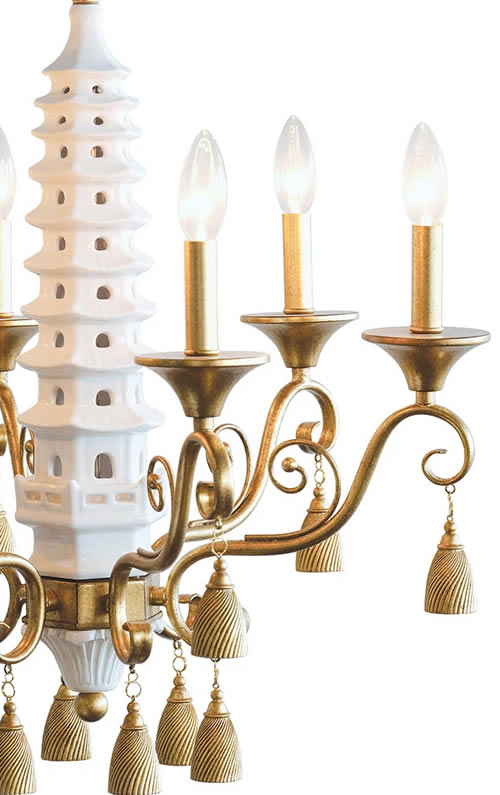 The center column is a porcelain pagoda. The metal has a gold painted finish.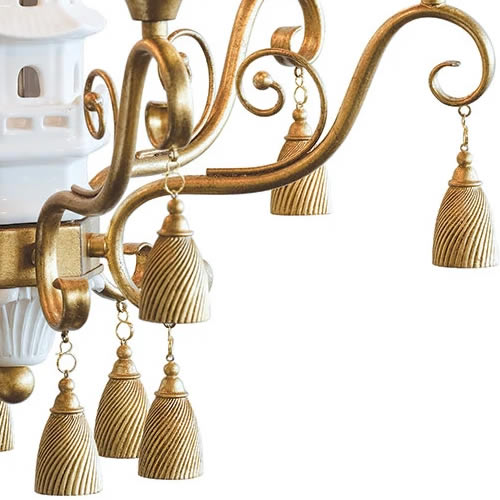 The tassels are polystone resin and metal. (Which is good. The parts that hang like that on Capodimonte chandeliers get chipped and broken.)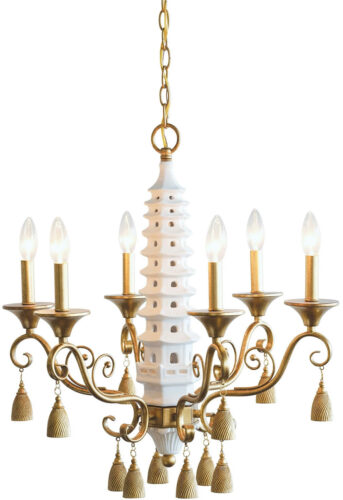 The first place I found it for sale is on the Port 68 website.
Port 68 only sells to designers. You have to buy things on their website through a local sales rep, showroom, or retailer.
I found it available to us on the One Kings Lane website.
Oh, Pagoda Chandelier on One Kings Lane
Madcap Cottage
The Port 68 product description says that the Oh, Pagoda chandelier is "inspired by an antique chandelier that hangs in the 'house of bedlam', which is Madcap Cottage's manse in High Point, North Carolina."
I found an article about Madcap Cottage on the Our State Magazine website. The article wasn't dated, so I don't know how current the information is.
The article is about Jason Nixon and John Loecke turning an old drugstore in High Point, NC into Madcap Cottage.
…unlike many of downtown High Point's delectable-looking but off-limits showrooms, any ol' layman or passerby can enter Madcap's happy world.

Everything at Madcap Cottage is for sale every week, and not just "to the trade."

What's Old is New Again at Madcap Cottage in High Point
Our State Magazine
The article clicked through to the Madcap Cottage website. That's where I got a better description of the chandelier.
The article gives the address as 128 Church Avenue, High Point, NC 27262. That's not even three hours from my house!
Google maps shows that address as the High Point Yoga School,  "located in the historic McLarty Drug building."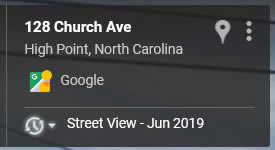 I clicked the little clock to go back in time.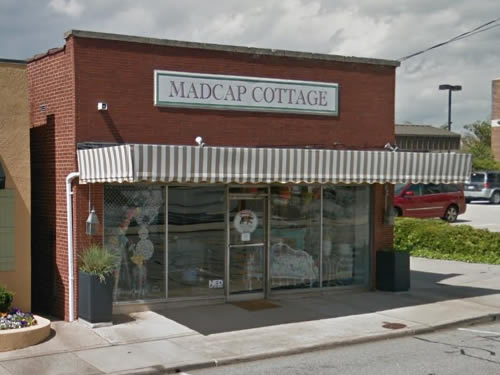 Madcap Cottage was there on April 2016. It was still there in November when the Google Street View Car next drove by, but now there is a yoga studio.
So, evidently, Madcap Cottage has moved. I found a post on the Madcap Cottage website that says, "Madcap Cottage, a historic, 1840s-era former schoolhouse smack in the center of New York's charming, bucolic Catskill Mountains…"
Well, that's too far to drive on a whim. And they aren't there anymore, either. But, you can see lots of photos. Adorable!
House Tour: Welcome to the Original Madcap Cottage!
There is no address that I can find for an actual store I can explore.
Port 68
Madcap Cottage by Port 68… What is Port 68? The website says "to the trade" only. But, you can buy Port 68 products retail on a lot of different websites.
And Madcap Cottage shows up, too. Cheerful, bright and fun!