Picture Lighting: The Basics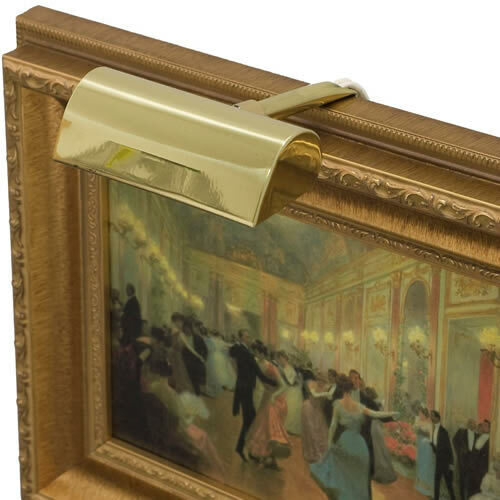 Picture lights are ideal to highlight artwork or other special objects. It is functional and decorative.
Traditional Picture Lighting
Traditional picture lighting highlights a single picture. Used discerningly, they can provide intimate lighting to a room.
A traditional picture light is mounted on the frame or above the artwork on the wall. A picture light can be used for each piece of artwork.
They have a shape that casts light down toward the painting. You see the lighted painting, but you don't see the bulb or the source of the light.
Some picture lights are decorative. Others are unobtrusive, barely noticeable.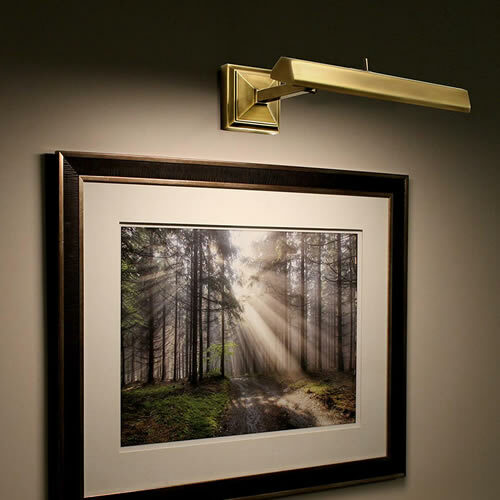 Much traditional picture lighting uses medium base tube shaped bulbs that screw in. These bulbs are now available in LED. Using an LED version can give you the same amount of light without heat or UV radiation.  The bulbs are available clear or frosted. Frosted bulbs diffuse the light, lighting the picture more evenly.
Many picture lights are now available with integrated LED. There is no bulb to replaceable. The fixture should last a long time. A 50,000 hour lifetime is pretty typical. That is equivalent to leaving the light on day and night for 5.7 years. But when it finally stops lighting, you have to replace the whole fixture.
Traditional Wide Picture Lights
Light Angle
A picture light doesn't have to aim down to light the picture. In some applications a traditional picture light may be attached below a painting aiming up.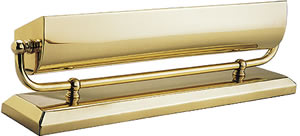 Portable Picture Lights
Portable picture lights don't have to hang on a wall. Just plug on in and aim it at your artwork. This is ideal if you are renting or if you like to change up your look frequently.
The mantel picture light above sits on a fireplace mantel or shelf and casts light up.
Traditional Wide Picture Lights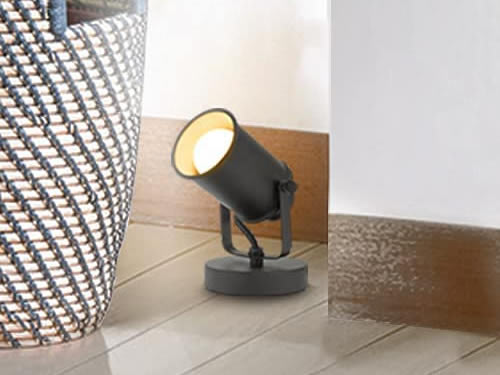 A plug-in spotlight can aim at artwork from an inconspicuous spot even across the room.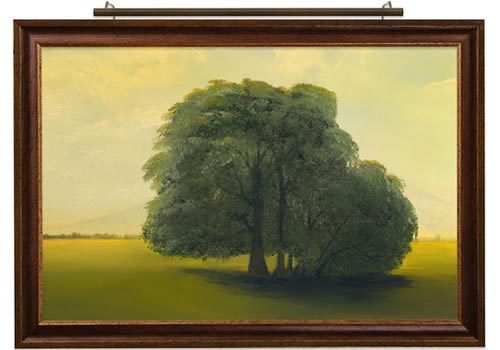 Slimline Picture Lights
Slimline picture lights are less obvious. They have an elegant, more modern look. These picture lights are too slim to fit a medium base tube bulb. They used to use xenon festoon bulbs. Now they nearly all use LEDs.
Slimline and Modern Wide Picture Lights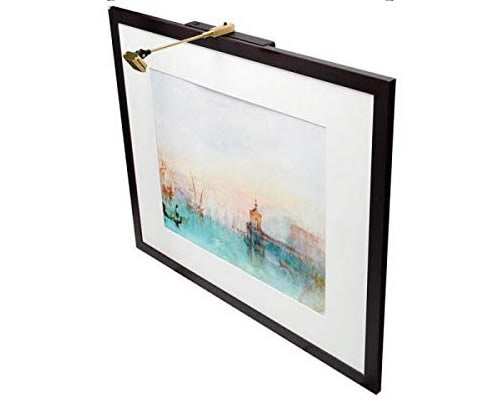 Compact and Mini Picture Lights
These small lights are a very understated way to light a picture.
Some compact picture lights use MR11 or MR16 bulbs. You can choose these as Spots, Floods, and Wide Floods to light smaller or larger artwork.
Newer versions use LEDs. Some LED fixtures are available in different beam spread. Others have adjustable beam spread.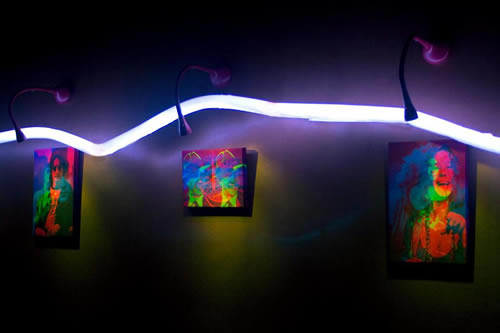 Some mini picture lights have a goose neck to flex and bend to the right angle to light the picture.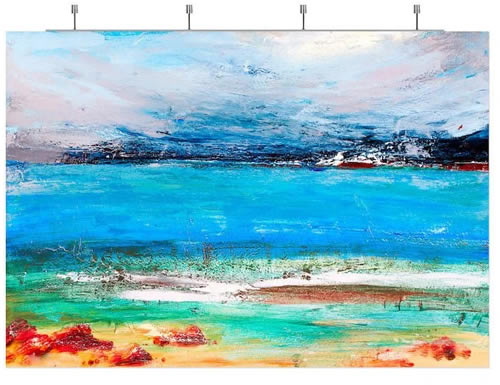 You can use more than one mini picture light to illuminate a large picture.
Compact and Mini Picture Lights
Plug In, Hard Wire or Battery
Picture lights are available hardwired, to permanently install in a junction box. Plug-in versions have a cord and plug, with wires running behind the picture to an outlet.
You can also buy battery powered picture lights. LEDs use very little power, so they last longer than they used to. Better versions are rechargeable. Battery powered picture lights are ideal for an art show.
Battery Operated Picture Lights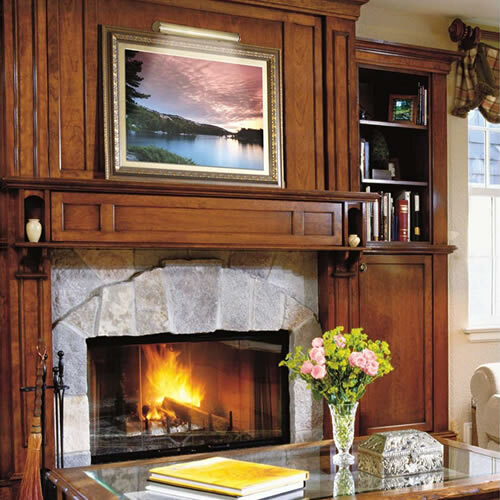 What is the best size for a traditional picture light?
The best picture light size depends on the picture orientation. If the picture is in a portrait orientation, taller than it is wide, choose a picture light that is about have the width of the picture, not including the frame.
If the picture has a landscape orientation, wider than it is high, a picture light that is a third to a half the size of the picture will work best.
WAC Lighting suggests;
Eight to 14 inches wide: Get a 4 1/2-inch fixture.
Twelve to 18 inches wide: Get a 5 1/2-inch fixture.
Sixteen to 24 inches wide: Get a 7- or 9-inch fixture.
Twenty-five to 37 inches wide: Get a 14 1/2- or 16-inch fixture.
More than 35 inches wide: Get a 30-inch light.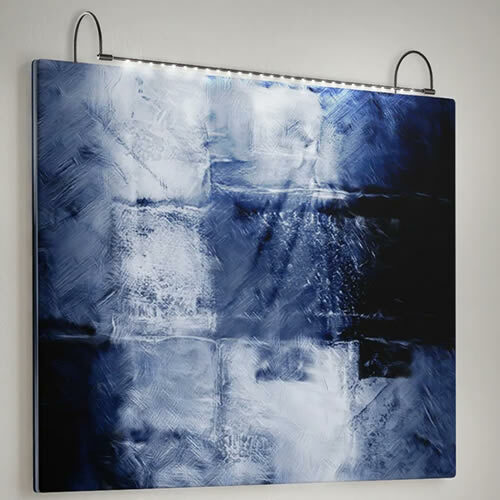 For very large paintings use a single long picture light. Or try two lights that stand off the wall further. Aim them so that the beams cross, creating good illumination for the whole piece.
How high should a picture light be mounted?
If you are using a traditional picture light, it should be mounted the same distance above the picture as the standoff extension. For example, a 6 inch standoff should be 6 inches above your artwork. Many picture lights are adjustable. Some telescope, so you can pull them out or push them in until the light is just right.
Picture Lighting: Beyond the Basics >