Picture Lighting: Beyond the Basics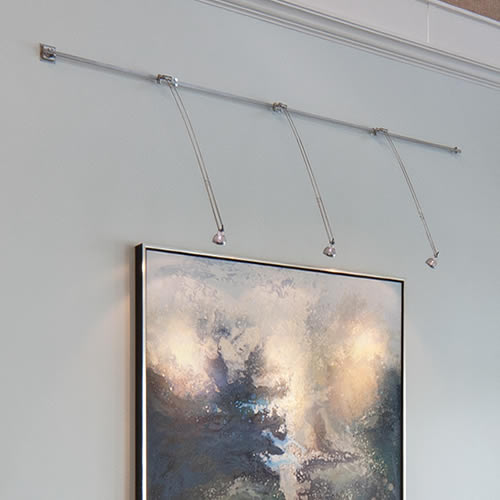 Track lighting, monorail lighting, ceiling and wall mounted spotlights and recessed lighting are all good options for picture lighting. STAS Powered Picture Rail hangs artwork and powers picture lights.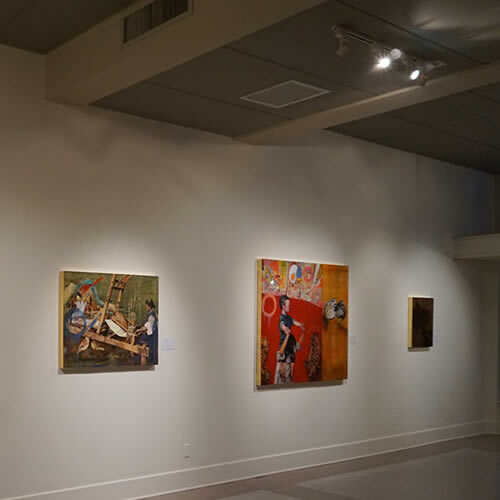 Track Lighting or Monorail Lighting
Track lighting and monorail systems are great if you want to light more than one picture. They have a clean, minimalist look and are excellent for picture lighting.
A lot of museums and art galleries use track or monorail. They are up and out of the way, so the focus is on the art, not the lighting.
You can add and remove track heads and move them to put light where you want it.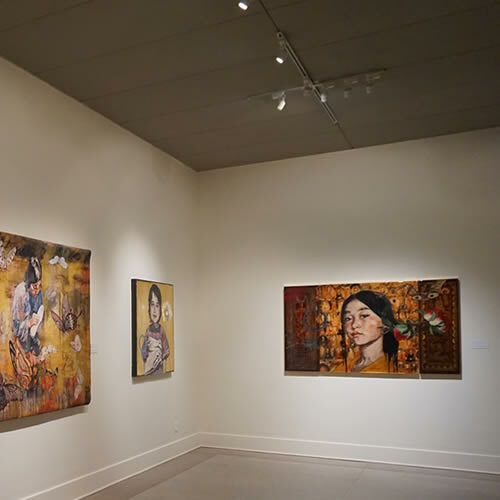 Above is the lighting at Grace Museum in Abilene, Texas. Below is a closeup of the track on the ceiling.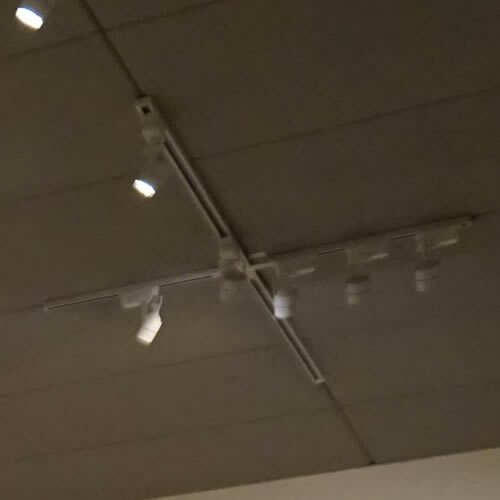 Lights can be placed anywhere on the tracks to aim at whatever is currently displayed.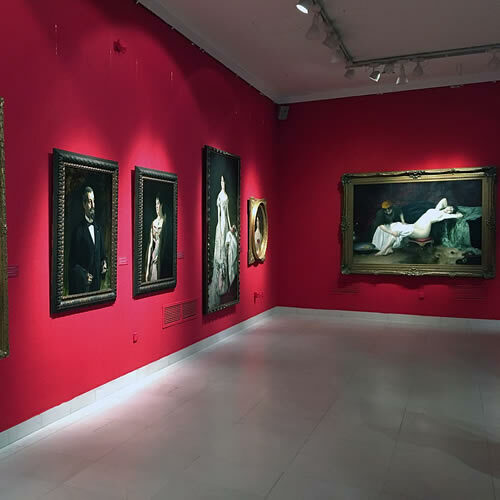 Track heads are adjustable and available with different beam spreads. The gallery above has spotlights aiming at this display.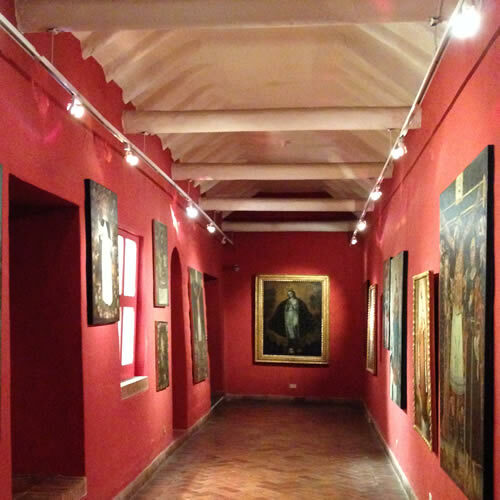 This museum uses track lighting that is extended down from the ceiling to get a better angle in this small space.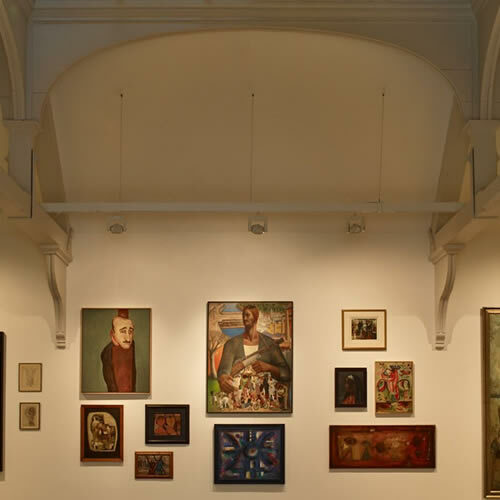 You can change your lighting any time you change what you display. This gallery washes the wall with three flood track lights.
Monorail for Track Lighting
Monorail is a more modern look, but is just as flexible as track lighting.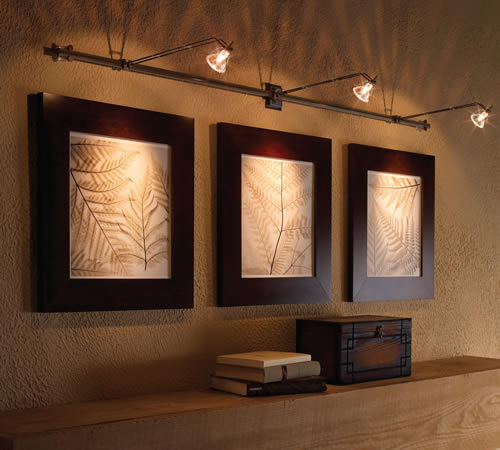 Wall monorail is mounted directly to the wall above the lighting similar to other picture lighting. Lights can be added, removed and adjusted.
Recessed Lighting for Picture Lighting
Recessed is the most unobtrusive lighting and is available with more control than you might think.
Recessed spot lighting can be used to light a single piece of artwork. Recessed flood lighting can light a gallery wall. Both provide indirect lighting for the rest of the room.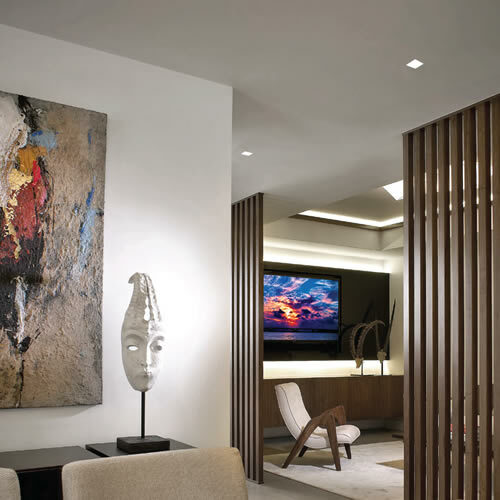 Recessed spotlights can be used to pick out specific art pieces.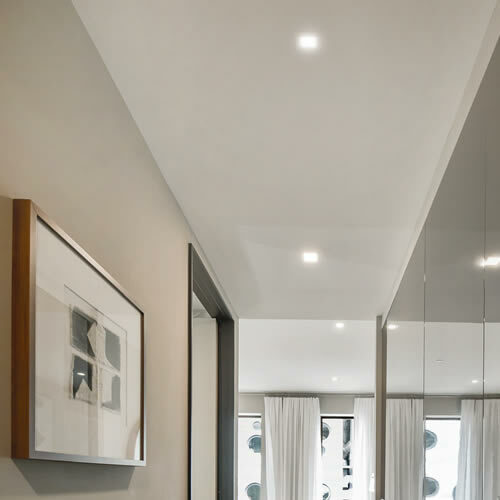 Recessed wall washers can illuminate a wall with artwork.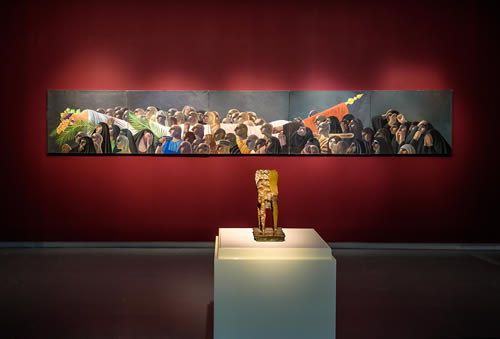 This museum uses five lights for this single very long piece. Two more lights cross over the sculpture.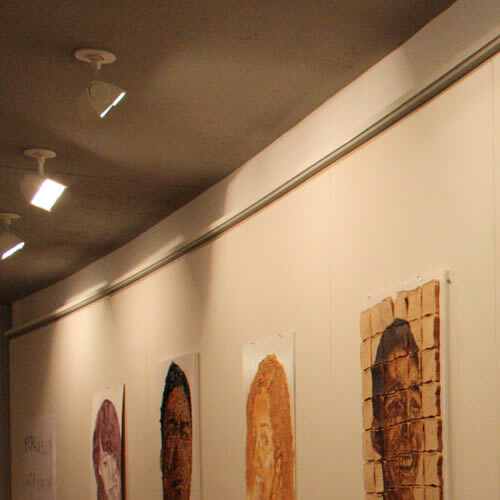 Ceiling or Wall Surface Mounted Spotlights
Surface mounted spotlights are available as single lights or as fixed monorail.
They can be mounted on the wall above artwork, if they are flexible enough to twist and aim at the picture, similar to a standard picture light.
Spotlights can be mounted on the ceiling to spotlight each piece or wash the wall. Kichler Hatteras Bay™ 4 Light Halogen Fixed Rail Light has 90 degree vertical rotation and 330 degree horizontal rotation. This light can be installed on the wall or ceiling to focus light in many directions.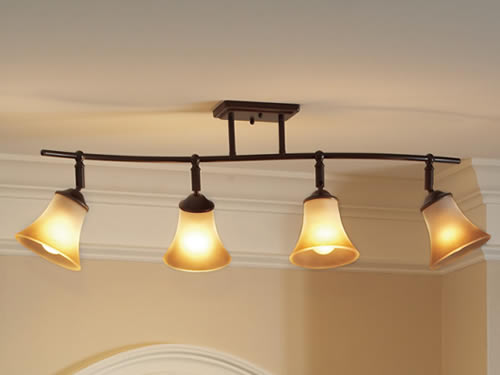 They aren't as adjustable as track lighting, but single and multiple spotlights that can be aimed are an attractive source of light.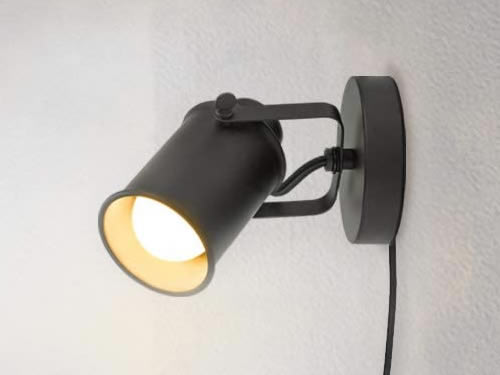 Spotlight wall lights can be used to light artwork.
Wall or Ceiling Spotlights and Spotlight Clusters
Wall or Ceiling Fixed Monorail Spotlights
Brightness and Angle
Lighting for artwork should be about three times brighter than the rest of the room's lighting.
Lighting angled at 30 degrees is usually best to reduce glare. This is especially important if the artwork is behind glass. If the light is at the wrong angle, the reflection off the glass is more obvious than the picture behind it. The correct angle reduces reflection and glare.
If the picture is very big, you might need to shine the light at closer to a 35 degree angle, aiming more toward the picture.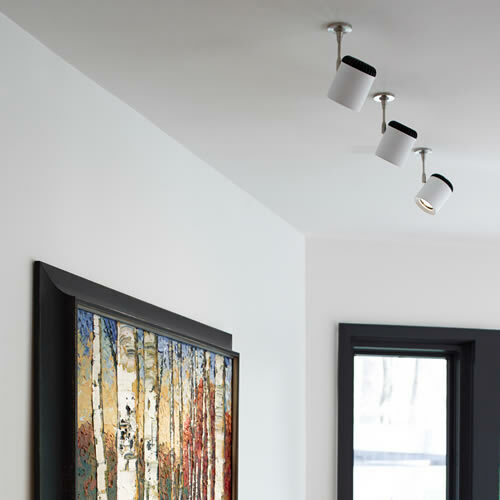 If the painting has texture you want to emphasize, shine the light at closer to a 25 degree angle. This highlights the surface texture.
Three monopoints mounted to the ceiling wash this large painting. They are angled to show the painting's texture.
How to Position Artwork Lighting

The light fixture's angle significantly impacts the display. Lighting artwork at a 10-degree angle from above or below essentially points the illumination source down at the art, which will create significant shadows that obscure it. Going back too far, around 45 degrees, will have the opposite impact — you risk creating a glare as the light shines on the art too directly.

Instead, use a 30-degree angle to minimize glare. If you're lighting an oil painting or art with texture, subtract 5 degrees from the angle. You'll accentuate the texture by adding slight shadows but avoid anything extreme that will obscure the art. For larger pieces, angle the light about 35 degrees to bring it back and illuminate more of the artwork.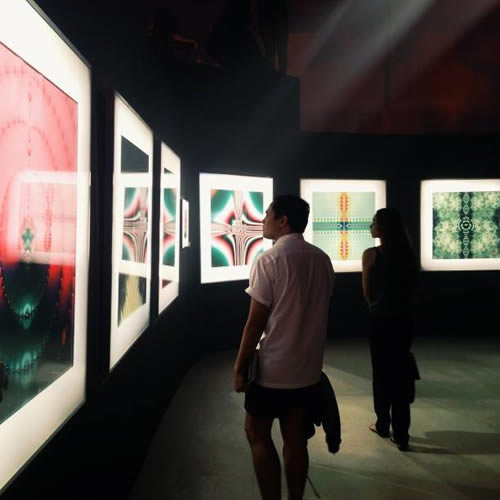 Beam Spread
If your lighting uses MR, R or Par lamps,you can change the focus of your light by changing your bulb. These bulbs are available as Spots, Floods, and Wide Floods. Pick the degree of beam spread that works best for your application. The narrower the beam spread, the brighter and narrower the light will be and the farther the light will travel without losing brightness. The higher the beam spread, the more the light spreads out.
You can buy a spread lens that fits over a bulb that spreads light even more.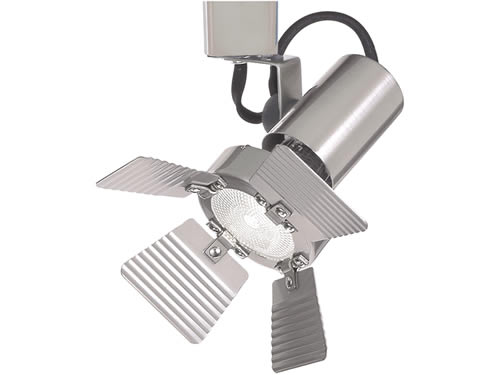 Barndoor and Framing Projector Accessories
Barndoor accessories give you some lighting control. They cut off some of the light to light a more square area.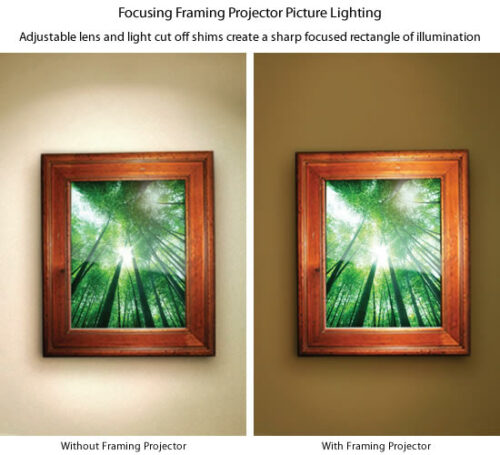 Framing Projectors use focusing lenses and metal shims to light just a picture and not the wall. The shims create a square or rectangular light area. The lenses allow you to widen or narrow the beam.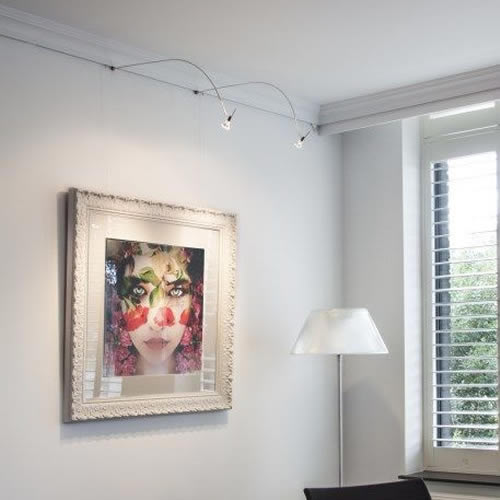 Powered Picture Rail Picture Light Systems
STAS makes powered picture rail that hangs artwork and powers picture lights.
Picture Lighting: The Basics >
Find Out More