Madcap Cottage Oh, Pagoda Chandelier
I love the Oh, Pagoda Chandelier from Madcap Cottage by Port 68. I pinned it when I first saw it and added a post about it. Now Pinterest just showed me it comes in other colors.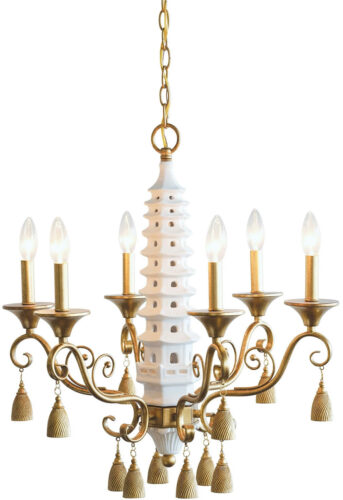 This is the original color.  The frame, tassel pendants, candle sleeves, bobeches (the cups under the candles), chain and canopy are all finished in gold. The center column is a pagoda in bright gloss white glazed porcelain material.
Madcap Cottage by Port 68 Oh, Pagoda Chandelier >
6 x 60 watt Candelabra bulbs

Fixture: 23″ wide x 24″ high
Overall up to 96″ high with included 72" Chain

Part of the Madcap Cottage for PORT 68 collection, "Oh, Pagoda Chandelier" features 6 arms which include 12 tassels. The chandelier is complete with a 6-foot chain and ceiling cap for easy hanging.
Now the Oh, Pagoda chandelier comes with the center column in three other colors; Green, Blue or Celadon glazed ceramic.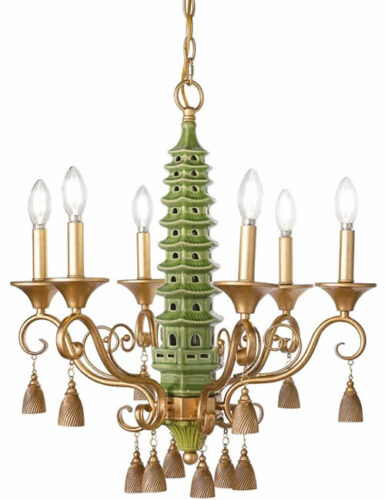 This variation has the green column.
Oh, Pagoda is the wonderfully whimsical fixture that is inspired by an antique chandelier that hangs in the 'house of bedlam', which is Madcap Cottage's manse in High Point, North Carolina.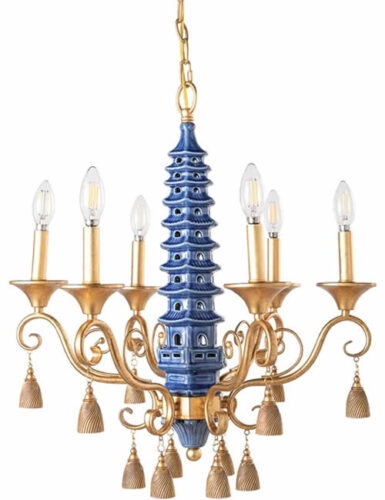 This is the blue glazed center column.
The frame is made of steel. The center column is porcelain. The tassels are polystone resin.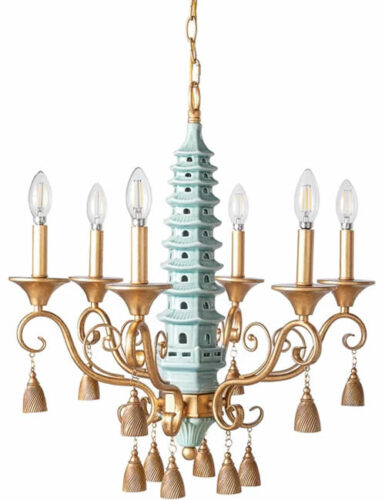 This version has a Celadon glazed green porcelain. Celadon is a traditional Chinese blue green ceramic glaze. It dates back to the 10th century.
To create this ware, artisans apply a wash of slip (liquefied clay), which contains a high proportion of iron, to the body of the stoneware before glazing. The iron interacts with the glaze during the firing and colours it one of various shades of green.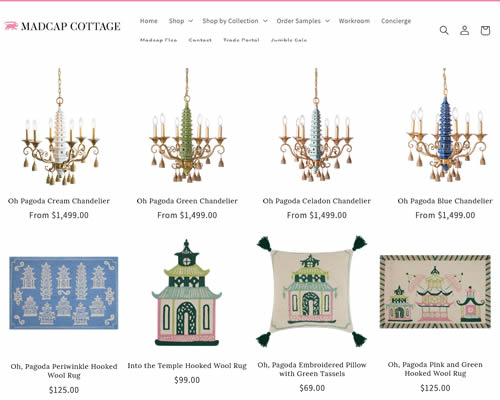 I wrote about the fun chinoiserie rugs from Madcap Cottage earlier. I found them on Amazon.
Madcap Cottage Chinoiserie Area Rugs and Runners >
The Oh, Pagoda! chandelier is distributed by Port 68.  Port 68 was founded by industry veterans Michael Yip and ARTS Award-winning designer Mark Abrams.
PORT 68 is a colorful collection of designer classics in traditional and modern styles of lighting, accessories, wall decor, pendants and accent furniture founded by industry veterans Michael Yip and designer Mark Abrams. PORT 68 includes the lighting and accessory collections of Scalamandre Maison, Madcap Cottage and Williamsburg. The licensed collections are inspired by the iconic patterns and wallpaper from America's foremost fabric house Scalamandre, the whimsy, color and love of pattern from the Madcap gents and the "Tend Meets Tradition" collection celebrating the history and museums of Colonial Williamsburg. PORT 68 is also collaborating with exclusive designs with North Carolina artist Jill Seale with original "one of a kind" silk marbled scarves in our framed artwork collection and fabrics for our accent upholstery range.