Danbury Mint Spices of the World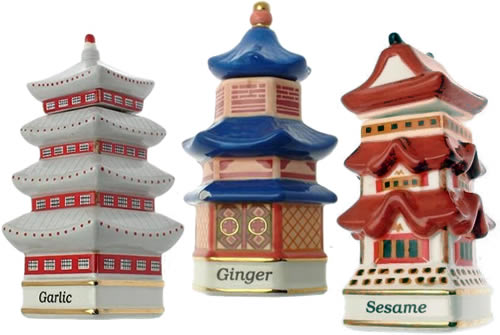 Danbury Mint made the Spices of the World little spice containers in the 1990s. There are three that are shaped like little pagodas.
They are still available. You can find them on eBay and on Amazon.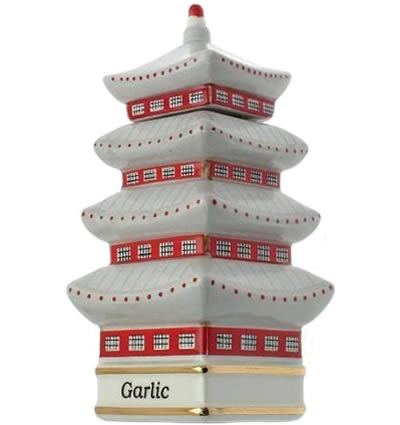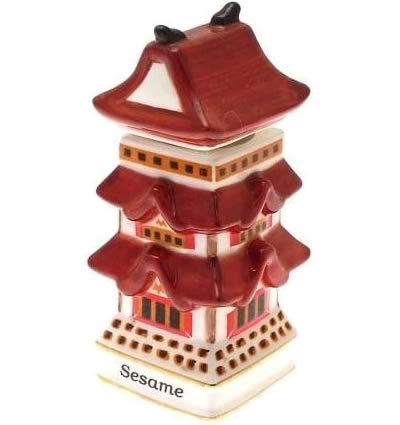 The containers are shaped like a little building that reflects where the spice comes from.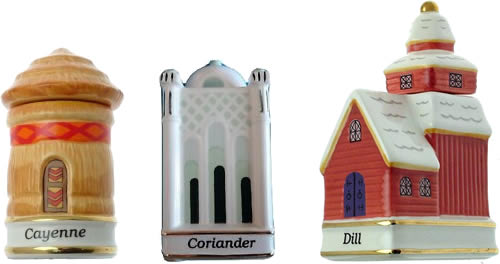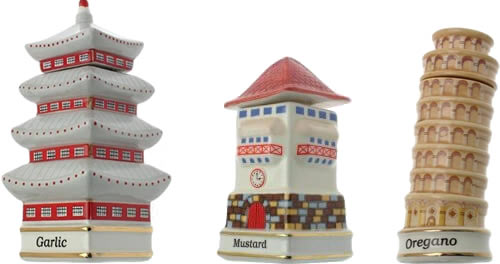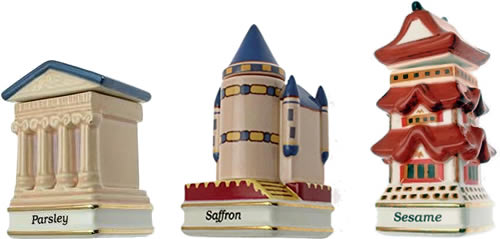 There are 24 in all.
Basil Russia's St Basil
Bay Leaf Turkey's St Sophia
Cayenne African Hut
Chili Mexican Mayan Pyramid
Chives Swiss Chalet
Cinnamon Sri Lanka
Cloves Irish Castle Tower
Coriander Moroccan Mosque
Curry Taj Mahal
Dill Denmark Danish Church
Garlic Korean Temple
Ginger Chinese Pavilion
Mustard German Clock Tower
Nutmeg Dutch Windmill
Oregano Italy's Tower Of Pisa
Paprika Hungarian Parliment
Parsley Greece's Parthenon
Pepper Thailand Thai Temple
Rosemary Egyptian Sphinx
Saffron Spain's Alcazar Castle
Sage White House
Sesame Japanese Pagoda
Tarragon France's Eiffel Tower
Thyme England's Big Ben
The jars don't have shakers. The roof is a lid that comes off.
There was also a wood display rack designed to hold all the little spice containers.