Monorail Track Lighting – The Basics
Flex Track or Monorail Lighting Systems are a type of Track Lighting. A continuous rail conducts electricity from a single source. Pendants or fixtures may be attached anywhere along this track. There are a lot of choices in track, fixtures and pendants.
Track lighting fixtures for standard track lighting and monorail are available in incandescent, fluorescent, halogen and LED. Fixture extensions can be added to bring a fixture lower. Line voltage fixtures must be used on line voltage track. Low voltage fixtures with incorporated transformers may be used on line voltage track as well. Low voltage track uses low voltage fixtures.
A wide variety of filters, lenses, shades, shields and accessories are available.
Monorail Kits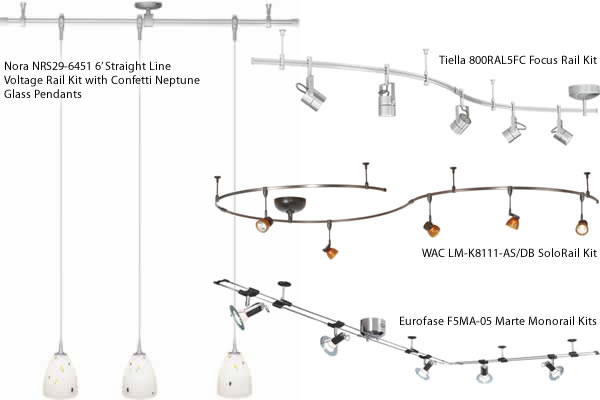 Complete MonoRail Kits
If you are looking for a simple layout, a kit might work for you. Monorail kits have all the hardware you need for most basic layouts and include pendants or fixtures.
You may be able to customize these kits with additional components to join multiple kits, drop them further from the ceiling or suspend them from airplane cable.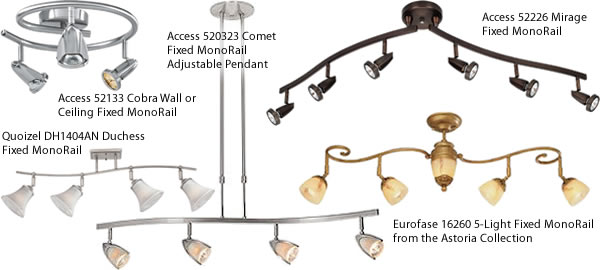 Fixed Monorail
Fixed Monorail gives somewhat the look of monorail, but is installed like a standard light fixture.

Monorail Starter Kits
Customize these kits with your choice of pendants and heads. If you are looking for a basic layout, these kits will work for you. Kits have all of the hardware you need. Then you make them your own with your choice of a wide variety of pendants or fixtures. Eurofase Monorail, Besa Monorail, Bruck Enzis Monorail, Bruck Flight, LBL Monorail, Tech Lighting MonoRail and WAC Solorail Monorail have kits available.
Monorail Starter Kits >
Monorail Chandelier Kits>
Wall Monorail Starter Kits >
Custom Monorail Options
Single Circuit or 2-Circuit
2-Circuit MonoRail allows individual fixtures to be independently switched or dimmed. Bruck Flex-Line Monorail Track, LBL Monorail, Tech Lighting MonoRail, WAC DuoRail Monorail and FlexRail 2 120V Monorail are available 2-Circuit.
12 Volt, 24 Volt & 120 Volt MonoRail
Usually Monorail is a low voltage 12 Volt system. Besa, LBL, Tech Lighting and WAC Lighting Monorail is available as 12 volt or 24 volt. WAC Lighting and Tech Lighting both offer a line voltage 120 Volt version of Monorail.
Low Voltage Monorail Systems >
Line Voltage Monorail Systems >
Mounting
Some systems offer more mounting options than others. Mounting is available for flat ceilings, angled, vaulted ceilings or dropped T-grid ceilings. Cables allow the monorail to be suspended from the ceiling. Some systems allow you to attach or cantilever monorail from the wall.
Connecting
Most Monorail systems have live and isolating connectors. Dead-End isolating connectors allow you to switch and dim sections of rail separately. They also allow you to have more lights on track on separate circuits without exceed the rating on the system. Some systems have special connectors to allow monorail to make sharp angles or join in a "T" or "X". Different systems offer different standoffs and connectors.