3-Tier Pagoda Outdoor Umbrellas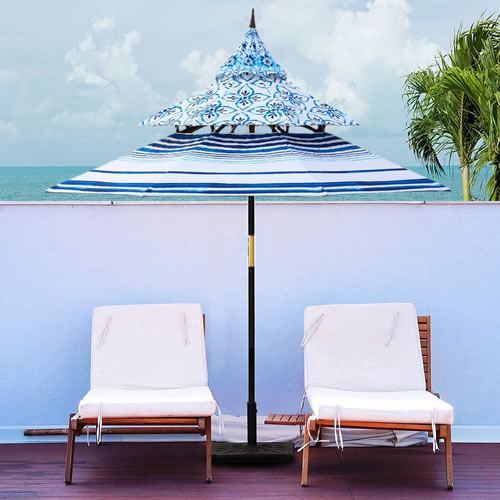 Even if you have a covered porch, an umbrella on a patio, deck or even the yard creates a wonderful summer oasis.
We picked up some Adirondack chairs for the back yard and I am looking for an umbrella to put over them. This Pagoda umbrella is absolutely wonderful!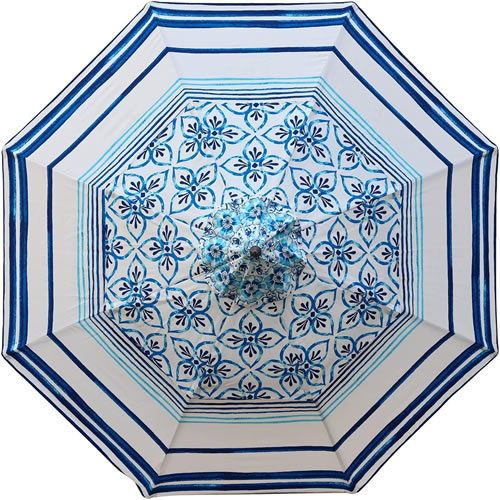 The fabric is 100% Polyester. It is water resistant with UV protection.  The print is rated to be color fast for 400 hours.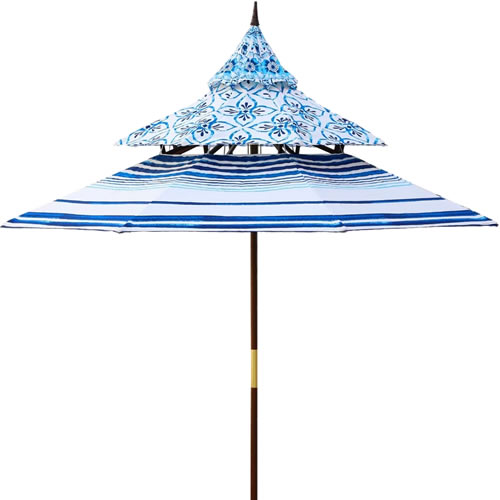 The umbrella frame is solid eucalyptus wood. It is sourced from Uruguay, FSC-Certified.

The pole diameter is 1.5″ to fit in a 2″ hole in a table or support.
Why tiers?
Tiers make the umbrellas look like a pagoda, but they serve a purpose, too. The tiers leave vent space so the umbrellas are less likely to blow away. They also allow heat to escape, creating a slight breeze under the right conditions.
Aoodor 9ft Umbrella Outdoor Pagoda Patio Table Market Umbrella 3 Tier with Eucalyptus Wooden Frame – Floral Blue White Porcelain Color (Umbrella Only)

Aoodor 3 tier patio umbrella provides substantial air circulation which is much more stable than 1 or 2 tier umbrellas under windy conditions. In the summer months, the breathable 3 tier roof allows heat to pass through quickly. Wind resistance index: Levels 3-4.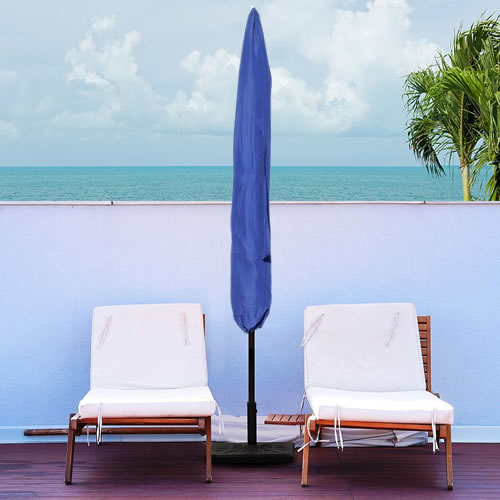 It comes with a 100% Polyester carry bag. You can cover the umbrella when not in use to prolong the lifespan.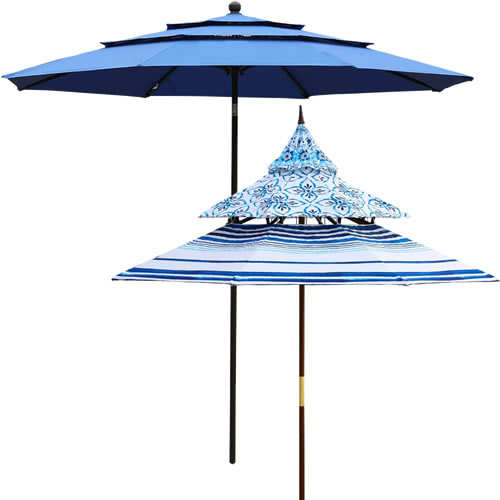 The company also makes other 3-tier umbrellas. The wider 10′ umbrellas have a crank to open and close the umbrella. The pagoda umbrella uses a double pulley system.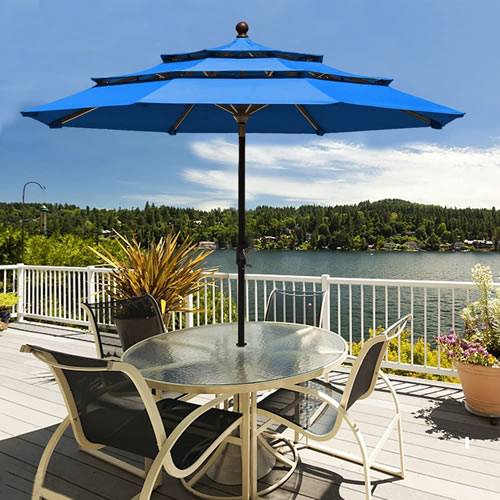 Elite Shade makes this 9-foot wide 3-tier umbrella in 22 different colors that are warrantied not to fade for 5 years.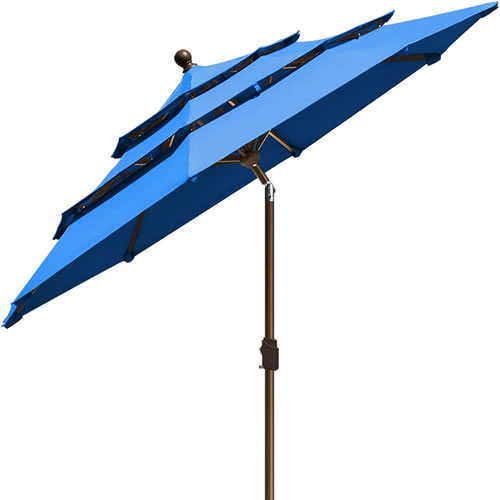 The Royal Blue EliteShade 3-Tier Sunbrella tilts. It can be adjusted to better block breeze or sun.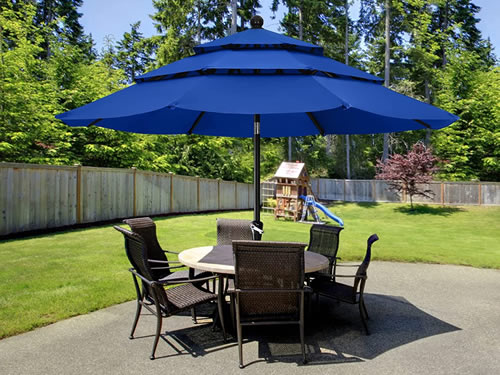 Patio Umbrellas from ABC Canopy are available 7.5-feet, 9-feet, 10-feet and 11-feet wide. The frame is made from aluminum with a powder coat finish.
They crank open and closed and have push button tilt.
They are available in 13 different colors and three striped prints.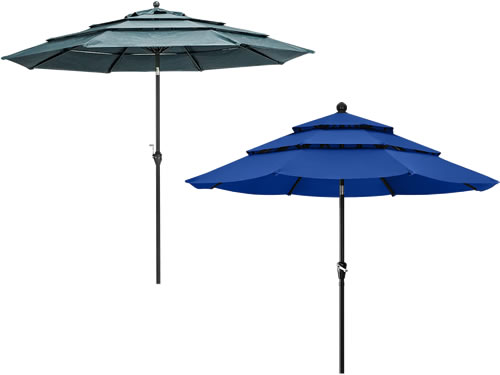 The FrenzyBird 10-Foot Patio Umbrella comes in Duck Blue and Light Grey. The frame is aluminum and the shade is heavy duty polyester that provides 98% UV protection. It cranks up and has push-button tilt.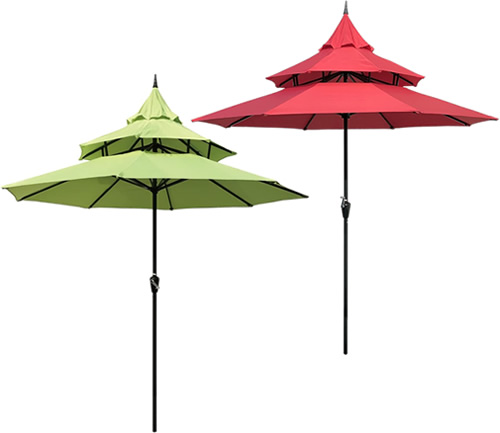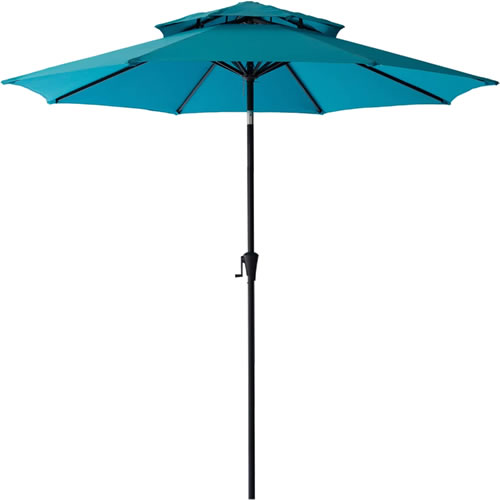 There are many more umbrellas available with two tiers. C-Hopetree makes some very reasonably priced variations with polyester fabric on an aluminum frame. There are 6 colors available, including Navy and this beautiful Aqua Blue.