Vern Yip Blue and White Medallions and Lemons Kitchen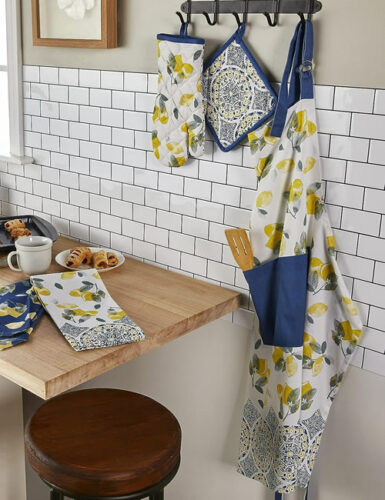 The Lemon Medallion Kitchen Collection from SKL Home has sketches of lemons in warm yellow with leaves and lemon blossoms on white or blue with blue, white and yellow medallions.
Taste of Tuscany

The Lemon Medallion collection gives you a taste of Tuscany's fresh, fruitful flavor without ever leaving home.

A vibrant lemon pattern, unique features, and recycled elements make this collection a perfect fit for your kitchen.
The set includes a Pump Soap Dispenser with a pocket to hold a sponge or scrubby, a kitchen rug, 2 dish towels, an apron, an oven mitt, and a pot holder.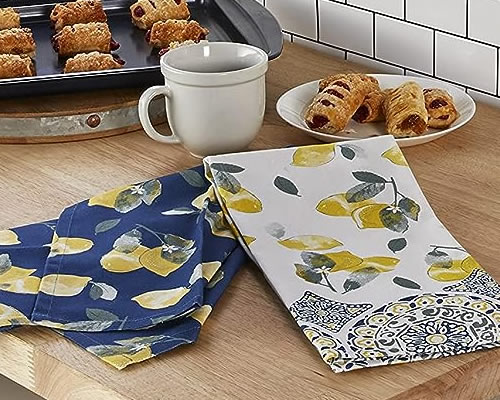 The kitchen towels are absorbent cotton.
SKL Home Lemon Medallion Dish Towel Set

Two-piece set features coordinating designs that can be used together or separately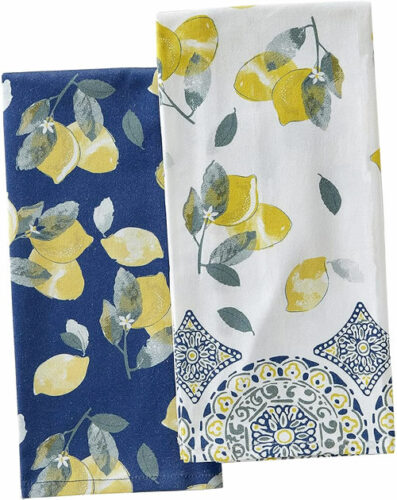 The colors will work with a variety of shades of blue or yellow.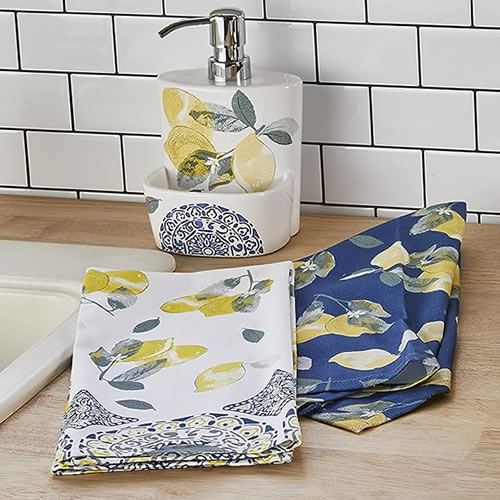 The towels coordinate beautifully with each other and the other pieces in the collection.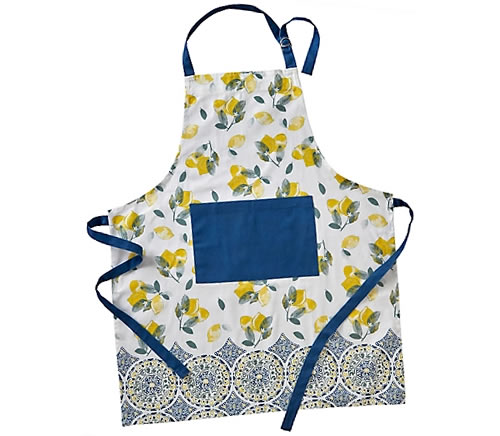 The apron is beautiful, but made to be used.
SKL Home Lemon Medallion Apron

Canvas design features a front pocket for added convenience while baking/cooking

100% Cotton
28″ x 33″
Custom Fit

Durable canvas keeps you covered in the kitchen, while an adjustable O-ring and waist tie provide a custom fit.
It has a large front pocket adjustable neck and ties.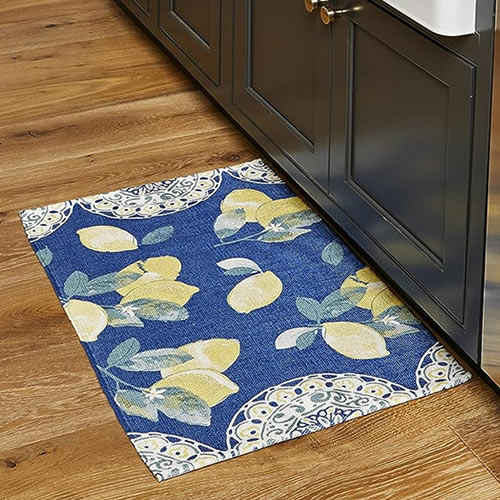 The rug is constructed from recycled materials.
Conscious Kitchen

Help the environment with our Lemon Medallion rug. This design is made of recycled PET yarn from plastic bottles, reducing the outcome of waste.
It has the same pattern as one of the dish towels, bigger.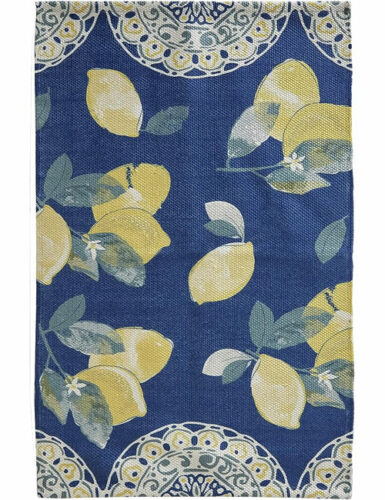 SKL Home Lemon Medallion Kitchen Rug

Durable design with a bold pattern and recycled construction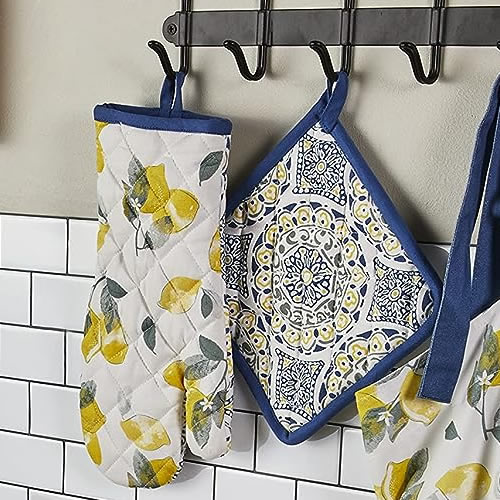 The pot holder and oven mitt have the same print as the apron.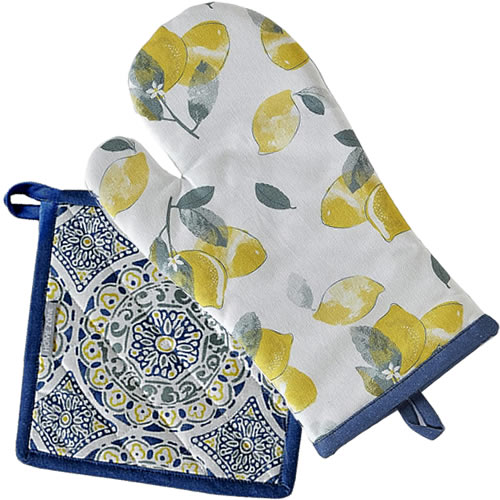 SKL Home Lemon Medallion Oven Mitt & Pot Holder Set

Two-piece set features reversible patterns to customize your look

100% Cotton
Oven Mitt: 7″ x 13″
Pot Holder: 8″ x 8″
One side has the lemons. The other side has the medallion print.
You can display them with just the lemon side showing.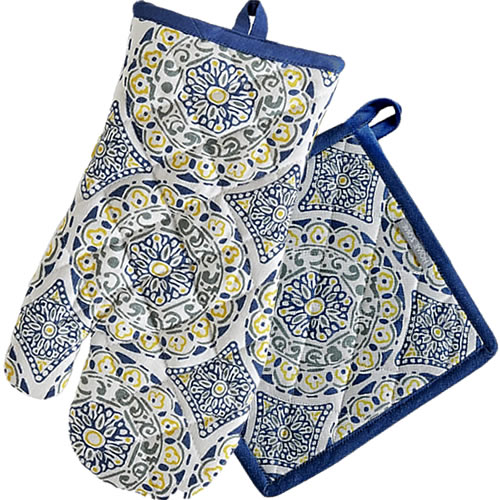 Or flip them over to show off the bright yellow, blue and white.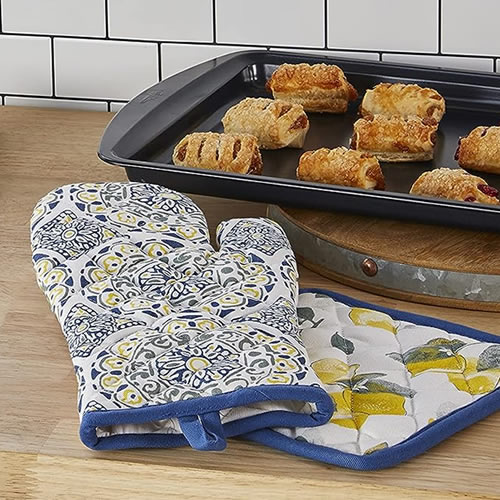 They are bordered with a bright blue with a hang loop.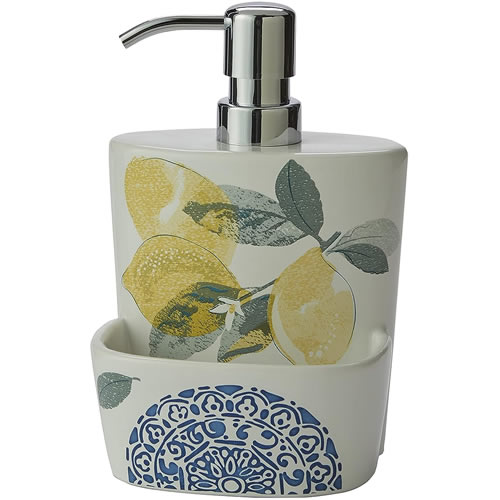 SKL Home Lemon Medallion Kitchen Soap Dispenser

Unique lemon and medallion-printed dispenser can hold liquid soap or lotion

Ceramic
14.2 oz. Capacity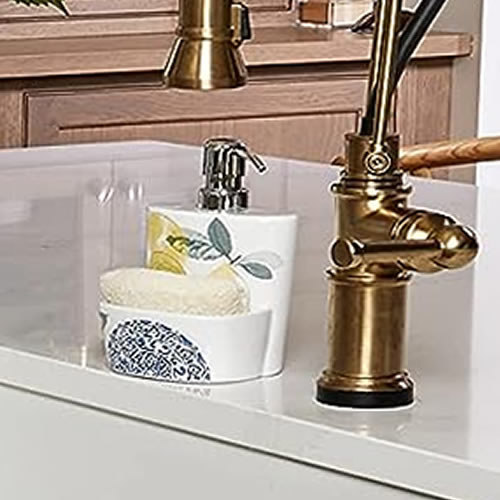 The soap pump has a little pocket to hold a sponge or a scrubby.
Creative Catch-All

A unique front compartment on the dispenser can catch excess soap, hold a sponge, or even secure jewelry while washing your hands/dishes.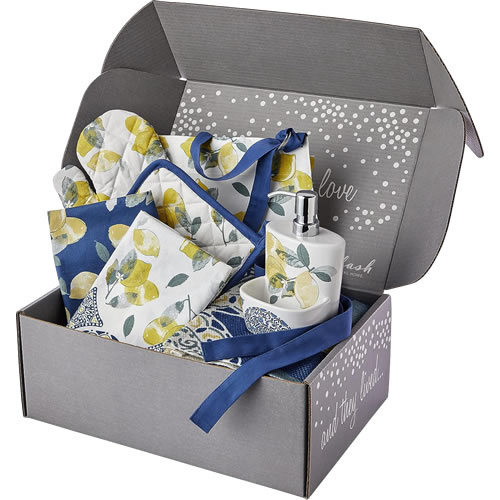 They are available as a Splash Box set.
Add extra freshness to your kitchen with the Lemon Medallion collection. This sculpted dispenser features a lemon print with an attached medallion print tray. This small tray can be used to hold a dish sponge, or even to catch extra run-off soap. The dispenser can be used to hold liquid soap or lotion. Shop the coordinating Lemon Medallion collection to complete the look. SKL Home brings personality, fun and flair to the most intimate spaces in your home with products ranging from bath accessories and shower curtains, to towels, curtains and beyond. Whether your style is upbeat and modern, or classic and cozy, SKL Home provides a look to compliment almost any décor. Combining 40+ years' experience, global design inspiration and premium fabrications, SKL Home continues to lead the way in home accessories.
SKL HOME by Saturday Knight Ltd. Splash Boxes >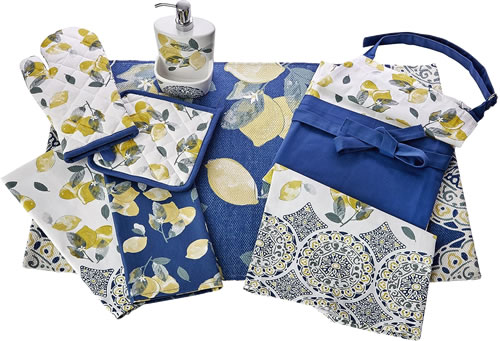 All of the pieces in the Collection come in the Splash Box.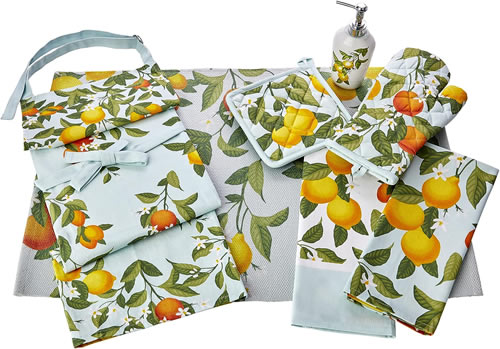 SKL Home makes other, similar kitchen sets. The Citrus Grove kitchen pieces has more realistic artwork of lemons and oranges with leaves and citrus flowers.
These absorbent terry hand towels would work in the kitchen or the bathroom.