Country Farmhouse Windmill Lights, Fans and Decor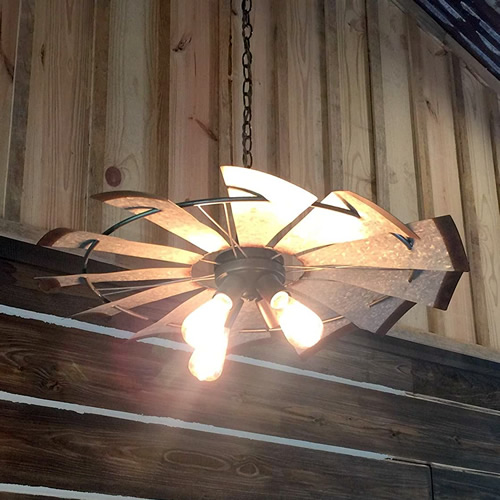 Windmill Chandeliers
This windmill chandelier is new to me. It is a windmill suspended from chain with four sockets for vintage bulbs.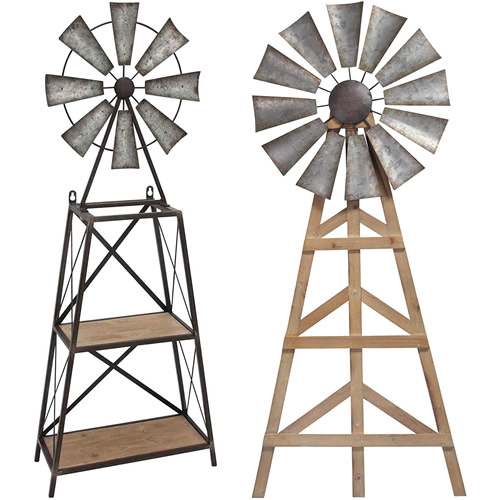 Sagebrook Home makes Windmill Themed Decor.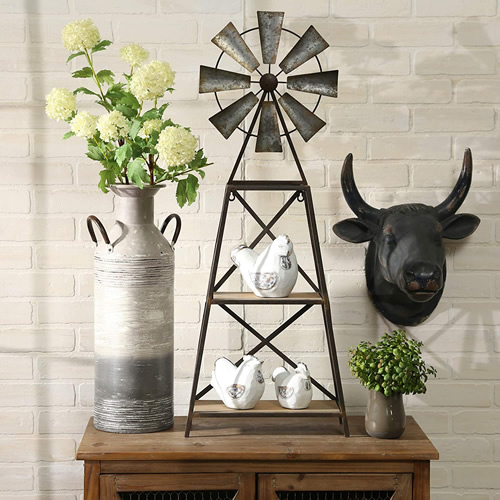 The Windmill Shelf that looks like a windmill with it's tower scaffold. It can rest on a table or floor or be mounted on the wall.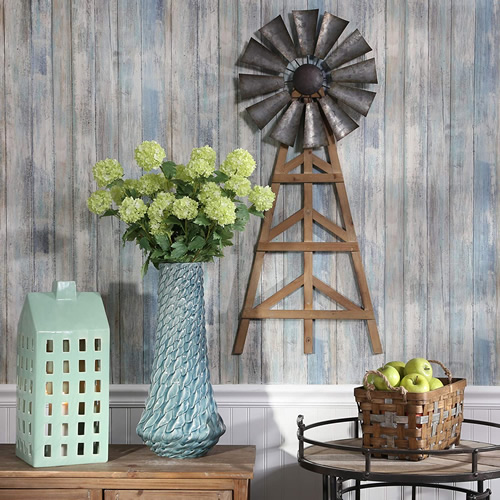 The coordinating wall decor is nearly 40″ high, made of wood and metal.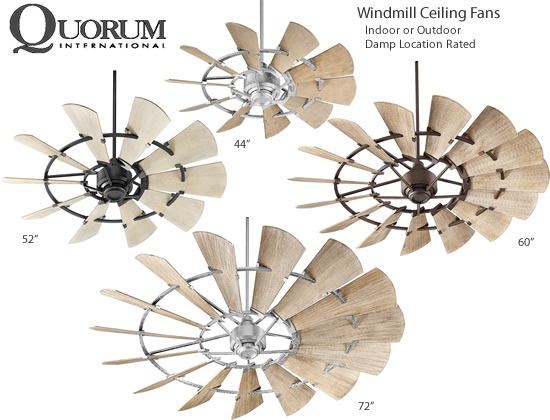 Windmill Ceiling Fans
Windmill Ceiling Fans seem like such a natural idea, I am surprised there aren't more of them. Quorum made the first ones I remember seeing, but Progress Lighting now has Springer Windmill Ceiling Fans.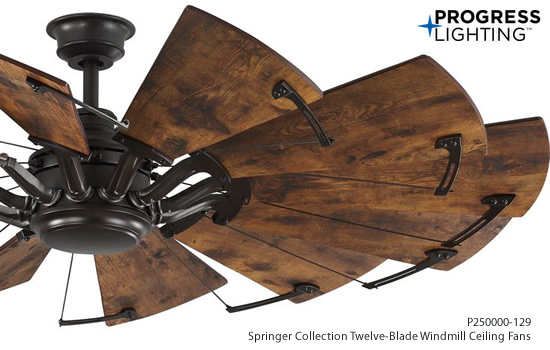 The Progress fans only comes in 60″ wide. They are for indoor use only and cannot have a light kit. They come in Antique Nickel finish with White Barnwood blades or Bronze finish with Distressed Walnut blades.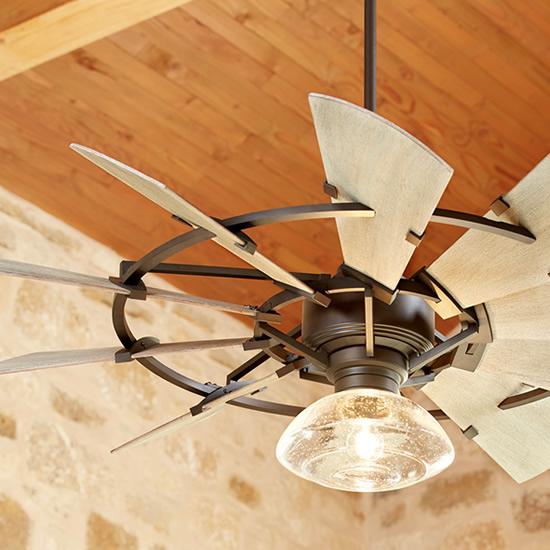 Quorum International Windmill Ceiling Fans come in sizes from 44″ to 72″. They are available in three finishes, Galvanized, Noir Black or Oiled Bronze with Weathered Oak blades.  They are available rated for damp locations on a covered porch. Coordinating Light Kits are available.
Quorum International Windmill Fans >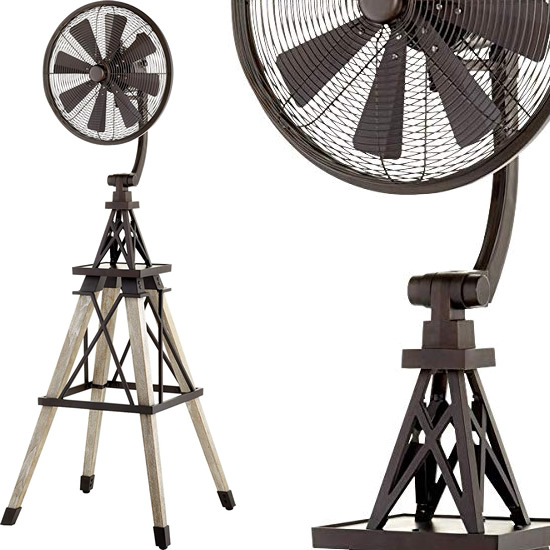 Windmill Table and Floor Fans
Quorum's Windmill Floor Fans are rated for damp locations, so you can use them on the porch.
Quorum International Windmill Fans >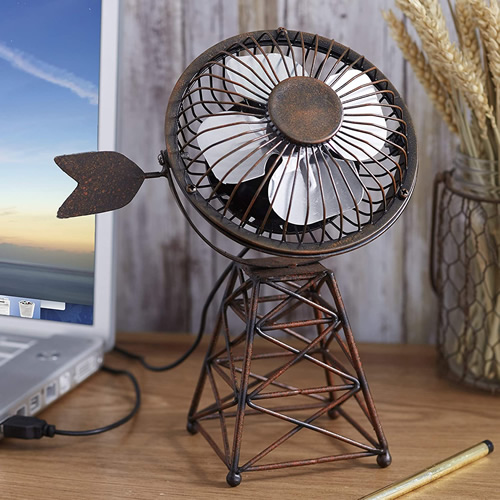 This cage fan is on a windmill scaffold with the tail. It uses a USB, so you can plug it into a laptop port or into the wall with a plug block like a cell phone charger.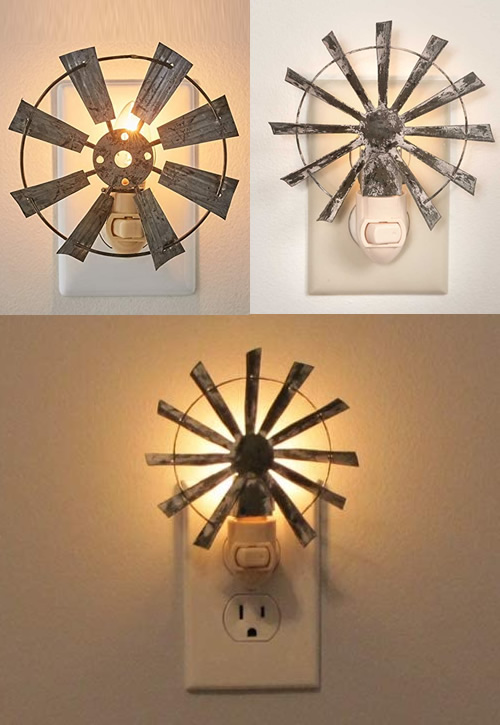 Windmill Nightlights
These cute little nightlights are made by Colonial Tin Works, Park Designs and TG, whoever that is.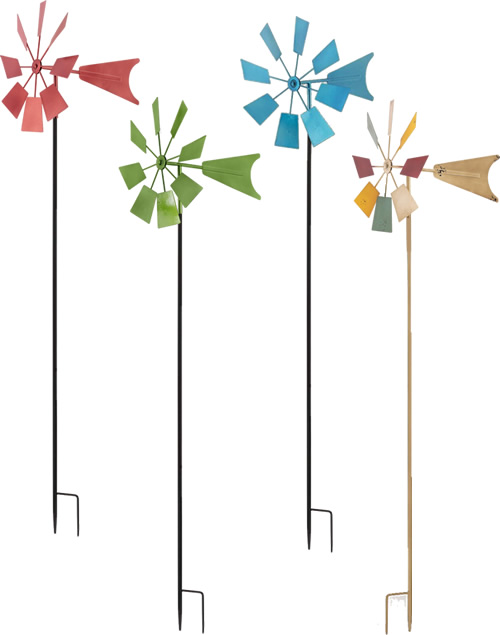 Windmill Lawn Decorations and Windmill Solar Lights
Alpine Corporation makes some really adorable garden decorations and solar stake lights. They come in different sizes and colors.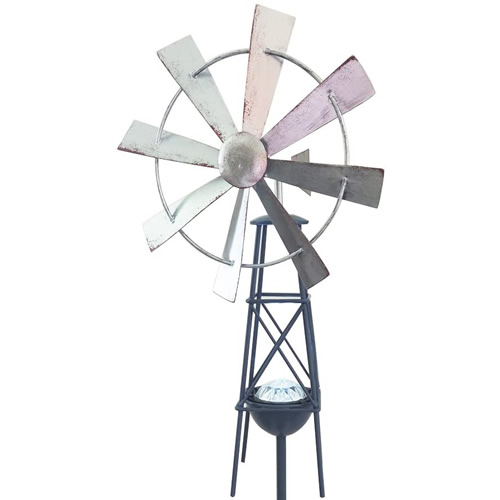 These both spin and light up. They are charged by the solar battery, not by wind power.
Windmill History
When you search for windmills, you find a lot of Dutch windmills. The windmills I am thinking of, though, are the self-regulating farm wind pumps. They were invented in 1854 by Daniel Halladay.
To get trains across America, water was crucial. Steam trains don't run without water. So everywhere train tracks went, windmill water pumps lifted water from wells up into water tower tanks.
Halladay's windmills have a lot more blades than earlier windmills, so even without much wind, they would turn. The gearbox is in the tower by the blades. It turns a crankshaft to a rod in a cylinder.
I thought windmills were only water pumps, but they were also used to make electricity, run sawmills, grind grain or run other machinery. Everything a watermill could do, a windmill could do.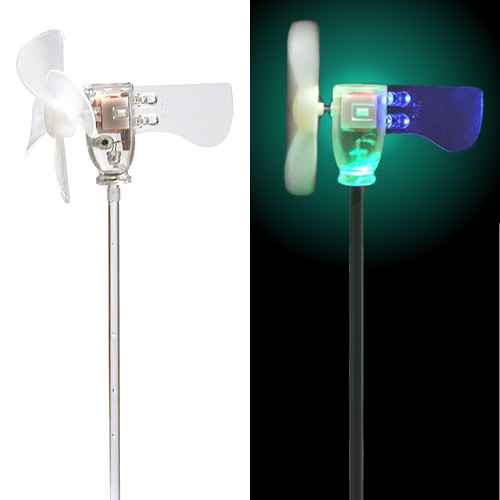 They use the same principal to generate light with this little LED Windmill.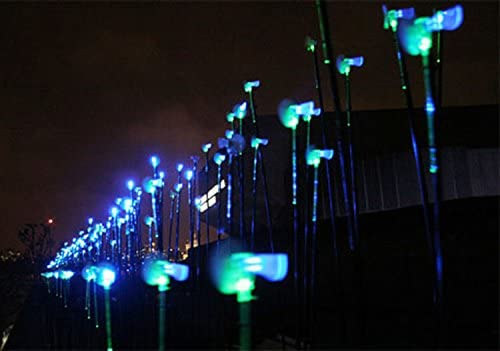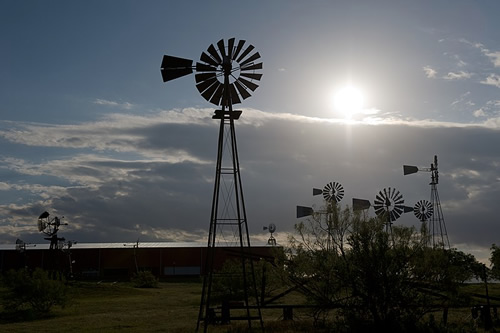 Windmill Museums
The largest windmill museum in the world, is the American Windmill Museum in Lubbock, Texas.
American Windmill Museum

The hundred-plus windmills inside have signage with manufacturer's history and usage information making a leisurely stroll through the exhibit hall a very informative experience. Comprehensive guided student tours are available.
You can have your wedding there.
You can see 52 windmills at the Mid-America Windmill Museum, in Kendallville, Indiana.
Mid-America Windmill Museum

There are a total of fifty-two windmills that have been restored and are on exhibit in the museum barn or outside on the museum grounds. A highlight of the museum is a replica of the Robertson Post windmill, a single stone grist mill with a 52 foot diameter wind wheel. The original Robertson was shipped from England and erected on the James River near Jamestown, VA. in the 1620's.

Through video presentations, guided tours, exhibits, interactive displays, photographs, and a museum library, volunteers provide visitors the opportunity to learn about the history of windmills and wind power.