Chinese Blue and White Reticulated Fretwork Porcelain
This vase is beautiful, but if I win it, what can I do with it?
I'm not an expert, but I have opinions. I agree. The vase really is beautiful!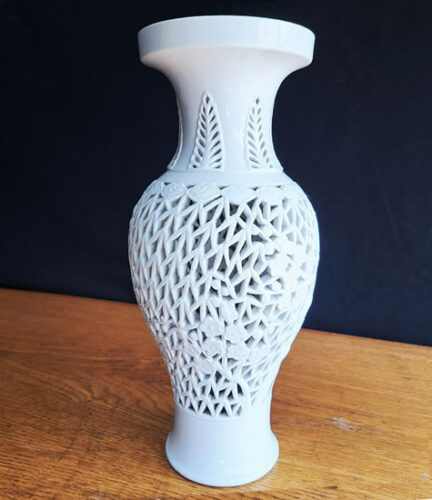 The description calls it "Blanc De Chine" which is "Chinese White" in French. According to the Victoria and Albert Museum website, it "is the name given to white porcelains made in Dehua, a town in Fujian province along China's southeast coast."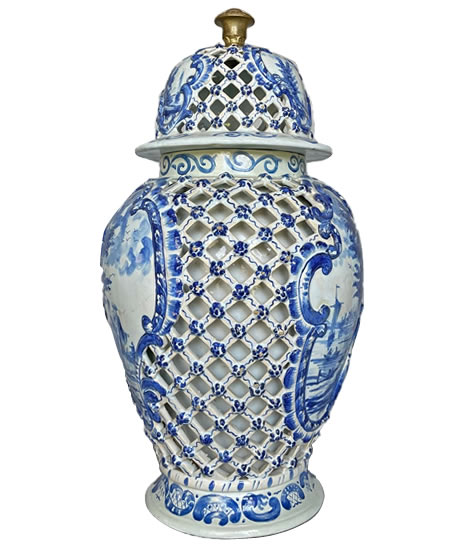 This is the one she fell in love with first, but it was already bid up to more than she could rationalize paying.
Both vases are described as Reticulated. You might also see them called a lot of other things.
Search for Reticulated Porcelain on eBay >
Openwork
Fretwork
Carved
Cutout
Lattice
Pierced
Hollowed
Hollow pattern
Hollow carved
The vase that is selling for so much now is a double-wall or interlaced design. There is another vase inside, so the vase can be used like any other vase.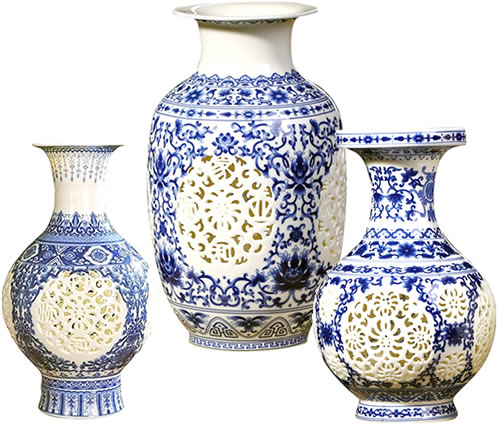 You can find new examples on Amazon. They are available in all of the traditional Chinese shapes combined with many motifs.
Search for Chinese Blue and White Hollow Carved Vases on eBay >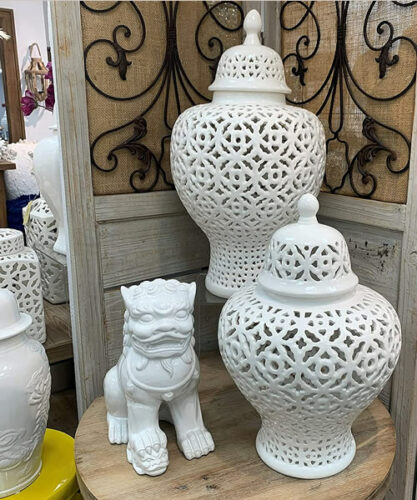 They are also easy to find as ginger jars or vases with lids.
Search for Chinese Lattice Ginger Jars on eBay >
What can you do with the openwork vases that do not have an inner vase?
If it is really fragile fine porcelain, I would put it somewhere safe and just use it for decorative display.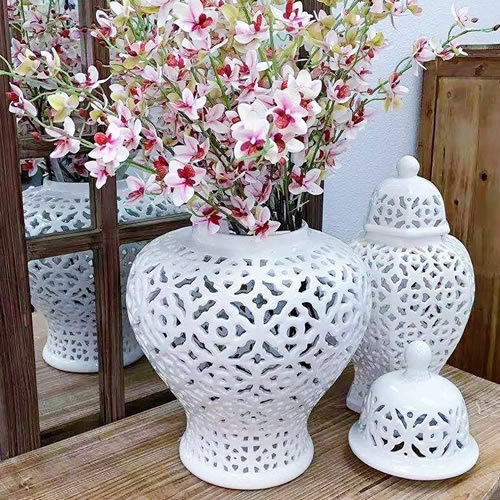 If it is not fragile, you can use it for silk or dry flowers.
If you want to hold fresh flowers, you can use an inner plastic vase that can fit inside. You could even cut one yourself from a plastic water bottle or something.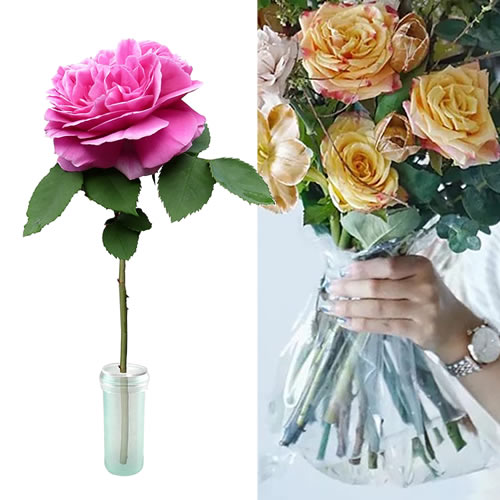 You can buy florist water tubes. They push over the stem of a single flower. Depending on how large the vase is, you might be able to fit a few. They don't hold a lot of water, but it will last long enough for a dinner party or something.
You can put a clear plastic bag into the vase and fill it with water. A full flower arrangement will hide the top of the bag folded over the top of the vase. A freezer bag should work.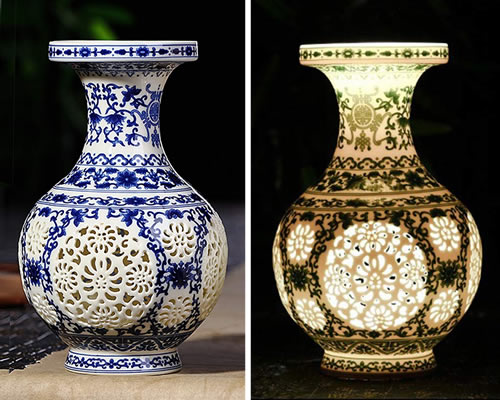 This vase would look beautiful with light behind it to show off the translucence of the porcelain and the openwork lattice.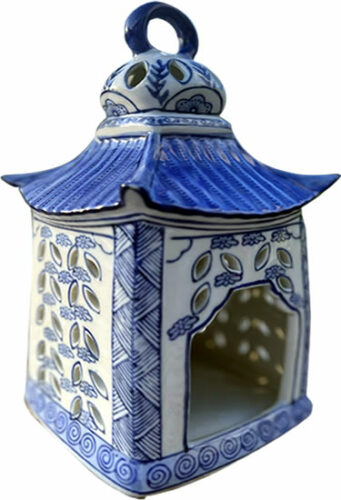 Lanterns have the same cutwork. Personally, I wouldn't put a candle inside this vase or any porcelain, unless it is actually made to be a candle holder. (And probably not even then.) But, an LED candle or some other LEDs that don't create any heat could be very pretty.
Search for Blue and White Porcelain Pagoda Lanterns on eBay >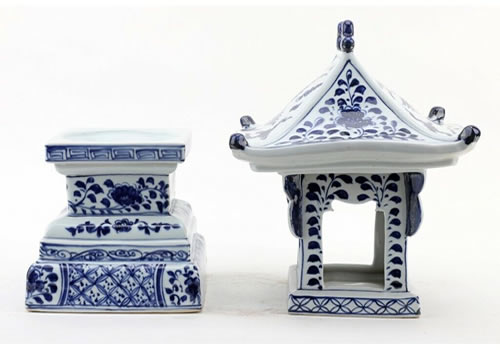 Blue and White Porcelain Pagoda candle holders can be found on eBay, too.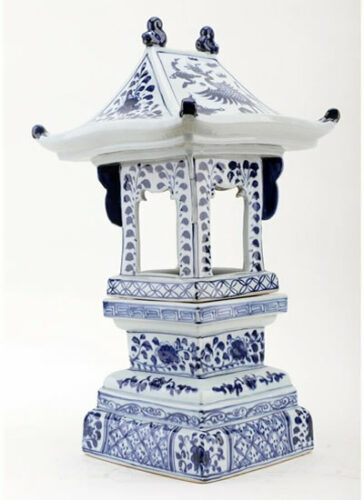 Antique Reticulated Porcelain
Pierced or reticulated porcelain work can be very valuable.
A pair of Yamanaka Reticulated Vases auctioned for the highest prices ever for Chinese artwork. The first was auctioned in 2010. It reached 53 million pounds. That's almost 67 million dollars, at today's exchange rate. But then the buyer disputed the auction house fees and the deal fell through.  It sold later for an undisclosed amount. The second vase was auctioned in 2018 for 14.6 million pounds, nearly $18 million dollars.
The extremely small group of pierced, double-walled vases that were produced for the Qianlong Emperor provided probably the greatest technical challenge ever for the potters at the imperial kilns. The complexity of the production process can hardly be overstated and the perfection of the execution is next to miraculous. Works like these could have been developed by the imperial kilns only under the leadership of Tang Ying (1682-1756), who combined superior understanding of the properties of the ceramic medium, vast experience with the intricacies of the production process and an unerring sense of aesthetics, with exceptional ambition.

These vases, however, appear to have provided cause for concern even to Tang Ying. After having presented nine single vases, respectively designed with openwork or interlocking sections, Tang reported to the Emperor that he had not dared to create larger numbers or pairs, since they are so expensive (for which read: prone to endless failures) and would do so only if the Emperor accepted them. The Emperor replied that he ought indeed to keep numbers low and restrict their production to special occasions, but nevertheless ordered pairs to be created for the singles. Many reticulated vases, however, do not have pairs today and may never have had pairs, as no such delivery from Jingdezhen is expressly recorded in the archives.

A Reticulated Qing Dynasty Vase That Encompasses China's Past
By Sotheby's | Jul 5, 2020