More London Phone Booth Shelves and Cabinets
You can buy British Phone Booth Cabinets in a lot of different sizes. Usually they come in red, but you can find other colors, too.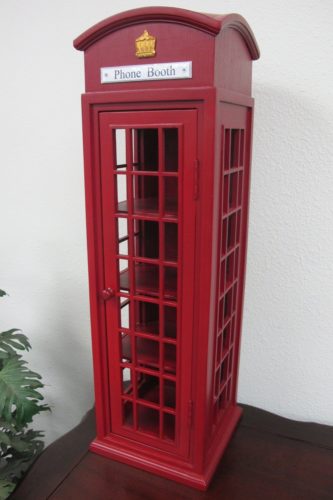 28″ to 30″ High
These smaller cabinets fit on a table top or hang on a wall.
Home Accents HA-CBN-12-03 London Mini Telephone Display Storage Case

Material: Mahogany Solid/Veneer
Dimensions: 8.75″ x 8.75″ x 28″

This beautiful Mini London Telephone Booth Case is well handmade in Real Mahogany. It is finished in original red color to reflect the true London Telephone Booth. It is in practical size to be put in almost anywhere in any rooms. It serves multi-functional purposes to be used as decoration, CD case, or any collection display.
This size is available from a few different companies.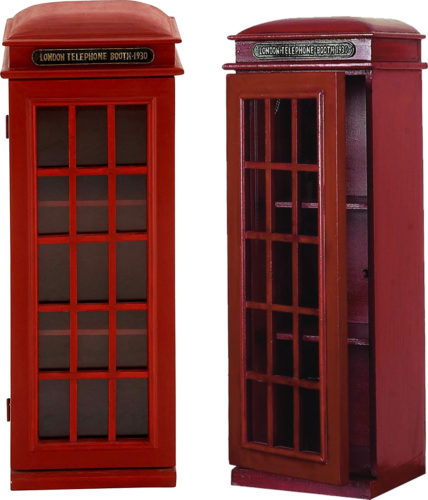 Deco 79 95827 3-Tier London Phone Booth CD Holder

Dimensions: 11" wide x 9" deep x 30" high

Delightful real wood CD holder with the look of an old English phone booth. Manage CDs with fun! Made from seasoned wood, this British Phone Booth Cabinet has 3 shelves to store CDs or other things  with a front door.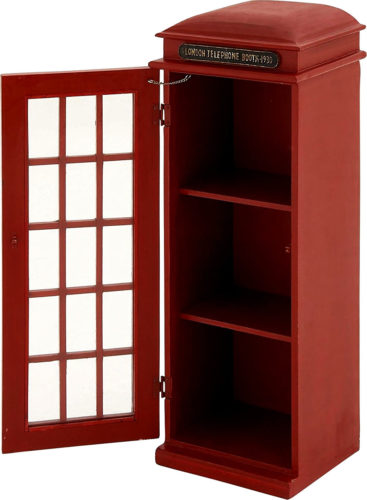 The shelves are sized to hold CDs, so they are exactly the right size for computer backups.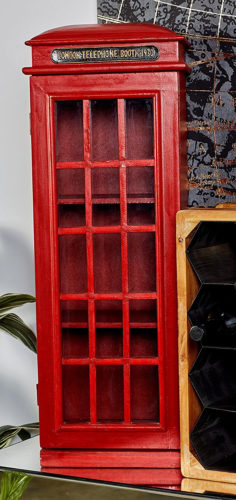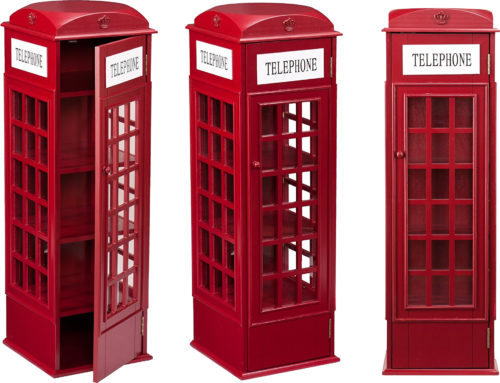 44" to 45″ high
This size stands on the floor. They have enough space in them for storage or display.
Harper Blvd OS1367ZH or Southern Enterprises AMZ1367ZH Red Phone Booth Storage Cabinet

Looks just like a real British phone booth, but it's really a cabinet!

Magnetic door closure
Dimensions: 14.25" wide x 15" deep x 44.75" high
Five Shelves each support up to 20 lbs:
First: 11.75" wide x 12.75" deep x 6.5" high
Second: 11.75" wide x 12.75" deep x 8.75" high
Third:  11.75" wide x 12.75" deep x 8" high
Fourth: 11.75" wide x 12.75" deep x 8.75" high
Fifth: 11.75" wide x 12.75" deep x 6.55" high
Windows: 2.25" x 3.75"
Footprint: 14.25" x 14.25"
MDF, Solid Wood and Acrylic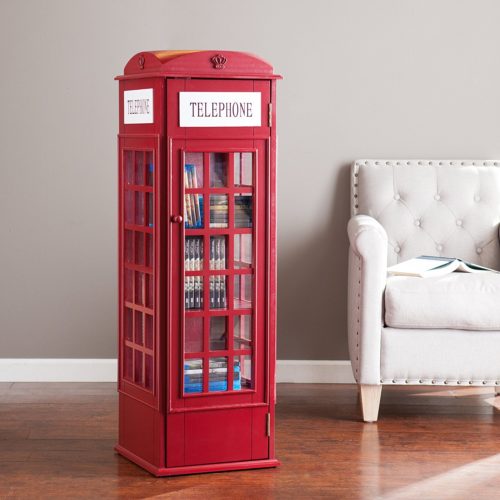 Because they are only 14.25" wide, the shelves won't collapse when the London Phone Booth is filled with books.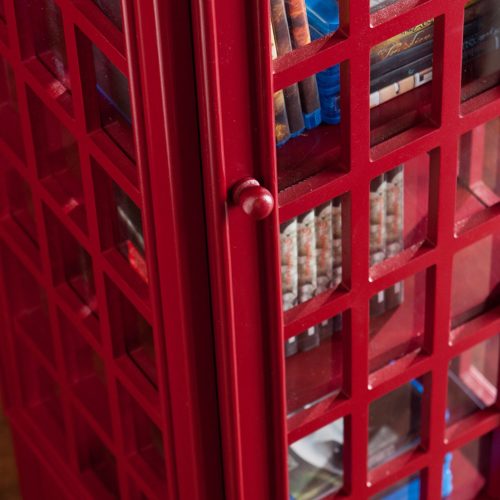 There are five solid shelves in this version. Many others have glass shelves. Solid shelves are better for storage. Glass shelves are best for display.
See how much you can fit in this little thing?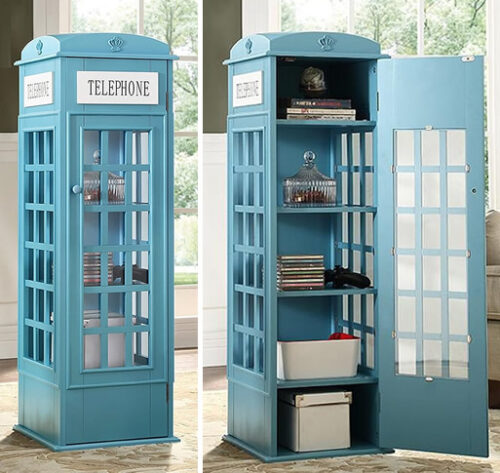 You can buy this variation finished in turquoise blue.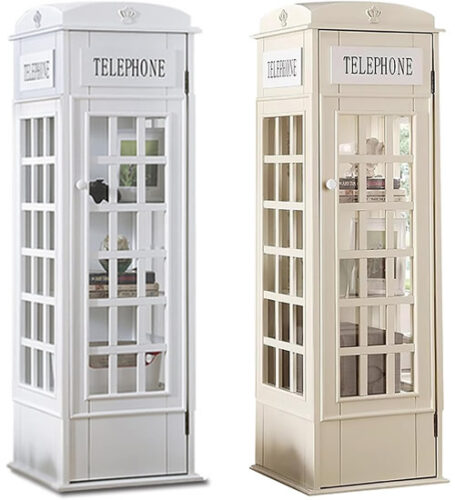 It also comes in White and Cream White.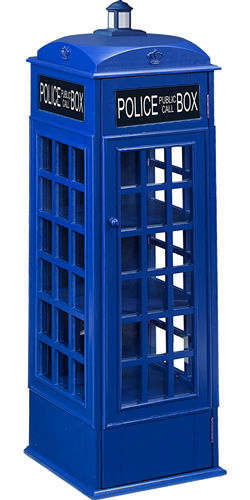 With a little ingenuity and some Tardis Blue paint, you can turn it into a Doctor Who cabinet.
Love The Doctor? Full Size Police Call Box Tardis >
Doctor Who Tardis Display Cabinet >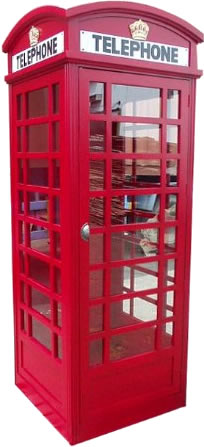 88″ High
These very large phone booths cost quite a bit, but Oh So Cool!
D-Art Collection CBN 050 7' 4" Big London Telephone Booth

Dimensions: 33" wide x 33" deep x 88" high
Handcrafted In Details
Finished In True London Red Color
Bunfoot Style

This amazing re-creation of London Telephone Booth has been handcrafted in all it's details and finished in true London red color. Put a real telephone inside and use it as if you are in London Telephone Booth!