Indoor/Outdoor Bistro Chairs, Counter and Bar Stools from Purple Leaf
The French style chairs and stools from Purple Leaf are available in two frame colors and eight seat and back colors. They are durable, designed for outdoor wet locations. But the traditional style will look great indoors as well. They are designed to be comfortable and attractive.
Rust proof aluminum frame with white or bamboo print finish
All-weather hand-woven wicker is durable and easy to clean
Foot pads protect floor
Originally, French bistro chairs were mass produced using bentwood. In the mid 1800s, Thonet developed a process that lathed raw wood into thick circular dowels and steam bent them into the components to mass produce practical chairs by the thousands. They look like bamboo and many people think they are bamboo, but Thonet made his iconic chairs out of ash or beech wood painted to look like bamboo.
Some furniture is made out of bamboo or rattan. But not these bentwood chairs. These chairs were inexpensive, durable and affordable. They were mass-produced for restaurants and hotels, made to look like more expensive bamboo, rattan or cane.
With subtle colors, hand-woven wicker, and classic curvaceous structures, our French Bistro seating brings the streets of Paris to your outdoor space.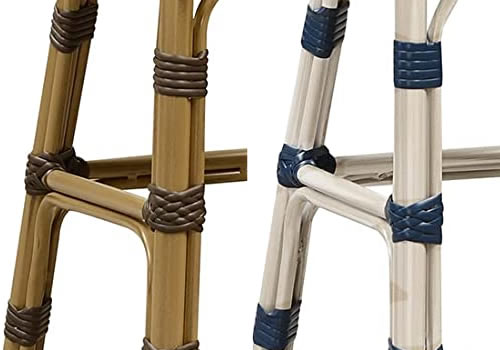 Aluminum Frame
The aluminum frame is lightweight and stable with a powder-coated distressed finish.
Bamboo look
White Wood look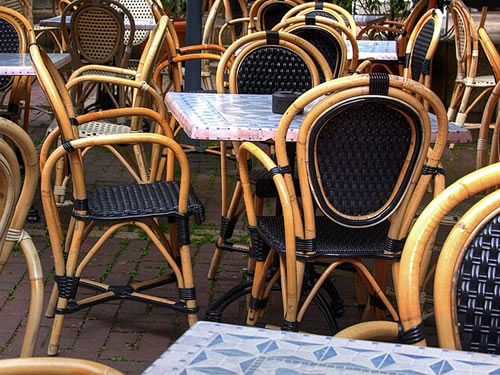 The frame is wrapped to look like rattan furniture popular for outdoor seating all over the world.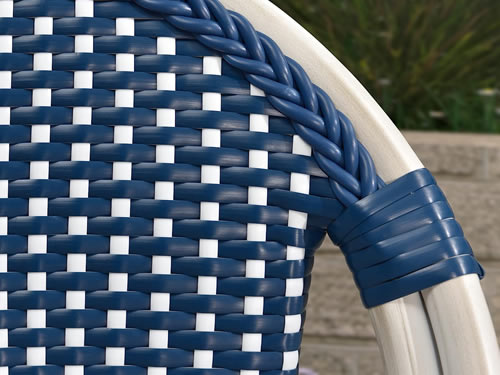 All-weather PE Woven Wicker
Like timeless French bistro seating, Purple Leaf rattan chairs have an intricately woven design. Handwoven PE Rattan is easy to clean and will last, even in harsh weather conditions.
The wicker backs, seat and binding is available in 8 different colors.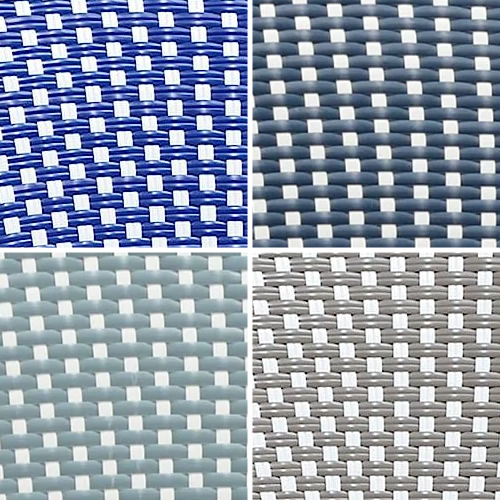 Cobalt Blue and White
Navy Blue and White
Light Blue and White
Grey and White
Brown and Cream
Brown and White
Colorful (Soft shades of greys, blue, turquoise, brown, terracotta and warm yellow)
Cream Yellow and White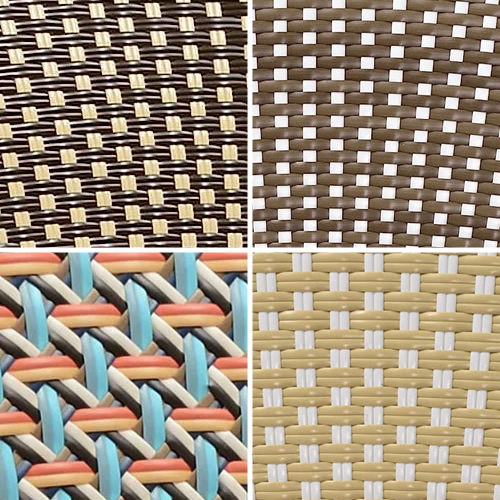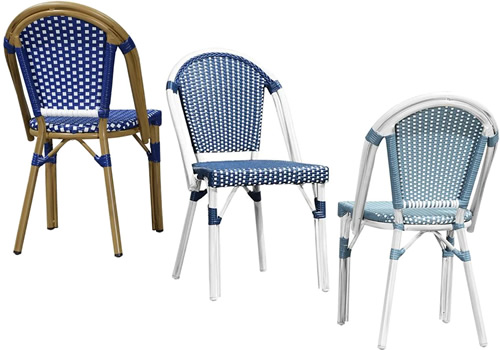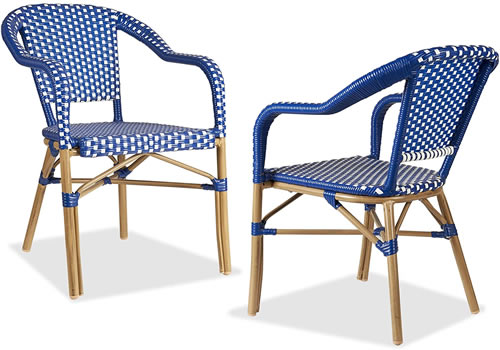 Purple Leaf

Bistro Chairs

The bistro chairs are available with or without arms.
Bistro Chairs
Chair:  front 17.72" wide, back 16" wide, seat 17.32" high, back 32.72" high, seat 16.54" deep
Armchair:  front 17" wide, back 16" wide, seat 17.32" high, back 34.65" high, seat 16.54" deep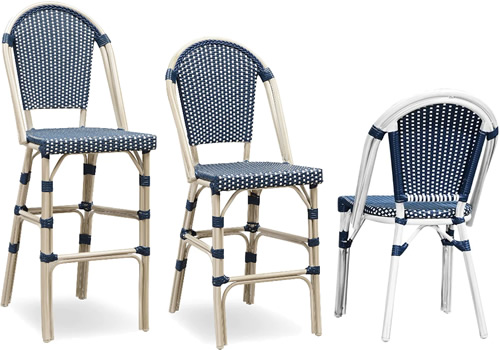 Purple Leaf

Bistro Stools

The stools come in two heights. Counter stools split the difference between bar stools and chairs. They put a kitchen counter at table height.
Stools
Counter: 18.1" wide, seat 25" high, back 40.5" high, seat 16.5" deep, footrest 10.2"
Bar: 18.1" wide, seat 29" high, back 48" high, seat 16.5" deep, footrest 12.8"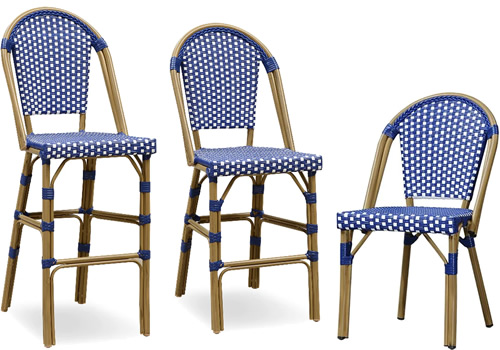 Cobalt Blue and White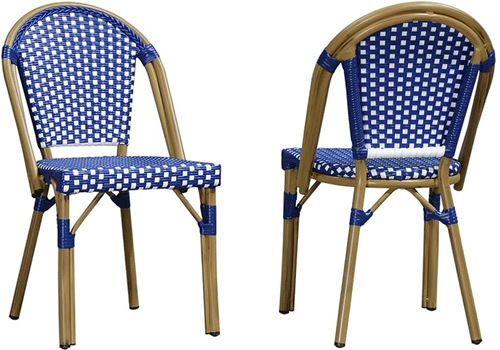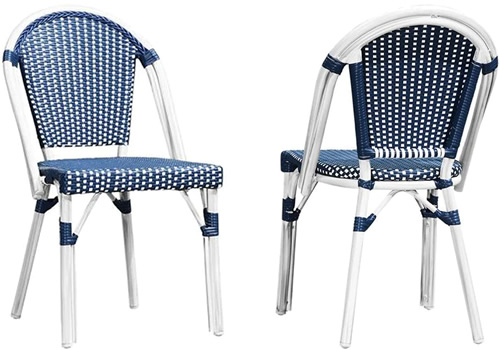 Navy Blue and White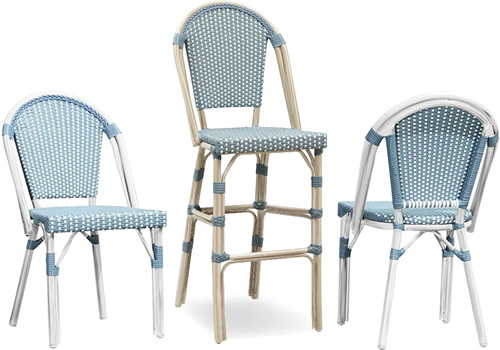 Light Blue and White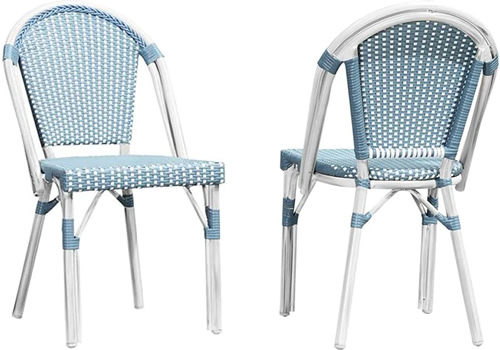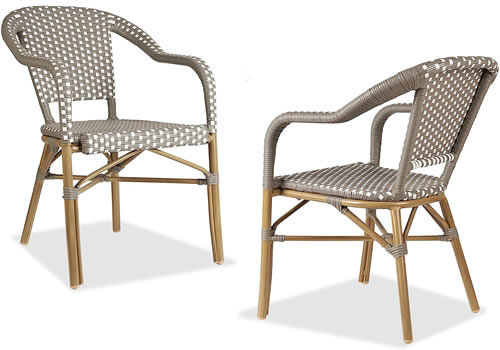 Grey and White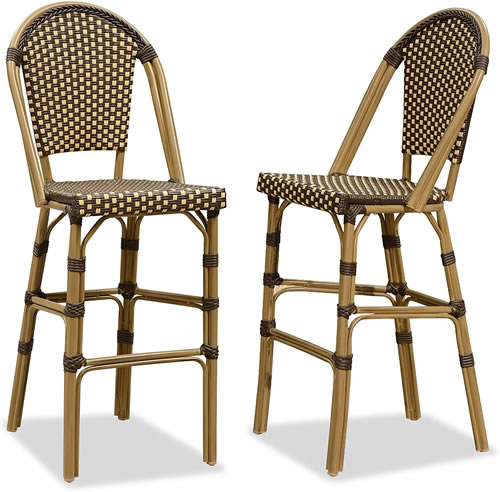 Brown and Cream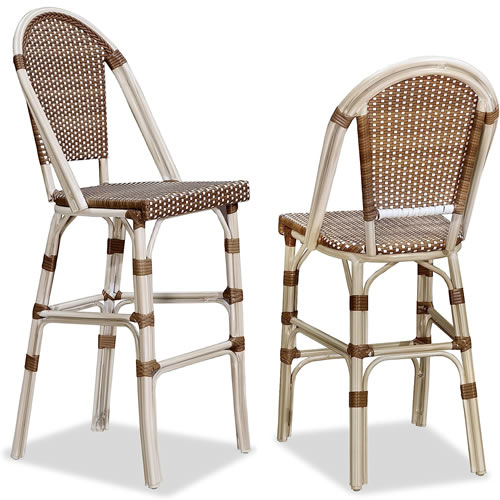 Brown and White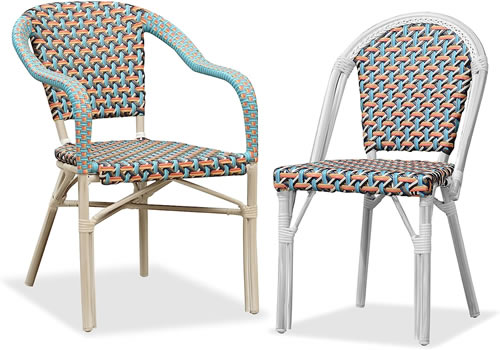 Colorful
Colorful synthetic wet location wicker in soft shades of greys, blue, turquoise, brown, terracotta and warm yellow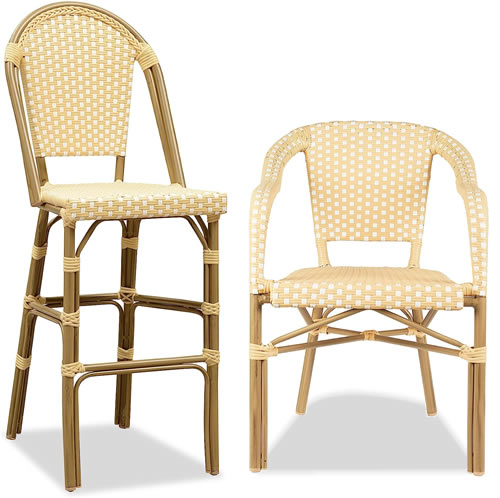 Cream Yellow and White