Bring a British Phone Booth into Your Home
You can have the look of a real British Phone Booth with these fun recreations. They are available in a lot of sizes and a lot of prices.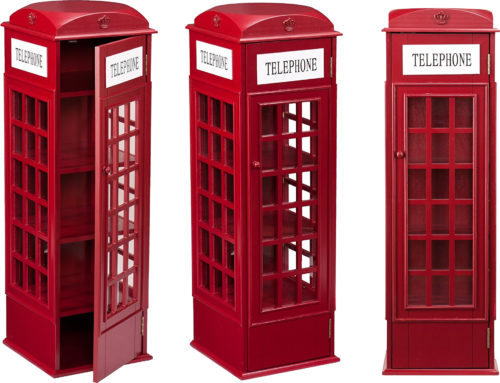 Harper Blvd OS1367ZH or Southern Enterprises AMZ1367ZH Red Phone Booth Storage Cabinet
Looks just like a real British phone booth, but it's really a cabinet!
Magnetic door closure
Dimensions: 14.25" wide x 15" deep x 44.75" high
Five Shelves each support up to 20 lbs:
First: 11.75" wide x 12.75" deep x 6.5" high
Second: 11.75" wide x 12.75" deep x 8.75" high
Third:  11.75" wide x 12.75" deep x 8" high
Fourth: 11.75" wide x 12.75" deep x 8.75" high
Fifth: 11.75" wide x 12.75" deep x 6.55" high
Windows: 2.25" x 3.75"
Footprint: 14.25" x 14.25"
MDF, Solid Wood and Acrylic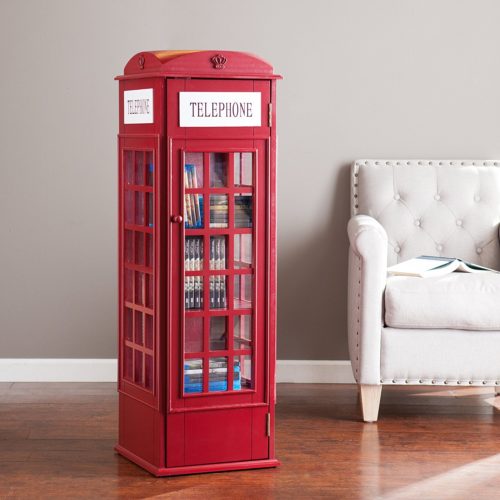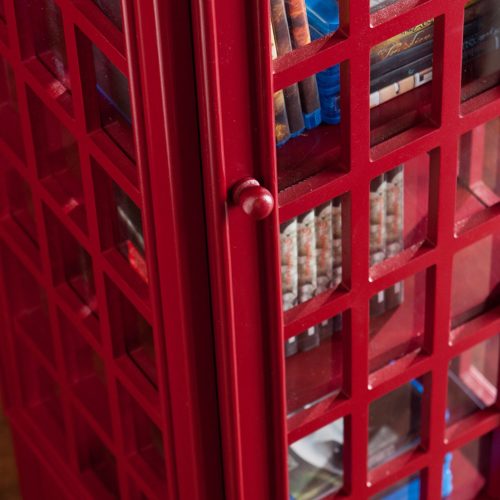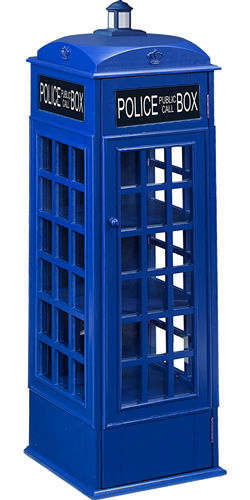 With a little ingenuity and some Tardis Blue paint, you can turn it into a Doctor Who cabinet.
---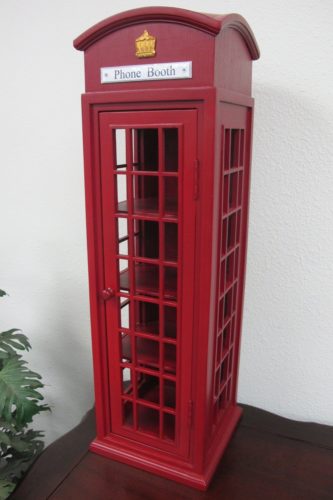 Home Accents HA-CBN-12-03 London Mini Telephone Display Storage Case
Material: Mahogany Solid/Veneer
Dimensions: 8.75″ x 8.75″ x 28″
This beautiful Mini London Telephone Booth Case is well handmade in Real Mahogany. It is finished in original red color to reflect the true London Telephone Booth. It is in practical size to be put in almost anywhere in any rooms. It serves multi-functional purposes to be used as decoration, CD case, or any collection display.
---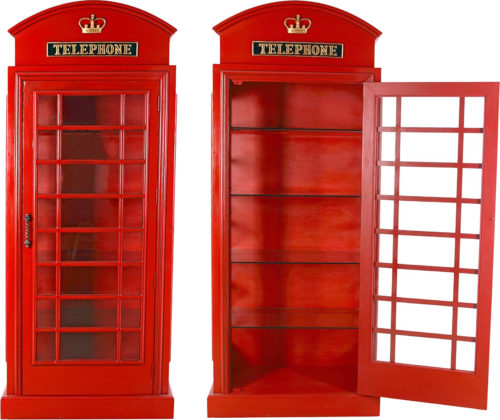 Design Toscano NE36832 6' British Telephone Booth Lighted Display Cabinet
Dimensions: 30" wide x 17" deep x 72" high
Removable Glass Display Shelves
Glass Windows
Glass Door
Built-in Lamp
Hand-crafted replica of the iconic British phone booth
Hand-painted traditional crimson red
Classic with a twist! The traditional charm of the British phone booth in this six-foot-high collectors' cabinet featuring four removable glass shelves, glass windows and an interior lamp to shed maximum light on your prized possessions. Our quality-framed heirloom boasts a glass door that opens for unobstructed viewing from three sides. Painstakingly hand-crafted and hand-painted in a rich crimson, then fitted with three glass windows and the iconic coronation crown.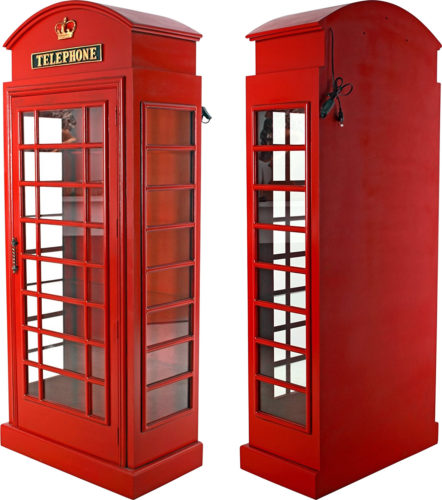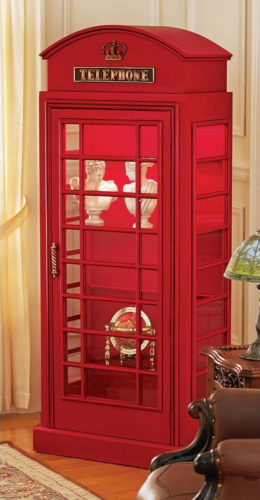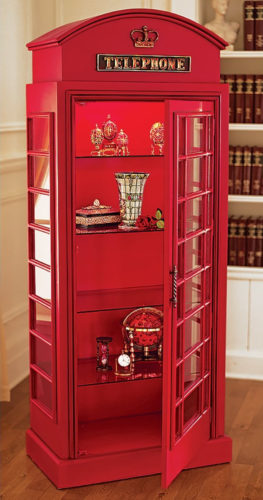 The Design Toscano Piccadilly Circus Wall Curio Cabinet is also available in a smaller size.
---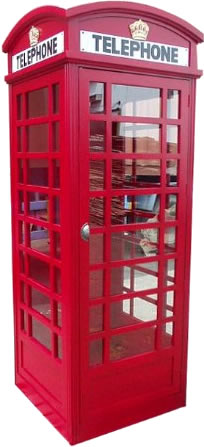 D-Art Collection CBN 050 7' 4" Big London Telephone Booth
Dimensions: 33" wide x 33" deep x 88" high
Handcrafted In Details
Finished In True London Red Color
Bunfoot Style
This amazing re-creation of London Telephone Booth has been handcrafted in all it's details and finished in true London red color. Put a real telephone inside and use it as if you are in London Telephone Booth!
---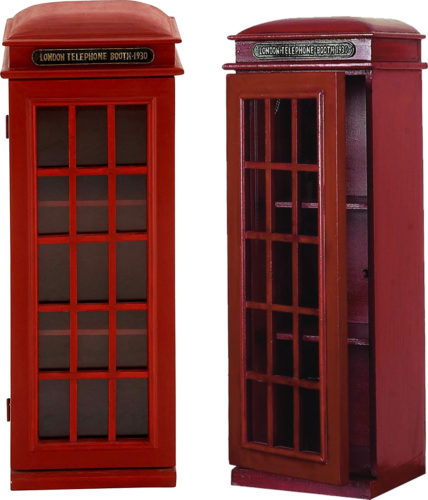 Deco 79 95827 3-Tier London Phone Booth CD Holder
Dimensions: 11" wide x 9" deep x 30" high
Delightful real wood CD holder with the look of an old English phone booth. Manage CDs with fun! Made from seasoned wood, this British Phone Booth Cabinet has 3 shelves to store CDs or other things  with a front door.