Bring a British Phone Booth into Your Home
You can have the look of a real British Phone Booth with these fun recreations. They are available in a lot of sizes and a lot of prices.
Design Design Toscano makes a London Telephone Booth Cabinet in three sizes, from a 26″ high, 15″ wide, 6.5″ deep wall mounted curio cabinet, a 72″ high cabinet with glass shelves and a full sized 90″ high by 30″ wide and deep phone booth.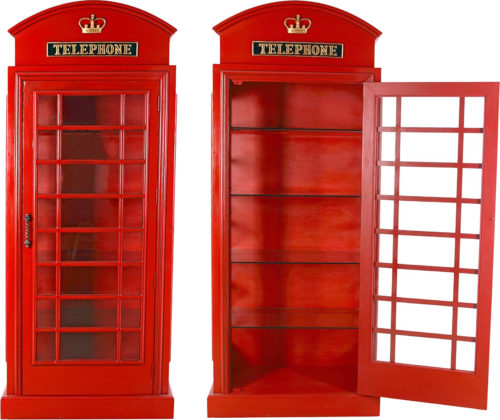 Design Toscano NE36832 6' British Telephone Booth Lighted Display Cabinet
Dimensions: 30" wide x 17" deep x 72" high
Removable Glass Display Shelves
Glass Windows
Glass Door
Built-in Lamp
Hand-crafted replica of the iconic British phone booth
Hand-painted traditional crimson red
Classic with a twist! The traditional charm of the British phone booth in this six-foot-high collectors' cabinet featuring four removable glass shelves, glass windows and an interior lamp to shed maximum light on your prized possessions. Our quality-framed heirloom boasts a glass door that opens for unobstructed viewing from three sides. Painstakingly hand-crafted and hand-painted in a rich crimson, then fitted with three glass windows and the iconic coronation crown.
These are the three sizes the cabinet is available in.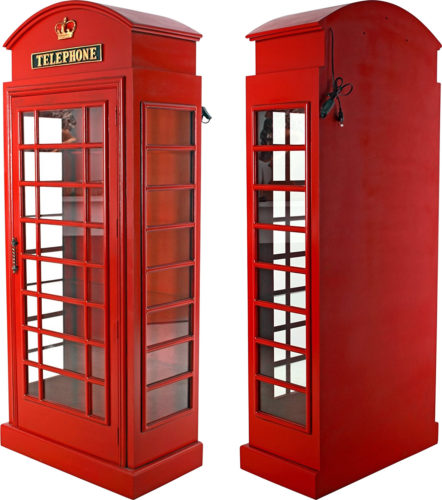 The back is flat, to push all the way to the wall.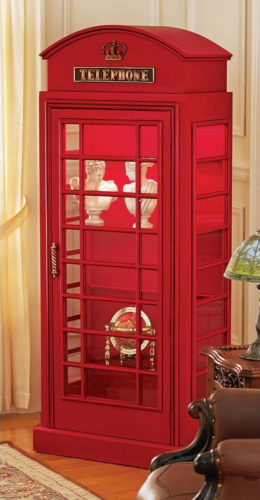 The lighted cabinets and glass shelves make them ideal for display.