Pfaltzgraff Villa Della Luna Blue Stoneware and Melamine Dinnerware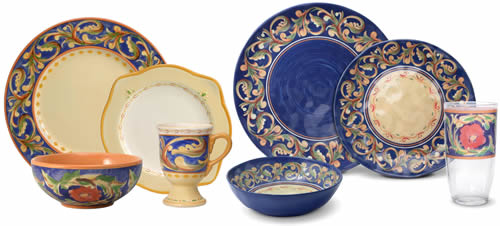 We had Pfaltzgraff when I was a kid. The stoneware stood up to us kids doing the dishes. We had a house fire and one of the only things to survive is one of the Pfaltzgraff plates.
Pfaltzgraff now has dinnerware that looks like traditional Italian ceramics, but in durable stoneware and melamine!
Villa della Luna®

Pfaltzgraff has created a beautiful collection of dinnerware, serveware and accessories based on the book "Dancing with the Moon, a Story of Love at the Villa della Luna" by Jana Kolpen and Mary Tiegreen. The centuries-old traditions of Italian ceramics are honored in the colors, designs and craftsmanship of every piece.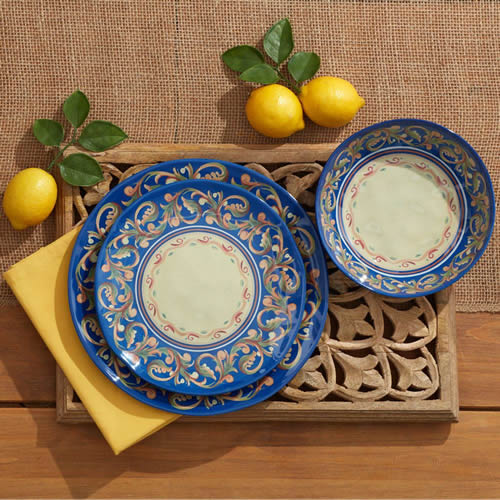 Pfaltzgraff Villa Della Luna Blue Melamine Dinnerware
This time of year we are beginning to eat more on the porch. Dining outside is perfect for melamine dishes.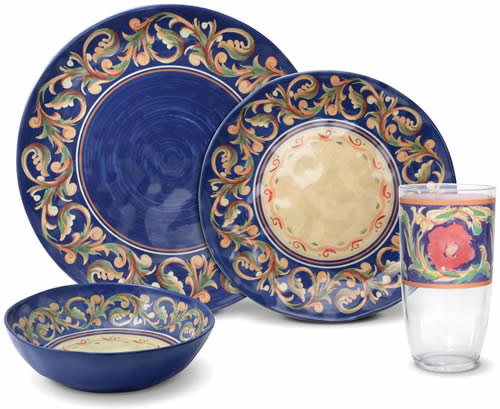 Pfaltzgraff  Villa della Luna melamine comes in 16 and 32 piece sets.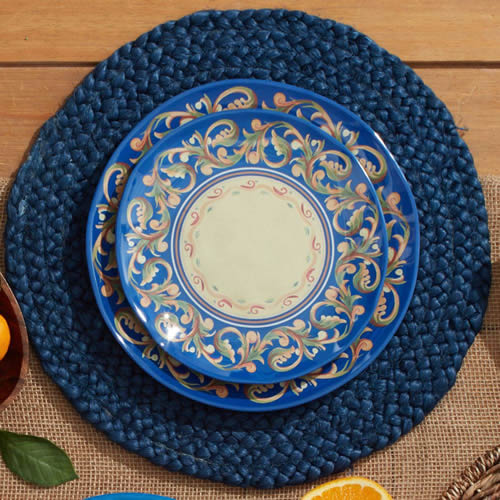 The set includes plates in two sizes, an 11-inch dinner plate and an 8-1/4-inch salad plate.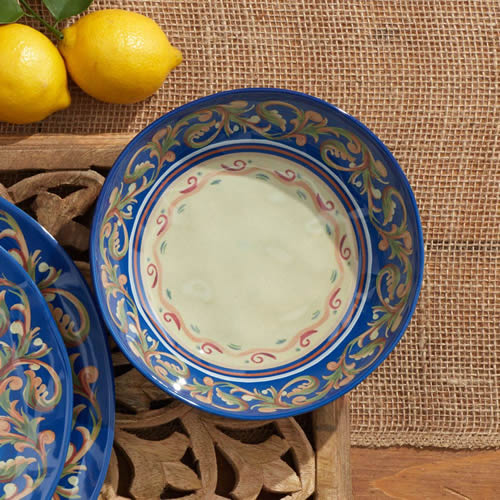 The bowl is large, 7-1/2-inches wide and holds 30 ounces. It is meant to be a soup or cereal bowl, but it's big enough to hold side dishes.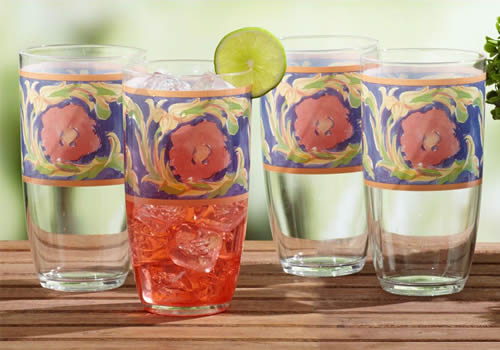 The set includes 26 ounce acrylic tumblers. They can be bought separately as well. You always need more glasses.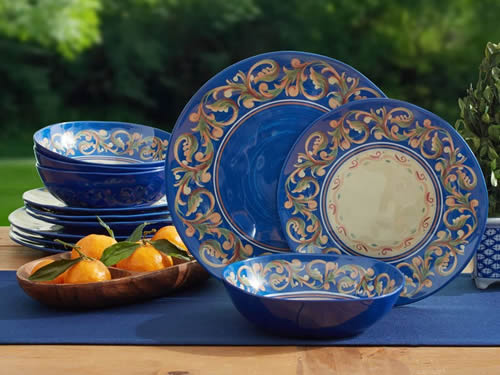 Additional pieces are available individually.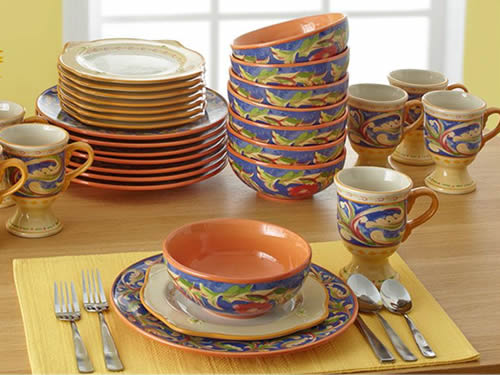 Pfaltzgraff Villa Della Luna Stoneware
The stone ware is beautiful. It looks like traditional Tuscan dishes, with warm sunny colors and patterns.
All of the stoneware is dishwasher safe and can go in the microwave. Some pieces can go in the oven.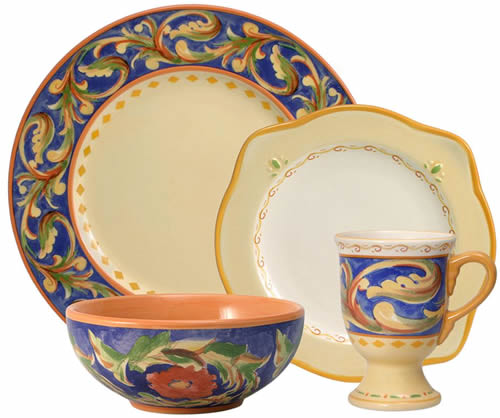 Pfaltzgraff  Villa della Luna stoneware comes in 16, 32 and 48 piece sets.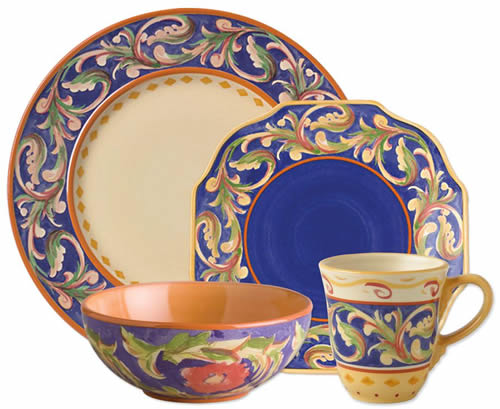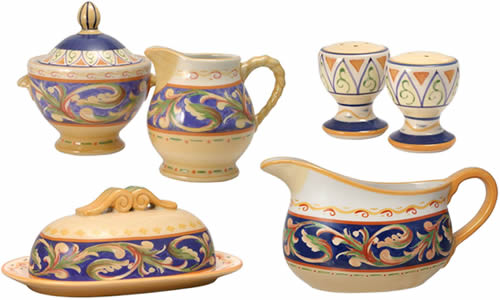 There are additional pieces to go with it. You can add a covered butter dish, gravy boat, spoon rest, salt and pepper shakers… really everything.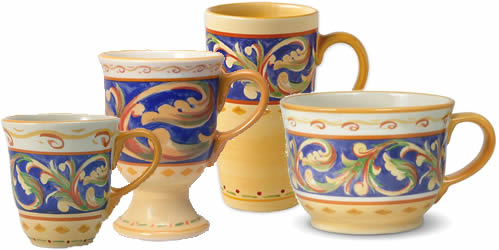 Pfaltzgraff Villa Della Luna Blue Stoneware Mugs
There are four different mugs. They are available individually or in sets of four.
Perfect Mug holds 10 ounces.
Pedestal Mug holds 12 ounces.
Latte Mug holds 20 ounces.
Jumbo Soup Mug  holds 24 ounces.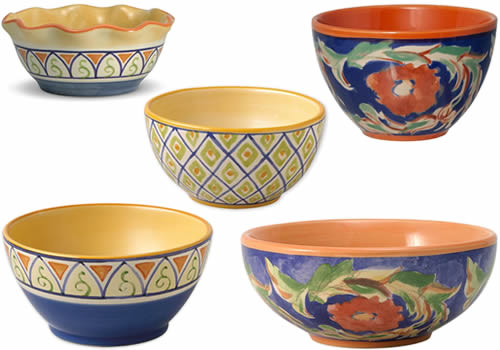 Pfaltzgraff Villa Della Luna Blue Stoneware Bowls
There are a lot of different bowls in traditional Tuscan designs. They are ideal for serving and for place settings.
Sauce Side Bowl holds 5 ounces.
Dessert Bowl holds 12 ounces.
Fruit Bowl holds 15 ounces.
Everything Bowl holds 16 ounces.
Soup Cereal Bowl holds 24 ounces.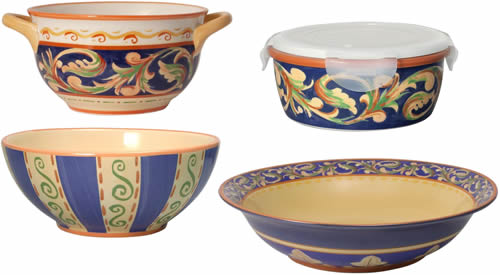 These are the larger bowls. The bowl with two handles is traditional for hot soup. The Storage Bowl is made of stoneware and has a bpa-free plastic lid with 4 snap down clips and a silicone seal.
Double Handled Bowl holds 28 ounces.
Storage Bowl with Lid holds 28 ounces.
Vegetable Serve Bowl holds 2 quarts.
Large Pasta Serve Bowl holds 3-1/2 quarts.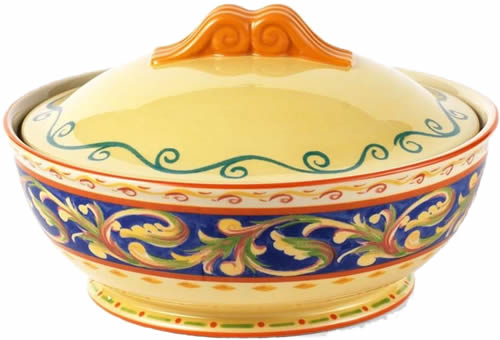 Pfaltzgraff Villa Della Luna Stoneware Serving Pieces
Serving pieces include large bowls and trays in different sizes and shapes.
I love the Covered Serve Dish. It is 9-inches wide, 5-1/4-inches high and holds 1-1/2 quarts.

The Oval Serve Bowl is 10-3/4 inch long x 7-1/2 inch wide and holds 45 ounces.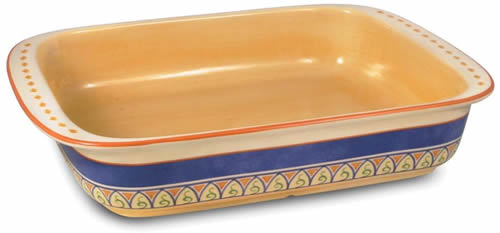 Pfaltzgraff Villa Della Luna Stoneware Bakeware
There is bakeware also. The Rectangular Lasagna Baker 15-3/4-inches x 11-1/2-inches. It is 3-inches deep and holds 4-1/2 quarts.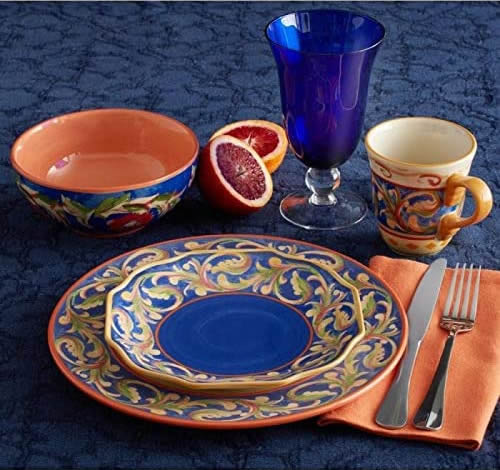 Pfaltzgraff Villa Della Luna Blue Glasses
The coordinating glasses look like cobalt blue Italian glass. They are 4-inches wide and 6-3/4-inches tall. They each hold 16 ounces and are dishwasher safe.