Morris & Co Strawberry Thief Collection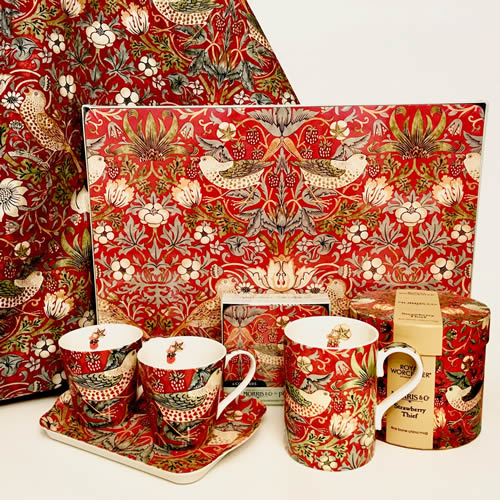 Spode, Royal Worcester and Pimpernel make coordinating tableware in the Morris & Co Strawberry Thief pattern.
The first thing I noticed is the trays. They are made of durable melamine, so you can use them indoors or to entertain on the porch. Even if the only one I am entertaining is myself.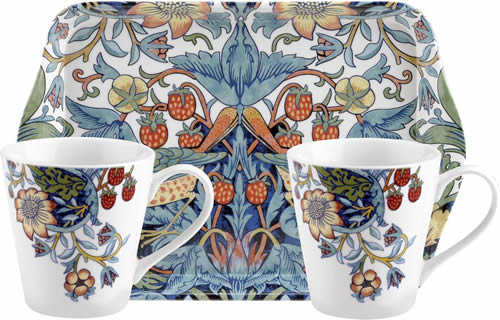 Pimpernel Morris & Co Strawberry Thief Melamine Trays
Melamine is durable and ideal to use indoors or out.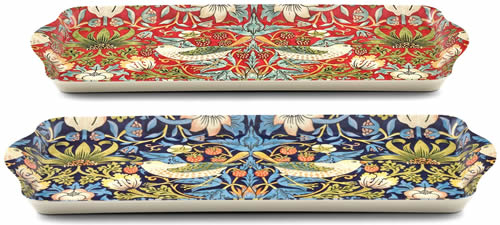 The trays come in two sizes.  The smaller Sandwich Tray is 15.1″ x 6.5″.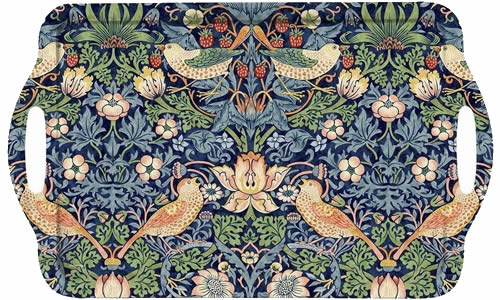 The Handled Tray is 19″ x 12″.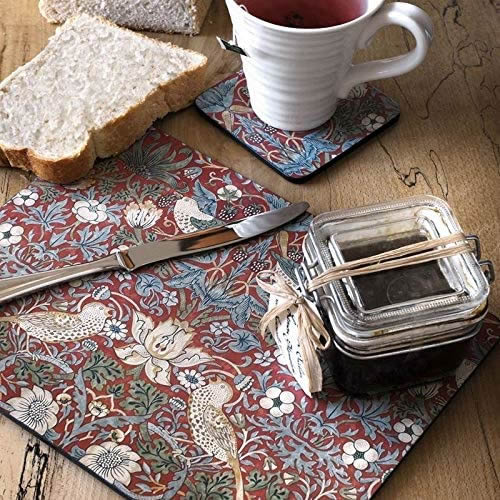 Pimpernel Morris & Co Strawberry Thief Coasters and Placemats
The placemats and coasters are 5mm board topped with Morris & Co Strawberry Thief art print.
The placemats are 15.7" x 11.7". They are .2" thick with cork backing. They are sold in sets of 4.
They are easy care, wipe clean.
They are totally sealed with a high quality coating that is both stain and heat resistant to 212°F.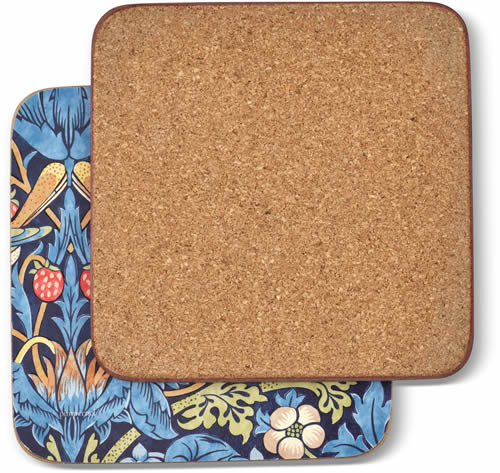 The coasters are just a little over 4" x 4". They are .2" thick. They are sold in sets of 6.
They have cork backing.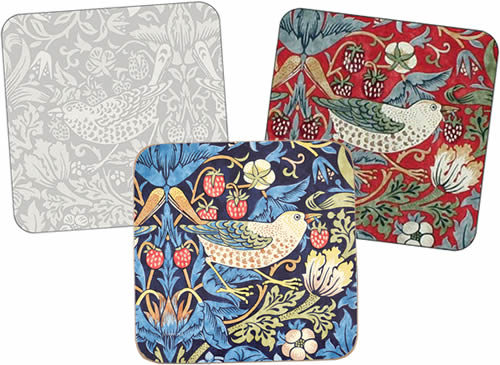 The coasters and place mats are available in variations on the Strawberry Thief print.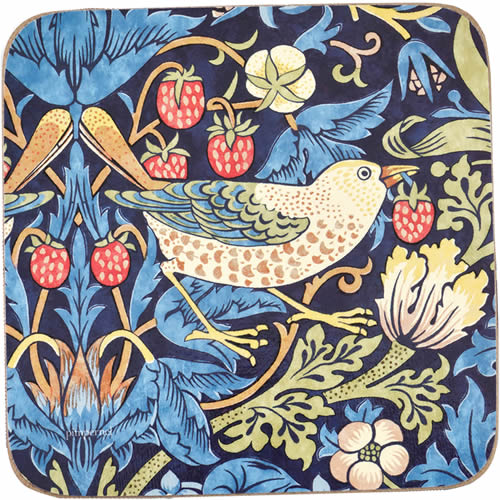 My favorite is the blue.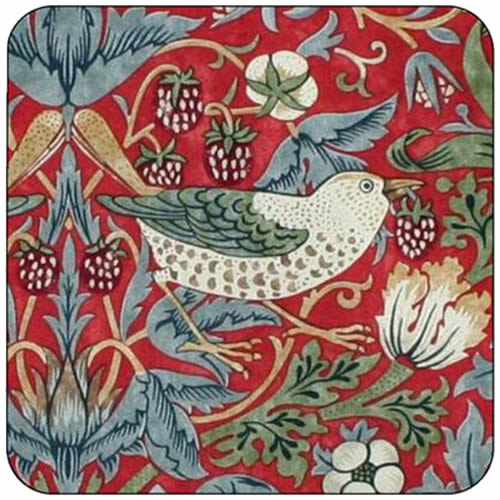 There seem to be more items available in the red variation.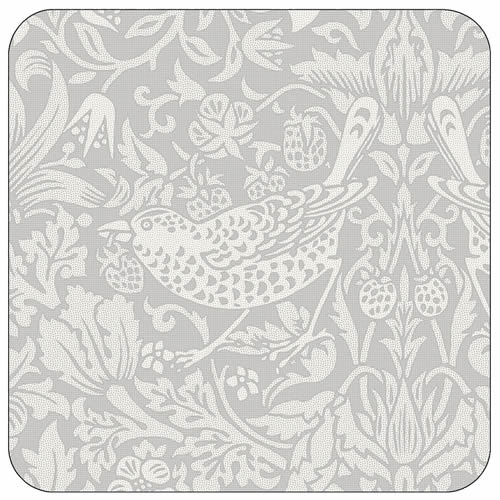 There are a lot of two color variations from other companies. The grey is beautiful.
William Morris and Morris & Co
William Morris was  a founder of the British Arts and Crafts movement. He gave us over 600 designs for wall-paper, textiles, and embroideries.
William Morris was one of the most influential designers of the nineteenth Century and through his company, Morris & Co., he produced some of the most fashionable and exciting textiles and wallpapers of his era.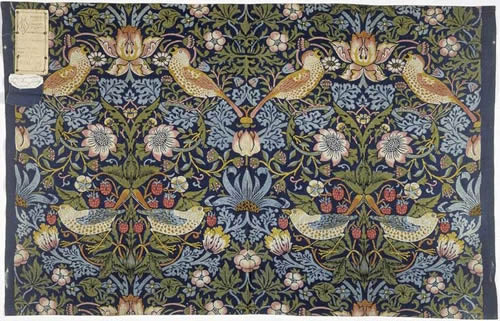 Strawberry Thief
The Strawberry Thief is one of Morris's best-known designs, patterned after thrushes that were stealing the ripe strawberries in his garden.  The pattern was designed around 1875 and has been produced since 1881.
Strawberry Thief was one of Morris & Co.'s most populist patterns, even though it was one of the most expensive cottons available at the time.
The original pattern was in blue printed on white. Later red and yellow were added. Today Strawberry Thief is available in color variations on a lot of different products.
Portmeirion Group
Pimpernel and Spode are part of the Portmeirion Group.  Portmeirion Group is a British company, the parent company to Spode, Wax Lyrical, Royal Worcester, Pimpernel and Nambé.
Pimpernel
With its unrivalled reputation for quality products, Pimpernel is the premier brand for corked back placemats and coasters, melamine trays, and accessories. With the introduction of new and exclusive designs, Pimpernel continues to build on its holistic solution for the tabletop.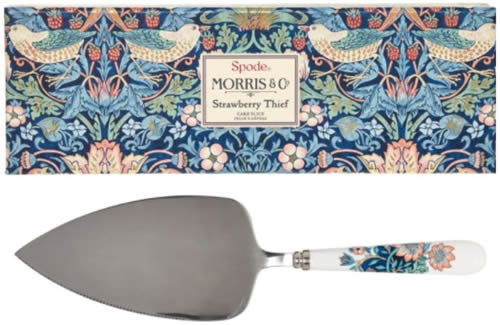 Spode
Celebrating its 250th anniversary in 2020, Spode is widely regarded as one of the UK's great ceramic brands. New designs such as Kingsley keep Spode at the forefront of contemporary yet timeless Great British design.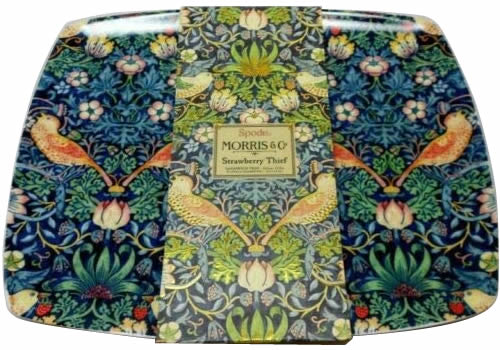 Spode has a number of things in the traditional Strawberry Thief pattern and pieces inspired by the pattern that coordinate.
These traditional tins have been used for decades to keep cakes moist.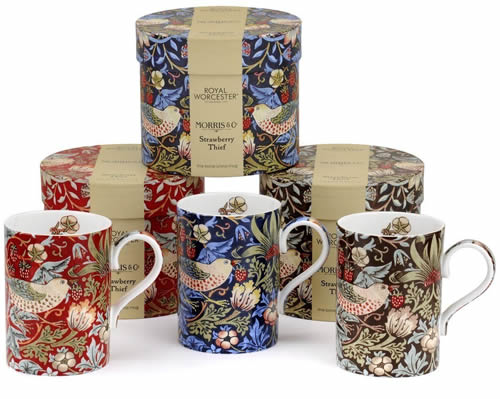 Royal Worcester
Royal Worcester has a rich and diverse design heritage. The brand offers a wide spectrum of quality products including fashionable fine bone china mugs and sophisticated, competitively priced tableware sets. New characters and line extensions have enhanced the popularity of the Royal Worcester Wrendale Designs collection of mugs and giftware.

You can find pieces from the Metropolitan Museum of Art and other places, too.