Spode Creatures of Curiosity
Spode makes a lot of beautiful things. We all love the Blue Room Collection. But have you seen the Creatures of Curiosity Collection?
Creatures of Curiosity

Inspired by Spode's illustrious design archive from the Victorian era and our obsession with all things wild and wonderful, Spode's extraordinary Creatures of Curiosity collection has been designed for those who love to express their own unique sense of style in their homes.
The flowers are beautiful, but what makes them is the unexpected insects and snakes. They come on light or dark background or with leopard print. The insects are beautifully drawn. Many of the pieces combine all of the motifs.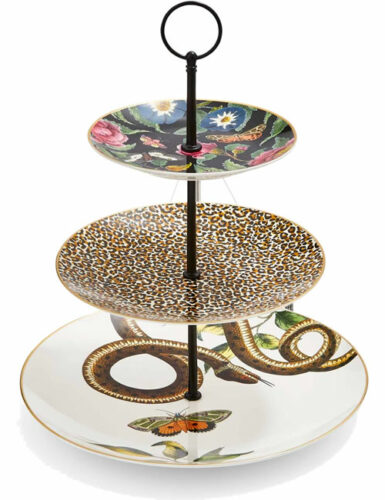 The cake stand has examples of all of the patterns. The top plate is the "dark and edgy" floral pattern, with insects and detailed realistic flowers which "give a nod to Spode's heritage designs." The middle plate "adds a wild touch" with leopard animal print. The bottom plate has the floral on white with a moth and snake.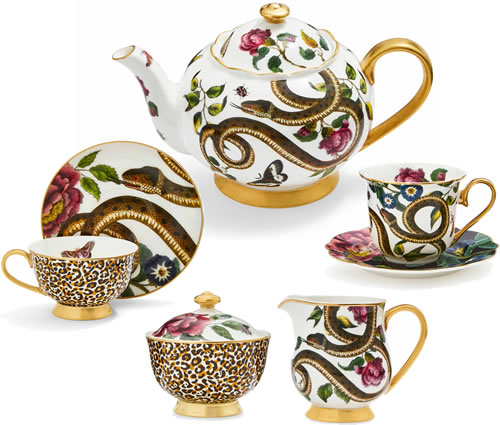 The set includes teacups and saucers in different shapes and prints that mix and coordinate.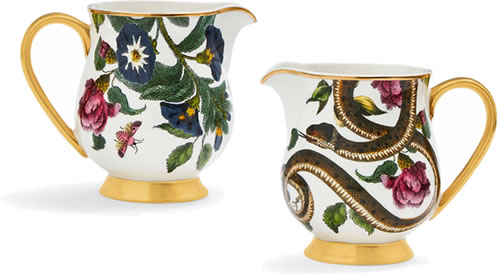 The cream pitcher has the snake winding on one side with flowers and insects. The base, rim and handle are finished in 22-carat gold.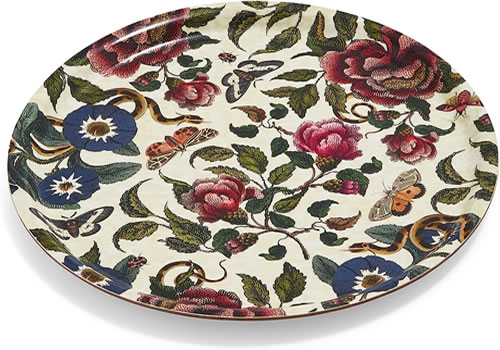 The serving tray is made of birch wood. Snakes wind through moths, flowers, leaves and stems. A heat-resistant melamine-based surface protects the pattern.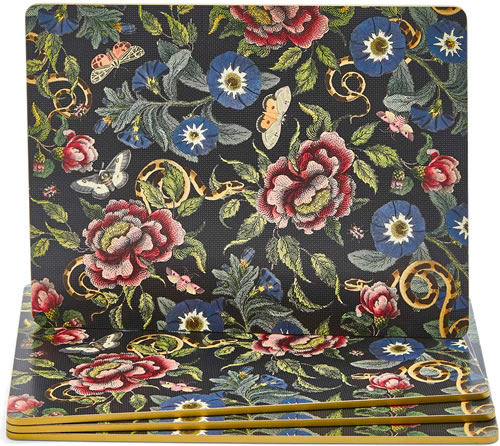 Pimpernel, a division of Spode, makes felt-back placemats in the dark background floral.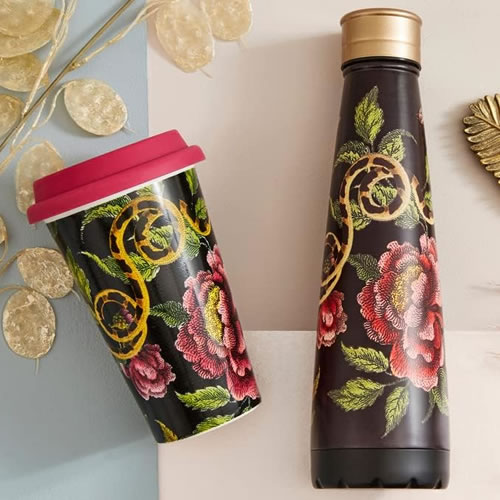 The travel mug and thermos bottle are very reasonably priced. Take this exotic pattern with you.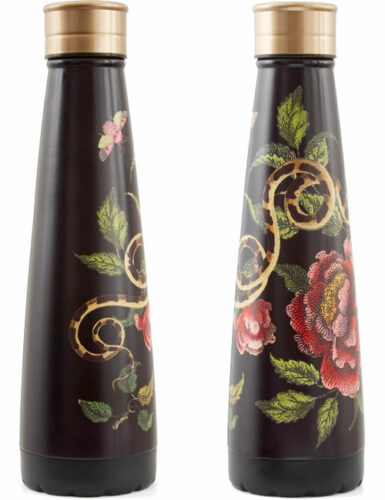 The thermos bottle is small. It only holds 15 ounces. But it fits into a pocket or purse and can keep your drink hot or cold for up to 12 hours. It is stainless steel, without a glass liner to break.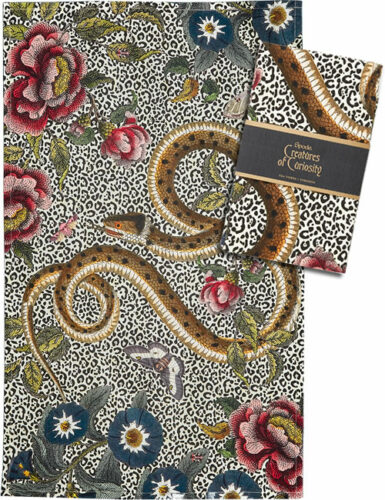 Spode makes Creatures of Curiosity tea towels to coordinate with the set. They are all made of 100% cotton fabric, finished to 18″ wide by 29″ high with a loop to hang. They can be machine washed and dried.
The little notebooks are a nice gift for yourself or others. They come in two sizes. The smaller one is 5.8″ wide by 8.3″ high. The larger size is 8.3″ wide by 11.7″ high. Both sizes hold 150 unlined sheets of weighty paper with a ribbon marker.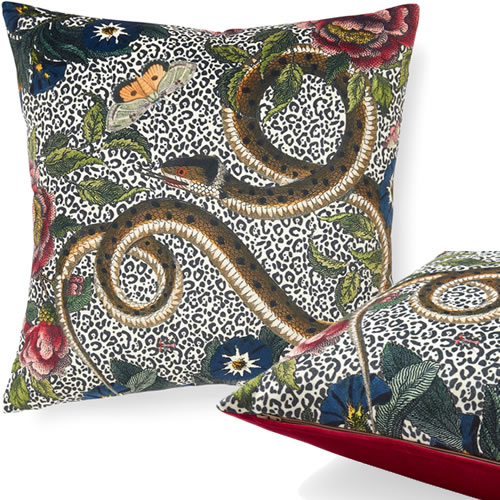 Bring the Victorian inspired motif into the living room or bedroom with soft velvet pillows filled with down feathers. This one is 17.7″ square. Other sizes are available, too.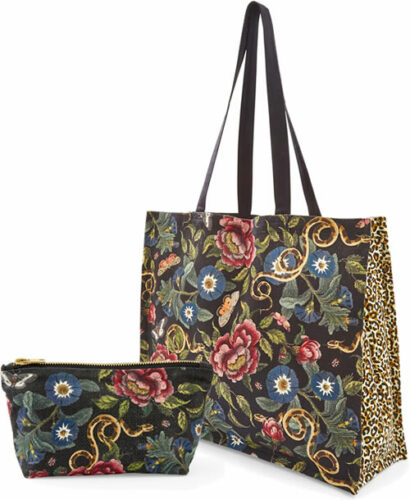 And bring Spode Creatures of Curiosity along with you. The black background tote bag and zip case have all of the best elements in the patterns.
The tote bag is 16″ wide, 14″ high. The bottom is 5.9″ by 16″. It can even be machine washed, tumble dried. The cosmetic case is 8.35″ wide, 4.33″ high and 2.76″ deep. It should be hand cleaned.

Spode Creatures of Curiosity Sets
Spode Creatures of Curiosity Dessert Plates Set of 4 (Assorted)
Spode Creatures of Curiosity Placemats Set of 4
Spode Creatures of Curiosity Coasters Set of 4
Creatures of Curiosity Pieces with the Snake
Spode Creatures of Curiosity 3-Tier Cake Stand
Spode Creatures of Curiosity Dark Floral Teacup and Saucer (Snake/Black)
Spode Creatures of Curiosity Animal Print Tea Towel
Spode Creatures of Curiosity Dark Floral Teacup and Saucer (Snake/Black)
Spode Creatures of Curiosity Animal Print Notebook (5.8″ x 8.3″)
Spode Creatures of Curiosity Snake Creamer
Spode Creatures of Curiosity Snake Teapot
Spode Creatures of Curiosity Tote Bag
Spode Creatures of Curiosity Water Bottle
Spode Creatures of Curiosity Animal Print Velvet Pillow