Coastal Oyster Shell Chandeliers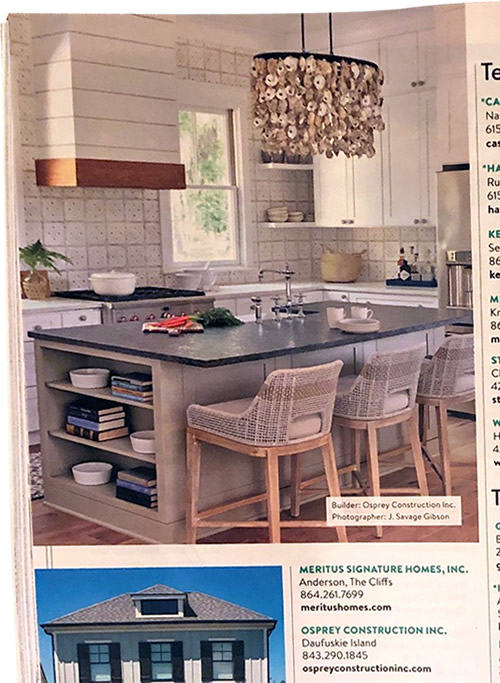 This chandelier over a kitchen island caught my eye as I was page turning the latest Southern Living magazine. It's not in one of the articles. It is in a list of Southern Living Custom Builder Program Members.
What is that light over the island made out of?
The builder is Osprey Construction Inc.
Osprey Construction Inc.
Daufuskie Island
843-290-1845
ospreyconstructioninc.com
Daufuskie Island is right by Hilton Head Island, off the coast of South Carolina. We go there once or twice a year.  (On our first trip I shopped a dozen stores to pick out just the right Spartina 449 linen and leather tote bag as a souvenir, to find that they sell the same one walking distance from my house.)
The island chandelier looks like it is made with clam shells. I went to their website to try to identify it, but the photo didn't seem to be there.
So I did a Google image search for Osprey Construction Daufuskie Kitchen. (There are a lot of other Osprey Constructions if you don't add Daufuskie.) I didn't find this exact kitchen, but I found other examples of very similar chandeliers.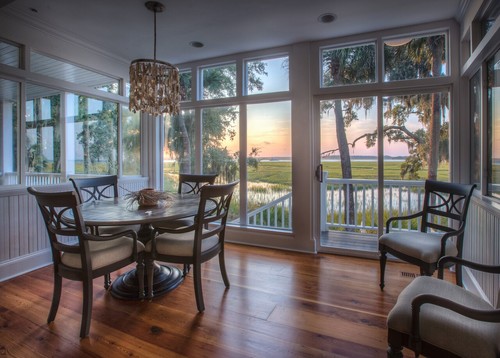 On houzz, the page with reviews for Osprey Construction shows a similar chandelier in the project Meyer Colvin Run. Their magnifying tool showed a bunch of crystal chandeliers with a similar form. The kitchen on this project has clear glass pendants.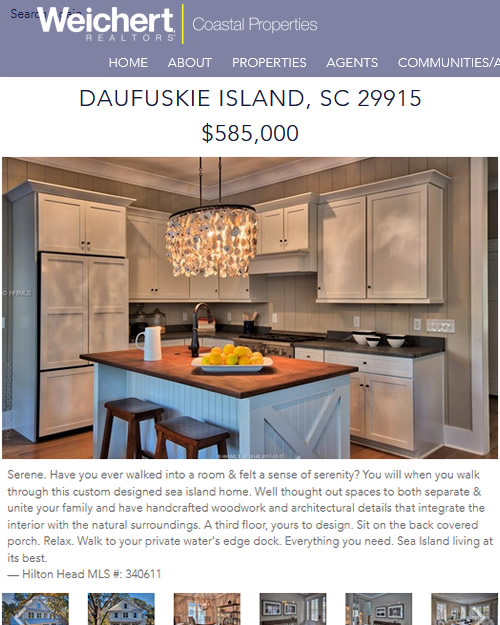 This house on the Weichert Realtors website looks like it has the exact same chandelier, but it's not the same kitchen.
I guessed they are clam shell chandeliers. Hilton Head Island has a lot of clam shells. Tall mounds of them in some places.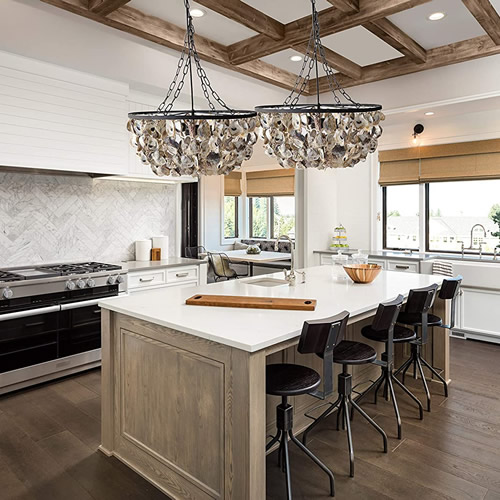 I didn't find clam shell chandeliers, but I did find oyster shell chandeliers. Perhaps that is what I am seeing on Hilton Head Island. They aren't labeled.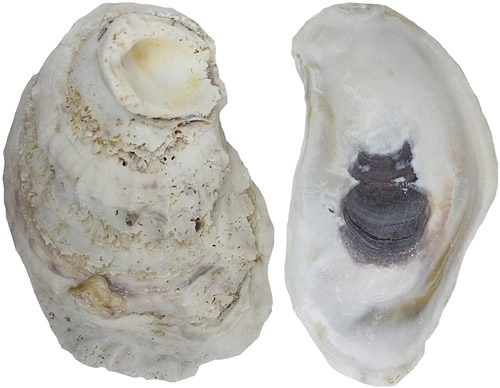 These are oyster shells. The same dark spot. That is what the chandelier is made out of.
The Shell Connection Oyster Shells
Available as 2-3", 3-4" or 4-5" in packages from 24 to 192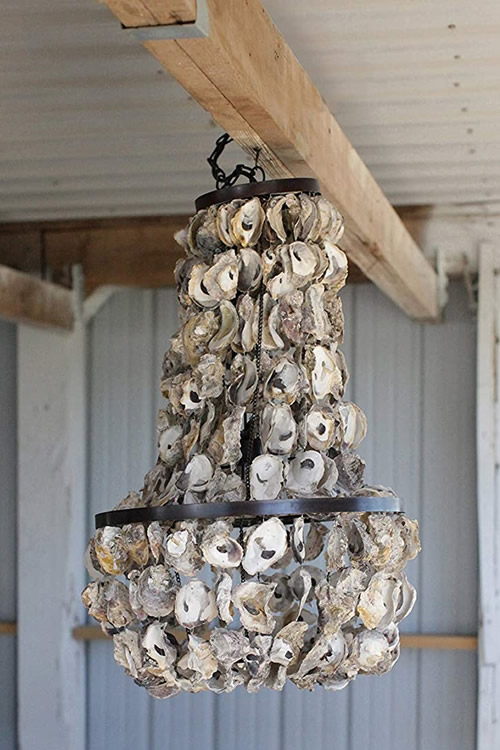 Here is another version made by Creative Co-op.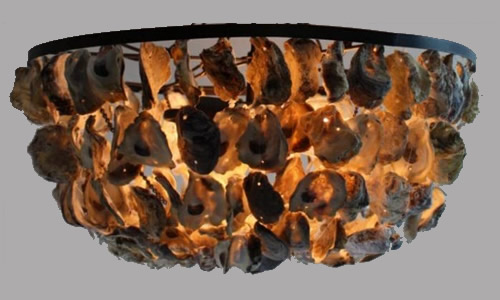 I found this photo of The Kings Bay Large Oyster Shell Ceiling Light that shows what they look like lit. The shells don't let much light through. I bet it would make an interesting shadow pattern.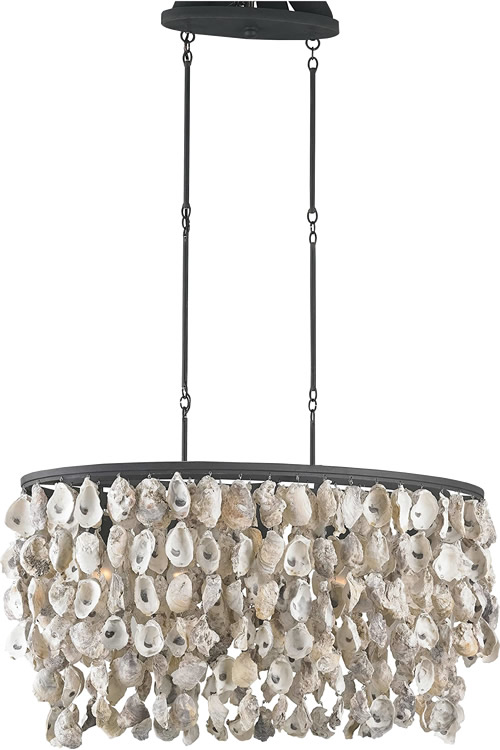 This looks like it might be the one in the Osprey Construction Inc. photo, the Sagg Coastal Beach Oyster Shell Wrought Iron Island Light from Kathy Kuo Home.  It is 36" x 20" wide and 20" high with 12 wrought iron rods to hang it.
Kathy Kuo Home Sagg Oyster Shell Island Light

This chandelier brings a distinctive combination of rustic and elegant. Carefully selected sea shells are strung and hung from a wrought iron oval in an exotic veil. The natural cascade is rich with varied neutrals – ivory, beige, grey and white contrast and pop in the natural palette. Bring the relaxing feel of the ocean home with this understated fixture.
The Currey & Company 9492 Stillwater Oval Chandelier looks identical to me.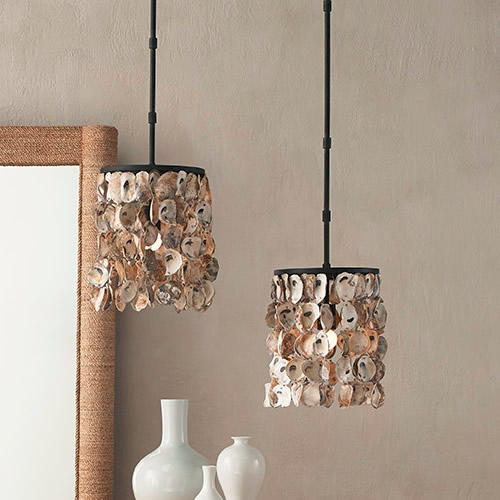 The Stillwater Chandelier has coordinating small pendants, Currey and Company 9250 Stillwater Oyster Shell Mini Pendant.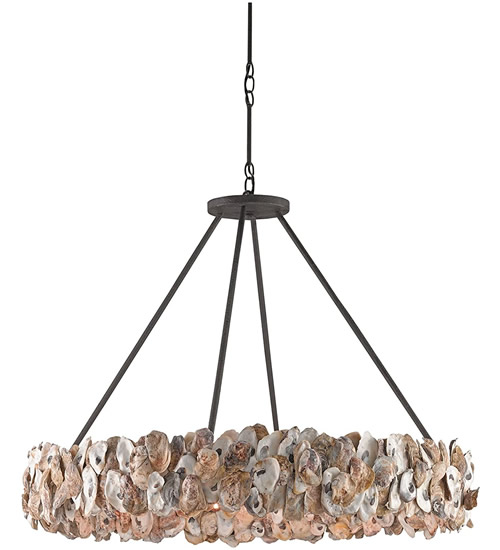 There is also a 38″ wide circle chandelier. It has the same wrought iron rods as the oyster shell oval island chandelier.
I have seen other shell chandeliers before, but oyster shell chandeliers are new to me. They are a very natural looking unusual look, a look that really works for coastal style.
Beach House, Coastal & Nautical Style
Coastal Collections