Chandeliers – Not Just for the Dining Room
Chandeliers aren't just for the dining room. Hanging a chandelier in a living room or great room is a great way to express your personal style.
"You can have a big, bold chandelier in a small room if you choose the right one. An all-glass or thin-frame chandelier is striking without taking up a lot of visual space."
HGTV Design Star judge Vern Yip, HGTV Magazine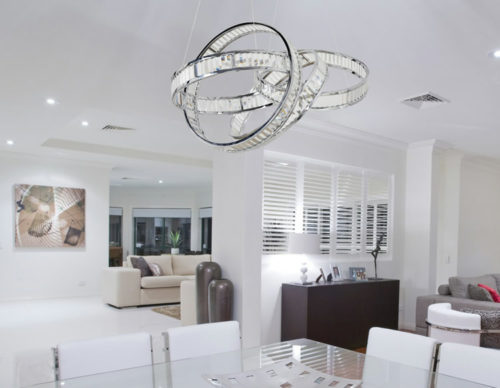 Contemporary Crystal adds  cool elegant style. This chandelier pendant has 4 bright 50 watt GU10s that reflect and refract off the suspended crystal sculpture. It feels almost like an art installation, while lighting your room. It is 20″ at it's widest.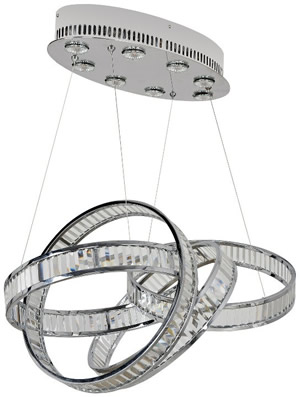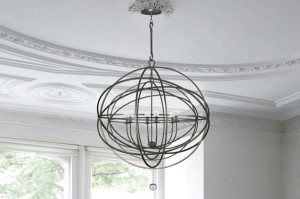 Crystorama's Solaris Collection has orb pendants in three sizes. They make an incredible impact in a modern, contemporary or transitional space. This one is 12″ wide. It also comes 22″ and 28″ wide. Don't be afraid to use something larger!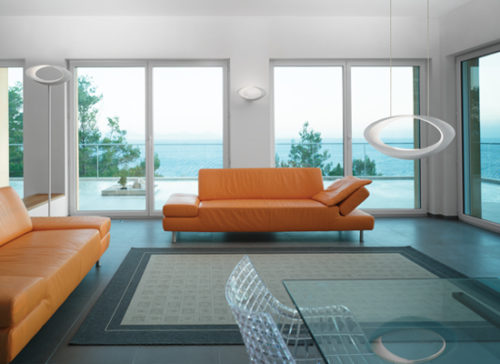 This high-style room has Artemide's Cabildo Pendant, Wall Bracket Sconce and Floor Lamp. What an impact! The pendant is cable suspended light for indirect and diffused halogen lighting. It is made of  die-cast aluminum in painted white finish with a specular aluminum reflector and lamp concealed in the inner curve of the structure.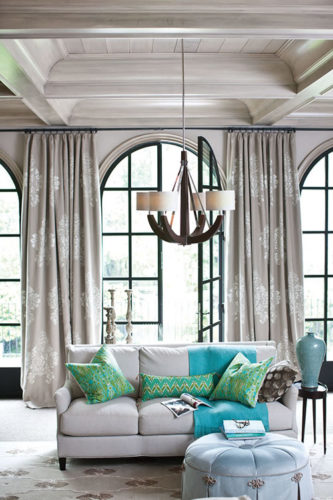 Hinkley Lighting's Cameron Collection, designed by Fredrick Raymond, has a transitional design featuring strong modern arms of a rich dark solid wood veneer. The stem hung collection has a bold tapered four sided center column detailed by crisp chrome accents. Elegant textured fabric shades in silver tones add feminine sophistication. The collection includes 3-arm and 4- arm chandeliers, pendant, mini-pendant, a bold wall bracket sconce and a semi-flush ceiling light.