Kali Blue and White Bath Collection from Saturday Night Ltd.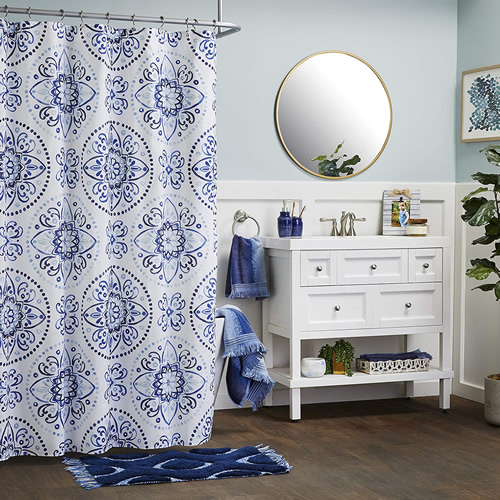 The Blue and White Kali Collection from Saturday Night Ltd. has window treatments, small rugs, shower curtains and hooks, towels and other bath items all in shades of blue with coordinating items in grey.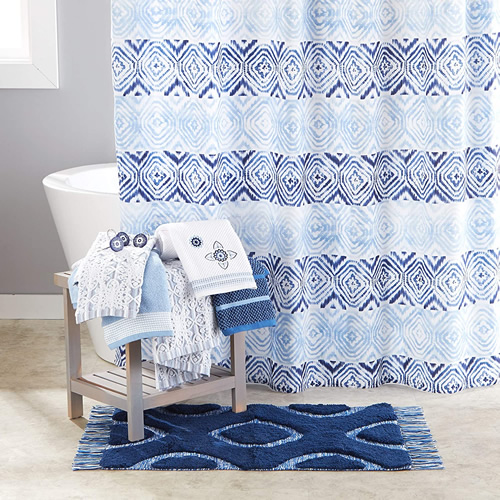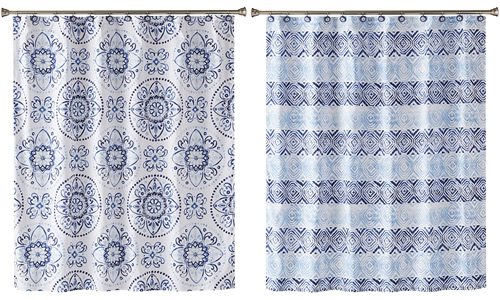 Shower Curtains and Shower Curtain Hooks
There are two different shower curtain in the Kali Collection.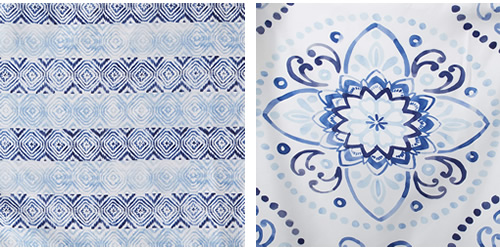 They are both made of 100% Polyester fabric with a nice weight to it. They are 70 inches wide by 72 inches long with 12 eyelets, like most shower curtains.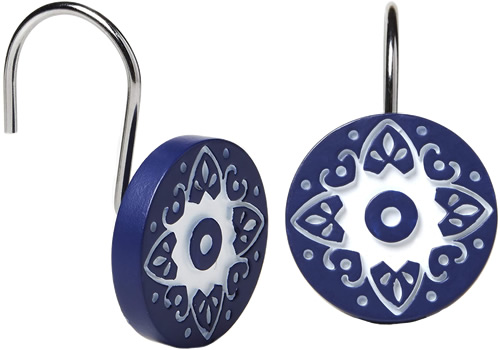 The shower curtain hooks have the medallions in the blue and white.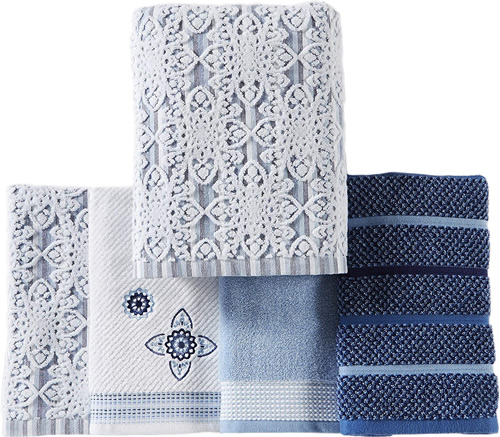 Towels
The towels are thick and absorbent yarn dyed 100% cotton. Yarn dyed means the color isn't printed on. The towels are woven using colored fibers.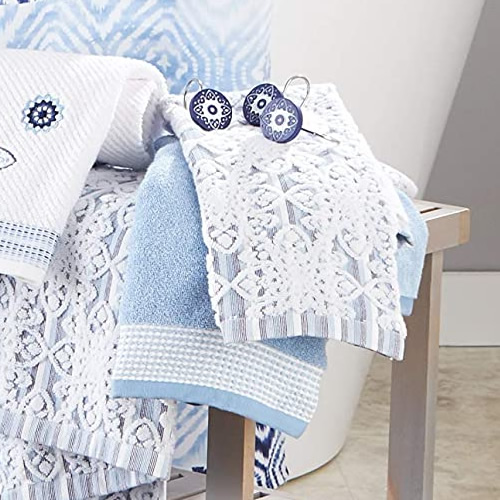 There are four different coordinating hand towels. They are 16" wide by 26" long.
Wedgewood is a light blue color like Wedgewood china.
Midnight has a dark navy blue with heathered stripes in other shades of blue.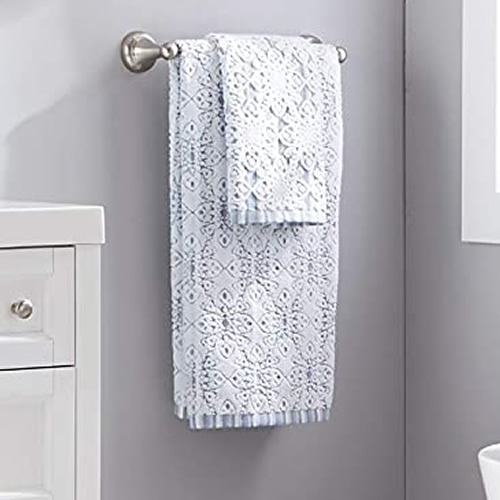 The bath towel are 27" wide and 50" long.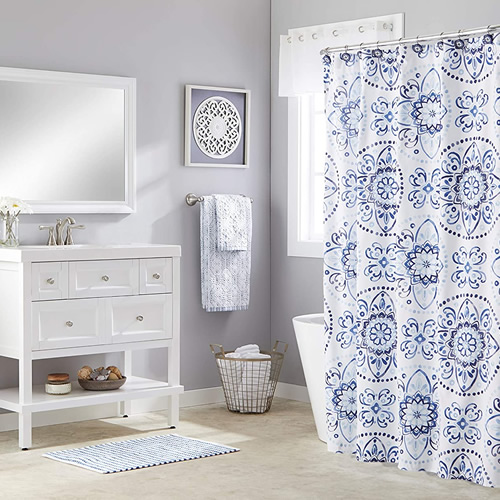 The towels coordinate with the other pieces in the collection without being matchy matchy.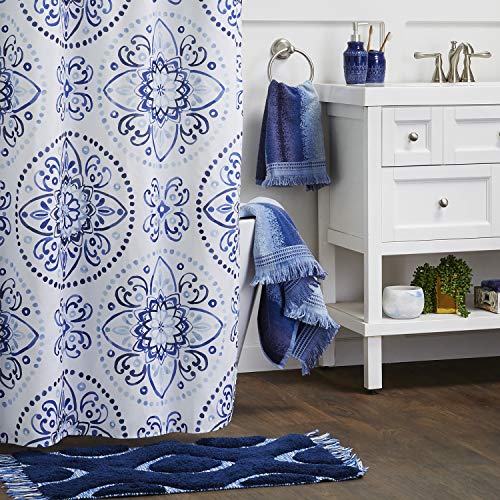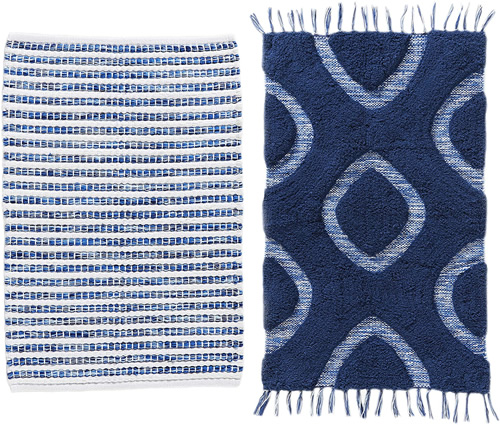 Throw Rugs
There are two rugs made to coordinate with the Kali collection. I bought both and loved them so much that I bought three more of each.
They are supposed to be 20" wide and 30" long, but I measured all of mine and they are all 21" wide and 31" long, not including the fringe on the dark blue ones.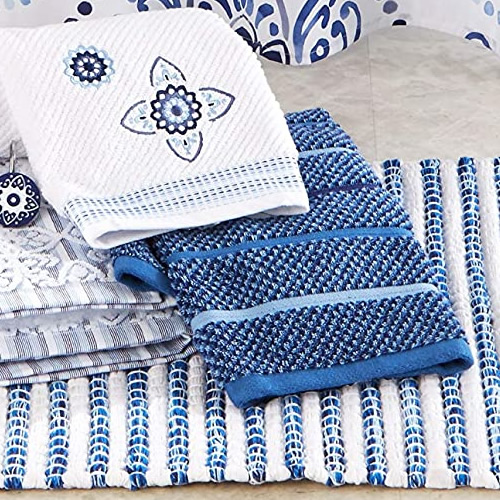 The Kali rug with the stripes is shades of cobalt blue and a very slightly off white. It coordinates with all of the towels. I have it in the bath with my Chinoiserie set and the colors work great.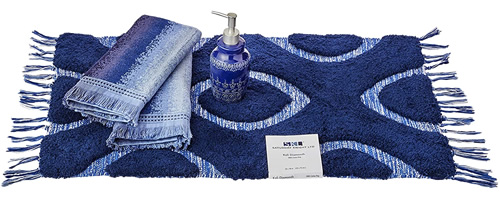 The Kali Diamonds Bath Rug in Midnight Blue is thick and absorbent cotton. It has the same shades of blue as the towels and countertop items.
Both rugs are machine washable and have have non-skid backs. The backing works when the dogs run through. The Roomba can still push them around, but I can live with that.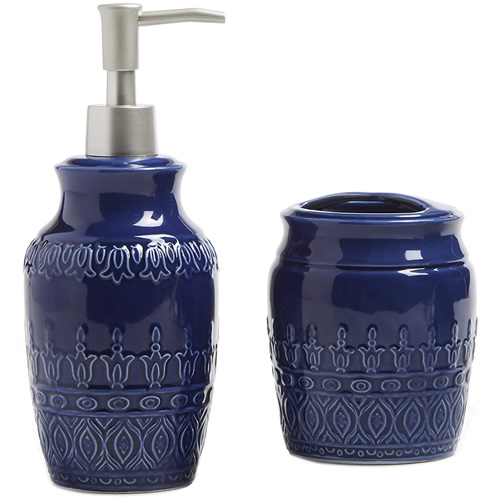 Counter Top Collection
The toothbrush holder and soap pump have raised motifs that coordinate with the Kali pattern. They are glazed in a dark blue. The toothbrush holder has two wide holes that are large enough to hold electric toothbrushes. The pump is brushed nickel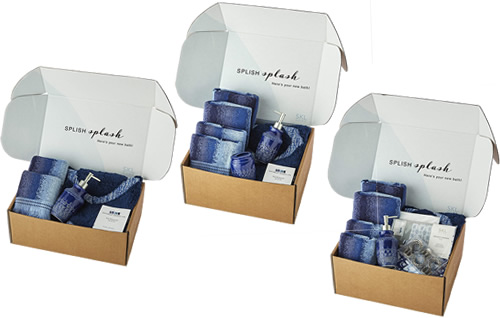 Splash Boxes
SKL Home Splash Boxes have everything you want to make a change in your bathroom.
Take the guess work out of updating your bath! The Splash box is a curated collection of bath essentials that gives you an instant "remodel" without a full renovation. It' a quick and easy way to update your bath in a fun and stylish way-at a fraction of the cost! Impress your out-of-town guests, update your bath in seasonal style or gift the Splash box to a bride-to-be or to your son/daughter moving into their first place, the options are endless!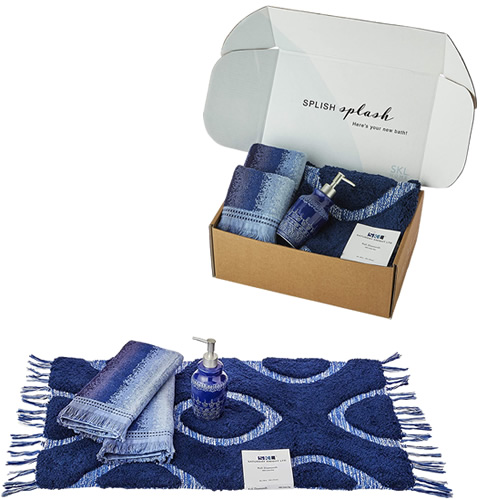 There are three different 3 sizes. The Half Bath Splash Box is for your powder room or kitchen sink. It has a pump for lotion or liquid soap, 2 hand towels and a coordinating bath rug.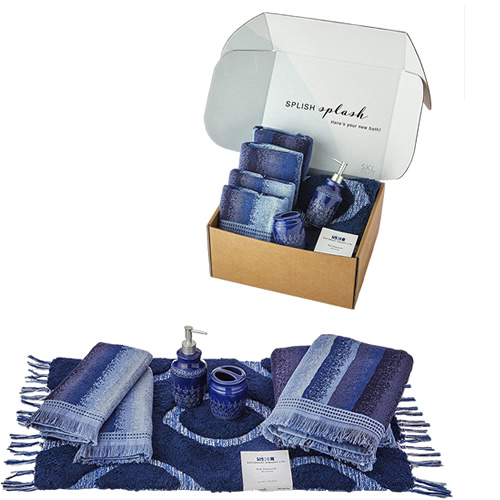 The Full Bath Splash Box includes a pump for lotion or liquid soap, a matching toothbrush holder, 2 hand towels, 2 bath towels, and a coordinating bath rug.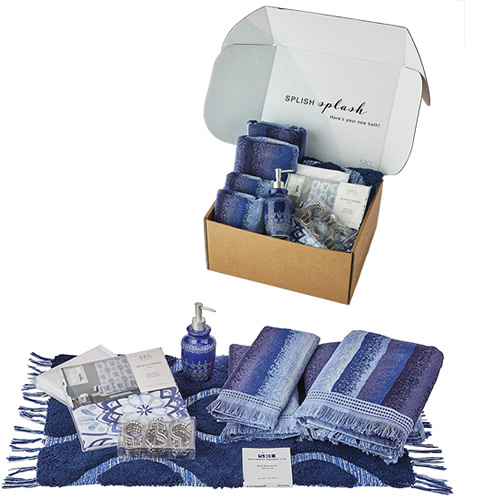 The Full Bath Splash Box Plus includes a fabric shower curtain, PEVA liner and 12 shower curtain hooks, a dispenser with pump for lotion or liquid soap, 2 hand towels, 2 bath towels, and coordinating bath rug.
They are plain hooks, not the Kali shower curtain hooks.

SKL HOME by Saturday Knight Ltd. Splash Boxes >
Window Treatments
Kali includes window treatments in Dove Gray and Indigo Blue. They have the same print at one of the shower curtains.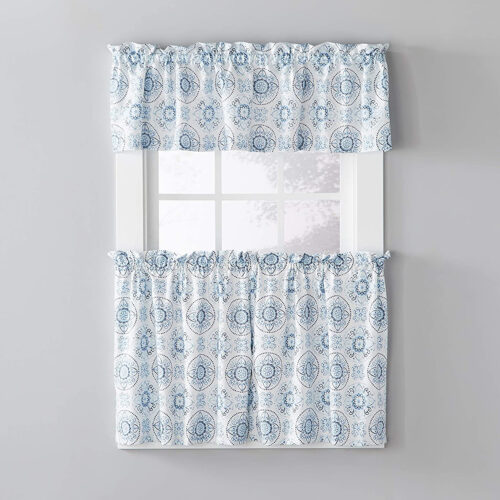 The Kali valance and the tiers with a rod pocket fit onto a .75" curtain rod. The valance is 58" wide and 13" long.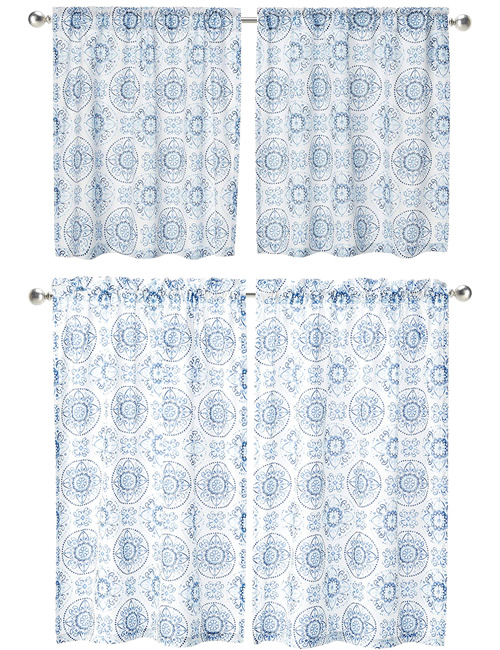 The tiers are sold as pairs. They are available 24" or 36" wide by 57" long.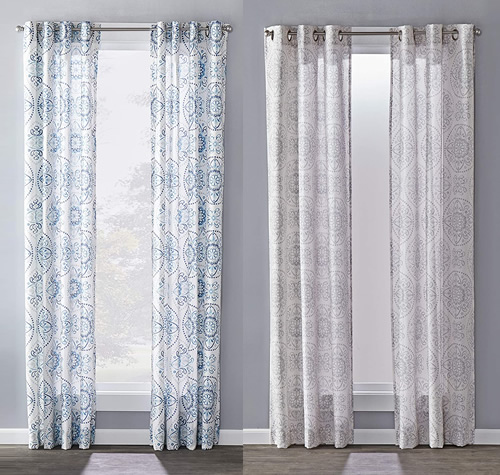 The curtain panels with a grommet fit onto a 1.25" rod. They are sold singly or in pairs. They come in in Dove Gray and Indigo Blue. The grommets are Brushed Nickel.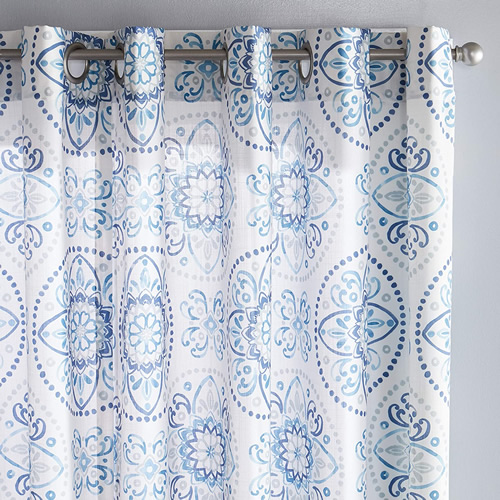 The grommets are large, so they could be used over a larger rod, too.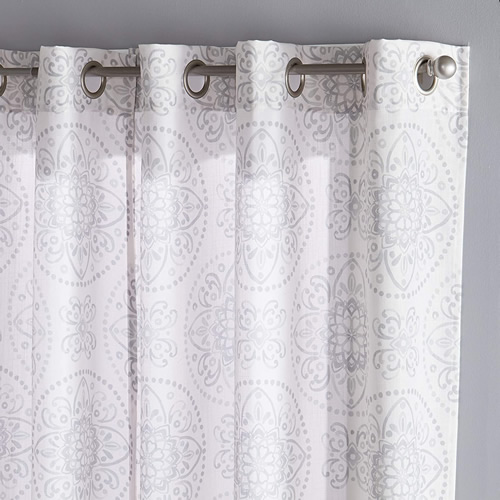 The panels are 40" wide. They come 63", 84", 95" and 108" long. They are light filtering, made of 100% polyester.
The fabric has UPF protection, so they won't fade when used over a sunny window.
Let Light In. Keep Harmful Rays Out.

Sure, we all know the harmful effects the sun has on our skin, but think about what happens to the items in our home that are exposed to these rays day in and day out. Faded wood floors and furniture, damaged upholstery and leather—all very costly repairs that can be avoided. Protect your furniture and flooring with SUNSAFE window curtains from SKL Home.

SUNSAFE is an innovative design technique that allows light in but keeps the harmful rays out. SUNSAFE window curtains have a UPF testing of 30-50+, blocking up to 98% of UV rays*, the highest in its class. Combining stylish design with this innovative technique, SUNSAFE from SKL Home offers both function and fashion. Say goodbye to faded flooring and furniture and hello to natural sunlight.