Colonial Williamsburg Foundation Hampstead Chinoiserie Toile Table Linens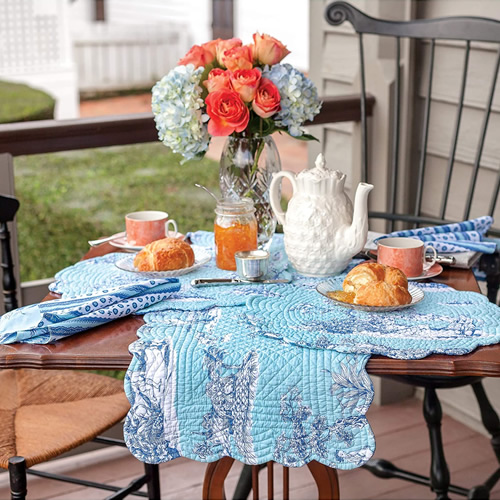 The Colonial Williamsburg Foundation operates historic area stores in Colonial Williamsburg, living-history museum in the historic district of Williamsburg, Virginia. The Hampstead Toile collection was inspired by an 18th century English fan found in the Foundation collection. It has chinoiserie scenes of pagodas, willow trees, stylized Chinese ladies and other traditional motifs in cobalt blue on turquoise blue green.
The toile pattern is printed on 100% cotton fabric and used to make window treatments, bedding, and dining room coordinates.
A coordinating fabric with cobalt blue and turquoise blue green stripes with tiny flowers and lace printed on white is used for napkins and the back of the place mats and table runners.
Designed by the Colonial Williamsburg Foundation.
Made and sold by C & F Home.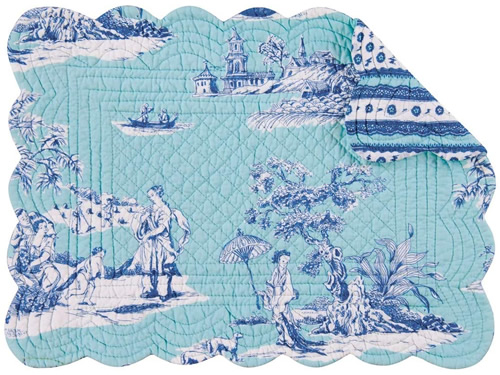 Colonial Williamsburg Foundation Hampstead Toile Placemats
The rectangular place mat is 19″ by 13″.
Easy care
Machine washable
Scalloped Edge
100% Cotton
Handcrafted
Prewashed and Pre-shrunk
Reversible
Finished in the USA
The place mats are reversible, with the chinoiserie toile on one side and the coordinating stripe on the other.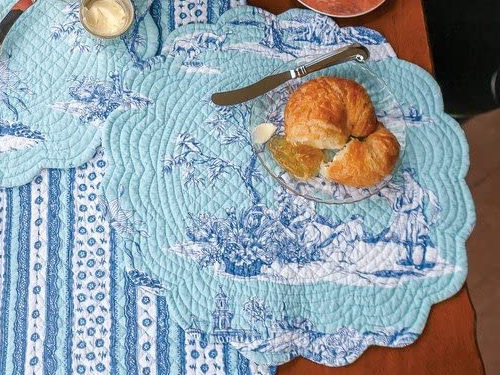 Round place mats are ideal for many tables. Not as wide as a rectangular place mat, but with plenty of space. The scalloped edges are beautifully finished and quilted. The other side matches the napkins.
The round place mat is 17″ wide.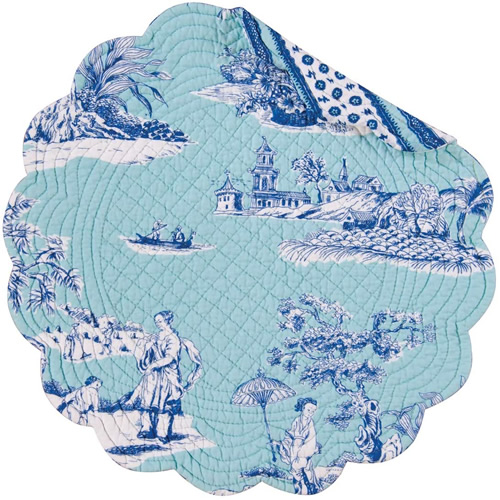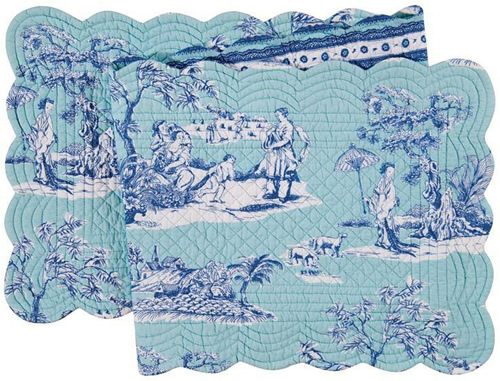 The table runner is 14″ wide and 51″ long. It is quilted and has a scalloped edge. The other side is the striped with flowers and lace print like the napkins.
Global chic meets timeless design with this Williamsburg-inspired cotton table runner. Pastoral scenes—set in England and China—are drawn from an 18th-century English fan in the collections of The Colonial Williamsburg Foundation to create a stunning and unique ensemble for your table. The cheerful quilted table runner features a scalloped edge and reverses to a coordinating stripe and dot pattern.
Williamsburg Collection Hampstead Toile on eBay >
C&F Home Colonial Williamsburg Hampstead Toile on eBay >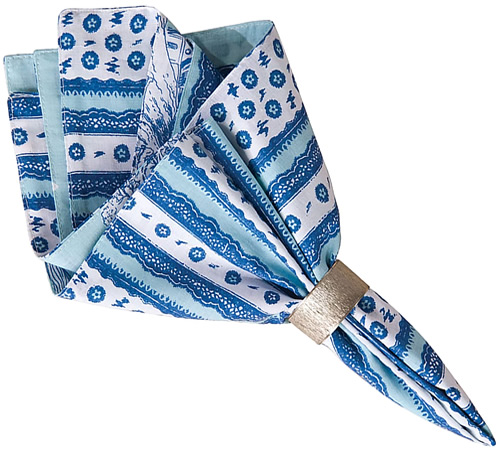 The napkins have the striped coordinate print. They are 18″ x 18″. Easy care, just machine wash and tumble dry.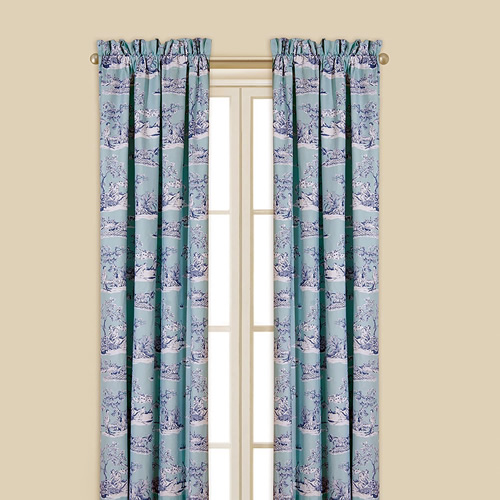 The coordinating drapes are 50″ wide x 84″ long. They have a rod pocket.
Colonial Williamsburg Foundation Hampstead Chinoiserie Toile Bedding >

CF Home Colonial Williamsburg