KAF Home Blue Willow Dish Towels and Placemats
KAF Home makes Blue Willow printed cotton dish towels and cork-backed placemats.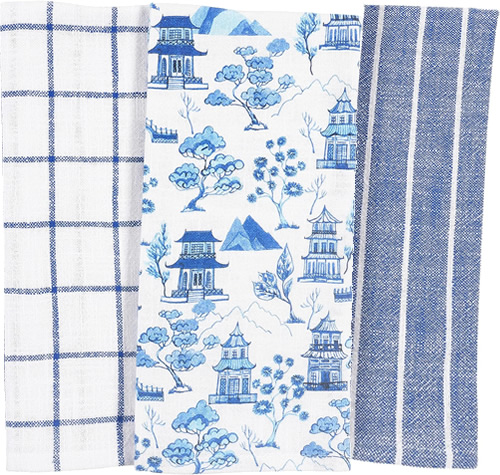 The dishtowels are sold as a set of three. One has yarn dyed dark denim blue with white stripes. One is white with yarn dyed denim blue in a windowpane plaid. And one is printed with a fun Blue Willow drawing. Stylized pagodas, mountains and trees are scattered over a white cotton towel.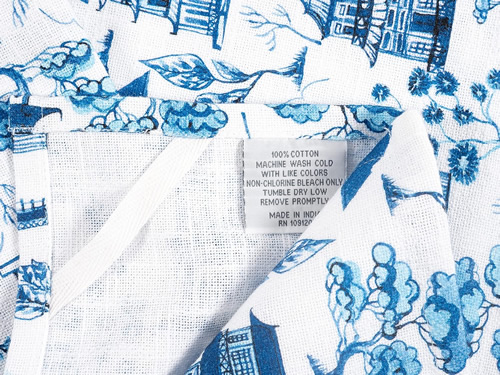 The fabric is slubbed lightweight quick-dry 100% cotton.
Each towel is 18″ wide by 28″ long. That is the finished size. They are already pre-washed, so they won't shrink any smaller. All the edges are hemmed and there is a hang loop on one corner.
They are machine washable. You can tumble dry on low, or hang them to quickly dry. Don't use chlorine bleach or the colors will fade.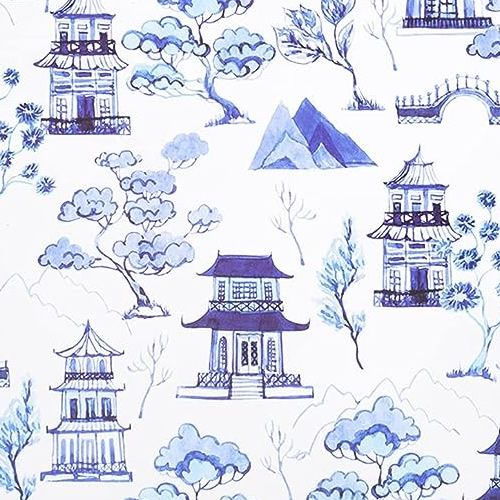 This is the Blue WIllow print. Different pagoda-style houses, mountains, trees and bridges in shades of cobalt blue.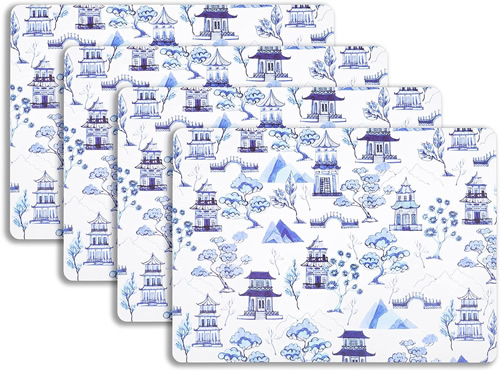 The placemats are 16″ wide by 12″ high. They are basically just paper on cork. You can wipe them clean with a damp cloth, but don't scratch or scrub. They won't take abuse, but they also don't cost all that much.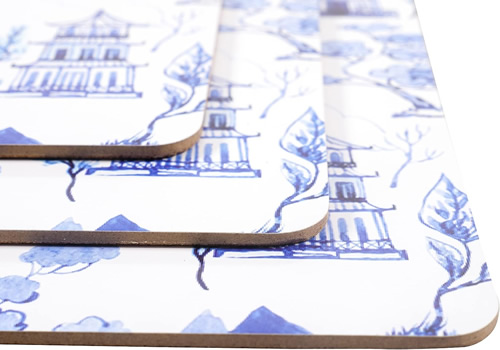 Cork-backed placemats protect your table from heat. We've had our plates get hot enough when we microwaved them to make the table get a white mark. Cork placemats keep this from happening.
KAF Home
KAF Home is a textile design and production company out of Frankfort, Indiana.

KAF Home Story

We focus on delivering quality, function and value within home textiles. We offer timeless, classic pieces, that work the way the user wants them to – in the kitchen, on their table, and throughout their living spaces.

Our empathic approach to work / life balance has created a culture where energy and passion fuel our commitment. We work not just for KAF, but for each other, and for you.

The entire team, from our processing department to the CEO, is proud to support domestic and international vendors that are socially responsible – both to their employees and to the environment. We also support our producers and the environment through charities and direct internal programs that help reduce our footprint.