The right light makes all the difference in your home office. You need a desk lamp that is truly adjustable. When you adjust it, it should stay adjusted! You need to be able to position it to easily see your papers without glare and without reflections from your monitor. You should be able to adjust it without burning yourself. The light should not shine directly into your eyes. The right lighting in your office can keep you from getting headaches and eyestrain.Whether you have vision problems or not, good light is essential. As your eyes age or if you are faced with vision issues, lighting becomes even more important.
"Traditional table lamps with lampshades do not provide a way to direct light to where you need it to read or perform tasks such as writing checks or any other close work. When you select a lamp for a table or desk, choose one with a flexible gooseneck than can be turned to direct light where it's needed."
Macular Disease: Practical Strategies for Living with Vision Loss by Peggy R. Wolfe
There are so many choices available, but all good desk lamps have the same qualities! In Oliver Heath's Home Book he says on desk lamps; "There are a massive variety on offer, but these lights generally have a solid base and a stand with the light bulb shielded or directed by the shade. It's important to pick for your work area a light with a shade that will prevent glare from the light bulb, which can potentially create eye strain. Try to choose a desk lamp with some level of flexibility, such as an angle-poise lamp, which allows you to manipulate it into a variety of positions to best suit the task you are carrying out – for example, to shine light onto a surface or onto a wall to balance the light levels."
You don't have to give up style and fun for efficiency. There are a lot of options available to fit any style.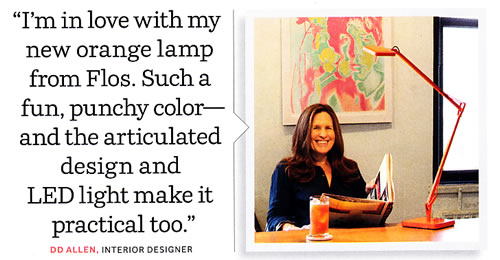 In the September 2013 issue of House Beautiful, Interior Designer DD Allen talks about her favorite. "I'm in love with my new orange lamp from Flos. Such a fun, punchy color– and the articulated design and LED light make it practical too."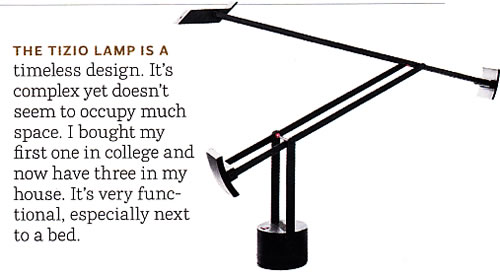 House Beautiful February 2014 Article Master Class interviews Interior Designer Darryl Carter "The Tizio Lamp is a timeless design. It's complex yet doesn't seem to occupy much space. I bought my first one in college and how have three in my house. It's very functional, especially next to a bed."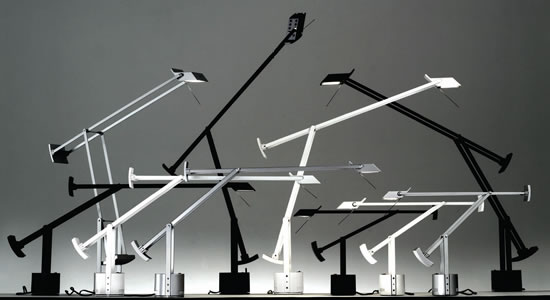 Artemide Tizio Lamp is available in many sizes, finishes and variations. They are adjustable direct task low voltage halogen or LED table or desk light for orientable task lighting with parallel head rotation.
Artemide Tizio Desk, Table & Floor Lamps >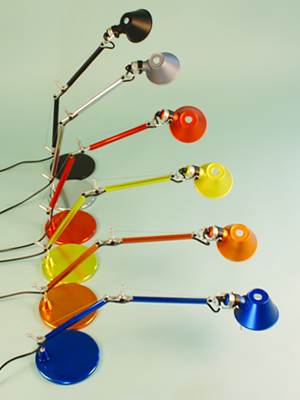 Artemide Tolomeo Collection includes floor, wall and and desk lamps for orientable task lighting in incandescent, fluorescent or LED. They are available in a variety of table mountings.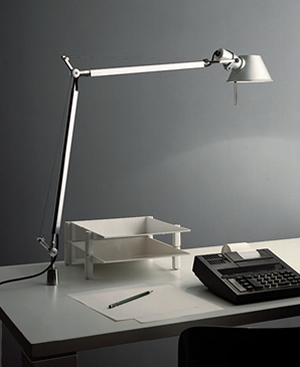 If desk space is at a premium some desk lamps mount through the desk top using a set-in pivot. Or consider using a swing arm wall or floor lamp.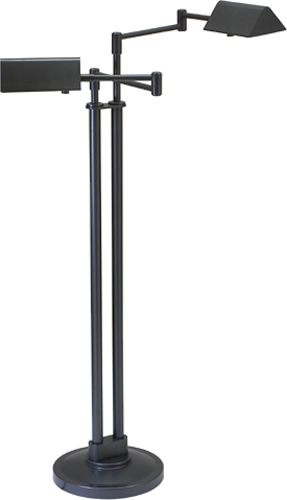 Subscribe to House Beautiful >