Grace Teaware Tea-for-One Porcelain Teapot, Cup and Saucer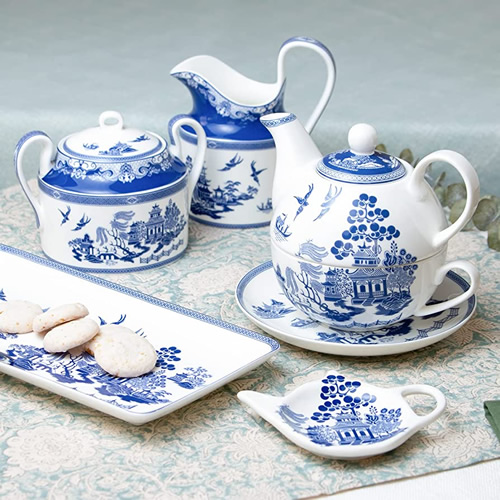 This lovely nesting teapot and teacup set coordinates with the other pieces of Grace Teaware's Blue Willow.
Grace Teaware Reverse Blue Willow China >
The little Blue Willow teapot holds enough for two cups of tea in the cup that it fits into.
This set does not include an infuser.
Grace Teaware Tea-for-One 5-Piece Glass Teapot and Porcelain Cup, Saucer, Lid and Diffuser >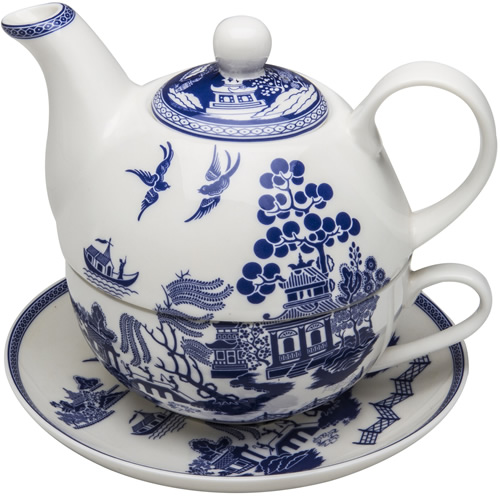 This is the set. The cobalt blue transfer is divided across the teapot and teacup.
I received a set nearly the same as this. It came in a basket with some Sleepy Time tea and a very pretty copy of the Woman in White.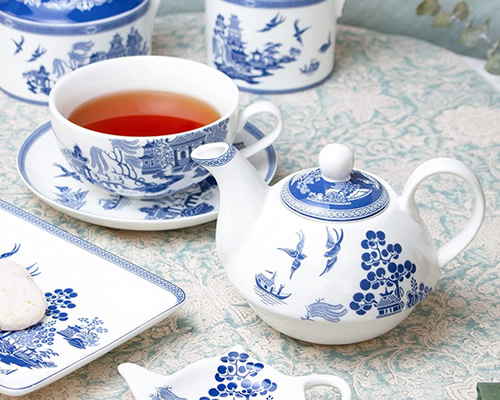 The lid of the teapot is decorated in the blue background.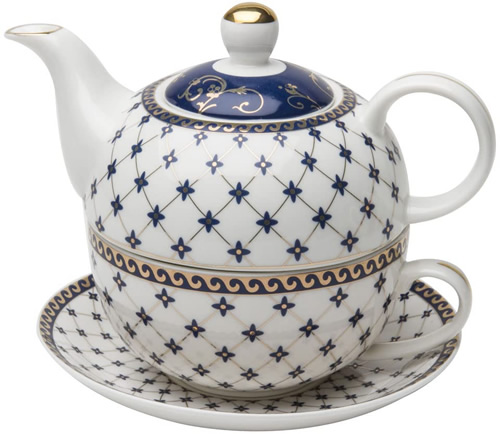 This set isn't exactly identical to the Cobalt Blue Net or Mesh pattern china from Russia, but it is very similar.
Lomonosov Russian Blue Net or Cobalt Mesh China >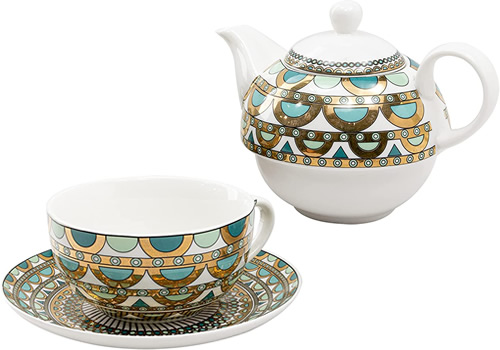 I rather love this set. It looks sort of Art Deco meets Midcentury Modern to me.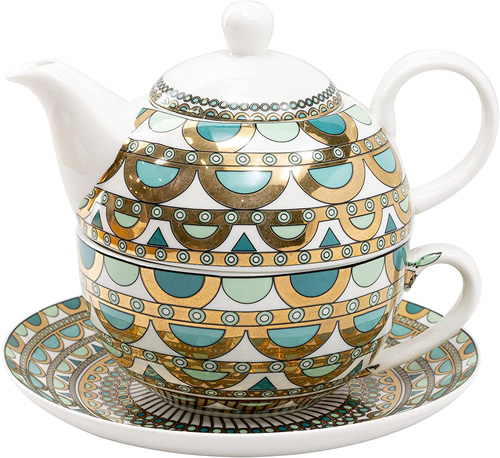 Don't you love how the patterns fit together?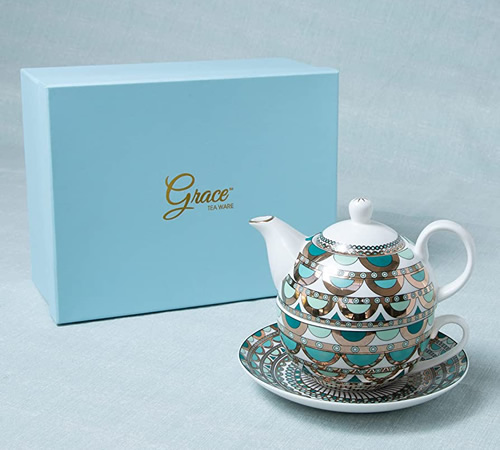 They come in a lovely gift box, making them even better gifts.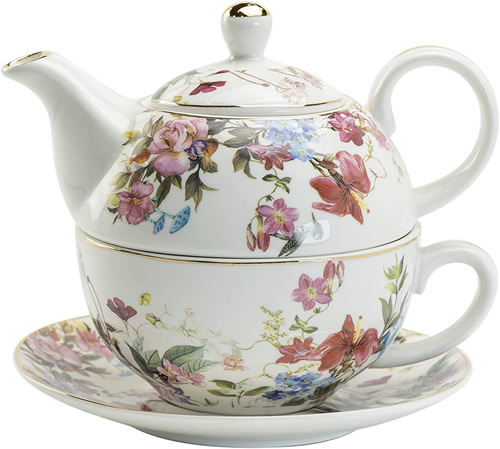 Isn't this set wonderful? I love all the detail and colors in the flowers.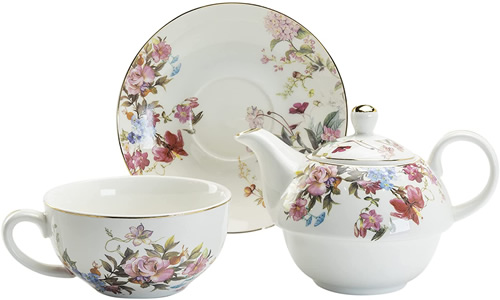 The top is gold and there are gold bands at the edges.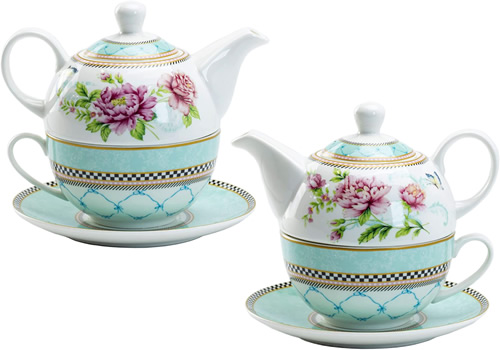 What a pretty set! The cup, saucer and lid have the lovely turquoise. The teapot has a peony with stems and leaves and a butterfly.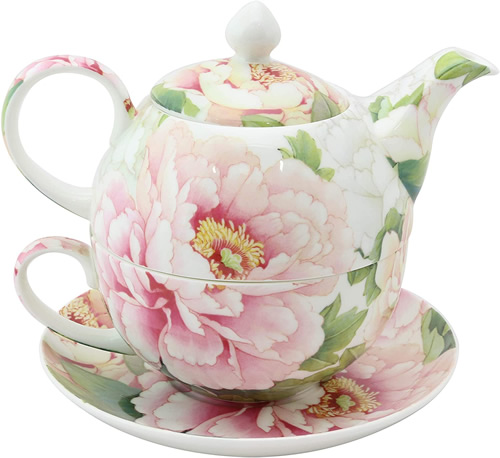 And WOW! Isn't this little teacup, saucer and teapot set beautiful! A closeup of pink peony artwork.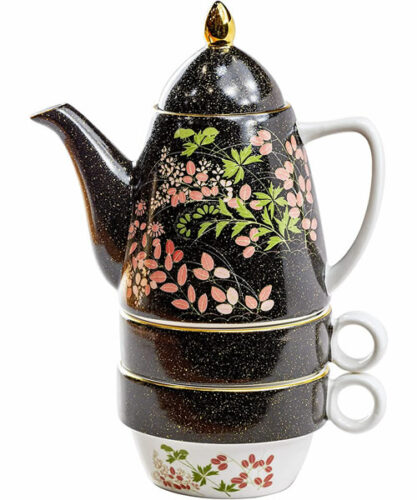 This little set has a larger teapot and two teacups.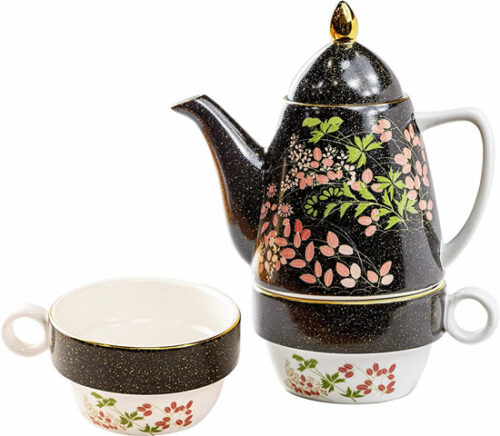 The teacups nest inside each other and the teapot nests on top.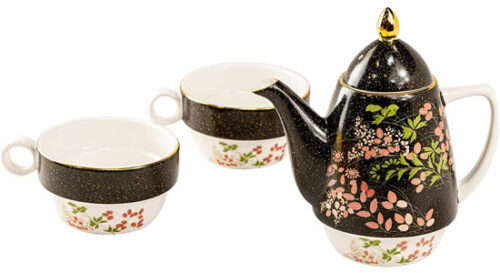 The same details are on the bottom of the teacups and the bottom of the teapot, with gold details on the rims and the top of the teapot.