A few years ago octopus images started showing up at the furniture markets. Both Las Vegas and High Point, N.C. had octopi on fabric, furniture, tableware and pillows.
This trend shows no sign of going away. Here are some ways to add this look to your home.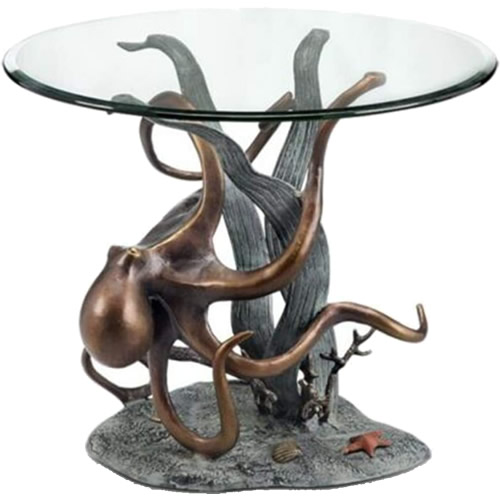 The artistic Creatures of the Sea Octopus End Table from CJ Online has a realistic underwater scene sculpted in aluminum and hand finished. An octopus twined around seagrass supports the 24" glass top. The base has the look of the sandy sea floor with realistically crafted coral, a shell and a starfish.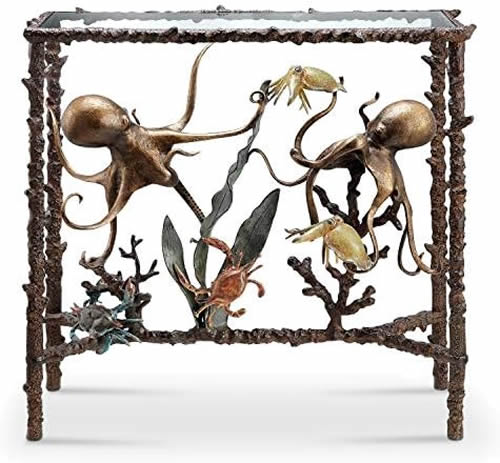 This table is sized right for an entry way or behind a sofa.
Octopus Furniture
Octopus Furniture is available at all different price points.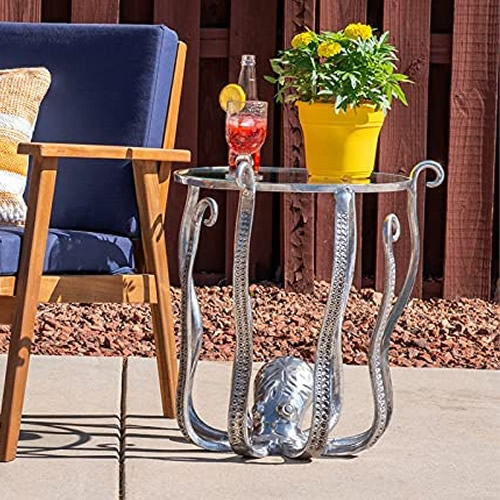 The Olivia Octopus Table can be used indoors or outdoors.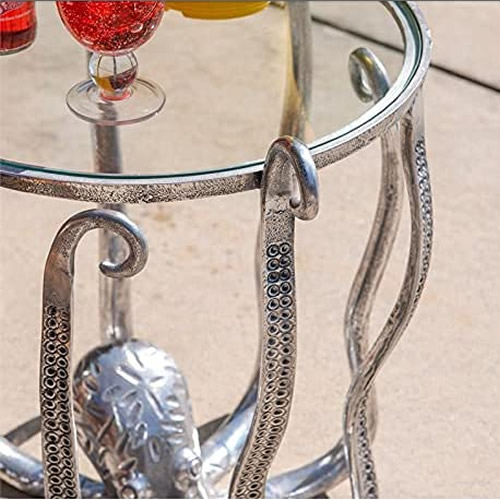 The sculpted octopus is made of cast aluminum finished in silver with a darker glaze to bring out the details.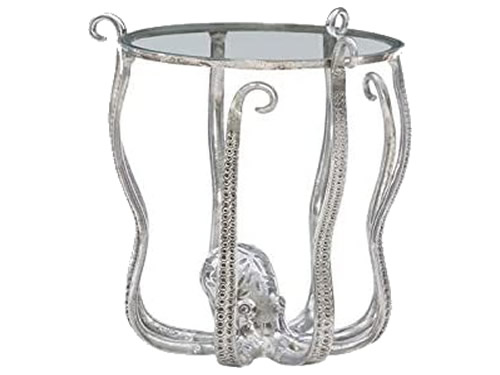 It is topped with 8mm tempered glass. The table is small, 20" wide x 22" high. The 18″ glass top can hold up to 35 pounds.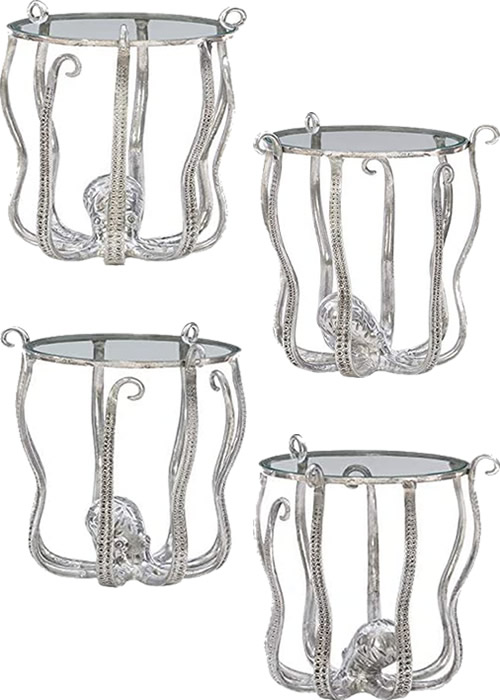 The table is finished beautifully from every side.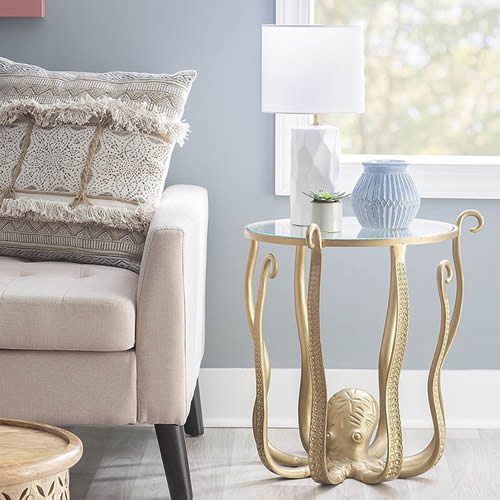 And now it is available in Gold finish.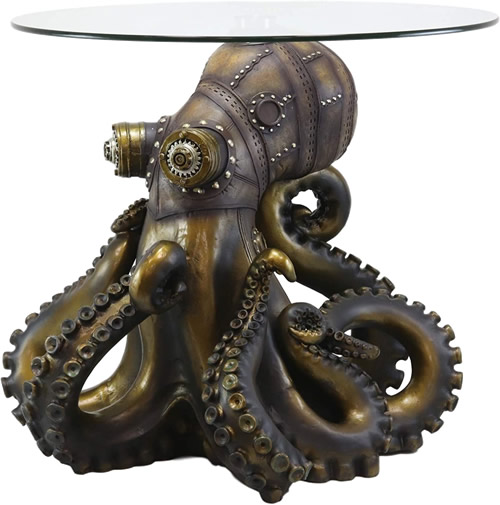 The Steampunk Octopus Side Coffee from Ebros has a 21.25" wide by 20" deep sculpture of an octopus with a gas mask on. It is cast high quality polyresin, then hand painted and polished.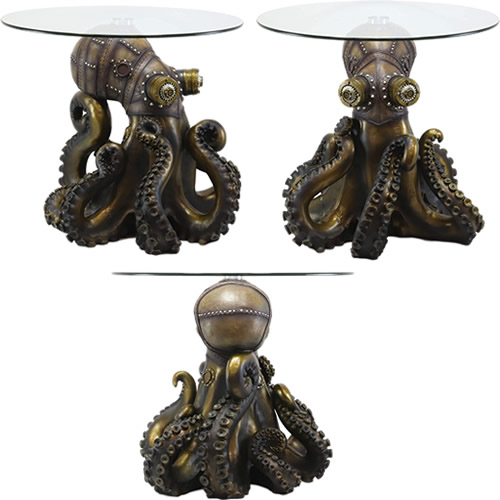 The table is 20" high, topped with 23″ wide tempered glass.  It can hold up to 40 pounds.  It should only be used indoors.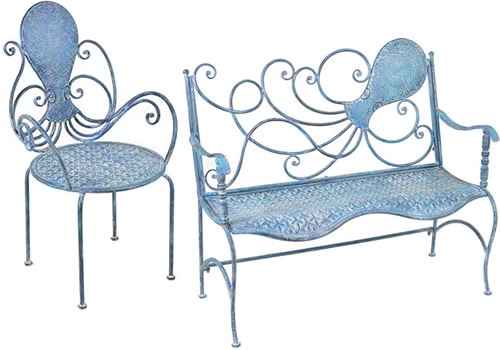 The Coastal Collection from Lesera Ltd. includes chairs and benches with the backrest shaped like octopi, angelfish, seahorses, whales, swordfish and starfish. They are powdercoat finished and rated to use outdoors. The Coastal Blue distressed blue finish would look great outside or inside.
The chairs are a standard size, 21" wide and 22" deep. The back is 40.5" high.
The benches are 50.4″ long and 19.3″ deep. The back is 39.4″ high.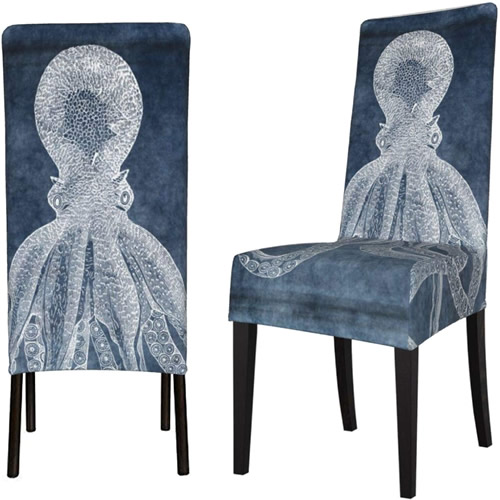 A number of companies make slipcovers for Parsons and other size dining room chairs that have an octopus print on the front, back or both.