Capiz Shell Chandeliers, Natural & Fresh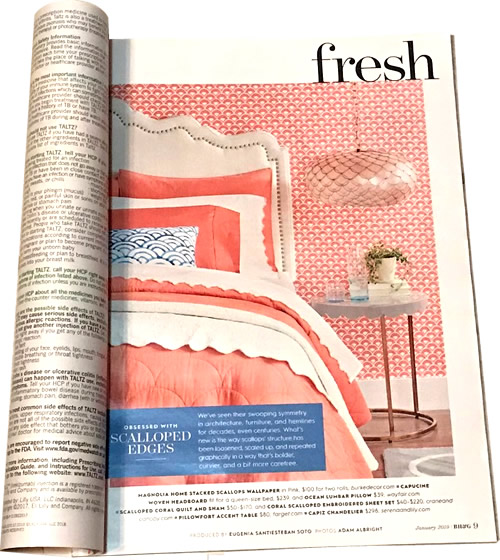 The January issue of Better Homes & Gardens starts with the article Fresh: Obsessed with Scalloped Edges
We've seen their swooping symmetry in architecture, furniture, and hemlines for decades, even centuries. What's new is the way scallop's structure has been loosened, scaled up, and repeated graphically in a way that's bolder, curvier, and a bit more carefree.

Better Homes & Gardens, January 2019
The opening photo shows a Capiz Chandelier. I've never thought of Capiz as scallops, but it surely is.
I've loved the look of capiz lighting for years. The natural shell diffuses light beautifully. It has a clean beach house feeling without being kitschy. The white translucent material is natural without being rustic.
Inexpensive Capiz Shell Lighting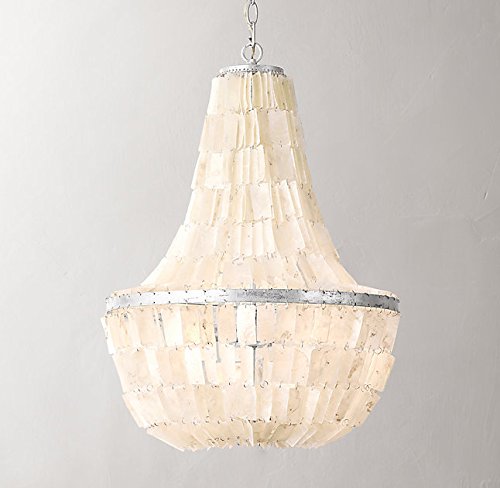 Very inexpensive Capiz shell lighting is available from a lot of sources you've probably never heard of. The one above is by Sky Empire. I've never heard of them, but it is a beautiful chandelier at a really cheap price.
Kalco Lighting with Capiz Shell Detail
Some of the brands you have heard incorporate Capiz shell, as well.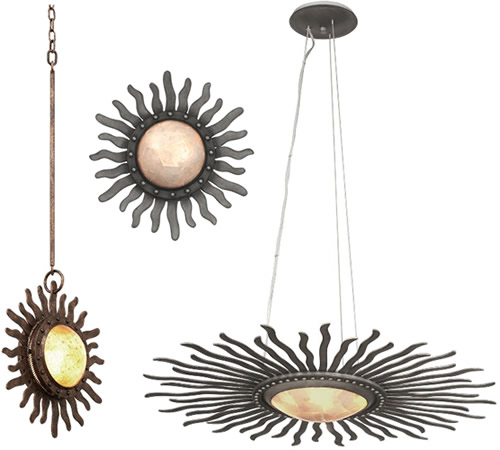 Kalco uses Capiz shell and Penshell in the Polaris Collection.
Crystorama Collections with Capiz Shell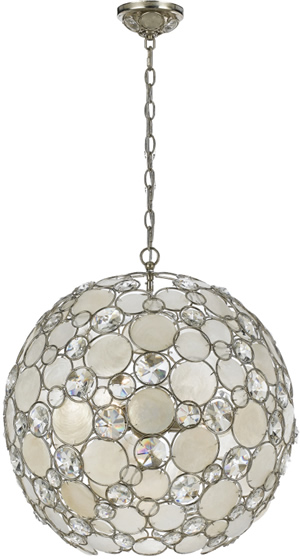 Crystorama combines clear crystal with Capiz shell in the Palla Collection.
Inspired by nature, the translucent white capiz shells and hand cut crystals will brighten any room. Each wrought iron frame is hand painted in antique silver and fitted with capiz shells and faceted hand cut jewels. The decorative elements are hand pinned inside the overlapping metal circles to give depth and dimension. This striking design creates an abundance of light in your bedroom, kitchen, dining room or bathroom. The Palla collection exemplifies nature's beauty.
Crystorama also has the Brielle with sconces, vanity lights, pendants and chandeliers in different sizes and arrangements.
Maxim Lighting Cebu Small Chandeliers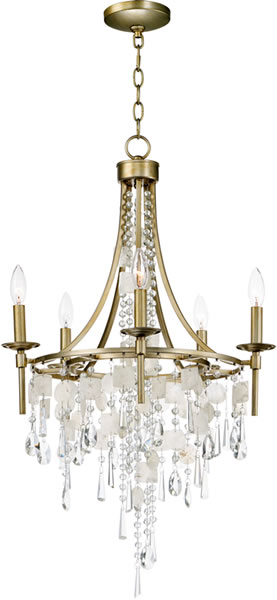 Maxim Lighting makes a series of small chandeliers in different sizes draped with strands of Capiz Shell and crystal in their Cebu Collection.
Kenroy Home Shelley Small Shell Chandelier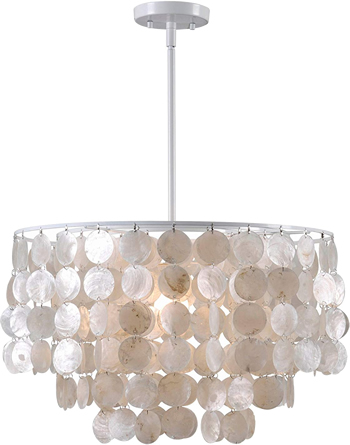 Kenroy Home makes the Shelley, a charming little Capiz shell chandelier at a very reasonable price.
Crystal Chandeliers with Natural Materials >
Elsa Collection: Shell Lighting by Vaxcel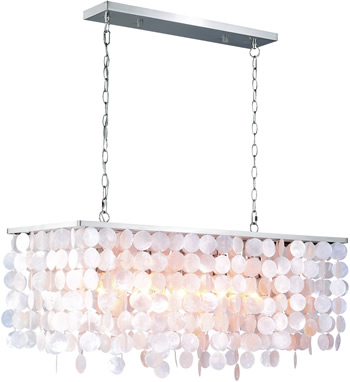 Vaxcel's Elsa Collection includes vanity lights, ceiling lights and pendants in different sizes, including a rectangular pendant.
Sea Gull Corsicana Capiz Shell Lighting
Sea Gull Lighting has the Corsicana Collection with chandeliers and pendants in different sizes, including a shell mini-pendant and a rectangular pendant.
The strands of translucent natural Capiz shells featured on the transitional Corsicana lighting collection by Sea Gull Lighting lend an organic feel to this elegant collection and diffuse the light with a fantastic effect. The rich, tiered designs are created using multiple lengths of strands suspended from a steel frame.