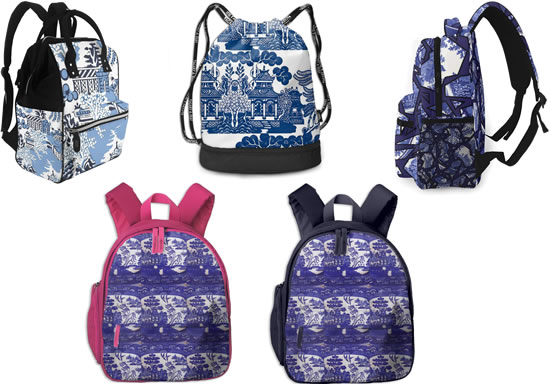 I have found four different backpacks with a Blue Willow Chinoiserie pagoda and willow pattern. Two are small traditional backpacks, one is a drawstring bag and the other is an insulated backpack lunch box.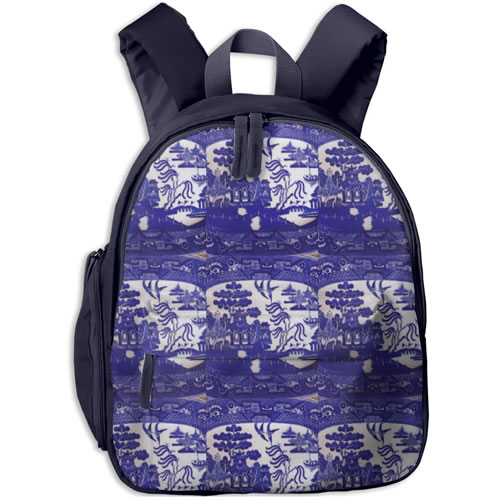 CLD Customed Blue Willow Backpack
The Blue Willow Backpack from CLD Customed has a repeating pattern of Blue Willow plates, with the scene and the borders.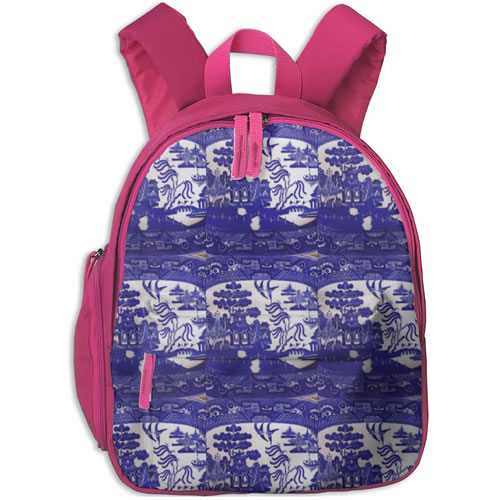 It comes with a choice of cobalt blue or contrasting flamingo pink back, sides, straps and loop.
17" high x 11" wide x 6.3" side panels
Adjustable Straps
Side Zip Pocket
Soft Thick Oxford Cloth
The backpack is 17" high, 11" wide with 6.3" side panels. It will stuff big enough for anything you need. There is one outside pocket with a zipper to make sure you don't lose anything. The interior is undivided.
Although it is called a student book bag, the shoulder straps are adjustable to fit like a woman's pack purse.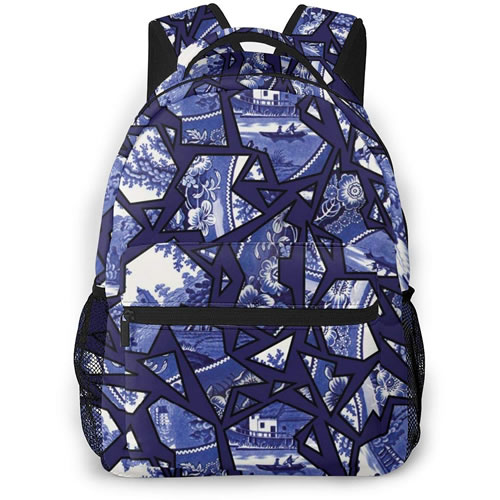 Reteone Blue Willow Mosaic Backpack
The Blue Willow Backpack from Reteone has a pattern that looks like broken blue willow pieced together into a mosaic. It has navy blue trim. The adjusting portion of the straps is also navy blue.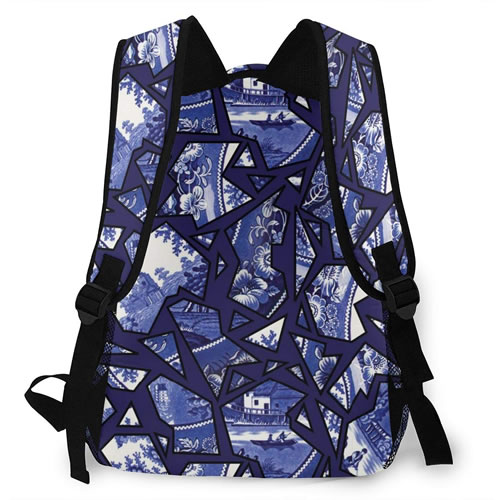 The part of the strap that goes over the shoulder is wide and padded, so it would be comfortable to carry even if you are carrying heavy things. Mesh panels are designed to keep you comfortable in hot weather.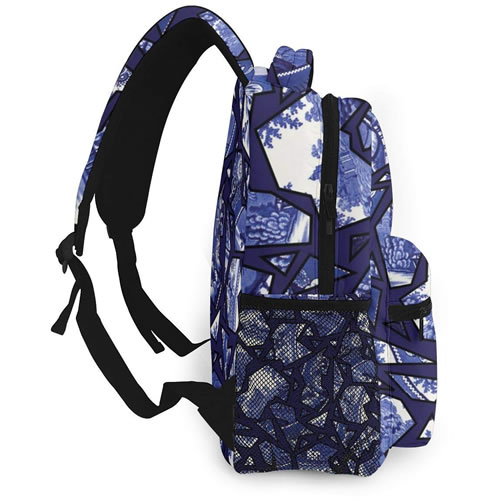 16" high x 11.5" wide x 8" thick (before you stuff it)
Adjustable Straps with Breathable Mesh Panels
4 Internal Pockets
2 Net Side Pockets
1 Front Zip Pocket
Lightweight Polyester Canvas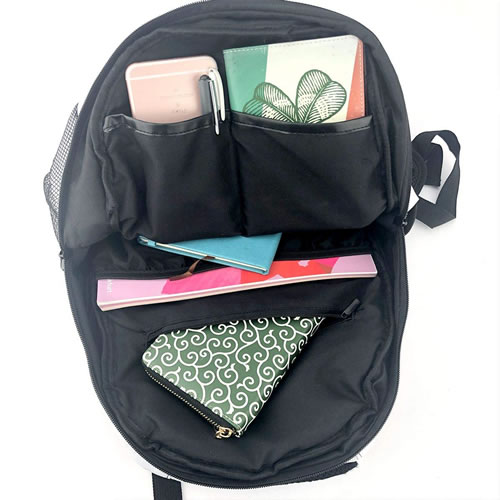 The backpack is 16" high, 11.5" wide and 8" thick. There is a roomy inside area with four smaller pockets. Outside there are mesh pockets on both sides and a roomy front pocket. All zip closed to keep your items secure.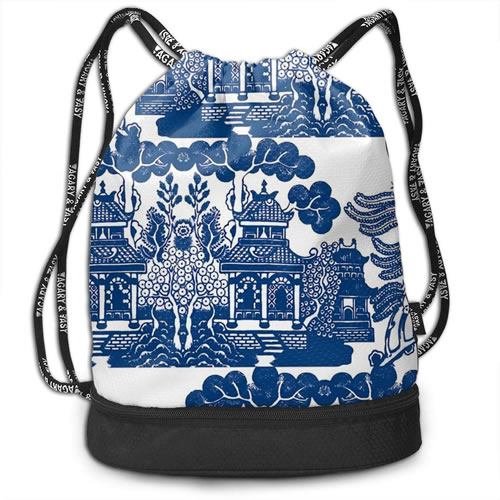 Agary & Asy Blue Willow Drawstring Backpack
Even though the Blue Willow Drawstring Backpack from Agary & Asy is just a pull string top bag with straps, it's still my favorite. It has a large version of the Blue Willow pagoda scene is centered on the front of the bag. This is the smallest of the bags by far; more of a purse, tote, or carryall.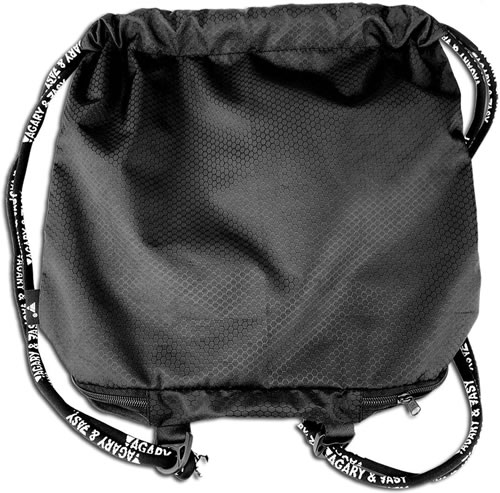 The bottom and back are reinforced with heavier black material, which will also help to keep the bag looking clean. The handles are just thick cording with Agary & Asy printed over and over on them.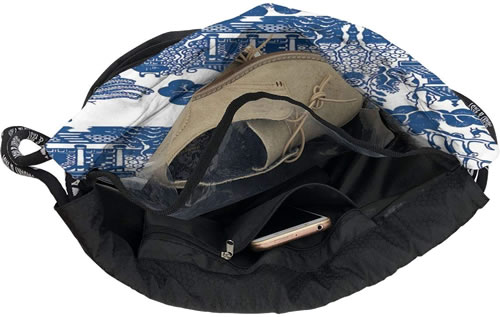 The drawstrings allow the entire top of the bag to open.
The straps are not reinforced or padded in any way, so this would work better as a purse or day bag if you are not carrying anything heavy.
16.1" tall x 15.3" wide x 6.8" thick
Drawstring straps
Zip open bottom compartment
1 Inside Zip Pocket
The bottom of the bag measures 15.3" x 6.8". The bag is 16.1" tall.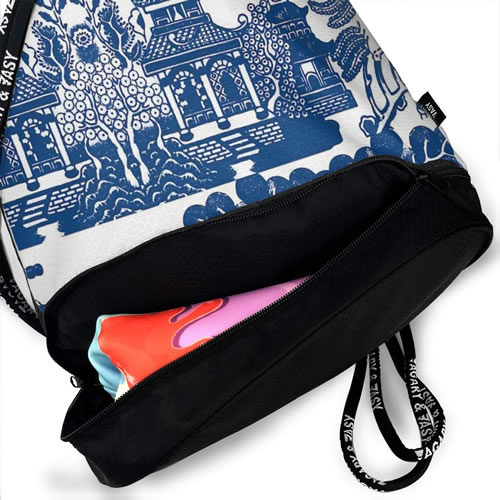 There is a roomy inside area with one pocket that zips closed. The bottom of the bag zips open to create a separate compartment.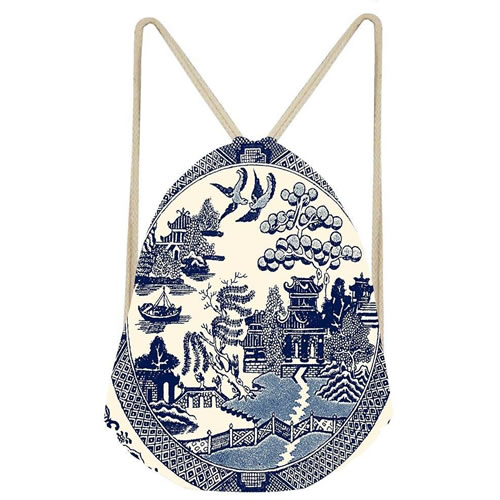 GoLo Blue Willow Drawstring Backpack
The Blue Willow Drawstring Backpack from GoLo is really basic. It has the Blue Willow print on it with the borders, just like a plate.
This is just a fabric tote with a drawstring top. The drawstrings are attached near the bottom to make it easy to throw over your shoulder or wear over both shoulders like a backpack.
The cords as straps are not at all comfortable if you are carrying any kind of weight, but for just a few items, allows you to carry things securely. If you are already using a different backpack, these cords can be positioned over the other straps.
16" tall x 13" wide
Drawstring cords
Washable polyester
It folds down into nothing, so it would be a handy bag to fit into a pocket of your purse for when you need it. Because it is so washable, it would be handy to carry gym clothes.
Winter Blue Willow Back Pack Lunch Box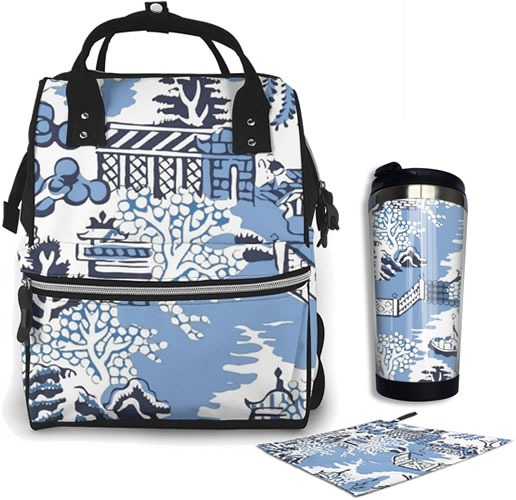 I wrote an entire post about the Winter Blue Willow Back Pack Lunch Box, Winter Blue Willow Vacuum Car Cup and Winter Blue Willow Waterproof Reusable Snack Bag.
Winter Blue Willow Back Pack Lunch Set >