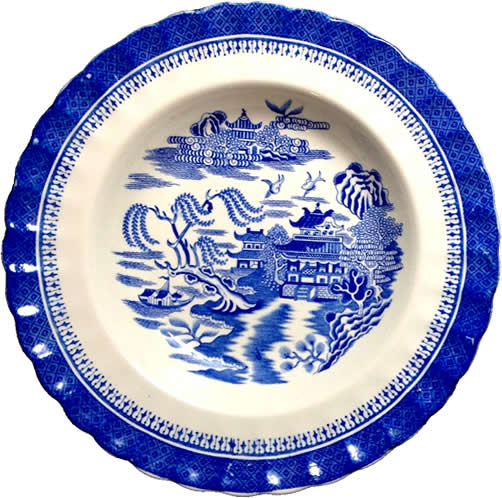 Spode was founded by Josiah Spode in 1770.
Around 1783, Josiah Spode's company perfected a technique to apply a blue transfer ceramics underglaze.
At first this was applied to fine earthenware.  Then, around 1790, he started producing bone china. Bone china is really made with bone ash mixed with clay. It is very white and translucent. Bone ash was used by porcelain factories before, but Spode added kaolin clay, making it even stronger. By 1815, nearly all the factories in England were using Spode's formula.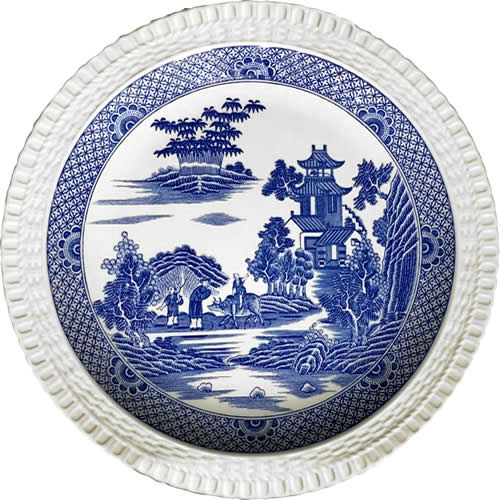 Spode produced a lot of Chinese-inspired china.  You can see a list of different variations on the Blue Willow pattern at Lovers of Blue & White > Spode Willow China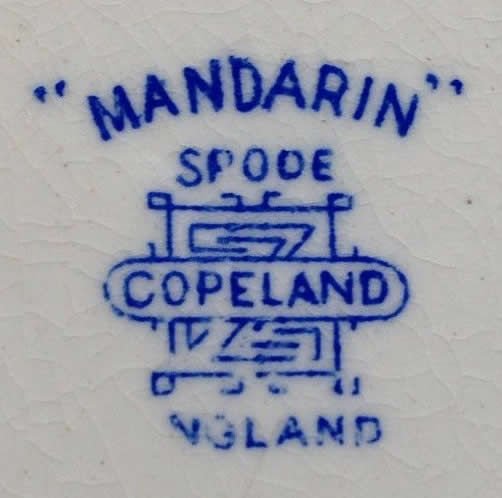 William Copeland
A lot of the pieces you find are marked as Copeland Spode.  William Copeland was Josiah Spode's partner in the Stoke Potteries. His son, William Taylor Copeland, later bought out the Spode family in London Potteries.
Thomas Minton Chinoiserie
Chinoiserie china patterns were very fashionable in the 1780s and '90s. The Blue Willow scene wasn't new. It was already popular on import china. Spode made a lot of early Chinese-inspired landscape china patterns.
It seems the first English Blue Willow pattern, with the traditional birds, pagodas, bridge and fence elements, was produced by Thomas Minton for Spode around 1790.
Thomas Minton apprenticed as an engraver, making copperplate engravings to print the transfers for china transferware. Evidently, Minton worked on Asian landscape patterns when he was learning to engrave for transfers, but he didn't create a Blue Willow pattern until later, when he was working for Spode.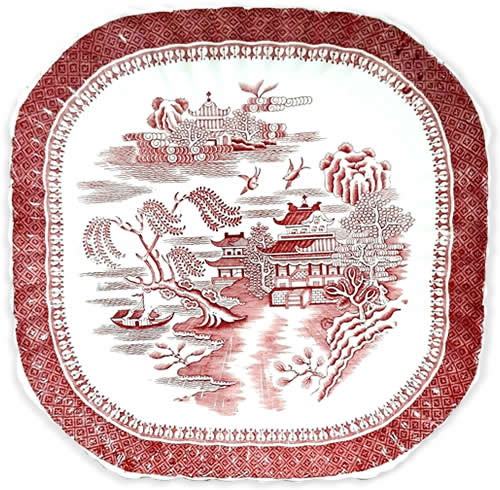 The pattern started out in blue on white, but became popular in other colors as well, especially red on white.
They also made Blue Willow style Chinoiserie China with gold rims and pearlescent over glaze.
Spode Georgian Blue Room Collection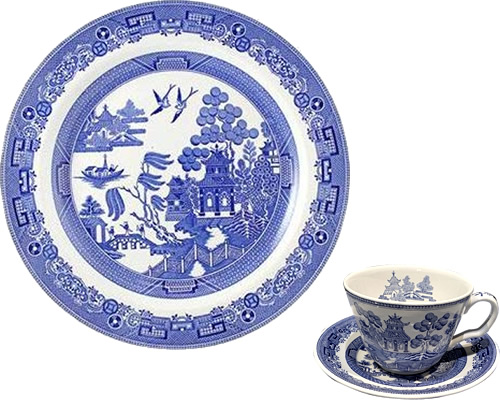 All of the Blue Willow patterns are pretty much discontinued now, except for the one that is part of the Blue Room Collection.
The Spode Georgian Blue Room Collection includes a Willow pattern plate.