Paul Cardew and Cardew Design Blue Willow Tea Pots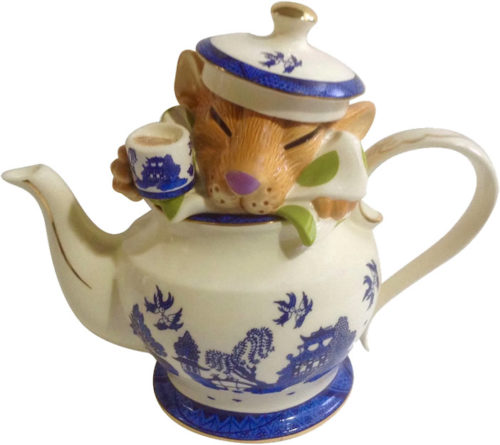 This teapot just showed up on Pinterest. My daughter was invited to a mad hatter tea party and was saving ideas. I love it! A Blue Willow teapot with the dormouse holding a Blue Willow tea cup.
This is a tea pot by Paul Cardew. I can't believe I never heard of him before. I'm sure I've seen his tea pots.
I did a little search to see if this is part of a greater set. Not exactly. But Paul Cardew has incorporated Blue Willow into a lot of his tea pots.
Paul Cardew is on Facebook. This is what his page says;
Cardew Design was formed in 1991 to produce and market the collectable teapots of designer Paul Cardew. Internationally renowned ceramicist working in a beautiful setting at Rame Barton Pottery, Cornwall. Open to visitors, Pottery Courses for all levels.
Cardew now lives and works at Rame Barton, a Bed & Breakfast in an 18th Century farmhouse on Rame Peninsula in south east Cornwall.
Paul Cardew Pottery at Rame Barton

Paul Cardew is a world renowned ceramic designer now residing at Rame Barton.

Many years ago he did his art foundation course at Plymouth Art college, gained his BA hons at Loughborough Art College, ATD in Leicester University and then went on to lecture at Exeter Art College. He later owned three potteries and employed over 300 people.

He is famous for his amazing collection of limited edition teapots sold all over the world. He has designed for Portmeiron, Royal Doulton, the Tea Council and was the designer and original manufacturer of the Nat West pigs.
They don't mention it here, but I found a lot of Disney licensed teapots by Paul Cardew.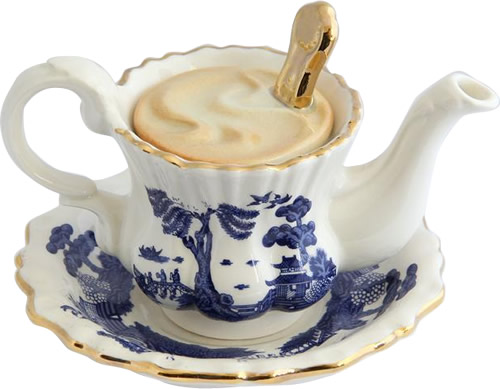 Paul Cardew Royal Doulton
Many teapots he designed for Royal Doulton have the Royal Doulton Booths Real Old Willow pattern.
This little pot holds a single cup. It looks like a tea cup on a saucer. The lid is creamy tea with a spoon.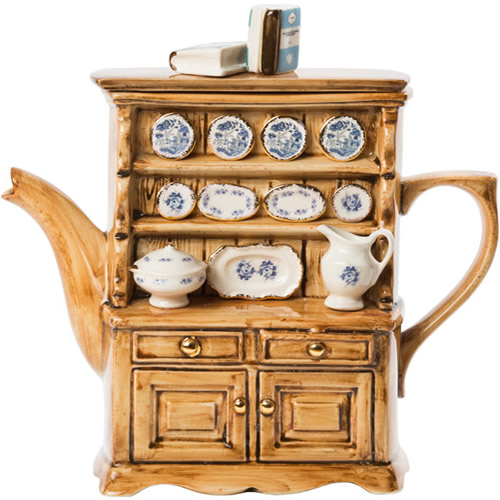 Welsh Dresser Large Teapot
This is a Classic Welsh Dresser style teapot. A Welsh Dresser is what I usually call a hutch.  The plates and serving platters on the shelves in the classic Blue Willow design.  A serving dish and jug sit on the bottom.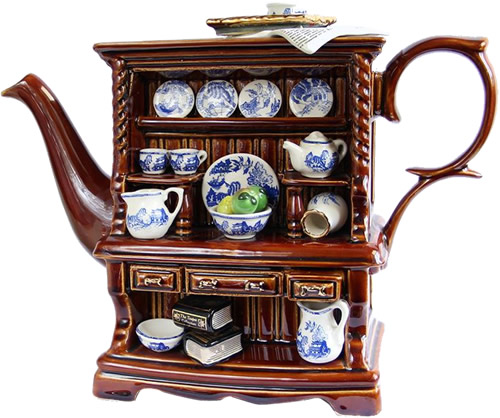 Royal Doulton Dresser Teapot
Here is a different version of the hutch with Royal Doulton Booths Real Old Willow china.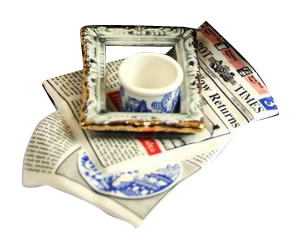 On top of the dresser the lid has newpapers, an old picture frame and some Blue Willow dishes.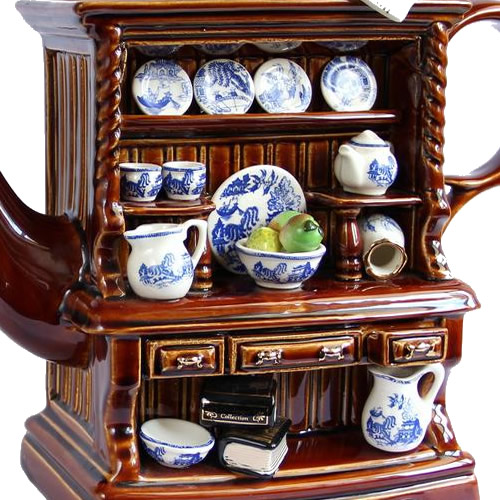 Here is a closer view.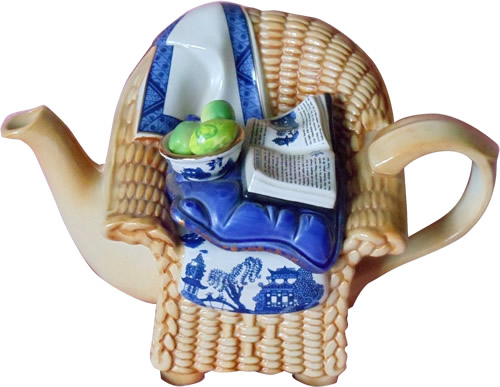 Paul Cardew Royal Doulton Real Old Willow Wicker Chair Teapot
Isn't this adorable? A teapot shaped like a wicker chair. The throw has the same border as Royal Doulton Booths Real Old Willow plages. The seat cushion has the Blue Willow pattern, so does the bowl holding green apples.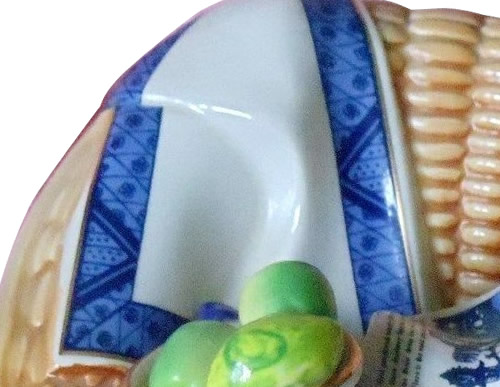 The throw has the Royal Doulton Blue Willow border pattern and the seat cushion is Blue Willow pattern.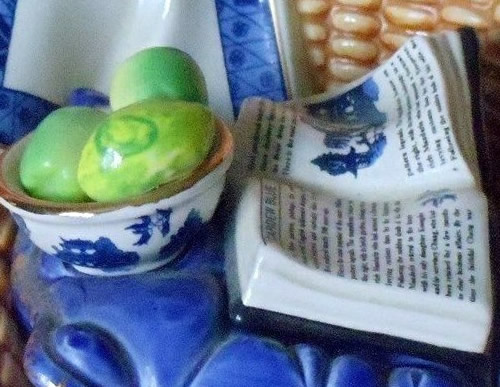 The Paul Cardew Royal Doulton Real Old Willow Wicker Arm Chair Teapot with a Blue Willow Bowl full of apples, a book, pillow and throw.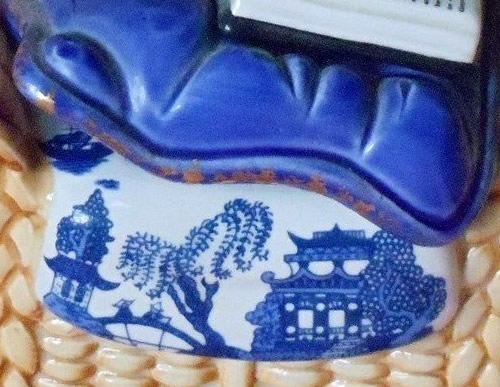 The seat cushion has the pagodas and willow tree.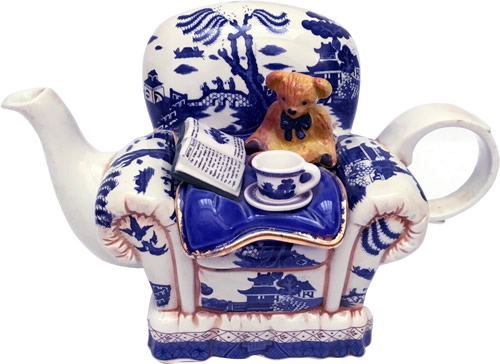 Paul Cardew Royal Doulton Real Old Willow Winter Arm Chair Teapot
The Willow Winter Arm Chair Teapot  is printed in Blue Willow pattern.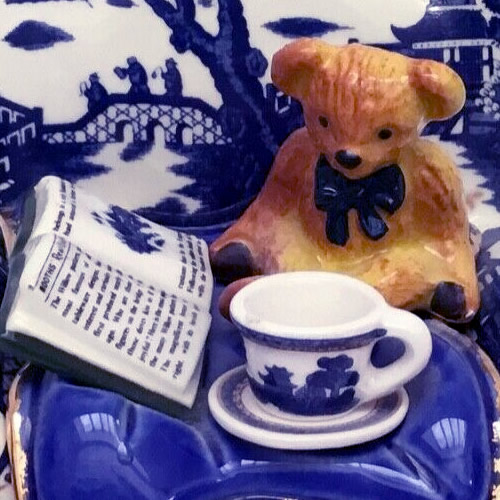 The little cup and saucer have the Royal Doulton Real Old Willow pattern. Even the book is about Boots Blue Willow.
There are a lot of other chair teapots, with other Royal Doulton china patterns, too.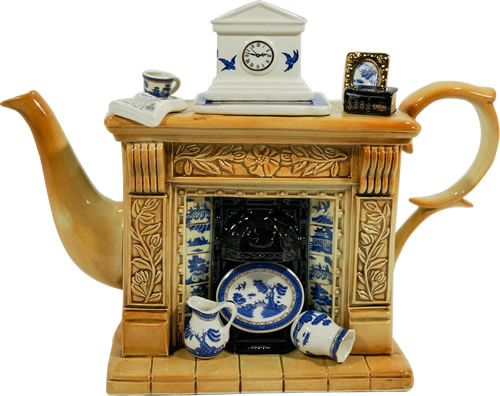 Paul Cardew Royal Doulton Real Old Willow Victorian Hearth Teapot
This is just wonderful. A Victorian mantel with a coal stove with Blue Willow everywhere.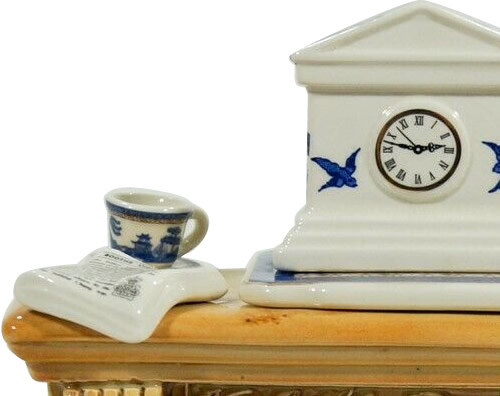 The Lid is the top of the mantel with a newspaper, Blue Willow Teacup and Mantel Clock.  with Blue Willow Birds, Framed Willow Tree and Book.
The book is titled Real Old Willow.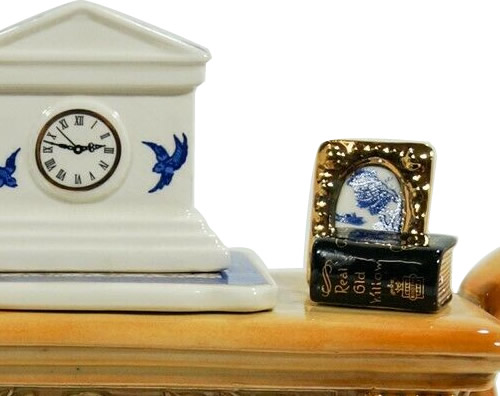 The Lid is the top of the mantel with a Blue Willow Teacup, Mantel Clock with Blue Willow Birds, Framed Willow Tree and Book. The book is titled Real Old Willow.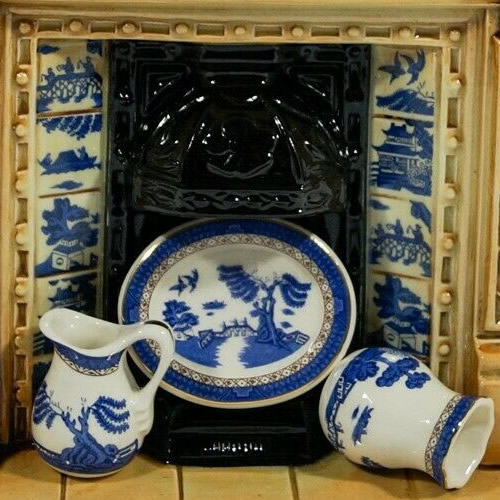 The hearth has Blue Willow Tiles and a plate, pitcher and vase with the Royal Doulton Old Willow Pattern
Paul Cardew Portmeiron
The Portmeiron website has a lot of really fun teapots and other whimsical pieces. But I didn't see any that are Blue Willow. There might be. I just didn't see them if there are.
Paul Cardew Products

A selection of beautiful teapots by Paul Cardew Design for you to collect.

Master Teapot Maker is a title not everyone is worthy to hold, but Paul Cardew is certainly entitled to. He is no doubt the world's best known designer and producer of novelty teapots. With his exceptional modelling skills and incredible imagination, he and his team created the most marvelous collection of amazing and inticate designs possible. Initially created in his kitchen, he converted his 19th century farmhouse in Devon into a complex dedicated to produce his masterpieces from start to finish, eventually employing a substantial team of talented individuals as the business grew with such popularity. From initial concept, sculpting the idea into 3D, making the moulds, through to three kiln firings, hand painting, adding identifying marks, signatures and limited edition numbers; some of the large teapots could take the skilled team eight days to produce! Some of the teapots are gilded with 18ct gold and silver. That is dedication to one's art and he is loved all the more for it, his wit, skill and imagination have no boundaries. The teapots come in four different sizes; large, medium (2 cup), small (one cup) and Tiny (the smallest and diddiest of them all as they are approximately 2 inches (5cm) in size and make make perfect Christmas decorations). All but the Tiny teapots are actually functioning teapots, not that you would ever risk using them as they are too precious and works of art; best to be looked at and appreciated in all their glory. In 2008 Paul retired from being a hecticly busy teapot designer and so all of his works of art have become far more collectable than ever they were before, some commanding incredibly high prices.

https://www.purelyportmeirion.co.uk/paul-cardew
Alice in Wonderland Designs
The Blue Willow Teapot with the Dormouse is not the only thing Paul Cardew did based on Alice in Wonderland. There are lots of pieces.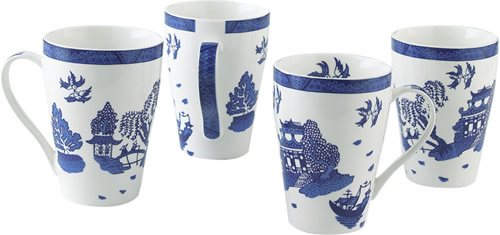 Cardew Design
These pieces from Cardew Design are more of a classic interpretation of Blue Willow, not whimsical at all.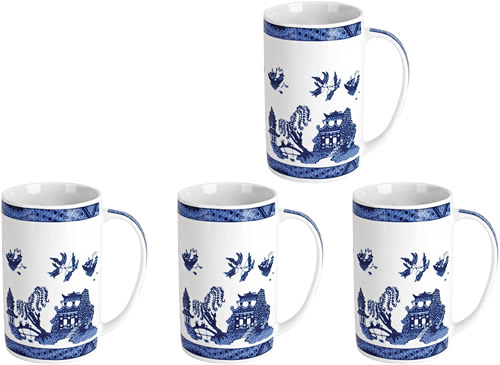 There are mugs in two styles. They hold about 15 ounces.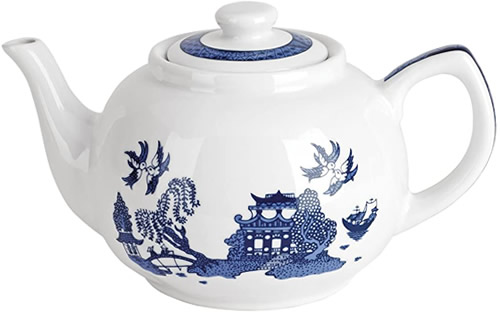 The tea pot can hold about 42 ounces.
They are hand crafted and painted by Cardew Design  artisan workers in a UK factory in Leyburn North Yorkshire.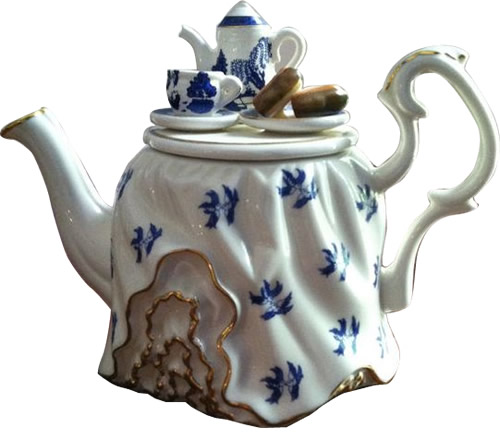 Cardew Teapots on eBay
I found a lot more Blue Willow Cardew teapots on eBay. There are a lot of variations of a fancey tea table set with Blue Willow.