Personalize Your Home Office with Blue Willow from Marye-Kelley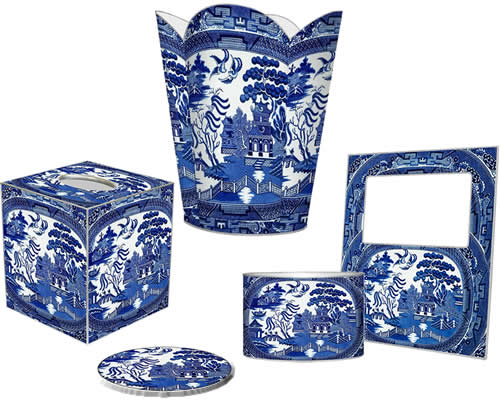 I was surprised by how many people did not have a home office before they started to work from home during this Pandemic.
Most people (54%) didn't have a remote work setup before the government moved to curb nonessential gatherings, according to a survey conducted by YouGov in partnership with USA TODAY and LinkedIn. Meanwhile, 74% of professionals age 18 to 74 said they're now working from home.

Home offices are expensive: Study says most people didn't have one before coronavirus
Dalvin Brown
USA TODAY
Did you start out on the dining room table while you tried to put something together?
But now that you have set up a space to work from while you stay at home, you want to start personalizing it.
 Marye-Kelley
Marye-Kelley has a lot of items to help you personalize your office space with Blue Willow.
I love the brand Marye-Kelley. They make lots of things; paperweights, wine bottle coasters, tissue box covers, wastepaper baskets, letter boxes, clipboards and picture frames. They have many different patterns, but Blue Willow is my favorite. They are all hand made in Houston, TX.
Letter Boxes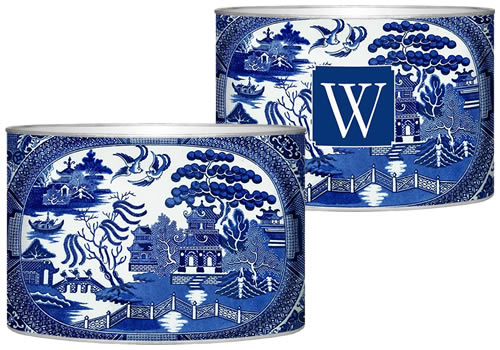 Marye-Kelley L1386 Blue Willow Letter Box
The Blue Willow Letter Boxes come in three sizes. The smallest is 5" wide x 2 ½" deep and 4" high.
The Small Blue Willow Letter Box is 6" wide x 3" deep and 5" high.
The largest version is 10" wide x 4" deep and 7" high.
Petite Letter Box
Small Letter Box
Large Letter Box
You can have them personalized with a monogram.
Paperweights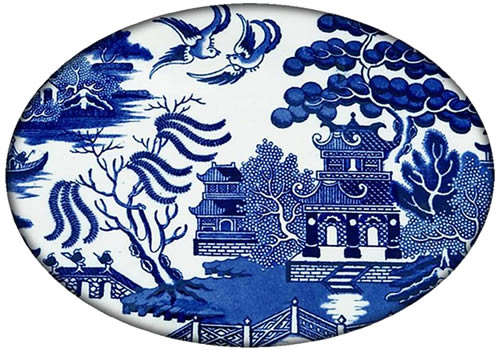 Marye-Kelley PW1386 Blue Willow Paperweights
There are two Blue Willow Paperweights available. The Dome is circular and 3 ½" wide. The Oval is 4" wide x2 ¾" high
Oval Flat Paperweight
Crystal Paperweight
Picture Frames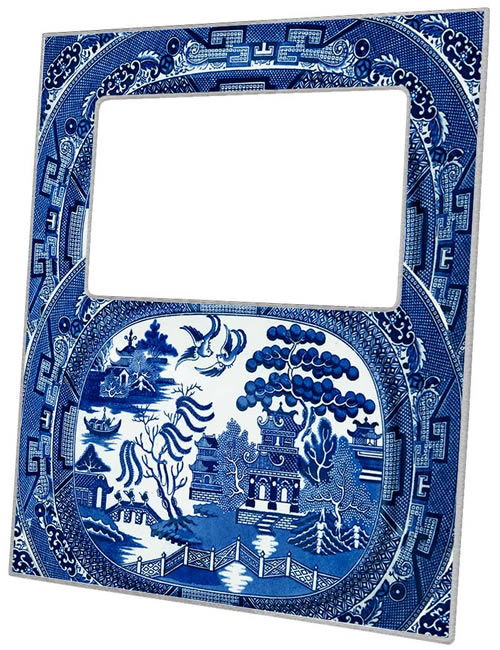 Marye-Kelley F1386 Blue Willow Picture Frame
The frame is 8" wide x 10" high and ½" thick.
It holds a 6" x 4" photo.
Waste Paper Baskets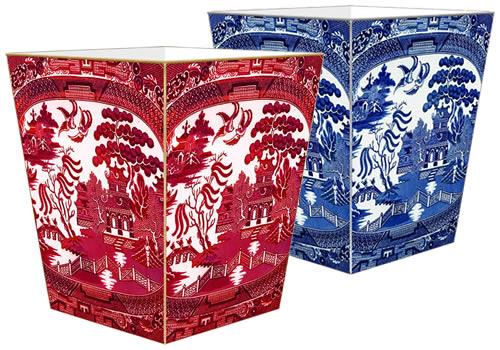 There are not a lot of items available in Red Willow, but this is one of them.
Marye-Kelley WB1386 Blue Willow Wastepaper Baskets
Marye-Kelley WB8783 Red Willow Wastepaper Basket
There are three variations of the Blue Willow Wastepaper Baskets.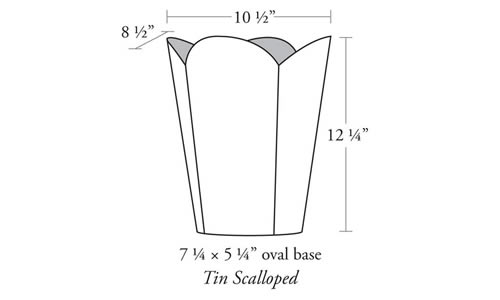 The Tin Scalloped one is 12 ¼" high. The top is 10 ½" x 8 ½" wide. The base is 7 ¼" x 5 ¼.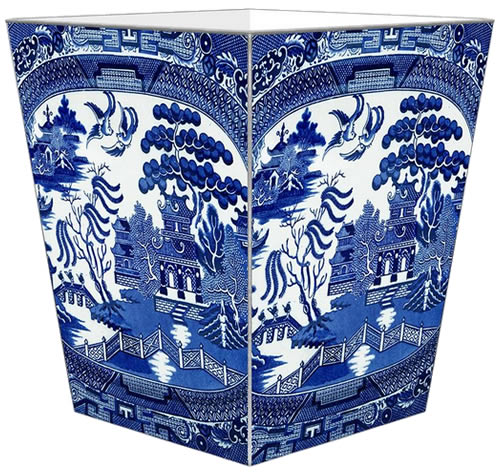 The Wood Flat one is 11" high, 9" square at the top with a 6 ½" square footprint.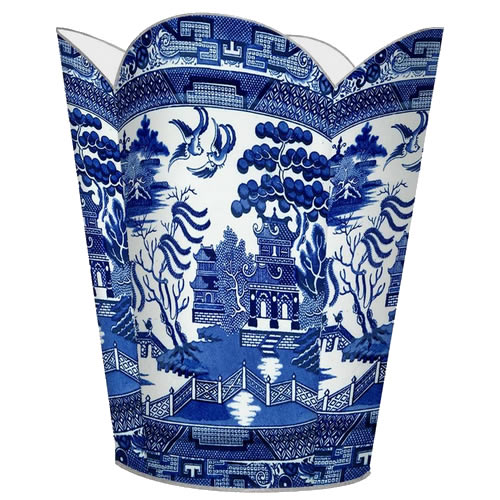 The Wood Scalloped one is 11" high, 8 7/8" square at the top with a 6 ½" square base.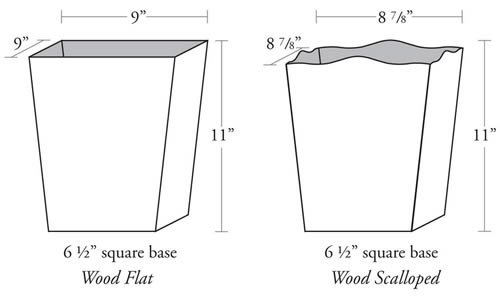 11″ Wood Scalloped Top
Wood Scalloped Top & Wood Tissue Box Cover
Wood Flat Top
Wood Flat Top & Wood Tissue Box Cover
Large Square Wastepaper Basket or Umbrella Stand
Scalloped Top
Scalloped Top & Tin Tissue Box Cover
Tissue Box Cover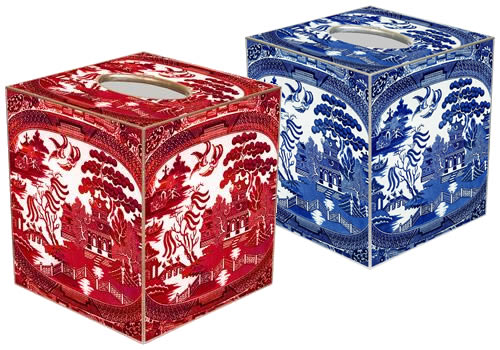 Marye-Kelley TB1386-Blue Willow Tissue Box Cover
Marye-Kelley TB8783- Red Willow Tissue Box Cover
The Blue Willow Tissue Box Cover is available made from Paper Mache, Wood or Tin.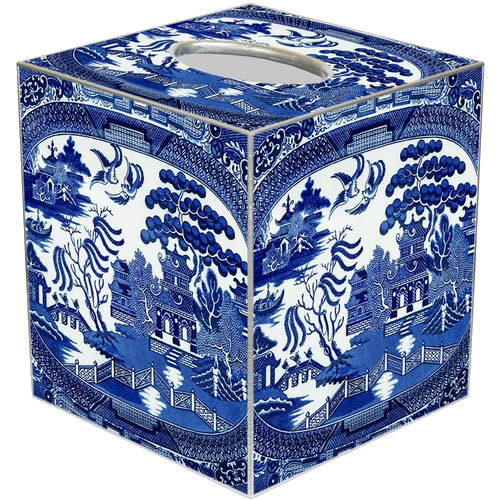 The Paper Mache Blue Willow Tissue Box Cover is 5" x 5" wide and 5 ½" high.
The Wood Blue Willow Tissue Box Cover is 5" x 5" wide and 5 1/4" high.
The Tin Blue Willow Tissue Box Cover is 5 1/8" x 5 1/8" wide and 5 3/4" high.
Blue Willow Lucite Tray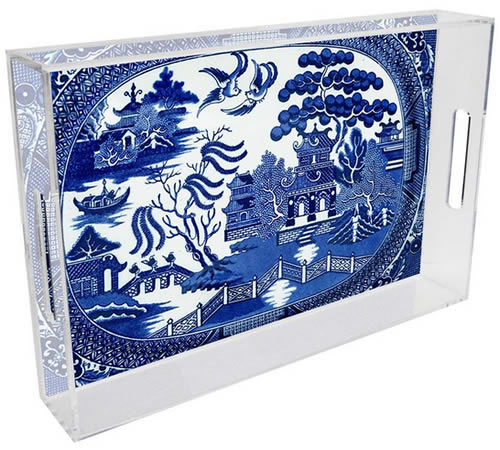 I love a tray on my desk to corral action items near my desk. Marye-Kelley makes different sizes, all available with the Blue Willow pattern.
Marye-Kelley T1386-Blue Willow Lucite Tray
All of the inserts for the Lucite items are water resistant. They can also be ordered separately.
The insert is printed on both sides, the bottom of the tray is the same design as the top, unless ordered otherwise.
The Square Tray is 12 ½" wide square and 3" deep.
The Small Rectangular Tray is 11 ¼" x 8 3/4" wide and 3" deep.
The Large Rectangular Tray is 17 ¼" x 11 ¼" wide and 3" deep.
They all have handles to make them easy to carry.
Tray with Waterproof Insert
4″ Lucite Tray with Waterproof Insert
8″ Lucite Tray with Waterproof Insert
11″ Lucite Tray with Waterproof Insert
Square Tray with Waterproof Insert
17″ Lucite Tray with Waterproof Insert
Waterproof Insert Only Same – Artwork on Both Sides
Waterproof Double Sided Insert Only – Each Side Different