Louis Ghost Chair by Philippe Starck for Kartell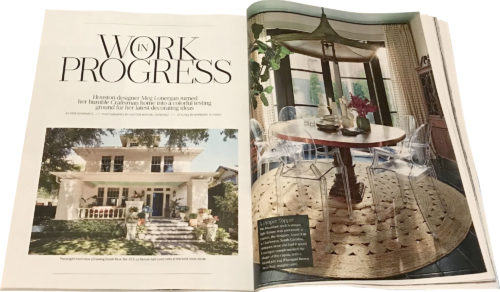 This month, April 2018, Southern Living has an article Work in Progress about the home of Houston designer Meg Lonergan. She "turned her humble Craftman home into a colorful testing ground for her latest decorating ideas."
The dining room has what looks like Louis Ghost Chairs by Philippe Starck for Kartell.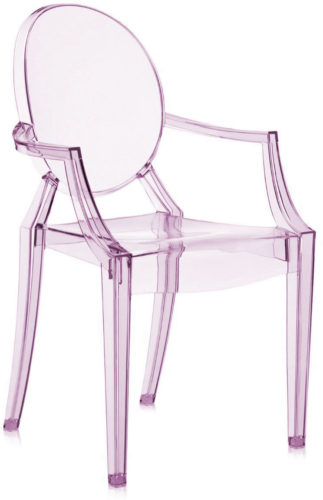 I went on Pillippe Starck's website. The chair was launched in 2002. A post from 2012 says the Louis Ghost Chair is the most widely sold chair in the world, with over 1.5 million pieces. Wow! (www.starck.com/en/news/topic/design?i=10-years-anniversary-of-the-louis-ghost-chair-kartell)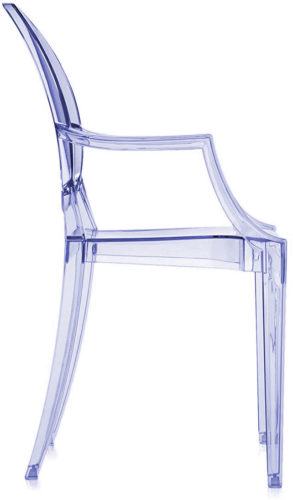 Did you know Louis Ghost Chairs now come in colors? Maybe they always did, but it's news to me.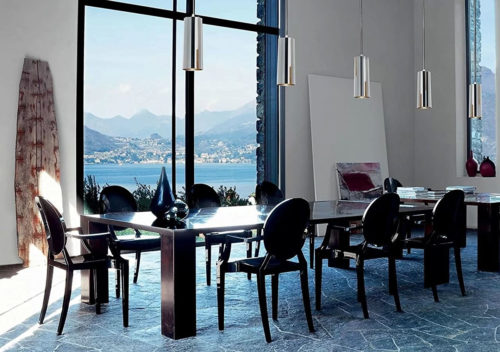 A really unique design, this injection molded chair was based on the lines and scale of the classic Louis XVI armchair. It fits into so many settings.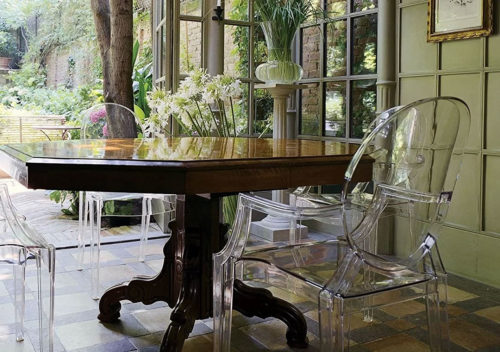 My nephew Andrew got reproductions at Ikea to go around a rather heavy Gothic table. Looks great!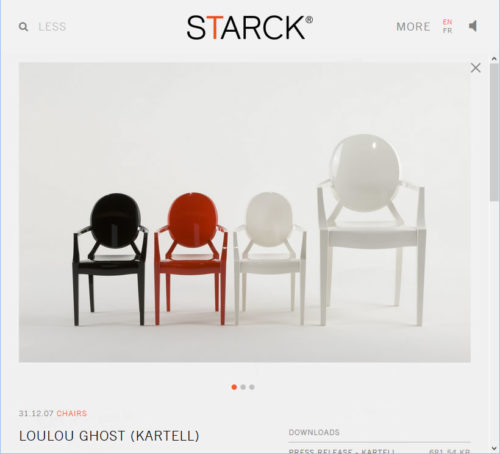 Pillippe Starck has a lot more items in his "democratic design" plastic-furniture line now.
Loulou Ghost Chairs are shown on Starck's website. The chair on the right is a Louis Ghost Chair. The three on the left are Loulou Ghost Chairs, "baby" versions of the same chair.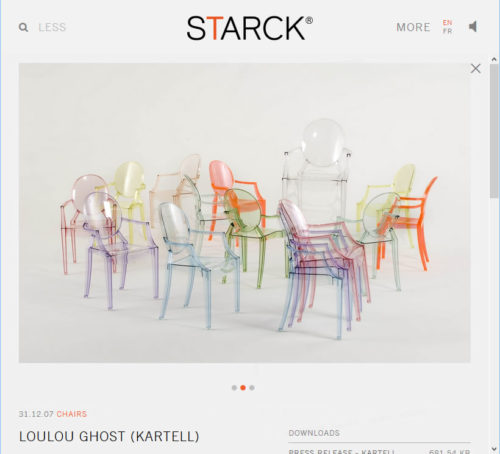 Like the original, Loulou Ghost Chairs come in a lot of beautiful translucent or transparent colors.
Buy the original Louis Ghost Chair
You can buy the original chair on the Design Within Reach website: www.dwr.com/dining-chairs-and-stools/louis-ghost-chair/1872.html
Louis Ghost Chair
Designed by Philippe Starck for Kartell

Who else but Philippe Starck would dare mess with a king? Reinventing the classic Louis XVI armchair for Kartell, the playful Louis Ghost Armchair (2002) is a postmodern triumph of technical innovation and historical style. Translating the varied lines and formal geometry of its predecessor into a single form of transparent injection-molded polycarbonate, the Louis Ghost is a robust chair with a medallion backrest for leisurely comfort. When interviewed about the collection by the Dallas Morning News, Starck commented that it "has a mix of materials and styles based on our shared memories. We all own this piece in a way. The chair is well balanced; I try to be balanced myself." Suitable for indoor and outdoor use in residential and commercial settings. Stacks six high. The back of the seat is stamped with a small Kartell logo in translucent red ink. Made in Italy.

The single-piece injection-molding process used in making every Ghost Chair leaves behind several faint artifacts that are perfectly normal, not defects.
Amazon
You can buy them on Amazon.
Imitations
And, of course there are plenty of copies available.