Kichler Design Pro LED 12V Hardscape Deck, Step and Bench Landscape Lighting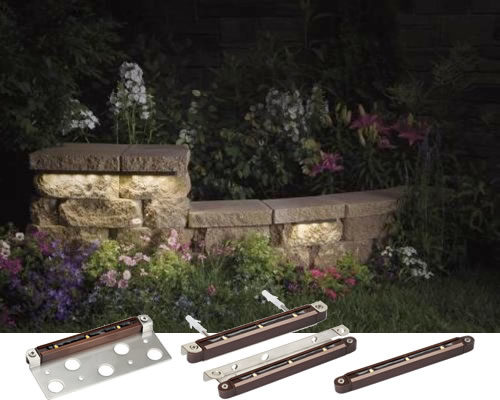 Kichler Design Pro LED 12V Hardscape
Deck, Step and Bench Landscape Lighting
Discover LED like you've never seen it.
Unique Hardscape LED light fixtures that are:
Available in multiple Kelvin Temperature options; warm white 2700K, pure white 3000K and cool white 4200K
Available in 1, 3, 6, and 9 LED fixtures
Long-life LED light source – 40,000 hours at industry standard L70
Tested to withstand the elements for years of enjoyment
Easy to install
Easily adapts to almost any hardscape, deck, step or bench application
Finishes compliment popular stone and decking options:
Metal Finishes
Unfinished Copper Plated Brass (CO)
Copper will naturally patina over time.
Bronzed Brass (BBR)
Cast Brass with Bronzed finish.
Marine Grade Powder Coat Finishes Cast Aluminum
Textured Architectural Bronze (AZT)
Gray (GRY)
Sand (SD)
Textured White (WHT)
Multiple Kelvin Temperature

Maximum Flexibility
Easy installation, low voltage usage, low profile (.66″ wide) and low heat output of Design Pro LED enables them to be used in a variety of outdoor applications.
Retaining walls of all types – new and existing construction
Brick or stone columns
Under all types of steps, including wood, composite, stone and brick, etc. with and without risers
Under deck and chair/hand and fence rails
Lips or the undersides of a wide variety of outdoor surfaces
Pergolas
Outdoor kitchen and bar areas (under lips and toe kicks)
Raised beds/planters
Boat docks (as permitted by local codes)
Customize illumination by mounting farther back, for a scalloped effect, or forward for a more even effect.
Kichler Design Pro LED 12V Hardscape >
Deck, Step and Bench Landscape Lighting