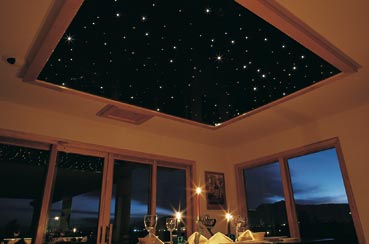 Have you ever been to the Rainforest Café restaurants? They have these amazing star ceilings. I've seen beautiful star ceilings in other restaurants, too. They are in quite a few design books.
When my son was little, I put little glow-in-the-dark stickers on his ceiling. They are in a lot of kid's books, too.
"'The stars on the ceiling are cool,' Dexter said. 'I wonder how many there are.'"
Horrible Harry Bugs the Three Bears by Suzy Kline, Frank Remkiewicz
Now there are easy-to-install fiber optic star ceiling kits that use LED. The light source just plugs in. The fibers run up to 12′ and push through the ceiling.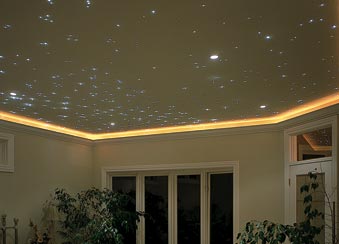 They are easy to install through the existing ceiling or wall. Special panels are available that can be fitted in or just replace drop ceiling panels. The stars can twinkle or change color. The more fiber you pull through the hole, the brighter the star is. You can even paint the ceiling to create cloud or galaxy effects.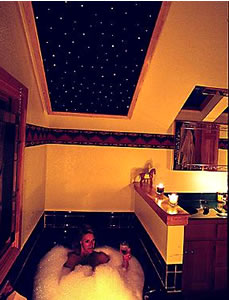 These pictures are in books I would highly recommend. You may be able to check them out of the library. They are on Amazon or Barnes & Noble. You can spend hours poring over the beautiful photos.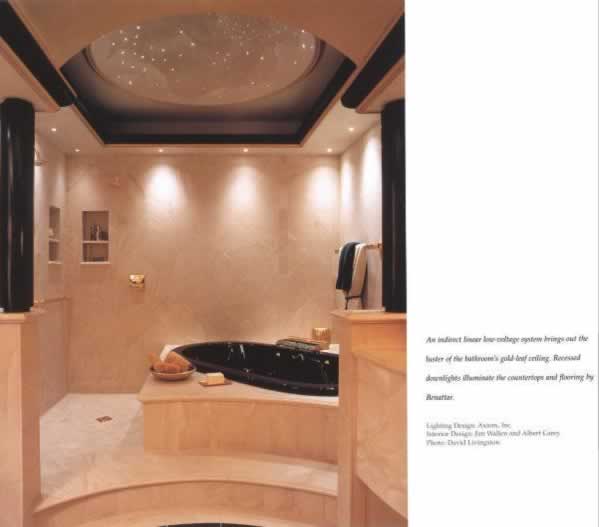 "The dome detail above the whirlpool sparkles with fiber-optic stars, while recessed downlights along the perimeter give off light reminiscent of comets hurtling toward the heavens."
Lighting Design Sourcebook: 600 Solutions for Residential and Commercial Spaces Paperback by Randall Whitehead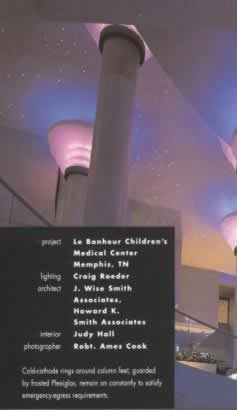 At the Le Bonheur Children's Hospital – Memphis, TN  "Stars, courtesy of fiber optics, change colors as they twinkle."
Lighting Design Sourcebook: 600 Solutions for Residential and Commercial Spaces Paperback by Randall Whitehead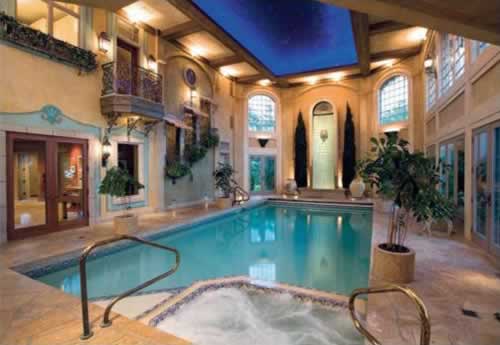 In a home built by John Kraemer and Sons Inc.; "fiber optic star patterns and the exact layout of the northern sky… the illusions of twinkling and shooting stars"
Perspectives on Design Minnesota: Design Philosophies Expressed by Minnesota's Leading Professionals by Brian Carabet, John Shand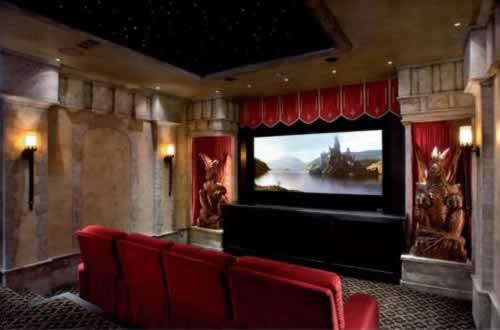 "The room's low ceiling features a fiber-optic star [ceiling] framed by false beams to give an illusion of height."
Perspectives on Design Southwest: Design Philosophies Expressed by the Southwest's Leading Professionals  by LLC Panache Partners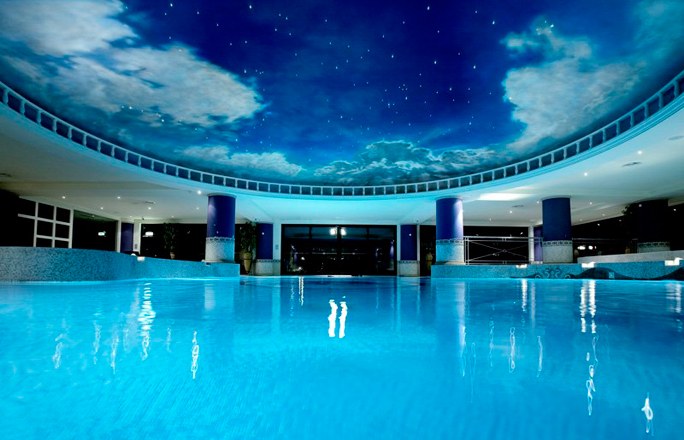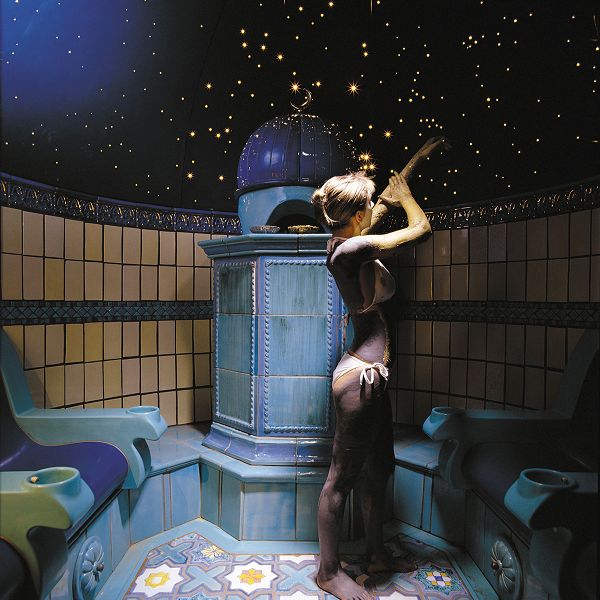 The Forum spa at the Celtic Manor Resort Hotel, Wales
"Underwater sound and light beneath a constellation of fiber-optic stars."
Celtic Manor – Resort Hotel South Forum Spa
www.celtic-manor.com/spa-fitness