Log Cabin Lighting – Rustic Chandeliers
You really don't have to follow any rules when decorating a log cabin.
"Until the 1930s, most  retreats in the Rocky  Mountains were decorated with either mission or Victorian furnishings."
Rustic Traditions by Ralph R. Kylloe
Just as now, people followed their taste. Often lighting was designed by the architect to fit the proportions and scale of each room.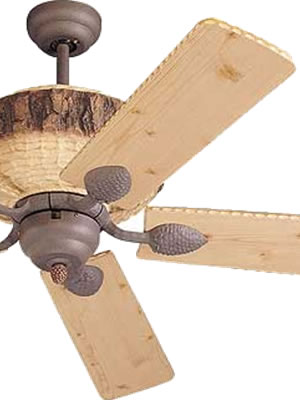 Thomas Canada Molesworth created oversized furniture from burled pine poles, hides, horn and natural wood with Indian and western motifs.  He created a distinctly Western style also called Cowboy Style. Today many companies make Western and Cowboy Style Lighting.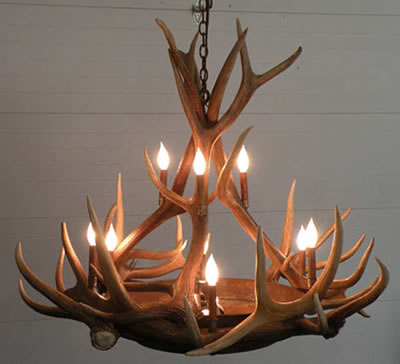 Antler Chandeliers
Antler Chandeliers are made from a variety of natural antlers. They have been used for centuries. Switzerland, Scotland, Austria and the Black Forest region were known for antler chandeliers before the New World was even discovered.
Before electricity, candle holders were placed on the antlers. Now electric sockets are used instead with wires either run outside the antler or the antler is drilled to allow the wire to be put inside.
Don't worry. Antlers are naturally shed.  Antlers are bone, but are shed and regrown each year in most species. In the United States deer, elk, and moose shed their antlers. Male elk have large antlers which are shed each year.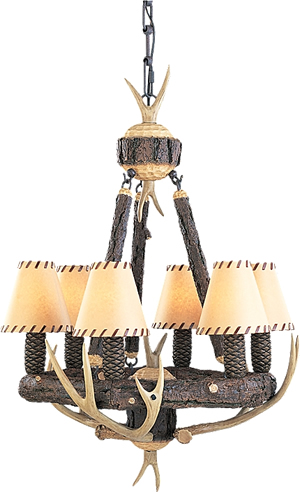 Artificial antler is often less expensive and can look like the real thing.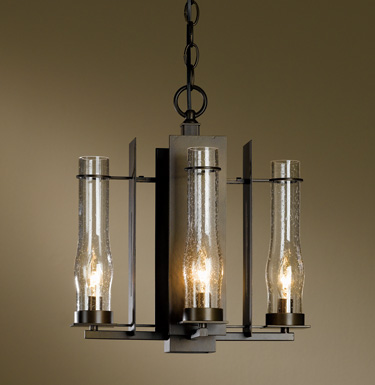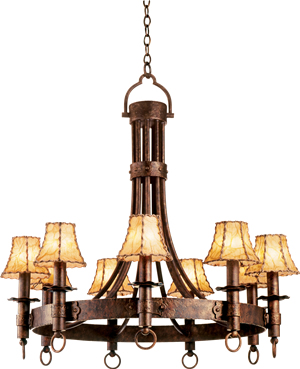 Rustic Metal Chandeliers
Forged metal chandeliers were common in the Adirondacks. By the mid-1900s blacksmiths were adept at fashioning lighting. Sometimes architects provided the plans. Some were designed by the craftsman and others came from European pattern books available at the time.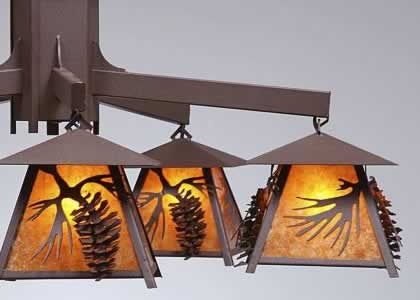 Mica Diffusers
Mica is a natural stone that cleaves nearly perfectly into sheets. Thin transparent sheets of mica may also be called isinglass. It is very thin, transparent and flexible.
At one time, mica was quite rare and expensive. Then, in the early 19th century, large reserves were found in New England, Africa and South America. There are old mica mines all over Western North Carolina where I live. As of 2005, the US was the second highest producer of mica (after China).  A lot of mica is also mined in Canada. The sheet mica used in lighting is much less common than the little flakes and scrap.
More Information on Rustic Lighting