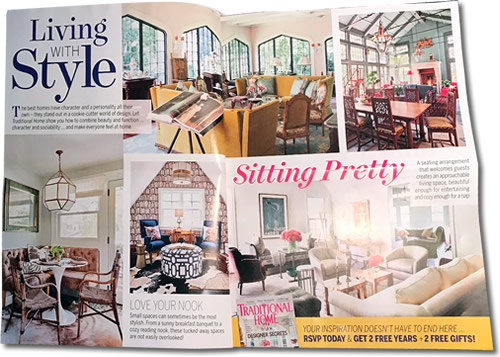 Traditional Home just sent a "We want you back" packet.* The packet has a little booklet in it. I would Pin every picture in the booklet. I love Traditional Home magazine.
Traditional Home
However you envision the good life… you'll find your inspiration here!

Living with Style
The best homes have character and personality all their own – they stand out in a cookie-cutter world of design. Let Traditional Home show you how to combine beauty and function, character and sociability… and make everyone feel at home.
The little booklet has a page each for Sitting Pretty, Bathing Beauties, Bedroom Escapes, Make an Entrance, Perfect Porches and It's All in the Details.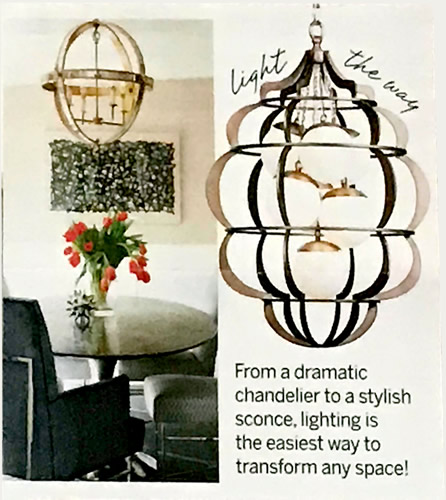 Always on the lookout for anything about Lighting, this caught my attention.
It's All in the Details

Light the Way
From a dramatic chandelier to a stylish sconce, lighting is the easiest way to transform any space!
The insert is; "Splash some color into your life with our new color swatches! It has four rooms in Lilac, Canary Yellow, Royal Blue and Rose Quartz. One side has the room, the other side shows the elements with Where to Use It, How to Use It and Why It Works
Of course it ends with; "Your inspiration doesn't have to end here… RSVP Today and Get 2 Free Gifts."
I've never waited to resubscribe before. We are building a house and I was waiting to resubscribe till the move. The closing and the renewal are the same month.
I found out if you wait, you get two free years for the same price and they send you books!
The orb pendant on the left is similar to a lot of orb pendants. I don't know which one it is.
I figured out what the chandelier pendant on the right is. It is the Nebula Chandelier C 8625. It is designed by Barry Dixon. The dimensions are 24″ x 33″. The finish is Mottled Silver and Satin Brass with Opal Glass Orbs.
Barry Dixon is "one of America's top up-and-coming designers, Dixon's work is a masterful blend of traditional and contemporary that mixes color and texture in creative ways that have clients across the country clamoring for his designs."