Adjustable Arm Sconces for the Bedside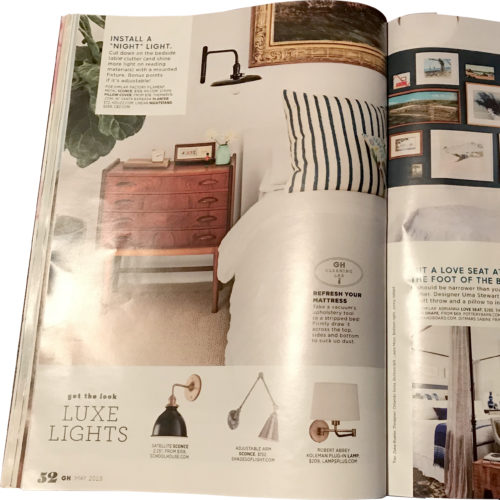 Good Housekeeping of May, 2018's regular feature Your Home is on Dreamy Bedroom Updates. It has great bedroom ideas with photos of large sumptuous bedrooms and tiny bedrooms with ideas to make a small space practical and sumptuous.
Subscribe to Good Housekeeping Magazine >
One page is given to wall mounted lamps for the bedside.
Install a "Night Light"

Cut down on the bedside table clutter (and shine more light on reading materials) with a mounted fixture. Bonus points if it's adjustable.
I love a swing-arm wall sconce next to the bed.
Get the Look: Luxe Lights

Satellite Sconce from School House
Adjustable Arm Sconce from Shades of Light
Robert Abbey Koleman Plug-in Lamp from Lamps Plus
We bought Holtkotter swing arm lamps for the new house we are building. My favorite thing about them is the switch. The switch is a dimmer. It goes from off gradually up to wherever you stop.
We have a 3-way next to the bed now. Sounds great, when you get up you can just turn on the night light. But to turn it back off, you have to go through the next two light levels. This is not a good design.
With Holtkotter lamps, you just turn it to night light, then back off again with a rotary dial. Every time I am bright lighted or bright light myself, I wish we had gotten Holtkotter lamps.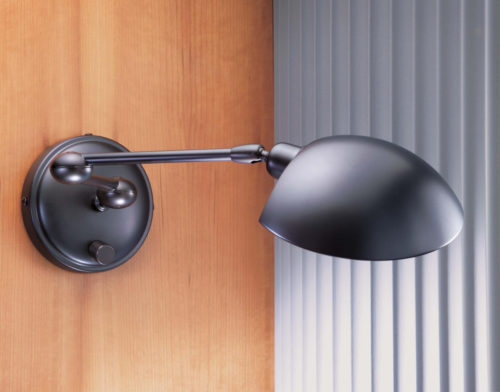 I bought two 522 Holtkotter lamps for the house we are in now, then before we got them put up we found land and started planning a new house.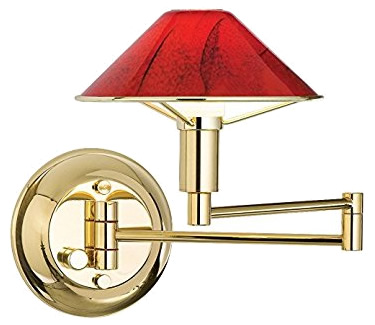 Then I found these, 9426 PB MGR Polished Brass with Magma Red Glass. Beautiful! I will put the others in the office or the guest room.
See more Swing Arm Wall Lamps at Deep Discount Lighting

Swing Arm Lamps
Swing Arm Wall Lamps in a wide variety of styles, finishes and price ranges. Ideal for a bed side, office, over a book case, anywhere you want a style statement and the ability to direct light exactly where you want it.