Cowboy Style at Indian Cave Lodge Auction Preview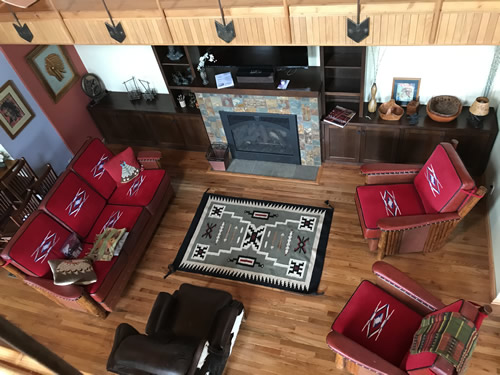 We recently went to an Auction Preview at Indian Cave Lodge, a mountain hotel near Hendersonville, NC, built in 1892 that is now a private home.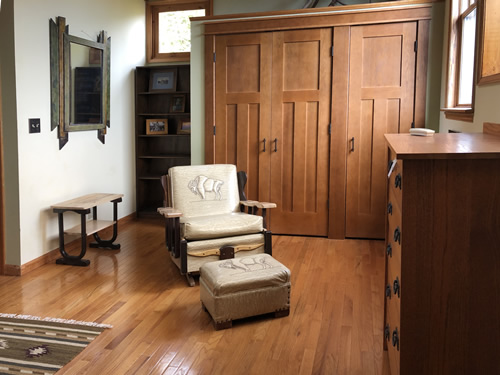 The home was completely furnished in what I think of as Western or Cowboy Style, which is a surprise to find in North Carolina.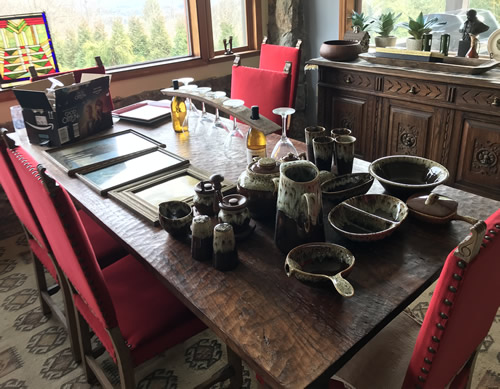 It was set up like a garage sale, with a little bit of everything everywhere.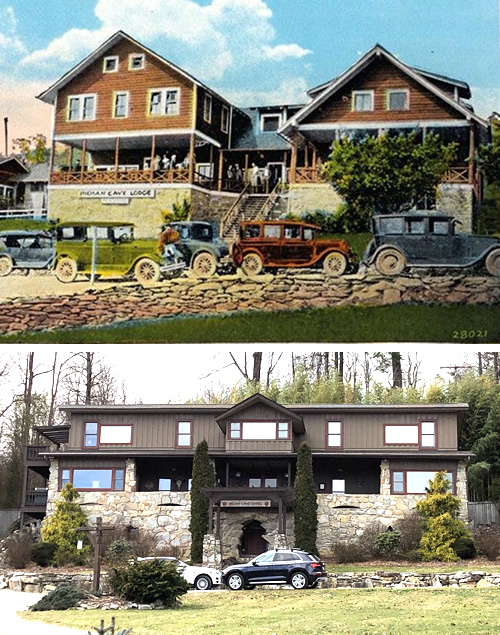 I had found the house before, reading about the history of this area. The driveway was posted No Trespassing, so I was happy to get a chance to see it.
Indian Cave Lodge and Indian Cave Park – Hendersonville, NC >
Before we visited Yellowstone and spent another week around Cody, Wyoming, I read some about Thomas Molesworth and Cowboy High Style. We stayed in the Old House at Old Faithful Inn in Yellowstone which was built in 1903 with a log pole interior framework. There is a huge rustic fireplace and twisted and curved branches are everywhere. Some of the original furnishings are still there, including Charles Limbert rocking chairs, armchairs, settles and wash stands. Limbert was a leader in the American Arts and Crafts movement.
Project Small House: Inspiration – Bedroom at Old Faithful Inn >
Just outside the East Gate of Yellowstone National Park is the Molesworth House. It is a destination wedding venue in a house built by Paul Hindman, one of the craftsmen working for Thomas Molesworth. Molesworth kinda invented Cowboy Style as we know it. The advertising for Molesworth House called it the "'Art Deco' period of a blended cowboy, western and Native American Indian design."  Art Deco Cowboy Style?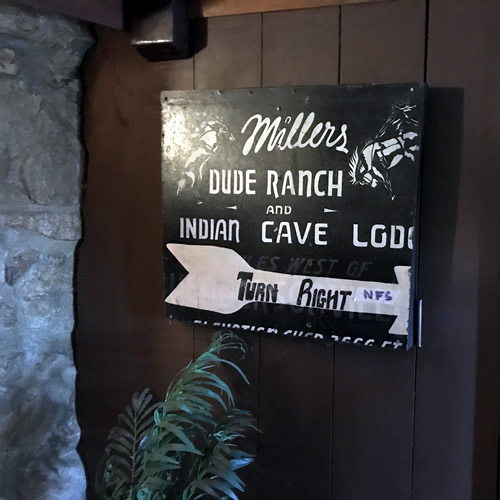 Dude Ranch Western Style
The Indian Cave Lodge had at one time been run as a Dude Ranch.
What we think of as Western Style started with the furniture that settlers built for their own use with the materials at hand. But when ranches became tourist destinations, they evolved into the style we know.
 Cattlemen soon discovered that people were more profitable stock than cattle. Ranches became classy getaway spots for eastern travelers. Eastern tourists had a preconceived notion of what the West should be, and the early dude ranch entrepreneurs set about making their ranches fit those images. Acting not on reality, but on exaggerated, romantic notion, they invented the western interior style—comfortable, yet rustic. As Struthers Burt, one of Jackson's earliest dude ranchers in the 1920s and a former Princeton professor wrote in his Diary of a Dude Wrangler: "If you wish to sum up the dude business in one sentence, it consists in giving people homemade bedsteads but 40 pound mattresses."

Cowboy High Style: Thomas Molesworth to the New West by Elizabeth Clair Flood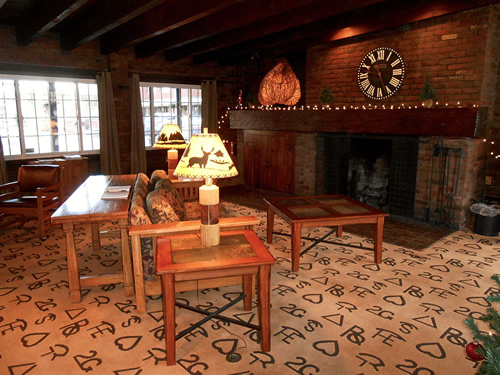 Ranch hands were often asked to build lodgepole furniture during the winter and furnish ranch houses and cabins for summer visitors.

Cowboy High Style: Thomas Molesworth to the New West by Elizabeth Clair Flood
Thomas Molesworth
Thomas Molesworth moved to Cody, Wyoming, in 1931. He opened the Shoshone Furniture Company making and selling furniture and caskets. He also sold western art and artifacts.
In 1933, he was hired to build some 245 pieces for Moses Annenberg's hunting lodge. Moses Annenberg  was a newspaper publisher when there was a lot of money in news.  He commissioned Molesworth to design the entire interior for a 10,000 square foot lodge in an Adirondack type style.
Molesworth provided everything in a complementing style, upholstered and carved furniture and cabinets, chandeliers, wall sconces, fireplace screens… Everything had western styling. Coyotes, bobcats, Indian villages, horsehide, Navajo rugs, cattle brands…
[Molesworth] was exposed to the elements of western furniture and the components of the Arts and Crafts, Adirondack, and Art Deco furniture while studying at the Chicago Art Institute in 1908 and 1909… Molesworth also developed a sophisticated taste by traveling extensively, taking an interest in contemporary artists, and socializing with some of the most influential people of the time.

Cowboy High Style: Thomas Molesworth to the New West by Elizabeth Clair Flood
Cowboy High Style
Thomas Molesworth called it Cowboy High Style.
In his interiors Molesworth created a western fantasy with burls, bright leather, Chimayo weavings, Navajo blankets, western objects, Indian artifacts, and artwork like cowboy paintings by E.W. Gollings and Indian scenes by Joseph Henry Sharp.

Cowboy High Style: Thomas Molesworth to the New West by Elizabeth Clair Flood
The furniture at the Indian Cave Lodge Auction Preview had all of the elements of Thomas Molesworth Cowboy High Style.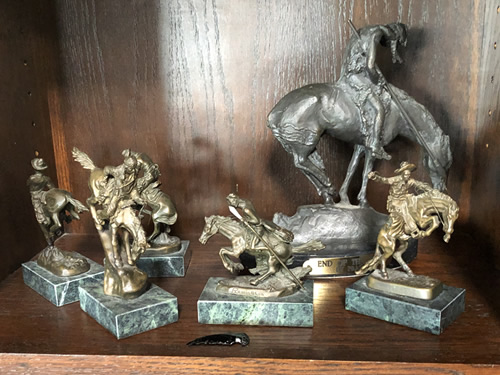 Remington
My daughter had asked us to go to the auction to take a look at what were supposed to be Remington bronzes.
Frederic Remington as an American painter, illustrator, sculptor and writer. He had plaster casts made of his sculptures of the Old West, cowboys, Indians and the US Cavalry. Bronze copies were produced. There are a lot of them, and even more imitations around.
Whether they are real or not, a Remington style piece is instant Cowboy Style.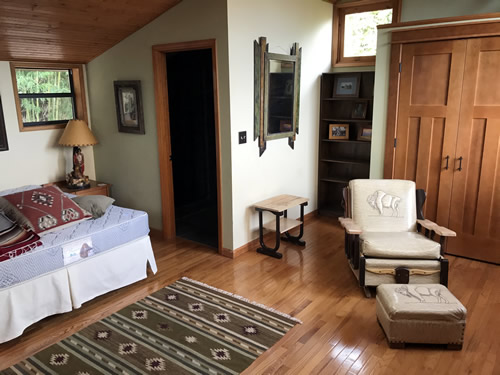 Cowboy Style Furniture
Cowboy or Western Style furniture is often Arts & Crafts or Mission style, but with fun Western motifs.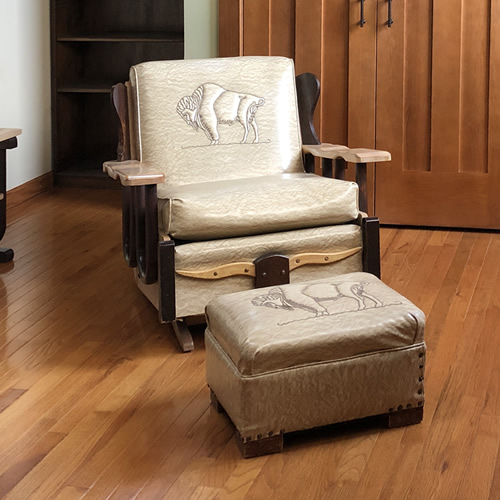 This recliner has buffaloes upholstered into the leather and a long horn cow on the foot rest.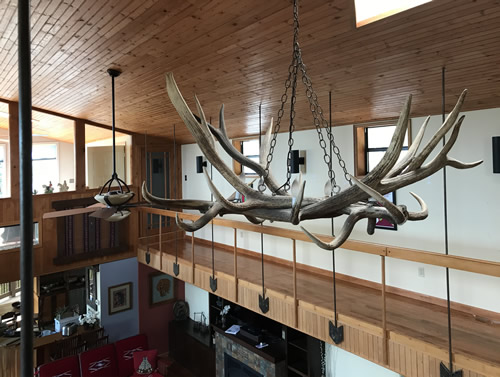 Deer Antlers, Cow Skulls, Hunting Trophies and Hides
Deer and elk antlers are very High Cowboy for lighting.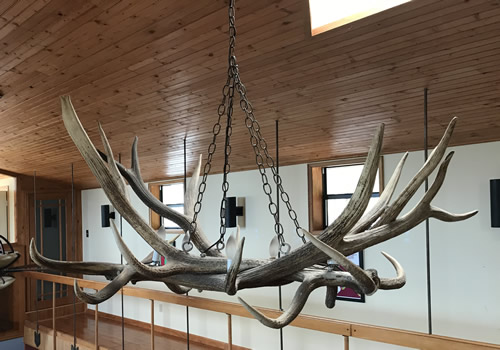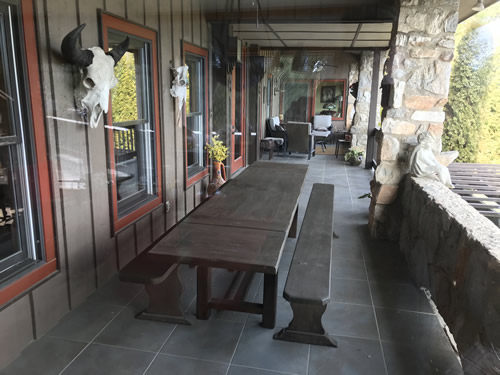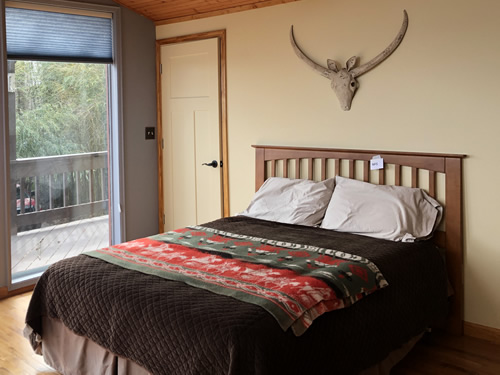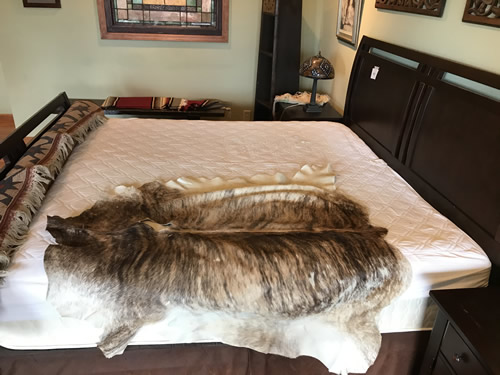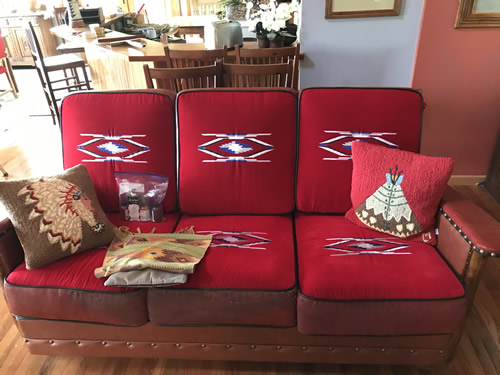 Chimayo Weavings
New Mexico Chimayo settlers settlers wove wool from their churro sheep into brightly colored blankets with simple designs.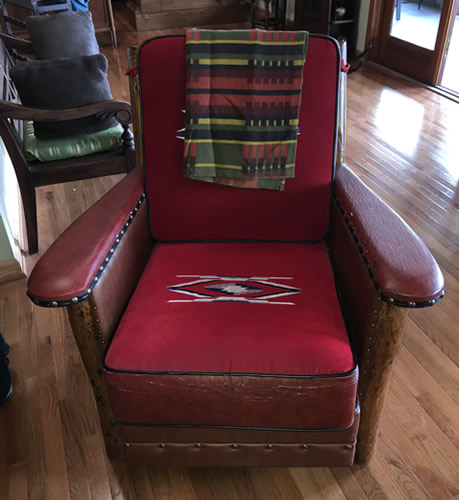 Thomas Molesworth used peeled and polished fir and lodgepole pine branches to frame his furniture and upholstered the pieces in brightly colored Chimayo weavings.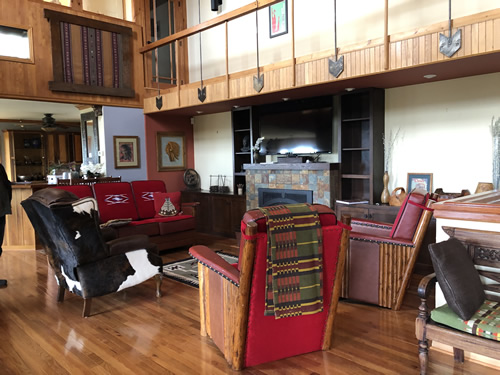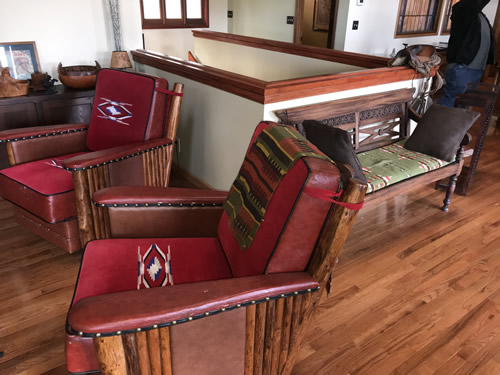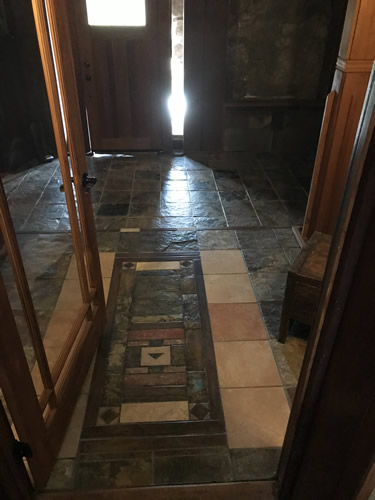 The same patterns can be used to give things a cowboy feel, like this tile floor with tiles set in a western pattern.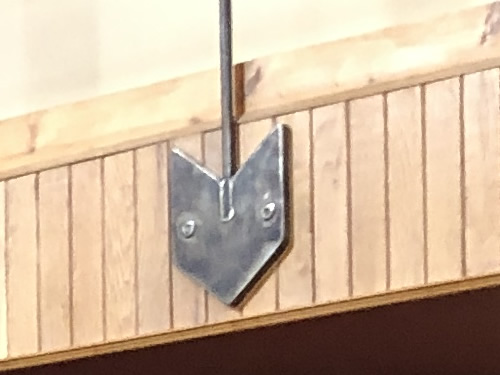 Wrought Iron, Saddles
Rustic wrought iron cut or shaped into western themes fits right in. Dude ranch buildings also used came from iron or wagon wheel light fixtures.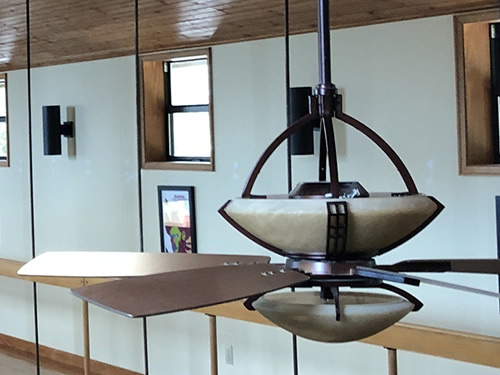 The ceiling fan has natural stone look diffusers for lights and wrought iron finish. The little pattern would work with Mission or Prairie style.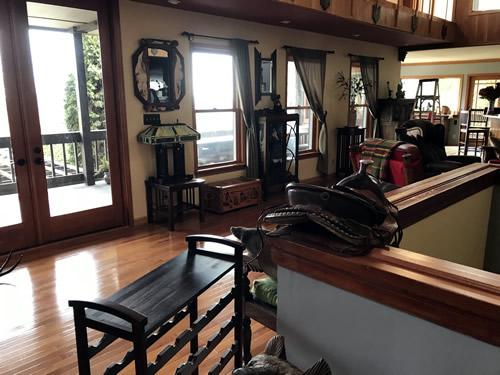 Western style is often ccessorized with spurs, saddles, boots, bows and arrows and other cowboy and Indian things.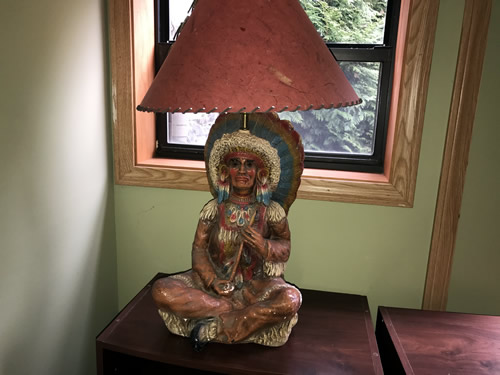 Indian Artifacts  and Indian Kitsch
From the beginning Indian artifacts were part of cowboy style. Molesworth sold western art and artifacts int his Shoshone Furniture Company in the '30s.  Real or reproduction to kitschy extremes, decor with Indians is part of Cowboy style.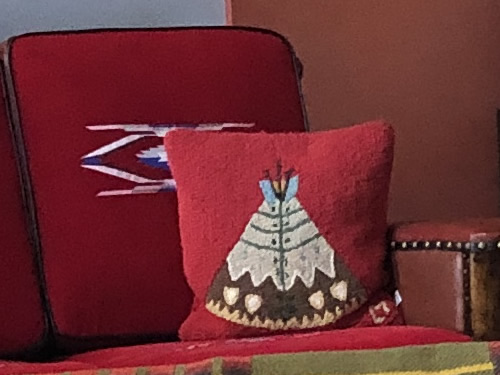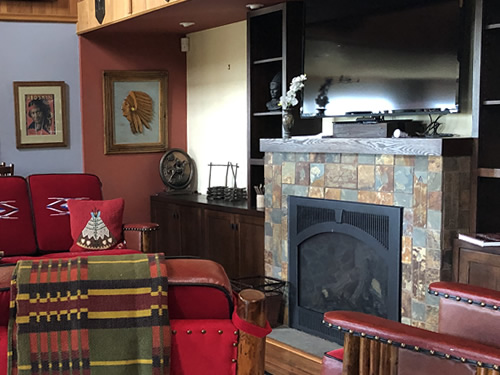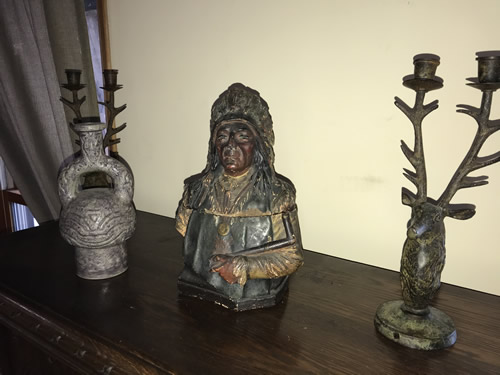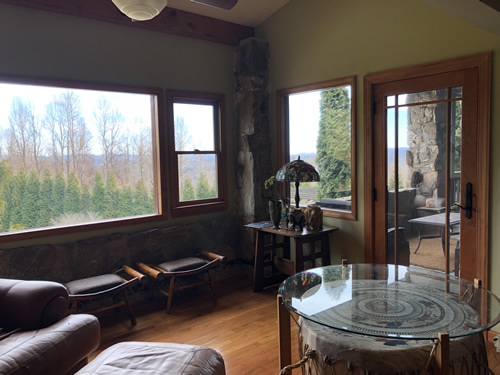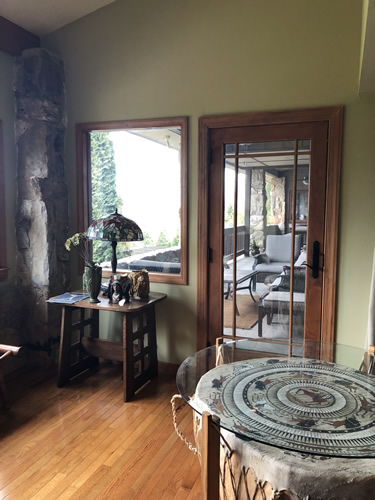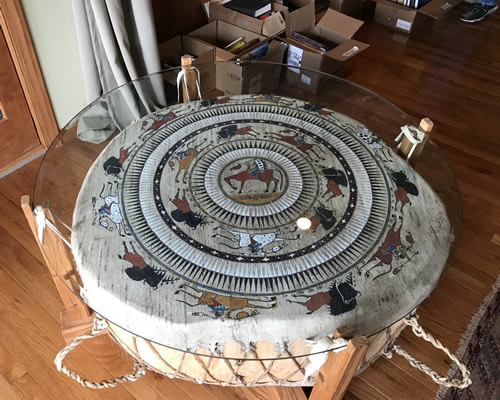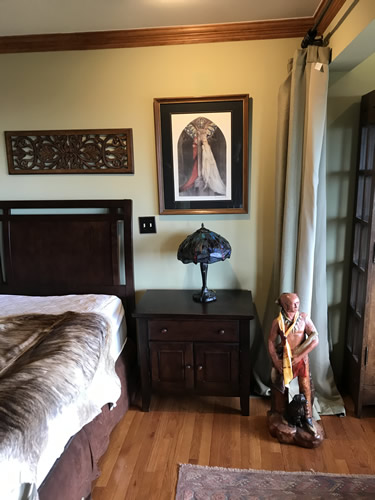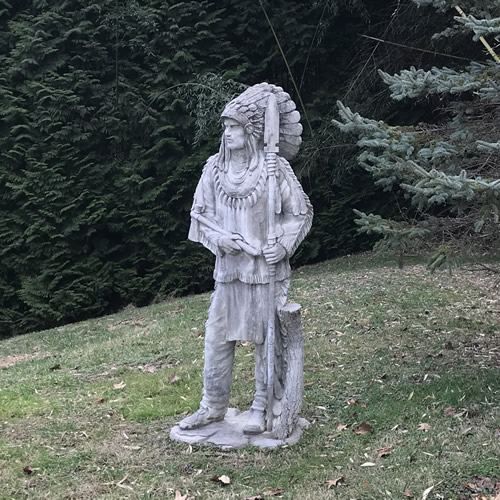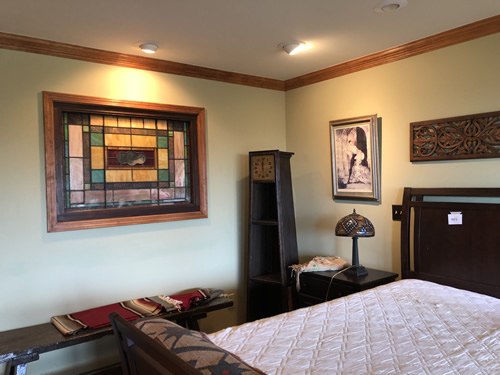 More Photos from the Estate Auction
Here are more of the photos we took.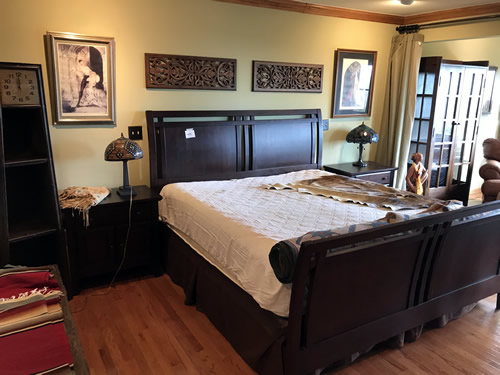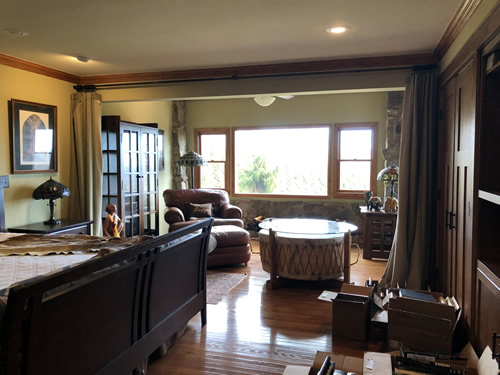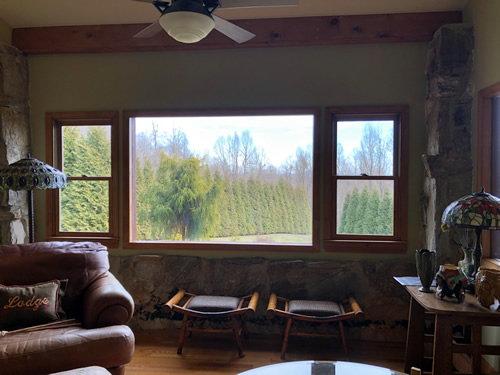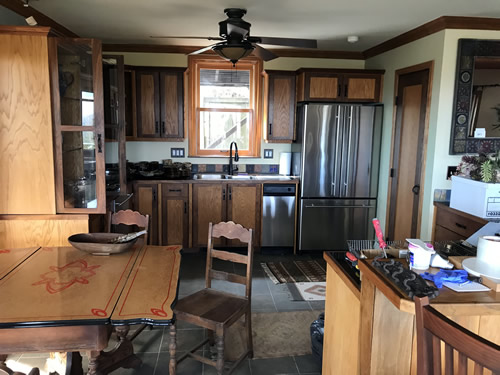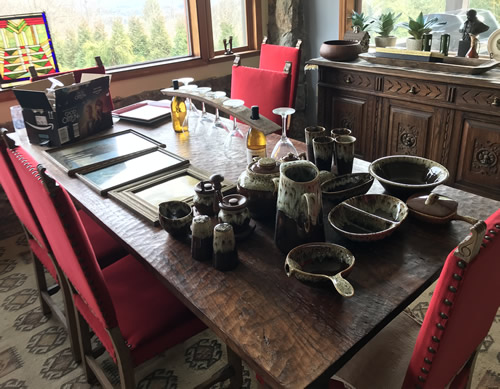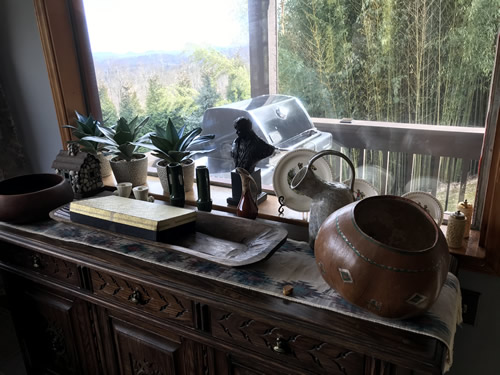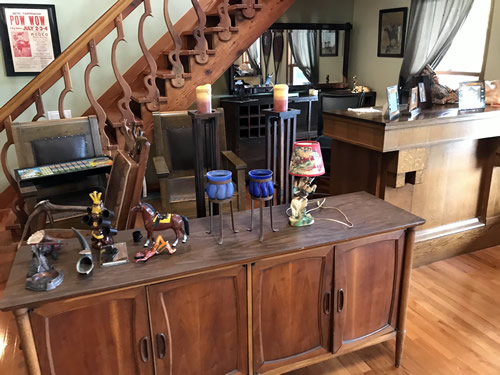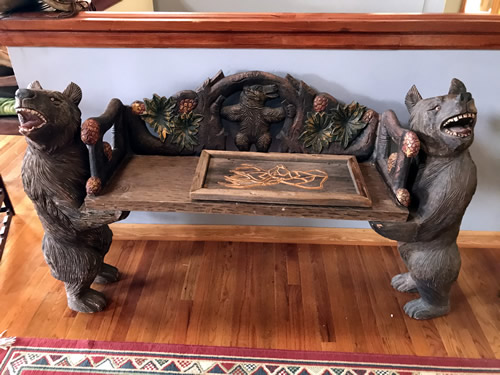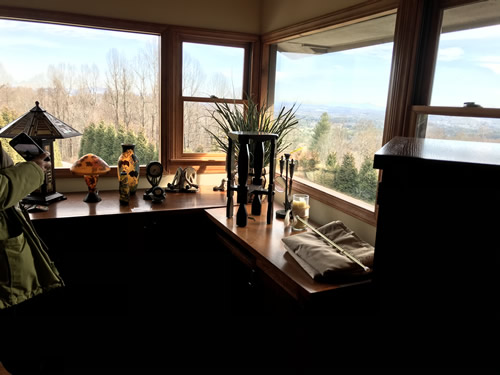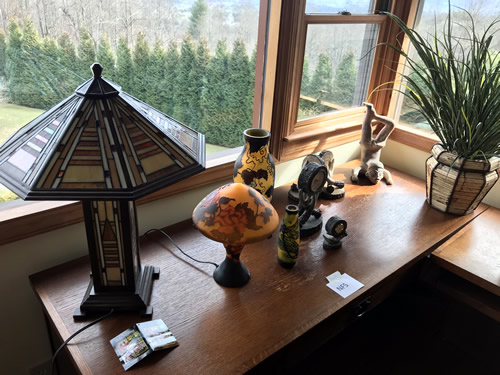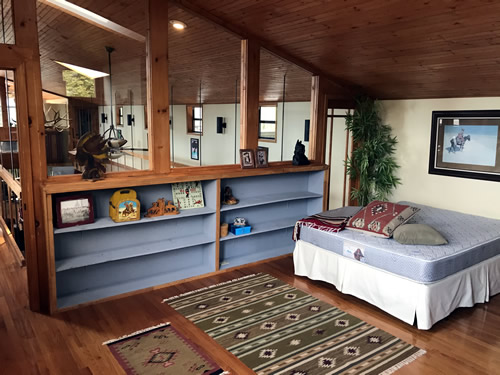 Indian Cave Lodge
The house itself is very open. You can see nearly from one side to the other no matter where you are.