Two's Company Blue Willow Hand Towels, Kitchen Towels and Countertop Soap and Lotion Set
I can never have too many hand towels and kitchen towels. These from the Chinoiserie Collection by Two's Company are adorable. Perfect to give and wonderful to receive.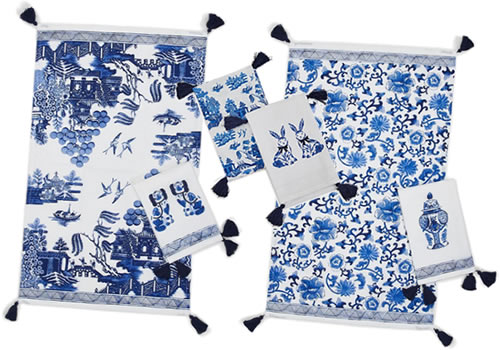 Two's Company set of two Blue Willow Dish Towels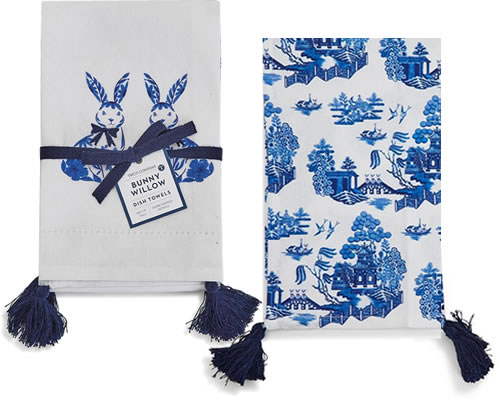 81847 Spring Set of 2 Blue and White Dish Towels with Tassels and Embroidery
Blue Willow and Blue Willow Bunnies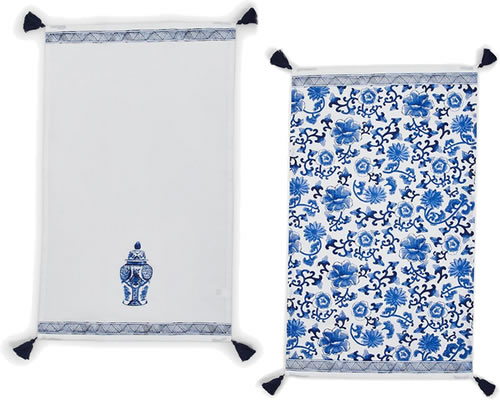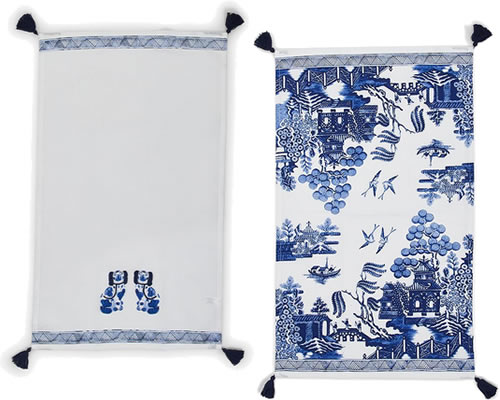 53408 Chinoiserie Set of 2 Blue and White Dish Towels with Tassels and Embroidery
Blue and White Ginger Jar and Floral
Staffordshire Dogs and Blue Willow
100% Cotton
17" wide x 29" long
Chinoiserie, the love of things Chinese-esqe, is on a revival. Designed in traditional blue and white these super absorbent dishtowels are sewn with tassels in the corners to make them a treasured kitchen accessory.

100% super absorbent cotton.
Machine wash warm with like colors, do not bleach, tumble dry low and warm iron if needed.
At home in the kitchen, this set serves as both hand towel and a towel to dry off washed dishes.
Hang on an oven door handle; use them for covering dough or at a party to line a serving tray.
Gift them to yourself or as housewarming present to family or friend and delight them with this stylish set.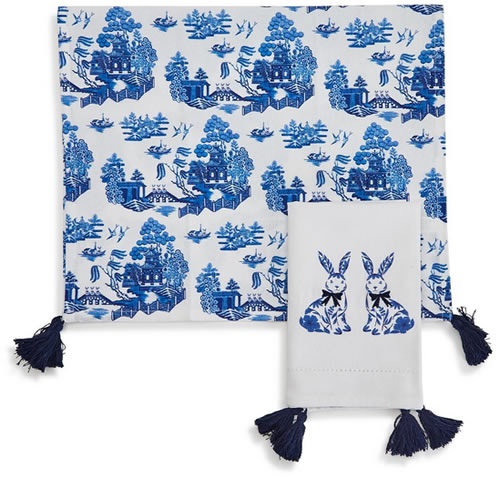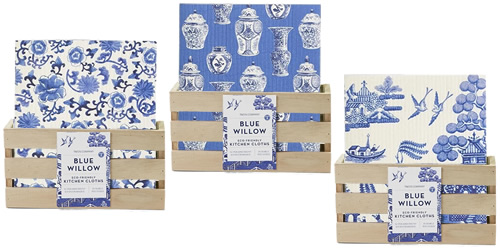 Two's Company Blue Willow Kitchen Cloth Set
A lot of people call these Swedish Dishcloths.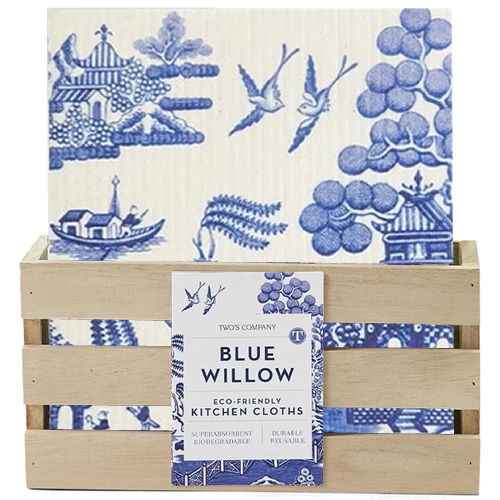 53358 Set of 24 Blue Willow Multipurpose Kitchen Cloths in Countertop Display

Includes 3 Patterns

24 Plant-base 70% Cellulose and 30% Cotton Sponge Cloths
6.75" wide x 8" high
Reusable, hand wash, air dry

Pine Wood Box
8" wide x 4" high x 3.5" front to back

Two's Company cleaning cloths with irresistible blue willow patterns. These multipurpose kitchen clothes do the job and they are totally eco-friendly and reusable. Throw away those smelly sponges and switch to these Come in three patterns and come in an attractive counter top display.

These kitchen cloths are wonderfully absorbent. They last forever and are so durable. They can actually absorb up to 18 times their weight. Amazing!

For all your kitchen cleaning uses from dishes, to stovetops and tabletops. And in your bathroom, you will find them perfect for cleaning counters, shower doors, mirrors, and windows!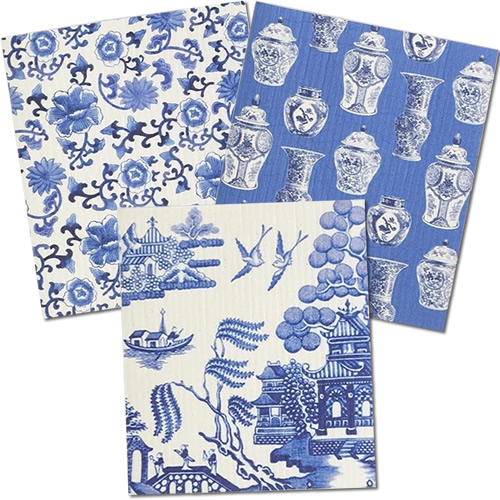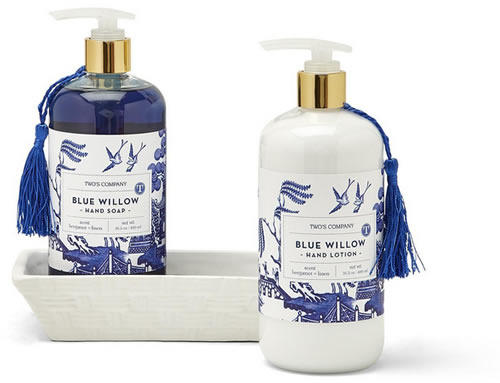 Two's Company Chinoiserie Sandalwood Scented Hand Soap and Lotion Set
53392 Chinoiserie Sandalwood Scented Hand Soap and Lotion Set with Essential Oil in Basketweave Ceramic Tray

16.5 oz./490ml Soap
16.5 oz./490ml Lotion
Plastic Bottles are refillable
Basketweave Ceramic Tray
Bottles 2.5" wide x 7" high
Tray 7.25" x 3.5" wide x 1.75" high

The perfect combination of function and great look. With a focus on being clean and moisturized, the Chinoiserie soap and lotion set, with a sandalwood fragrance is sure to add a pleasant fragrance to your daily routine.