Queen Anne's Lace Accents, Décor and Collectibles
Queen Anne's Lace grows wild around here. If you pick it, it smells like carrots. That's because it is a carrot, pretty much.
It's sometimes called wild carrot, although there is another kind of wild carrot around here that makes more carrot, less flower. You can eat the carroty root of Queen Anne's Lace. It is not as flavorful as the carrots you get at the store, though. And the bigger it is, the more it has the flavor and texture of wood. The flowers, leaves and seeds are also supposed to be edible. I've never tried them. I don't like carrot tops, so I doubt I would like them.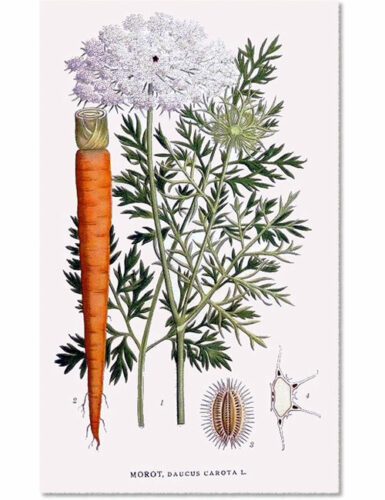 Carl Linnaeus drew Queen Anne's Lace for his book Species Plantarum in 1753.
The plant grows 1 to 4 feet tall. The leaves are two to six inches long and the flowers are 3 to six inches across. They grow in what is called an umbel, a bunch of short stalks that come from a central point like an umbrella. It was named after the umbrella in the 1590s. There is one black, purple or red flower right in the middle. There are a lot of guesses why, but no one agrees.
Other names for Queen Anne's Lace are European Wild carrot, Bird's Nest and Bishop's Lace. We have always called the curled up ones Bird's Nest flowers and the wide open ones Queen Anne's Lace.
You can buy variations of the Linnaeus drawing as pictures and wall hangings.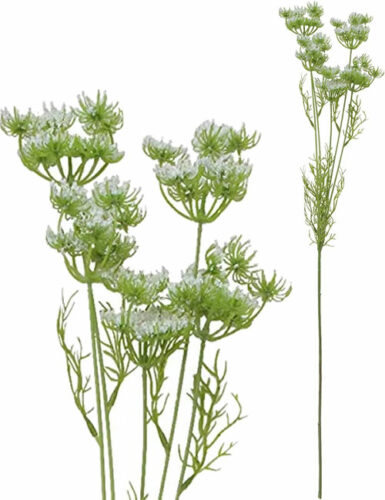 They make very realistic looking Queen Anne's Lace fake flowers that you can enjoy all year.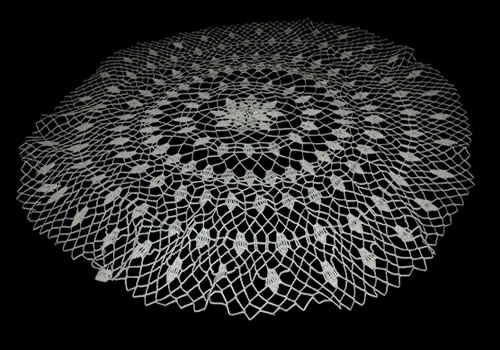 The flower was named after the Queen Anne, Queen of England, Scotland and Ireland in the early 1700s. The legend tells that she pricked her finger while making lace and a drop of blood fell on the lace. The lacy cluster of small flowers, with a single dark flower in the center is supposed to look like her lace with the drop.
There are crochet patterns that are called Queen Anne's Lace. Some have a darker center bit. They are crocheted in a lace-like pattern with cotton string.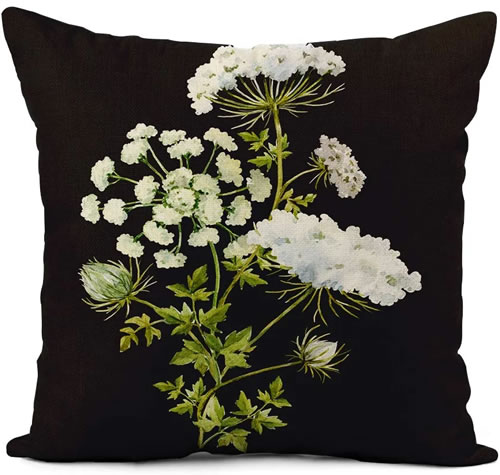 The Queen Anne's Lace flower has been used as a botanical floral motif for years. It is available at all price points and on nearly anything unless you are actually looking for it.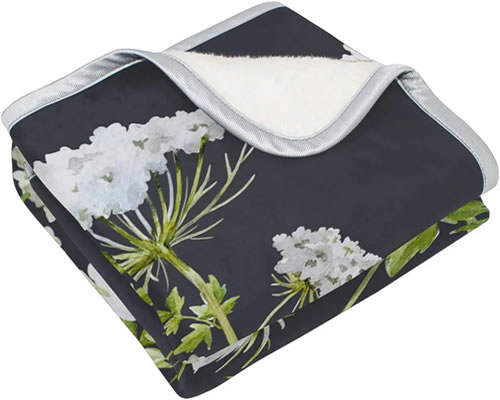 This small throw blanket has the same print as the pillow.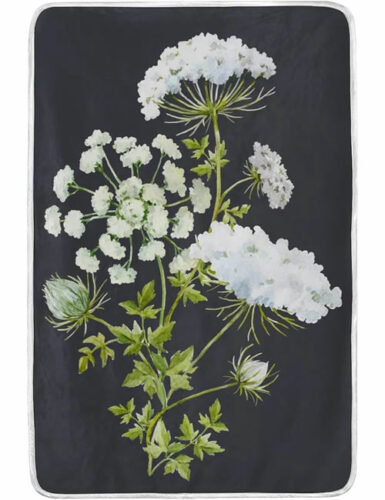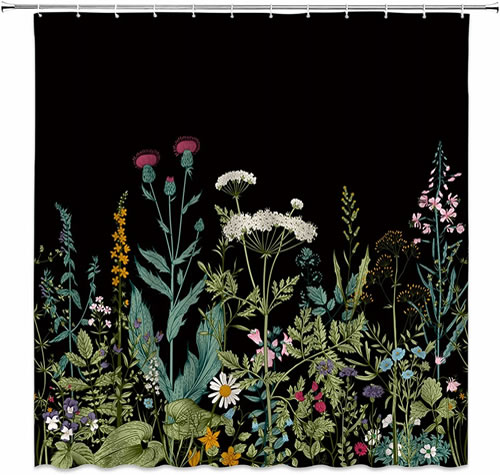 This botanical print shower curtain has realistic full color wildflowers unrealistically growing together. It is really beautiful. The shower curtain is available narrow, for little walk-in showers and super wide, up to 180″ wide, enough to encircle a claw-foot tub. You could buy the wide ones just for the Queen Anne's Lace printed fabric.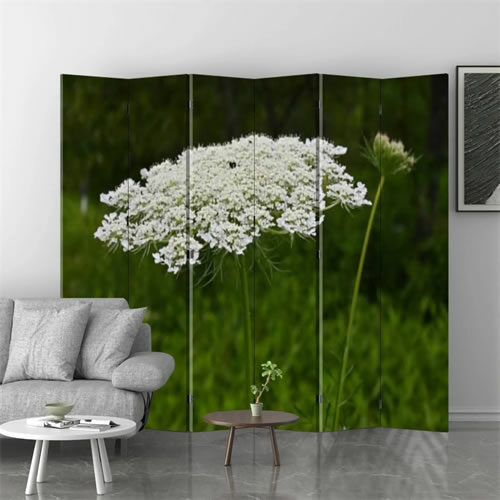 You can also find various screen room dividers with photos or artwork featuring Queen Anne's Lace flowers.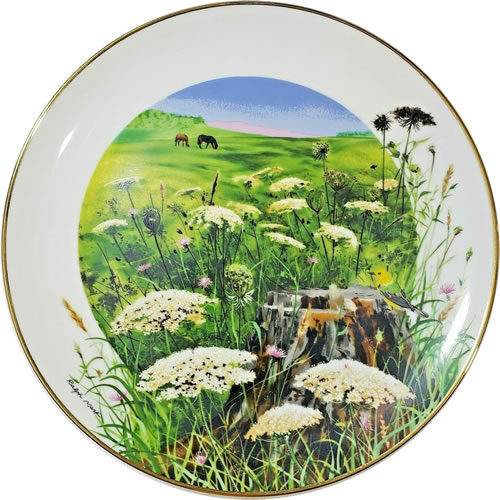 Southern Living puts out a lot of collectibles. The Wildflowers Collection featured Queen Anne's Lace on this one. You can find them on eBay.
Queen Anne's Lace Collectible Plates on eBay >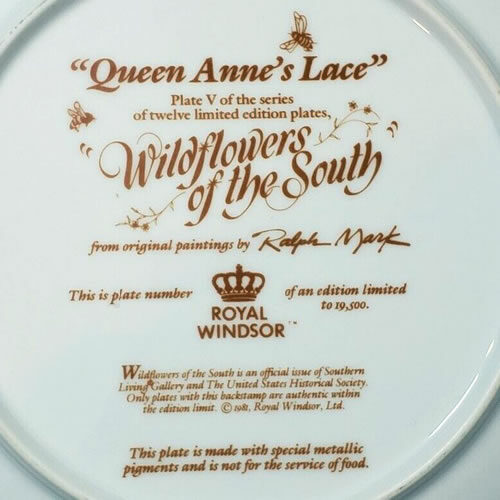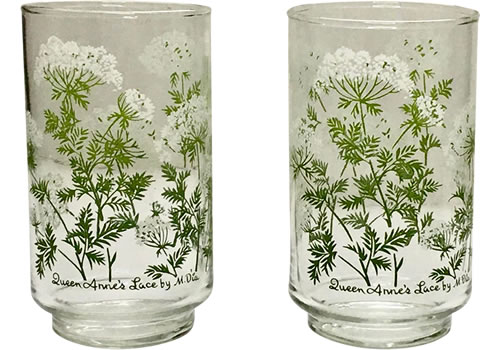 The Libbey Glass Co. makes glasses with various prints on them. They stand up really well, even to being run through the dishwasher.
These glasses are discontinued, but you can find them on eBay. I just looked and there are quite a few of them there in different sizes.
Libbey Glasses with Queen Anne's Lace on eBay >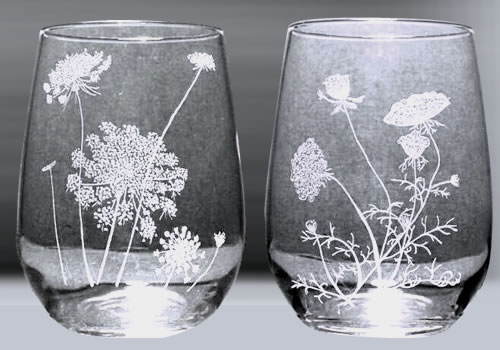 Queen Anne's Lace looks beautiful etched on glass. I pinned these. You can find some like them on eBay.
Libbey Glasses with Queen Anne's Lace on eBay >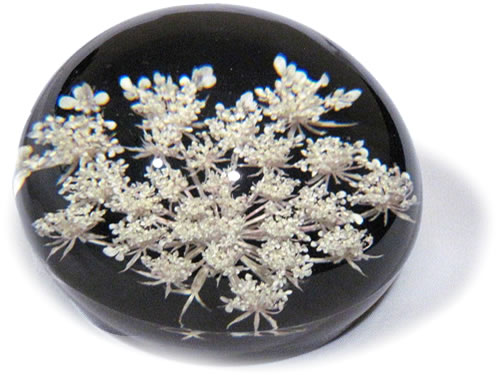 Tarax Infinity paperweights have real flowers preserved inside them. The best known have a dandelion puff inside glass-like PolyQuartz (like Lucite) paperweights.
You can find them with Queen Anne's Lace inside.
Since 1988, Tarax has been the exclusive beneficiary of artist and inventor Tom Clarke's patented methods and tools, developed especially to create these timeless and memorable gifts and collectibles.
You can find Tarax Infinity paperweights in gift shops and on eBay.
Tarax Infinity Lucite Paperweights with
Preserved Queen Anne's Lace Flowers on eBay >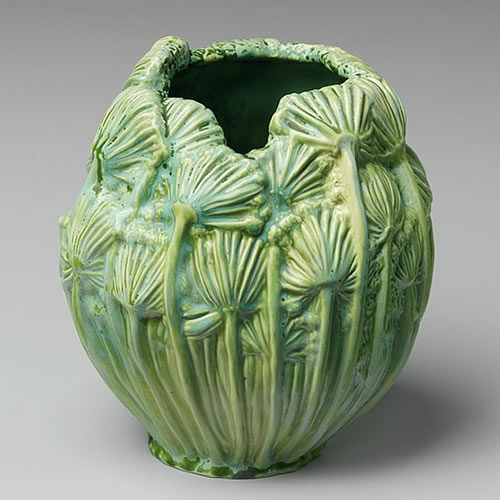 And if you really want to aspire, Queen Anne's Lace was one of the motifs favored in Art Nouveau pieces.