Simple Kit to Convert Recessed Lighting to LED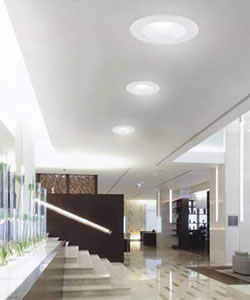 Convert your existing recessed lighting to super energy efficient LED with a new easy-to-use kit from Eurofase.
The kit includes everything you need to convert a typical 6 inch recessed can that uses a 150W Incandescent R40 to PAR 38 bulb. The LED driver is powered by screwing into the bulb socket. The 14W LED SHARP 120V/277V LED is provided.
The LED Kelvin 3500K emits a warm white light.
The beam angle is adjustable up to 120 degrees to highlight artwork or graze walls.
LED lamps have a much longer life than incandescent lamps. They do not emit UV rays. They put out very little infrared or heat. They are ideal to light artwork or photography that is sensitive to UV or temperature. LEDs are highly energy efficient offering significant savings on electricity bills. Their longer lifespan reduces maintenance time and costs, making them ideal for hard-to-reach places.
Eurofase Recessed Conversion Kits >