Outdoor Living with Kichler
Our power went out last night. I was reading the Kichler Landscape Lighting catalog that is to the trade and decided to share some of the information.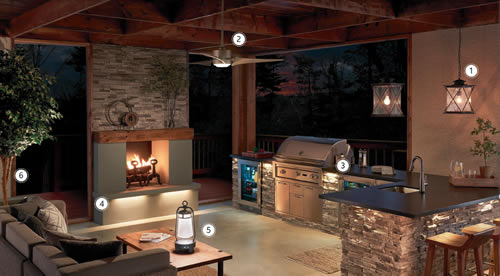 Bring it all together.

With the right combination of exterior lighting, you can bring outdoor spaces to life. Achieve this look by incorporating integrated LED landscape lighting with Kichler® decorative options designed for outdoor use. Homeowners get a beautiful and functional space they can use 24/7 – you get a project you can add to your portfolio.

Kichler Landscape at a Glance 2020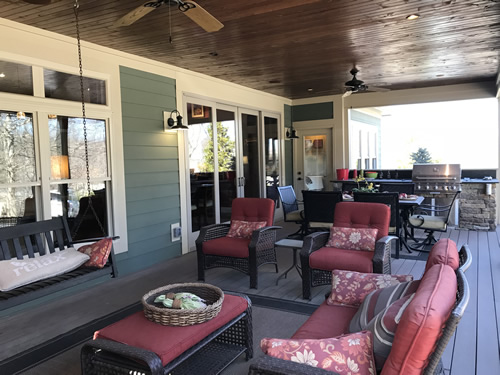 This is the outdoor room/porch in the Schumacher model home. We built almost this same house.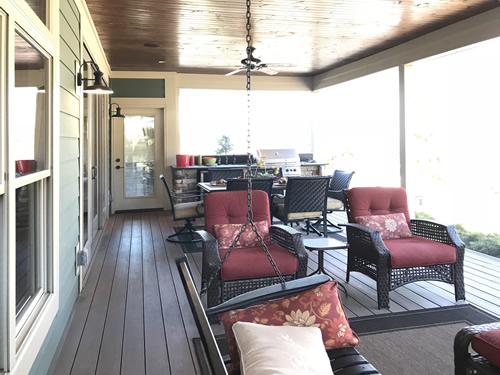 I took a lot of photos to kinda get an idea what we would like to do with our porch.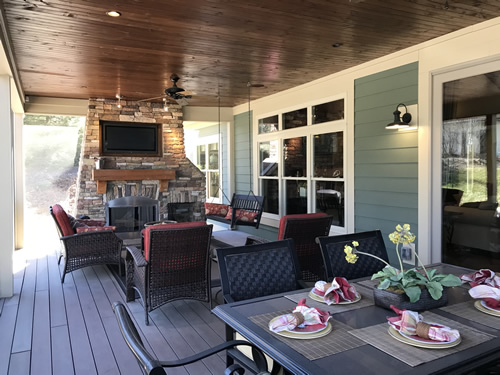 Our porch is almost this same size.
I blogged the whole process of buying the land and building the house, if you are interested.
Building Our New Schumacher Home – Step-by-Step >
The model home uses recessed lighting in the ceiling and a light by each door.
I think we can do better. So far we just have lighted ceiling fans and lights on the steps so we don't kill ourselves. But now that it is getting warmer, we are making plans.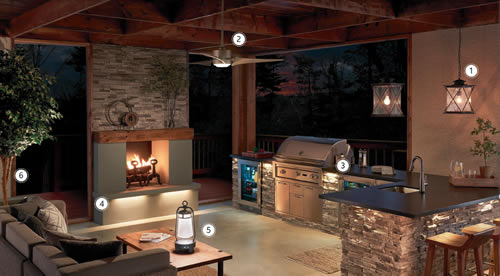 Outdoor Living with Kichler
Here is the Kichler photo again, with numbers for each idea.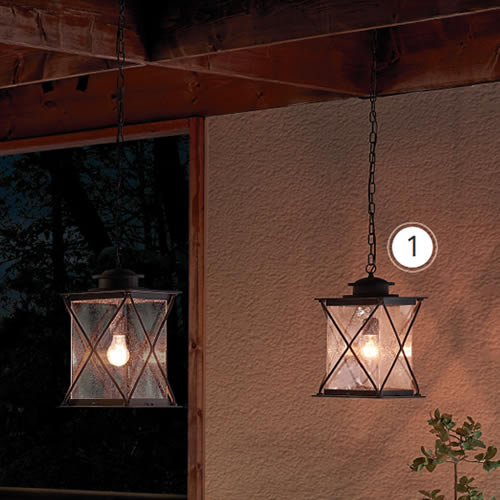 Outdoor Pendants
1 – Arrange pendant fixtures in clusters – for a stylish statement and ambient light. Argyle Outdoor Pendant (49747WZC)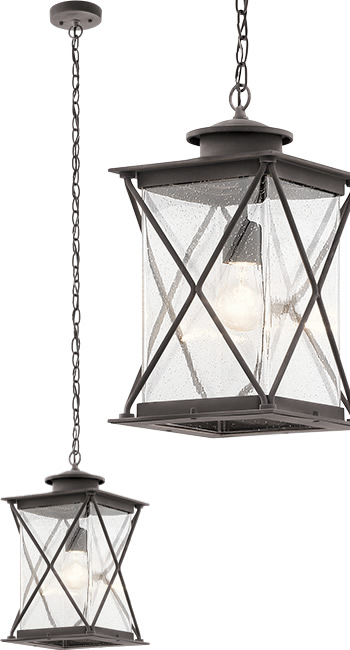 Kichler's Argyle outdoor lanterns showcase lodge-inspired design that brings a distinctive look to your curb-appeal. These fixtures feature a crisscross pattern, a beautiful Weathered Zinc finish and clear seeded glass. When creating an aesthetic atmosphere, nothing compares to Argyle.
Shop Kichler Argyle Outdoor Lighting >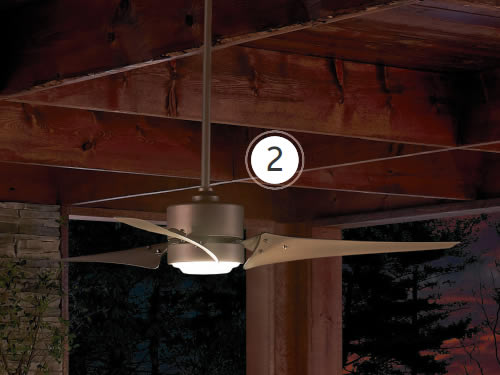 Lighted Outdoor Ceiling Fan
2 – Rana™ LED Ceiling Fan 60″ (310155NI) Outdoor ceiling fans bring light and added temperature control to sitting areas.
Shop Outdoor and Porch Ceiling Fans >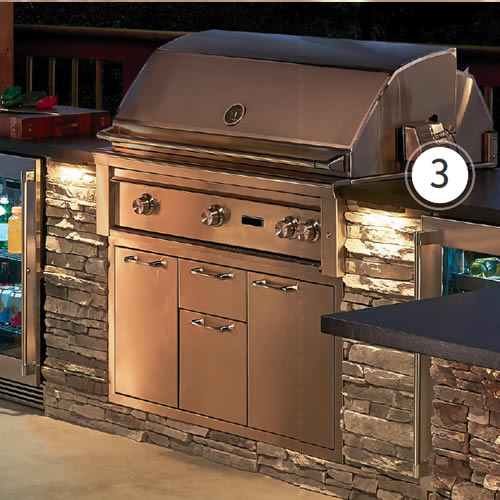 Hardscape Lighting
3 – LED Hardscape Lighting –  The right hardscape lighting helps guide guests at night. Choose small … LED Hardscape Lighting 6″ 2700K (16101AZT27)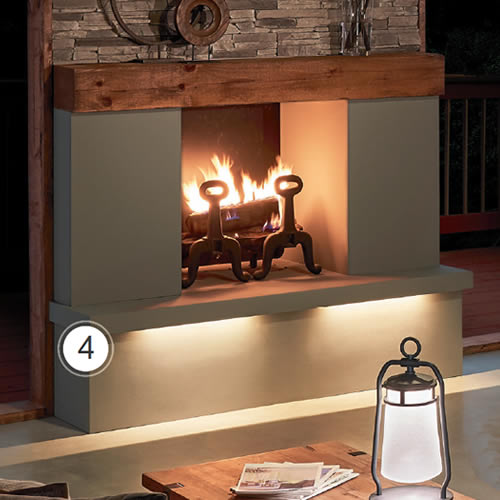 4 – LED Hardscape Lighting … or large fixtures to match the space. LED Hardscape Lighting 18″ 2700K (16103GRY27)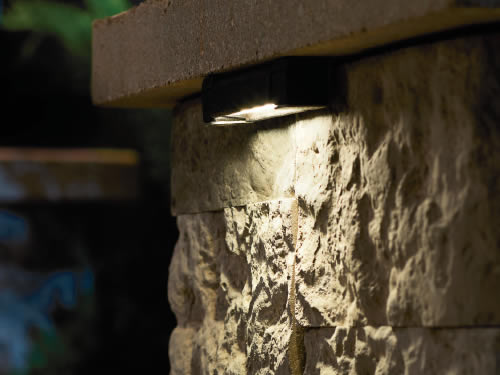 LED Hardscape Lighting

Highlight stone features, retaining walls, outdoor kitchens, steps, handrails, benches and more.
Shop Kichler Design Pro LED 12V Hardscape Deck, Step and Bench Landscape Lighting >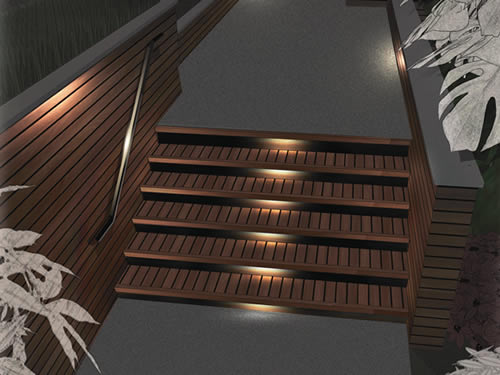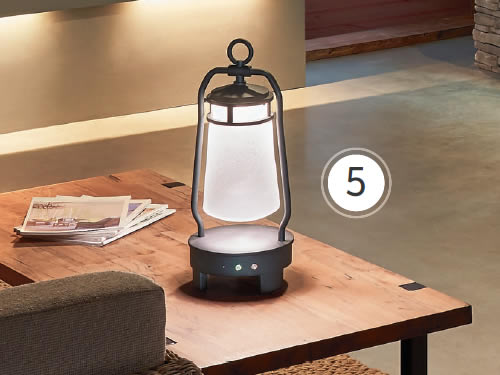 Wireless Portable Lanterns
5 – Rechargeable Wireless Portable Lanterns with built-in Bluetooth® speakers – A built-in Bluetooth® speaker allows homeowners to wirelessly add music to gatherings. Lyndon™ LED Portable Lantern (49500BKTLED)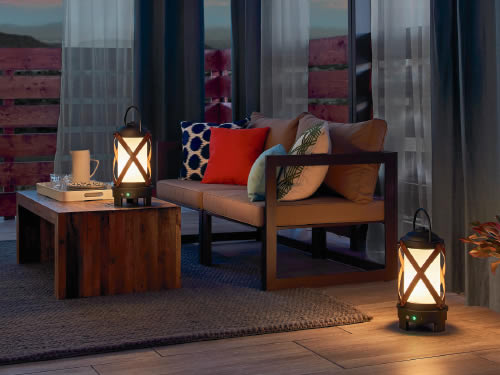 Rechargeable Wireless Portable Lanterns with built-in Bluetooth® speakers to fit any style
7W 3000K – Pure White 250 lm, 35 lm/W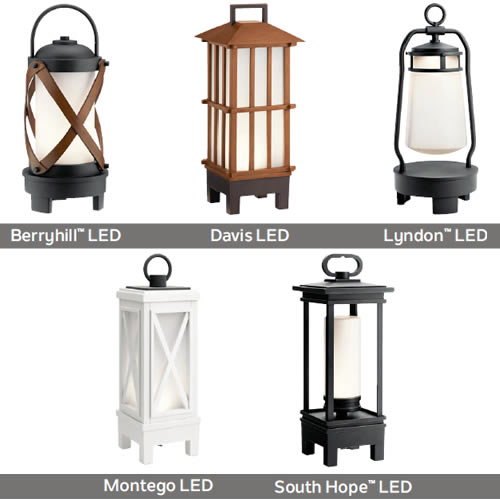 Berryhill™ LED 49239BKTLED
Davis LED 49247BWFLED
Lyndon™ LED 49500BKTLED
Montego LED 49679WHRLED
South Hope™ LED 49473RZLED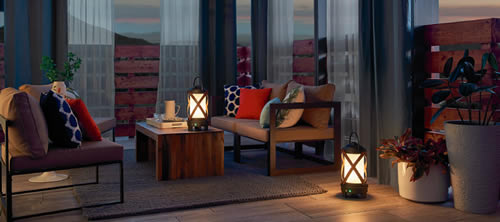 Shop Outdoor Portable LED Lanterns >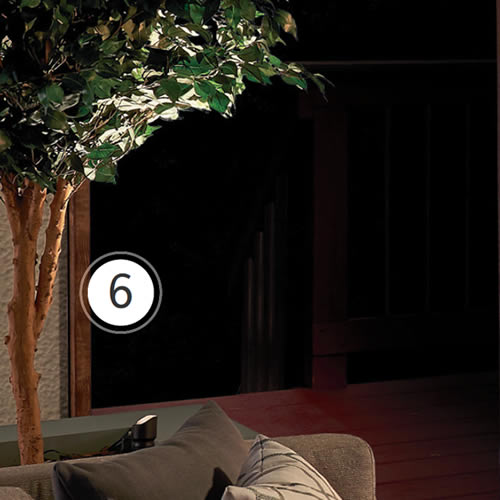 Landscape Lighting in Potted Plants
6 – VLO LED Accent 12V Integrated LED – Select Kichler integrated fixtures allow you to adjust the light output easily, for long-term flexibility. LED Accent Light with VLO (16016 AZT27)
VLO LED Small Accent 12V Integrated LED
Kichler's premium product, no bulb changing, entirely sealed, optimal light quality, with a built-in feature for adjusting lumen levels. Enables flexibility and finetuning of the lighting design. Kichler's longest-lasting product.

15°, 35°, or 60°
Level 1 = 2W/3.5VA, 100 lm, 50 lm/W
Level 2* = 3.5W/5.5VA, 200 lm, 57 lm/W
Level 3 = 5.5W/7.5VA, 300 lm, 55 lm/W
2700K – Warm White 300 lm, 55 lm/W
3000K – Pure White 300 lm, 55 lm/W