Blue Willow Cross Stitch Projects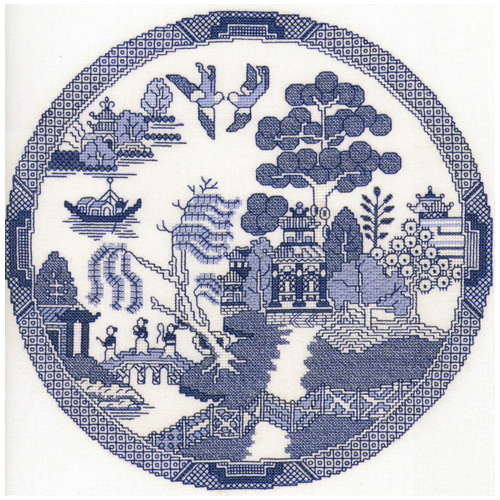 The classic blue willow pattern is a natural for cross stitch and there are a lot of patterns, kits and projects available.
Cross Stitch Books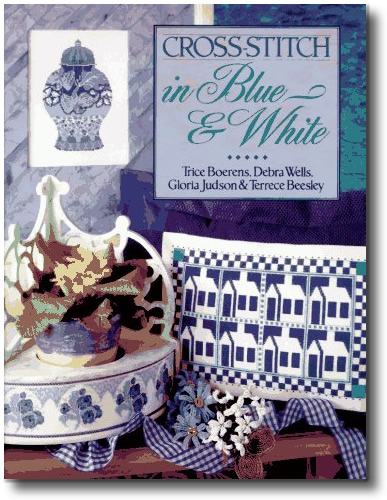 Cross-Stitch in Blue & White
by Trice Boerens, Debra Wells, Gloria Judson and  Terrece Beesley
This is an old book. It may be at your library or you can get it used on Amazon pretty inexpensively.  It has 37 projects, all in blue and white. The book includes a Blue Willow Ginger Jar.
The banner sometimes says the book is crazy expensive, but if you click it is actually only a couple of dollars as a used book.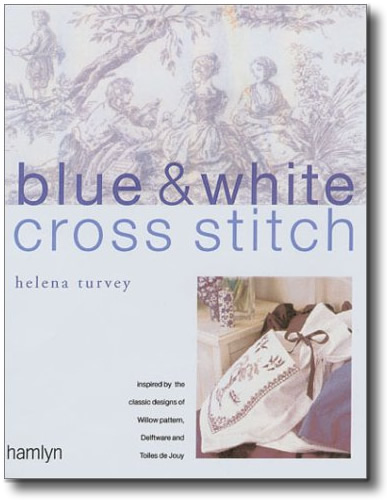 Blue & White Cross Stitch: Inspired by the Classic Designs of Willow Pattern, Delftware and Toiles de Jouy
by Helena Turvey
This book is also old, so you can get it used very inexpensively on Amazon. It includes cross stitch patterns to make a Blue Willow accessory bag, pillow, café curtains and more.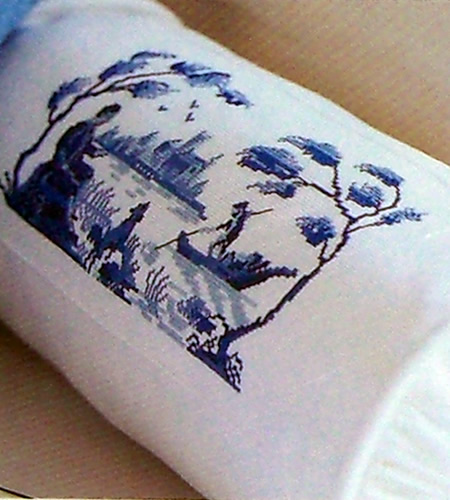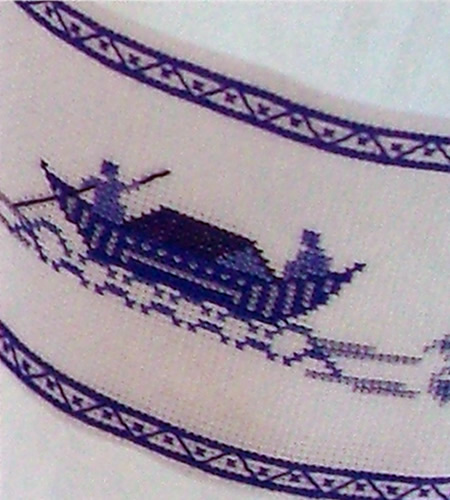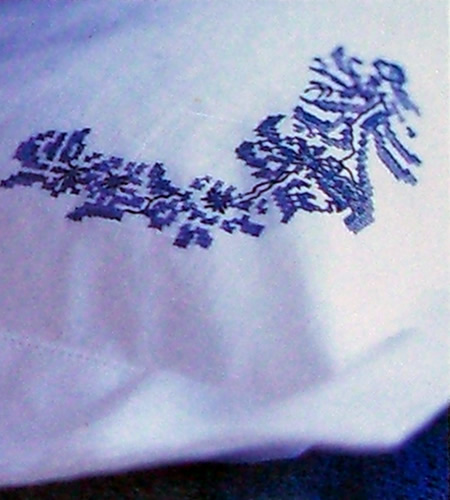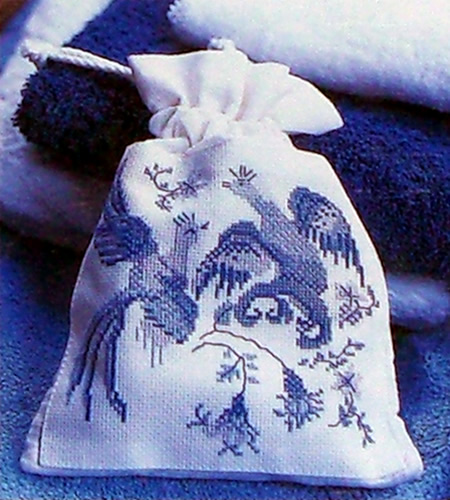 Cross Stitch Kits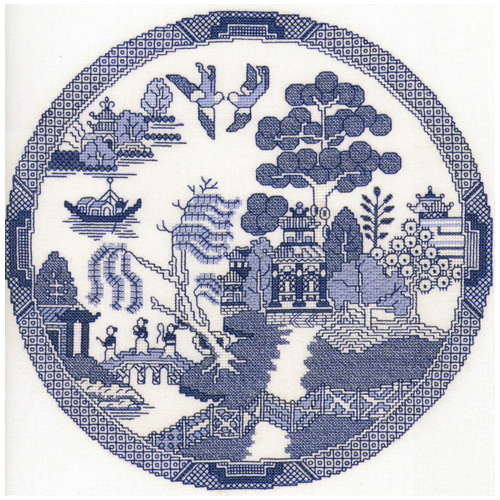 Heritage Crafts Blue Willow Pattern Cross Stitch Kit
This kit comes complete with fabric, stranded cotton thread, needle, chart and instructions. The completed project is nearly 12" across.
If you know what you are doing, you can order just the chart and instructions. It uses only two colors of floss.
The Nutmeg Company Blue Willow 3D Cross Stitch Kits
The Nutmeg Company makes three dimensional cross stitch design kits. They have kits for little miniature houses, trinket boxes and greeting cards.
Blue Willow Cross Stitch Trinket Boxes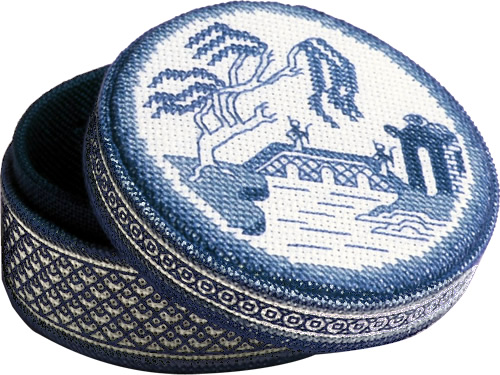 There are two kits for little boxes. One shows the bridge and the other the pagoda.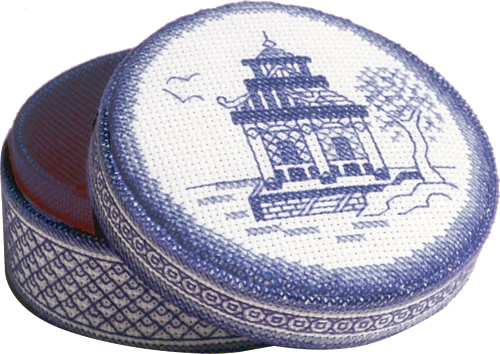 Blue Willow Pagoda 3D Cross Stitch Card Kit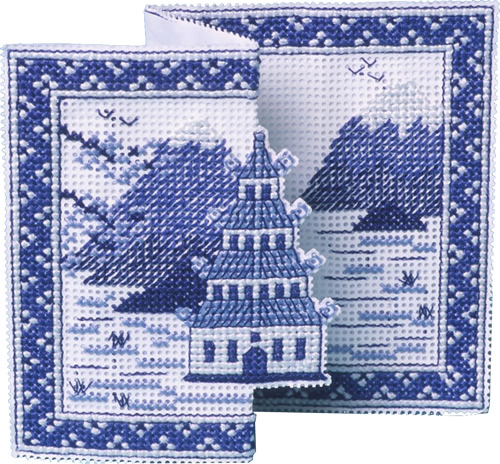 The 3D cross stitch kit card has the pagoda from the Blue Willow pattern.  It is 4 1/2″ high.
Blue Pagoda 3D Cross Stitch Card Kit from The Nutmeg Company

The card, when completed, is cut-out and can be stood up to create a three-dimensional effect, one that requires no further construction.

Kit Contains: Stitching paper, needle, thread, backing paper, envelope, chart, instructions.
Blue Willow Miniature House Fridge Magnet Cross Stitch Kit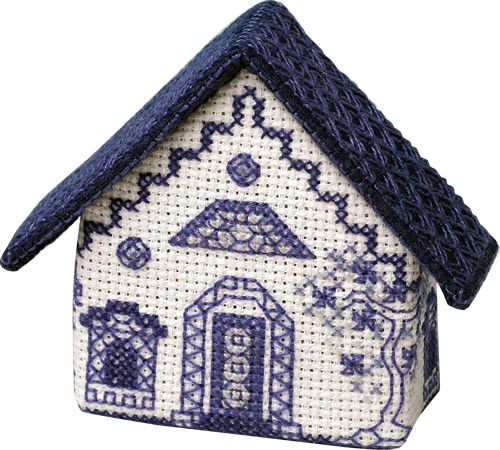 This kit makes a little house with the Blue Willow stylized tree. The little house is a little under 2 1/2″. There are other little house kits to make and collect.