Blue and White Chinoiserie Porcelain Sinks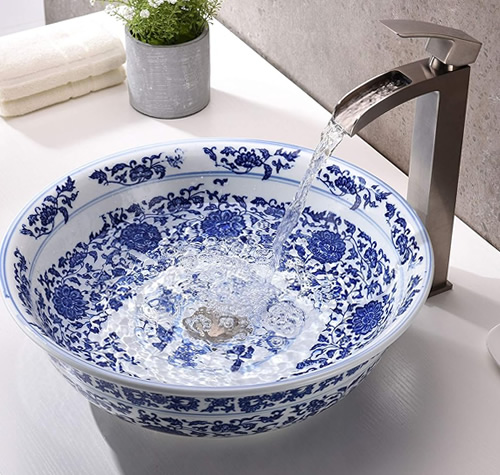 I'm sure you've seen vessel sinks, but have you seen them made of blue and white Chinoiserie porcelain?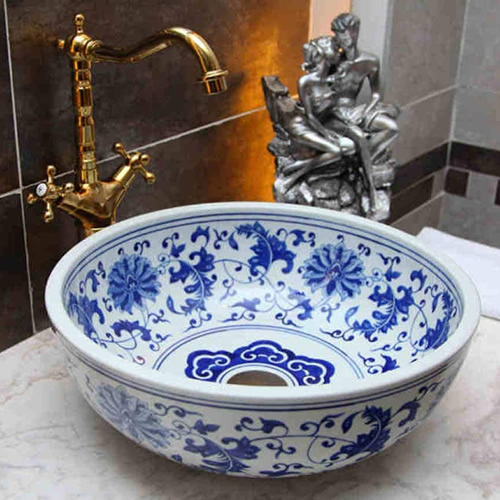 A vessel sink sits above surface of the counter. It is higher than the counter-top. Some are partially recessed in a hole, which allows the basin to have some support. Others rest solely on the top of the counter.
They look great and add some extra space on your countertop. The higher sides may help to keep the water in the bowl.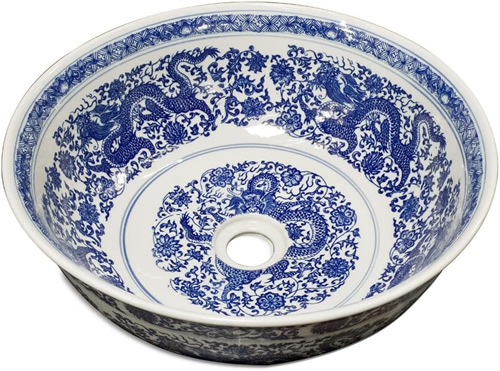 They are basically a bowl with a drain-sized hole. I've usually seen them made of glass, but I've seen stone or wood, too. These blue and white porcelain sinks really elevate your Chinoiserie collection to a new level!
Isn't this chinoiserie style blue and white motif with hand painted dragons wonderful?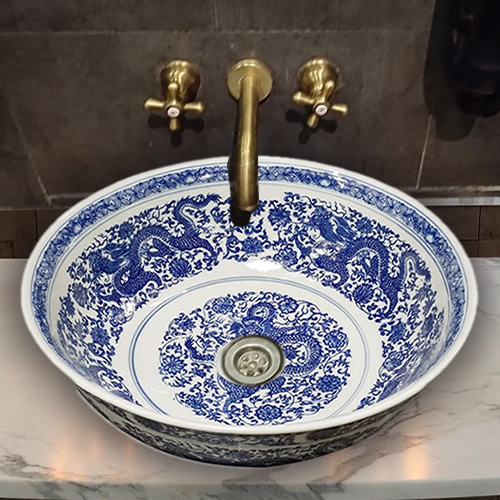 The taps can come from the wall or the countertop.  You can use a pop-up drain or a grid drain. Just remember that vessel sinks don't have an overflow.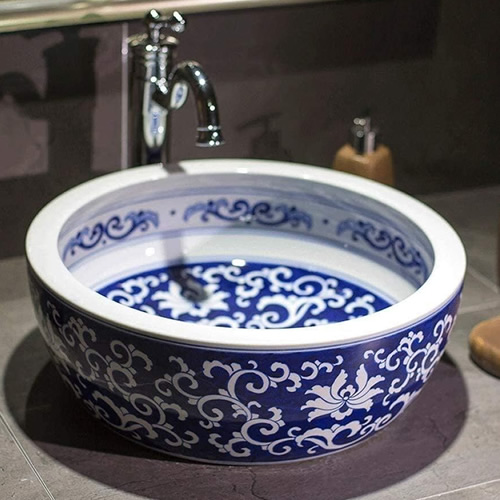 As long as it is high enough to reach over the side of the bowl, any tap will work. Or you can recess the sink to fit.
A vessel sink doesn't have to be installed in a bathroom counter. You can use any kind of furniture that has a surface at a height that will work. Just be sure to finish the surface to withstand water. If it is not perfectly smooth, they make rings to support and level the basin. Or just a bead of silicone may be enough to level and fasten the sink.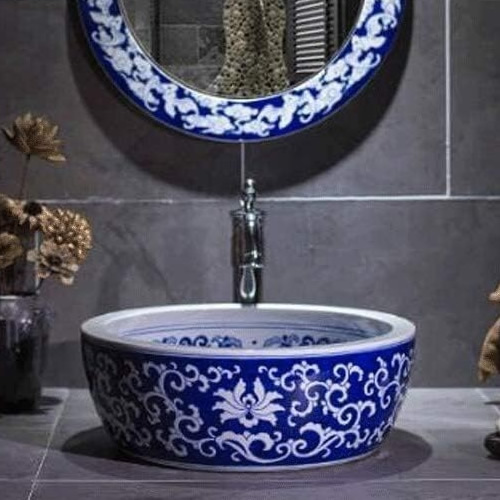 Don't forget that vessel sinks do not have an overflow drain.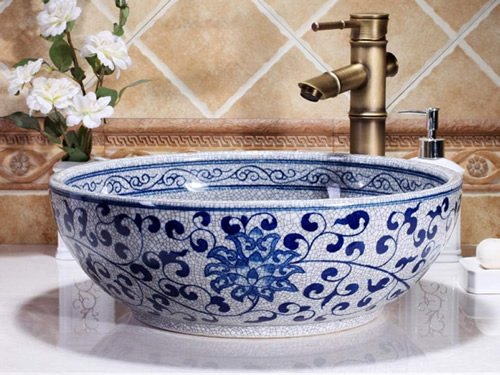 Vessel sinks are easy to install. There are a lot of YouTube videos to walk you through it. If you already have a vessel sink, they are even easier to  swap out.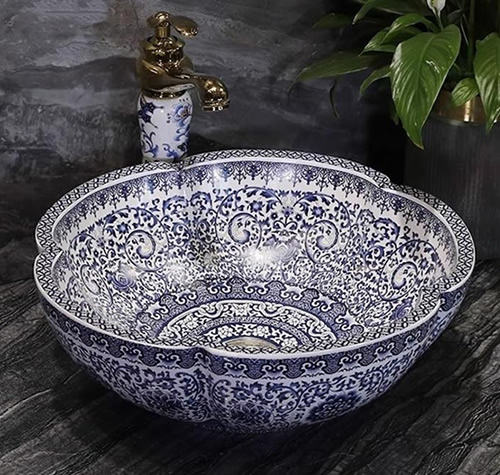 There are a lot of choices. Some may just look like bowls with a hole drilled in them, but they are actually molded to be sinks. The hole isn't an afterthought. It's made that way. The porcelain is thicker, too.
If the sink isn't flat on the bottom or if you are installing the sink onto a surface that isn't perfectly smooth and level, you can use a mounting ring,  between the countertop and the vessel sink.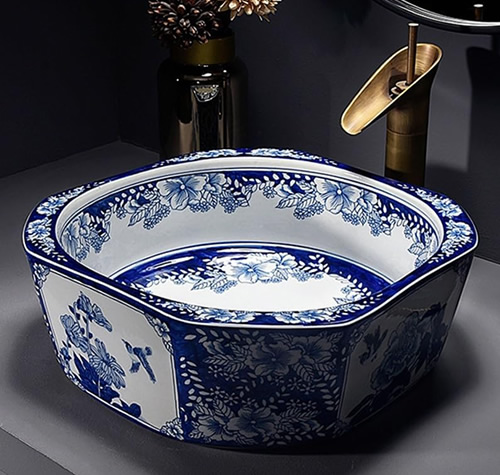 This vessel sink is hollow pour molded ceramic. It is stable and has a beautiful pattern of flowers and birds in blue on the white porcelain.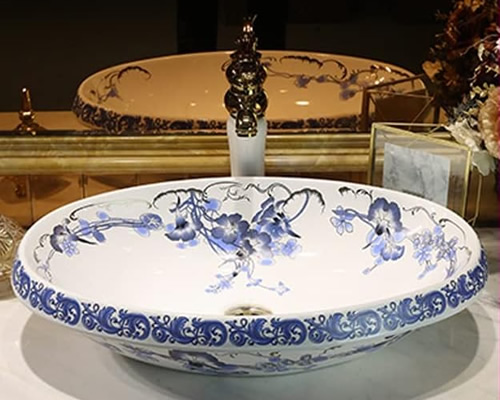 This oval sink is also heavier hollow molded ceramic porcelain.
You can install a vessel sink on even a narrow ledge, anything wide enough to accommodate the bottom of the sink and the drain assembly.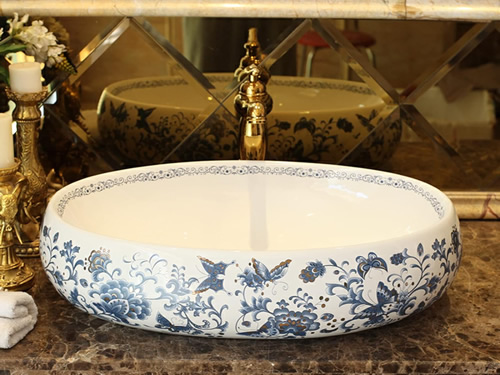 There are many many options to choose from. It's hard to choose a favorite.