Traditional Chinese Vases and Other Vessels – Part 3
If you are trying to identify Chinese porcelain, these photos will help. This is not a comprehensive list. There are more shapes and many shapes have variations. But, if you love Chinese porcelain and love knowing the names of things, you will enjoy browsing through these photos and descriptions.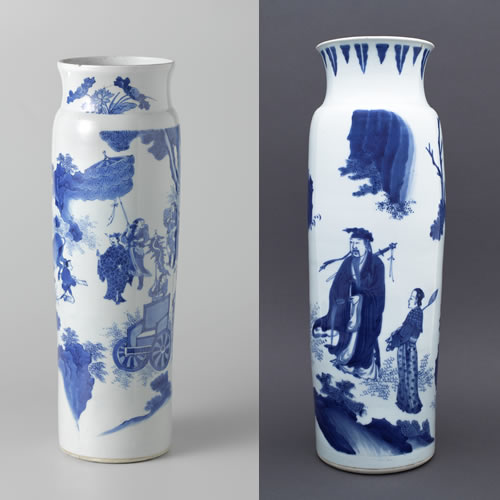 Xiangtuiping, Tonging, Sleeve Vase, Rolwagen Vase
Xiangtuiping was created between the late Ming dynasty and the early Qing dynasty, an era which is commonly defined as a transitional period in porcelain production. Xiangtuiping, meaning "Elephant-Foot" Vase, is also known as Tongping, or "Sleeve Vase," and "Rolwagen," a Dutch name coined when the vase was imported to Holland. The vase is characterized by a short, waisted neck and tall, straight sides.

The Origins and Evolution of Chinese Ceramic Shapes, Sothebys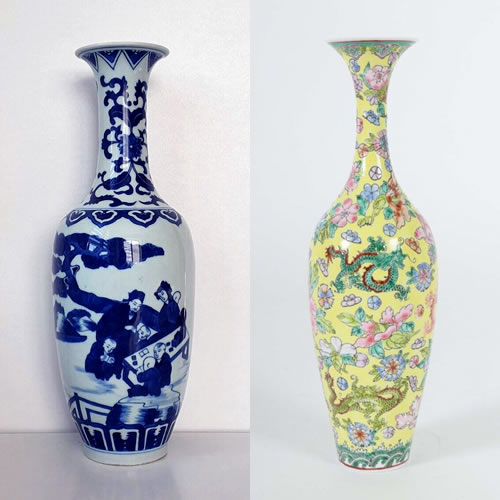 Liuye Ping, Willow Leaf Vase
The present vase is known as a liuye ping, 'willow-leaf vase', owing to its elegant form which resembles that of a willow leaf. It is also known as Guanyin ping as its shape compares well to the libation vase said to contain ambrosia held by many figures of Guanyin as depicted in paintings and Buddhist sculptures.

Christie's Auction of Willow Leaf Vase
Partial description of a Willow Leaf Vase auctioned from Christie's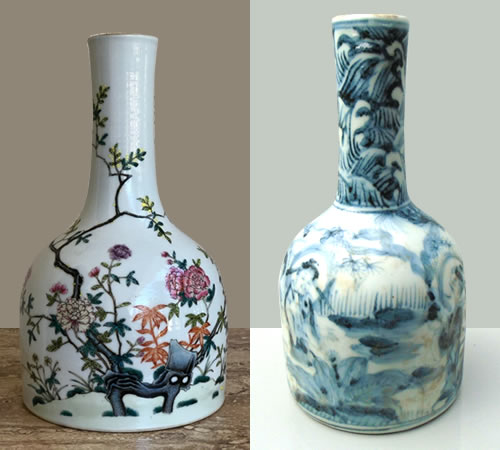 Yaolingzun, Mallet-Shaped Vase
The mallet vase is a shape that came from Iran and Egypt glass ware, entering China in the 11th century. In China, the Ru ware mallet vase was done in porcelain, it resembles a hand bell or mallet. With a flared mouth, a slender neck with narrow fillet collaring base, rounded shoulders and a slightly splayed foot.

A Guide To Chinese Antique Vase Shapes
Irv Graham Chinese Antique Appraisals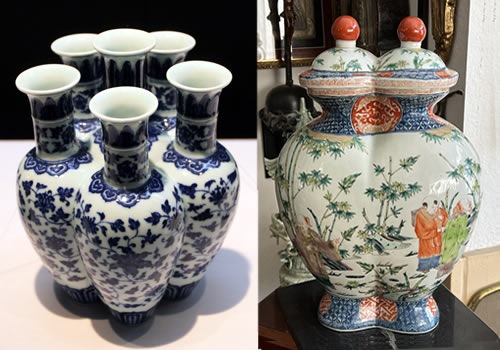 Shuang Lian Ping, Double Vase, Conjoined Vase
A lot essay from Christie's on a very similar to the six-link conjoined vase at the Fujian Museum gives this information;
Multi-spouted vases come in a variety of combinations, ranging from double vases to those with seven spouts or more, with the shapes of the vases varying considerably. The shape of the present vase is sometimes known as Guanyin ping, a name derived from the amphora often depicted held in the hands of Guanyin sculptural figures.

A Rare Blue and White Conjoined Vase, Possibly of Quianlong Period
(1736-1795), Christie's Auction
The vase on the right is a more common version. The Shanghai Daily newspaper had this explanation of a similar conjoined porcelain vase;
Shuang lian ping was a popular conjoined-vase design during Emperor Qianlong's reign in the Qing Dynasty (1644-1911).

The design was inspired by the conjoined pottery used in the Neolithic Age.

These vases usually look like two fish joined together, conveying the traditional Chinese wishes for happiness, harmony and love. These vases are sometimes referred to as he huan ping (double-happiness vase) or shuang yu ping (double-fish vase).

Vase Shows Royal Style
Zhao Dan, Shanghai Daily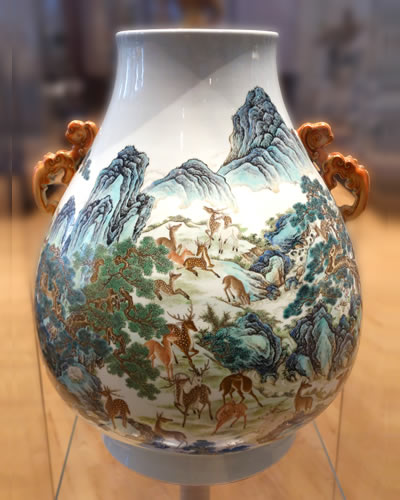 Bailuzun, Niutouzun, Hundred Deer Vase
A nearly identical vase is owned by the NY Met Museum.
Vase with "One Hundred Deer" Motif
China, 18th century

Deer were considered supernatural creatures in premodern China, and they appear frequently in scenes of immortals and magical lands. Here, one hundred deer cavort in a magical landscape of towering pines. This imposing vase carries a second layer of meaning thanks to wordplay: the term for "one hundred deer," bai lu (百鹿), is a homonym for bailu (百祿), the economic, cultural, and social benefits that could accrue during the course of an official career. The theme can thus be read as a wish to attain a position in government.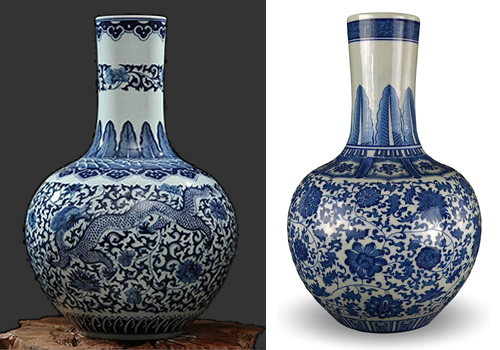 Tiangiuping, Globular Vase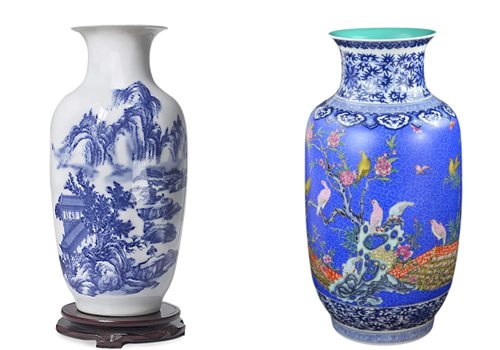 Bangchuiping, Rouleau Vase
Bangchuiping literally means "wooden club," named for its cylindrical body, flat shoulders, and high neck, which imitate the form of a club with a handle. French scholars termed this vase "Rouleau," which places emphasis on its tall, roll-form body.

The Origins and Evolution of Chinese Ceramic Shapes, Sothebys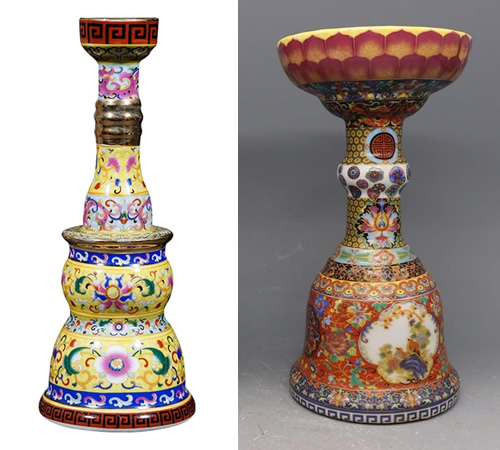 Candlesticks
Chinese candle holders made in porcelain are available in a lot of styles. The ones with a wide pan to catch any drips make a really interesting addition to a collection of blue and white.
…ceramic versions remained rare until the Ming dynasty (1368-1644), and by the Yongle period (r. 1403-1424), porcelain candlesticks based on the Middle Eastern metal versions were in use.

Qing porcelain candlesticks have a bell-shaped base, a deep wide pan in the middle, and a tapered neck with a smaller dish for holding the handle.

The Origins and Evolution of Chinese Ceramic Shapes, Sothebys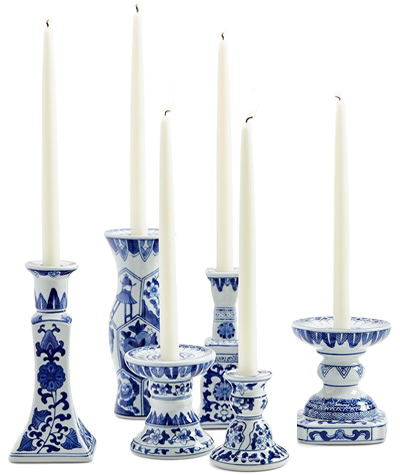 You can buy modern versions of the different shapes that have been available over the centuries.