Table Lamps for Your Porch
Just as the weather cools down and we want to spend more time on the porch, the days get shorter and it's too dark.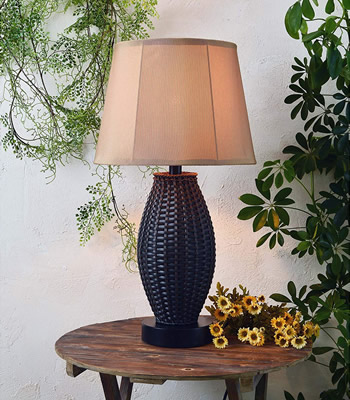 If you haven't already, now is the time to add comfortable lighting to your outdoor living space.
Wall lighting is fine for safety. And ceiling lights or lighted fans can give good overall lighting.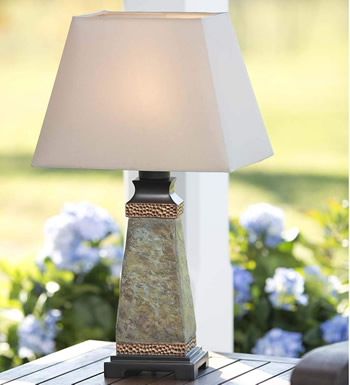 But, a table lamp or floor lamp will create a real outdoor living room. Really, when is the last time you relaxed with an overhead light on?
Don't just move an indoor lamp onto the porch. Outdoor lamps are designed differently. Your indoor rated lamp will fall apart and may even create a fire hazard. A table or floor lamp rated for damp or wet location will stand up to the elements.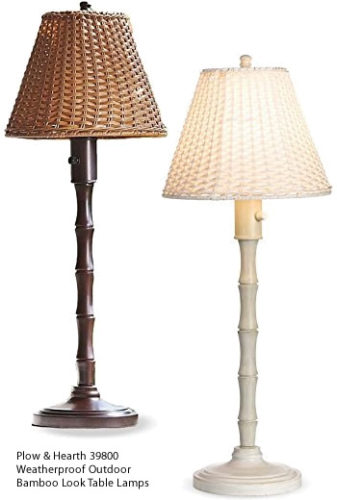 A good quality porch lamp will have a completely weatherproof shade. The shade won't deteriorate even when it gets damp or wet.
Unlike a lamp UL rated for dry locations, a porch lamp has an outdoor-grade plug, cord and switch.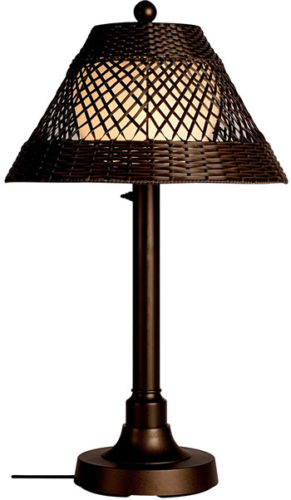 Some wet location table and floor lamps require a wet location bulb. But, many have a weatherproof light bulb enclosure, so you can safely use any kind of bulb.
Things to keep in mind.
Where is your outlet?
If it is not ideally placed, choose a lamp with a longer cord. Many damp and wet location rated table lamps come with longer cords.

Kenroy Home 33154ORB Harbour Outdoor Table Lamp

Kenroy Home 33154ORB Harbour Outdoor Table Lamp has a 10′ cord that makes it easy to place anywhere.
Does your porch get wind?
Even if it's only occasionally, choose an outdoor lamp with a heavy weighted base for stability.

Patio Living Concepts 53917 Phoenix Outdoor Table Lamp has a heavy weighted base.

Patio Living Concepts 53917 Phoenix Outdoor Table Lamp features all resin construction with a heavy weighted antiqued copper and brushed pewter base with carbon black accents with black canvas. The Sunbrella shade cover is weatherproof. The 16 foot weatherproof cord ends in an all-weather plug. A waterproof light bulb enclosure allows you to use any standard lightbulb. This lamp has two dimming levels to create the atmosphere you want on your porch.
Whether your outdoor space is a porch, deck, patio or gazebo, light it up up with a waterproof outdoor lamp that stands up to the elements.
If you choose a lamp rated for your conditions, you can continue to enjoy your outdoor living without worry as the weather cools down.