Make It Personal with Justice Design Group
Have you looked and looked for the exact finish, color or glass?
Justice Design Group allows you to customize your chandelier or other lighting to get exactly the look you like.
Color News: Make It Personal
If you believe there's no such thing as too much matchy-matchy, you're in luck. Brands are now letting you customize products any way you like, so you can replicate the exact hue of that Prussian blue Volvo you drove in college or the cherry blossoms outside your kitchen window. Perfectionists, rejoice.

House Beautiful, April 2016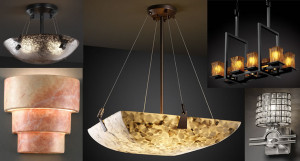 Justice Design Group makes indoor or outdoor wall sconces and pendants in up to 30 hand-painted finishes, as well as unfinished ceramic bisque (BIS) which is paintable. Choose from many shade colors and materials, finial options and more.
Justice Design Group
Alabaster Rocks!
Mosaic of Real Alabaster Rocks
CandleAria Collections
The Rich Golden Glow of Candles
Ceramic Collections
Indoor or Outdoor, Bisque or Glazed
Clouds Collections
Composition in Neutral Colors – The Look of Natural Alabaster
Fusion Collections
Artisan Glass Shades
Limoges Collections
Translucent Porcelain Shades
Lumenaria Collections
Faux Alabaster Shades
Porcelina Collections
Faux Porcelain Shades
Veneto Luce Collections
Handmade Venetian Glass Shades
Wire Glass Collections
Wire Cage with Blown Glass
More Alabaster, Faux Alabaster & Natural Stone Lighting