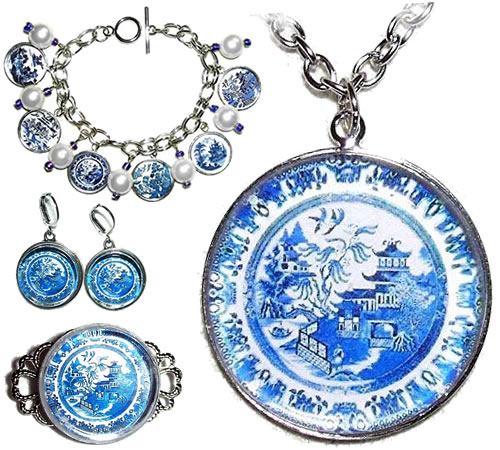 Art Jewelry For You makes silver plate jewelry with Blue Willow motifs.
Did you know that you can buy handmade jewelry straight from the artist on Amazon?
Amazon has a separate Artisan Application for artists to sell their handcrafted products.
Handmade: Unique products crafted by Makers around the world.

At Amazon, we obsess over customers and their desire for a trusted destination for handcrafted goods, which is what prompted us to start Handmade. Artisans from over 80 countries are following their passion and selling their craft on Amazon. Together, we are growing craft communities and successful businesses.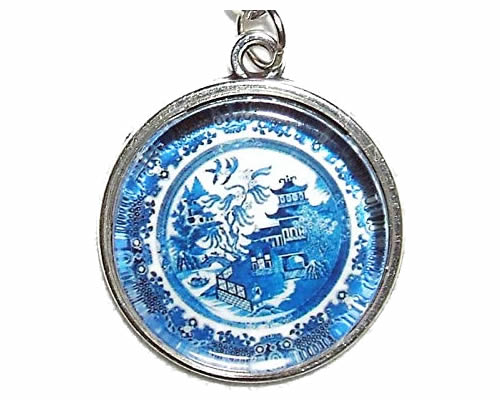 One artist I follow lists under the name Art Jewelry For You. They make jewelry with an image of a tiny Blue Willow plate. The image is perfect, just exactly like my Blue Willow china.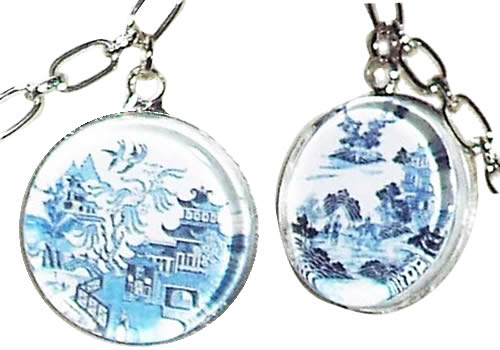 The image of the plate or other Blue Willow motif is affixed to a silver plate disk and layered with protective glaze. Then a clear glass cabochon is put over it. The rest of the jewelry metal parts are also silver plate.
Art Jewelry For You Amazon Store >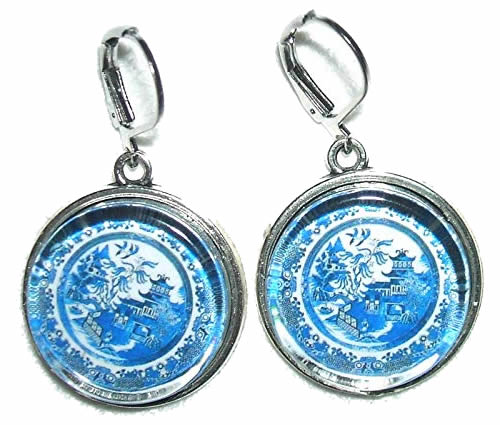 Blue Willow Earrings
Art Jewelry For You uses a lever back clasp instead of just a fish hook like a lot of other handmade earrings. I like that they latch, so you won't lose an earring.
Blue Willow Leverback Earrings

These beautiful earrings feature an image of a vintage Blue Willow plate. I sealed the image with a special protective glaze and a thick glass dome cover. The earrings are 7/8″ long and on silver plated lever backs.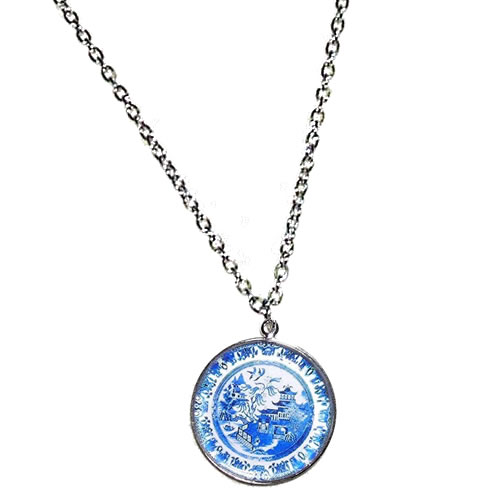 Blue Willow Necklaces
Art Jewelry For You makes three variations of Blue Willow necklaces. The Blue Willow Pendant hangs from a silver plated chain. The choker has a ring on each side, to hold the plate in the center.
But my favorite is the charm necklace. It combines the blue glass beads, white pearl beads with little Blue Willow plates charms and charms with other Blue Willow motifs; the mountains, birds, fence, lovers, river, and pagoda.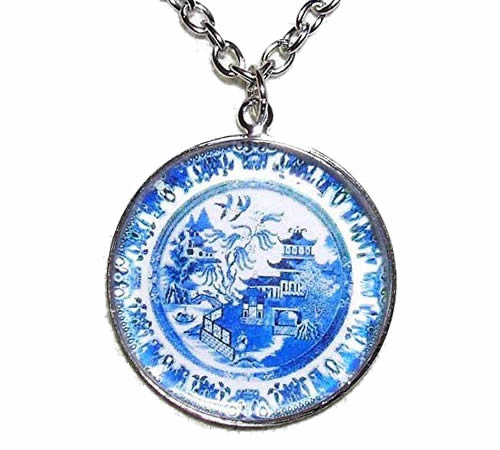 Blue Willow Pendant Necklace

This wonderful necklace features a highly detailed image of a vintage Blue Willow plate. I sealed the image with several layers of a protective glaze and added a thick glass cover. The pendant is 1″ and the silver plated chain is 24″ long.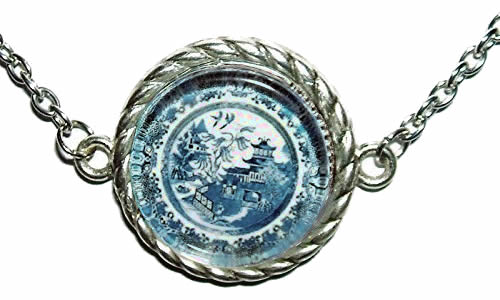 Blue Willow Plate Choker Necklace


This fabulous necklace features a 1″ center art design image. The image has been sealed with a specialized glaze and covered with thick glass. The Silver plated chain is a choker or collar length of 16″.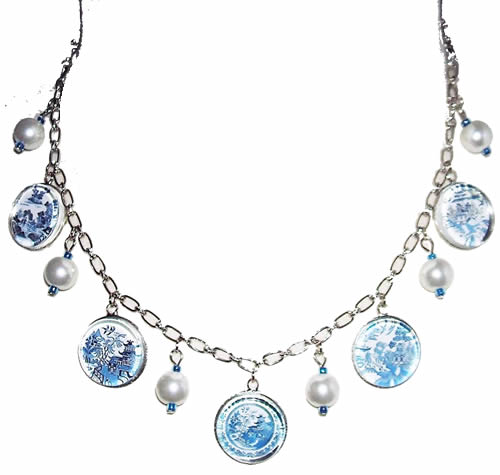 Blue Willow Charm Necklace

This fabulous necklace is perfect for anyone who loves the look of charm bracelets, but prefers to wear necklaces! The Silver plated necklace will adjust to fit from 16″-20″. Just clip the clasp anywhere on the chain to get the length and fit you like! Each image charm has been sealed with a specialized glaze and covered with glass. This is the style of jewelry that really gets noticed!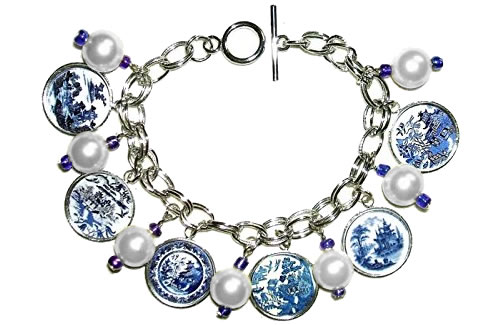 Blue Willow Bracelets
Art Jewelry For You makes a Blue Willow charm bracelet like the necklace. It also has blue glass beads and white pearl beads suspended from a silver plated chain with Blue Willow plates charms and charms with little pictures from the Blue Willow pattern like the birds and the pagoda.
Blue Willow Charm Bracelet

This wonderful altered art charm bracelet features some great images of blue willow plate patterns! I sealed the images with a protective glaze. I also added a clear strong covering to protect the images even more. For accents I used glass pearl beads that perfectly compliment the images! This double link silver plated bracelet is 8″ long including the secure toggle clasp.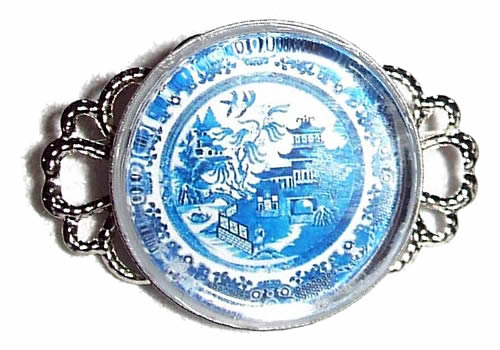 Blue Willow Brooches or Pins
I was given a small brooch as a gift. I really didn't think it would be something I would use, but I end up wearing it all the time. For stupid practical reasons. When the "if button" is really just wrong, use a brooch to fasten where you want. If the lapel on something wants to stick up, weigh it down with a little brooch. Scarf wants to slip around? Pin it with a brooch.
Blue Willow Brooch Pin

This new beautiful new glass covered Blue Willow plate pattern brooch/pin is 7/8″ x 1 1/4″

This is a very beautiful brooch… unlike anything found in department stores! If you love truly unique jewelry with a vintage style design then you will love this!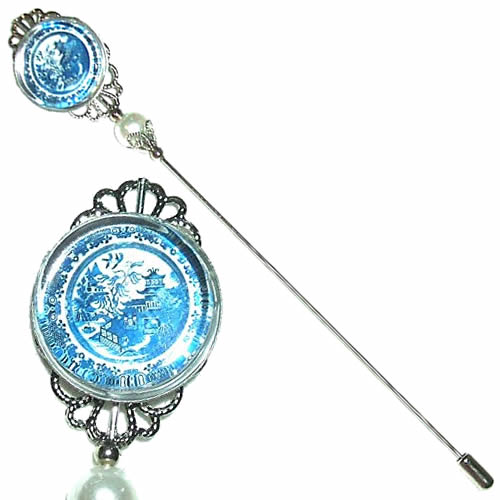 Blue Willow Hat Pin
I am not a hat person. But some of my very Hyacinth Bucket friends are. The same friends that also collect Blue Willow. (Unless you are simply a very nervous Elizabeth Warden, just go with it. Hyacinth Bucket makes everything an event. Yes, you can pack 25 couples in evening dress into a small house for a cocktail party. Lighten up and have fun!)
Long Victorian Blue Willow Hat Pin

Hatpins were functional and necessary many years ago when a Hat was worn for almost every occasion. The long pins were used to keep the Hat in place by sliding the pin thru the Hat and a section of the hair. They can be worn as a Hat Pin, or as a long stick pin on a coat, sweater, blazer or jacket. Ornament details: 2 3/8″ including a detailed illustration of a Blue Willow Plate cabochon covered with a thick glass dome and pearlized glass bead accent.
Length: 6″ from end to end with a protective clutch on the end of the sharp point Metal: Silver plated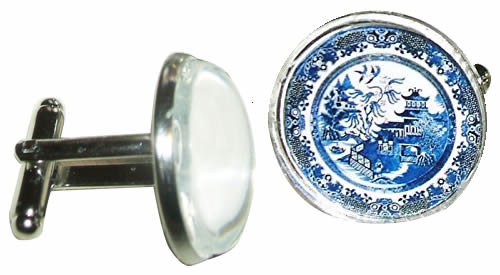 Blue Willow Cuff Links
This photo shows better how the glass cabochon looks.
Blue Willow Cuff Links

These 7/8″ round cufflinks feature a fabulous and detailed image. The image is sealed with a special glass and covered with a thick glass dome. The cufflinks are silver plated and make wonderful gifts for yourself or someone special!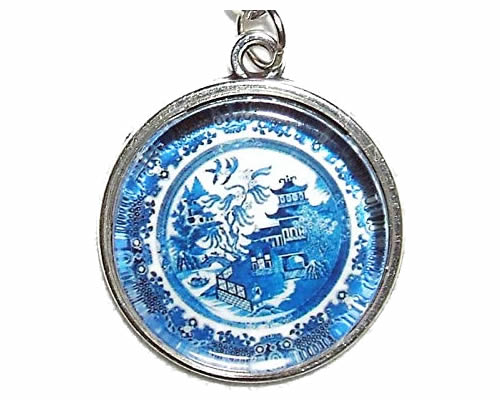 Blue Willow Plate Charms
You can buy the Blue Willow plate charm all by itself to add to your own charm bracelet or create your own jewelry with.
Blue Willow Plate Charm

This Single Charm Pendant is ready for you to use in your own fabulous Jewelry creations!

The 7/8″ charm/pendant features a clear and detailed image with a thick glass dome cover. It has a 1/4″ round jump ring at the top that can be used to attach to a bracelet, or as a loop to put a necklace chain thru.