Blue Sky Clayworks and Heather Goldminc Octopus Ceramics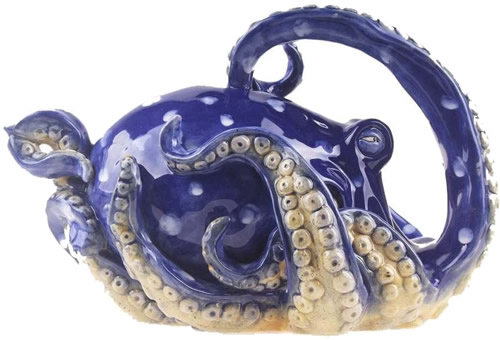 Blue Sky Clayworks has teapots, salt and pepper shakers butter dishes and cookie jars. They are made of durable ceramics. They are not just for display. You can really use these.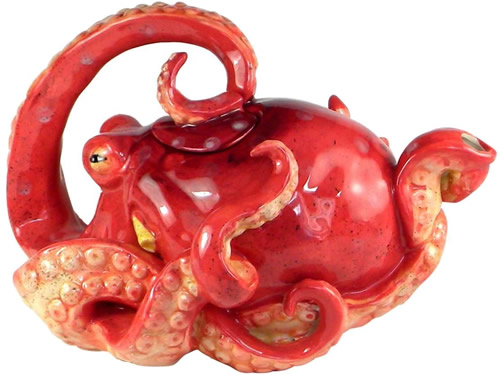 Octopus Teapot
This teapot is absolutely wonderful. It is shaped like an octopus with a tentacle as the spout and another for the handle.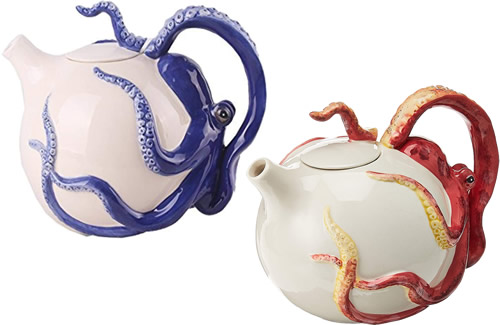 Octopus Wrapped Teapot
This one is nearly as cool. It is available with a blue or red octopus wrapped around a fat white teapot.
Measures 8.5" x 6.5" x 6.5″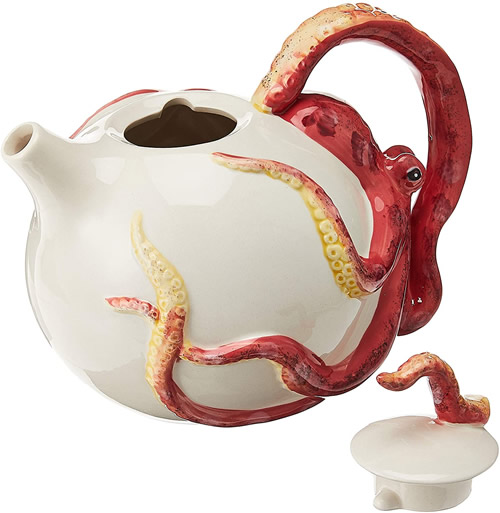 A tentacle makes the handle. Another tentacle ends on the lid to create a handle.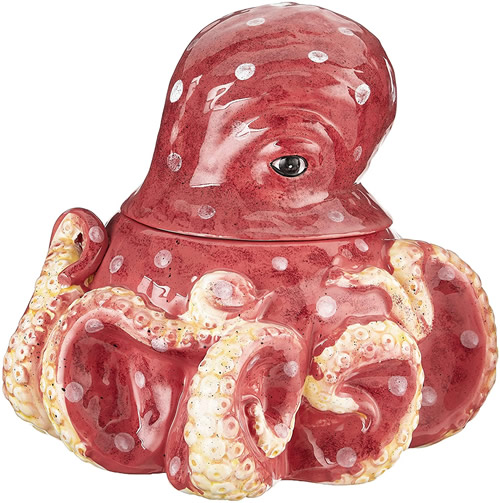 Red Octopus Cookie Jar
Measures 12.5" x 12.5" x 10″
The cookie jar is a detailed fat octopus. The top of the octopus lifts off.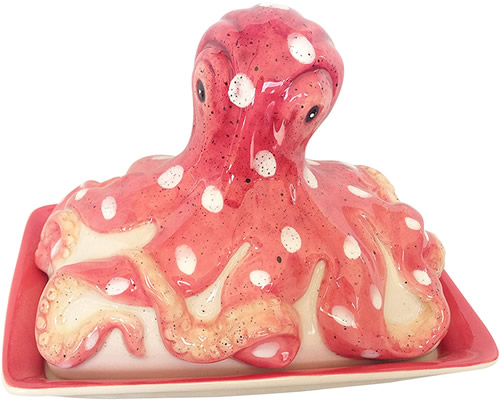 Octopus Butter Dish
Measures 6.75" x 4.75" x 5″
A spotted octopus is the lid of the little butter dish.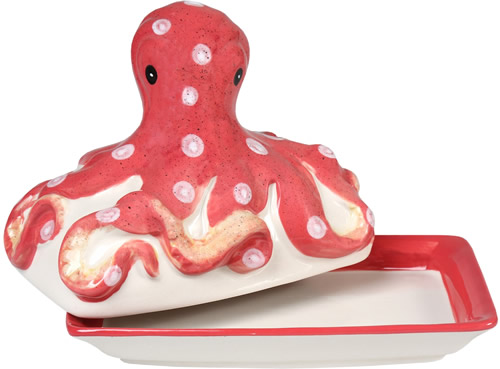 The dish has a band around the edge the same color as the octopus on the lid.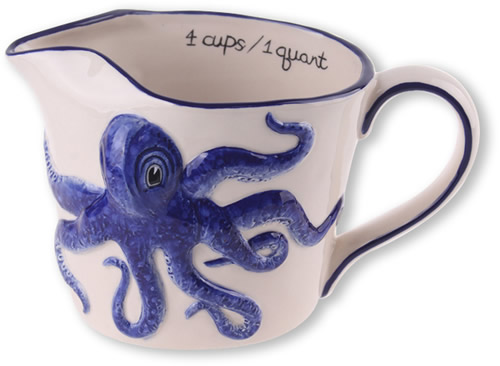 Blue Sky Clayworks Octopus Measuring Cup
The measuring cup has a whimsical octopus.
Measures 8" x 5.25" x 5″
Holds 4 cups/1 quart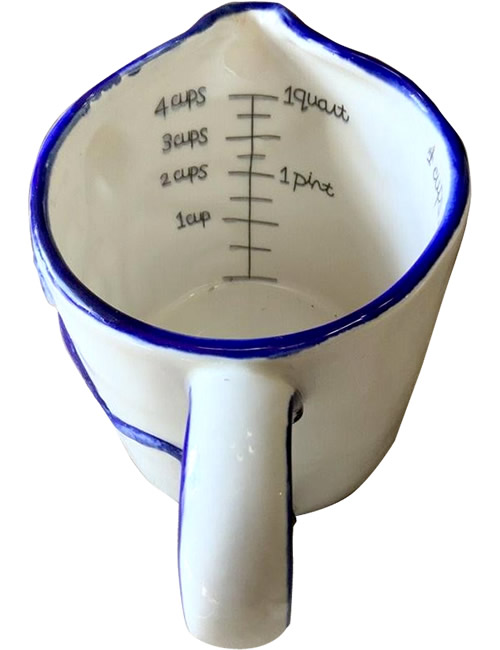 It is marked on the inside with cups, pints and a quart.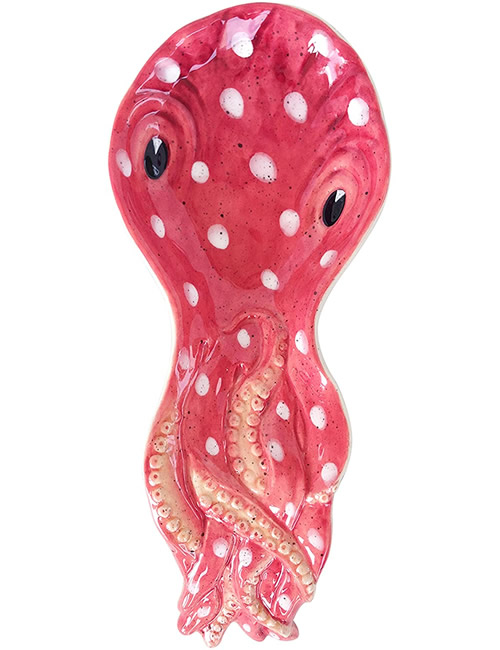 Octopus Spoon Rest
The spoon rest is a cute spotted octopus.
Measures 9.75" x 4" x 1.5″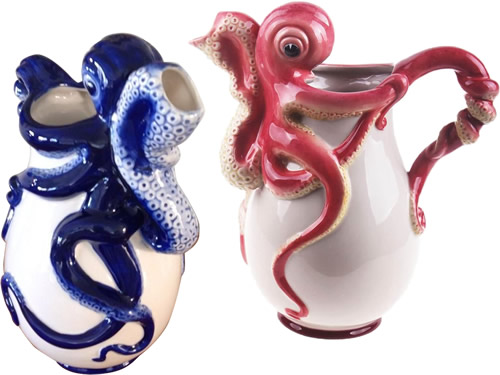 Octopus Pitchers
The octopus pitchers also come in blue or red with a tentacle for the spout and a winding tentacle handle..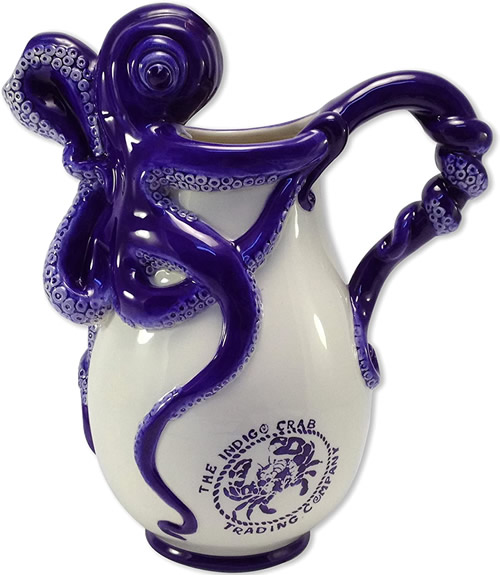 I don't know if they come badged with The Indigo Crab Trading Company. I googled it. I can't find it, but I found Indigo Blue Trading Company and Blue Crab Trading Company. I don't know.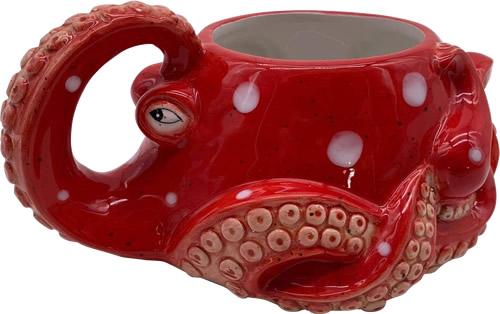 Red Octopus Planter
The octopus planter can be used outside.
Measures 8.27″ x 4.02″ x 3.66″
Can be used indoors or outdoors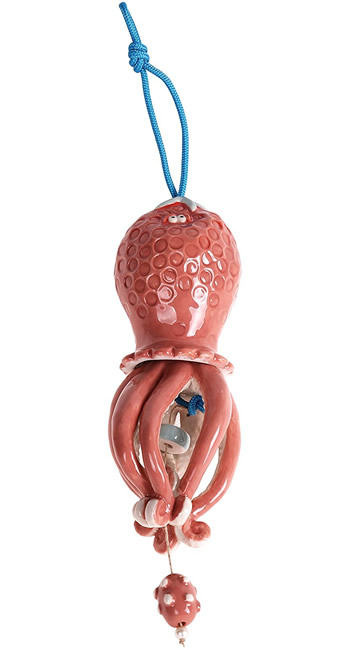 Blue Sky Clayworks Octopus Wind Chimes
Measures 5″ wide x 10″ high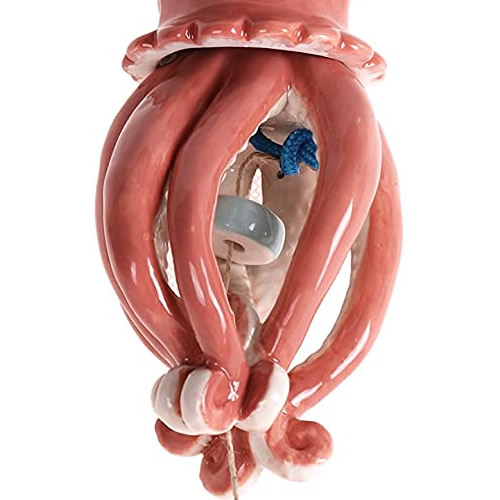 There is a ceramic bead that swings within the octopus legs to chime.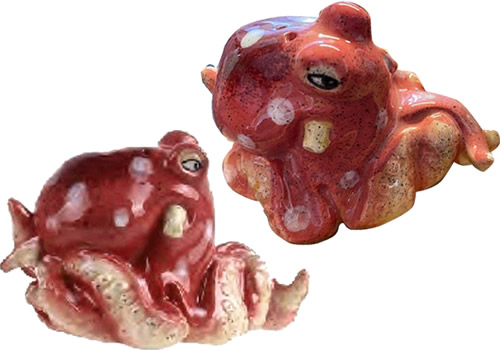 Blue Sky Clayworks Octopus Salt and Pepper Shakers
Little octopi resting on their tentacles make salt and pepper shakers.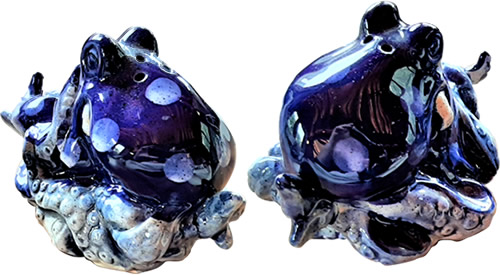 Heather Goldminc & Blue Sky Clayworks
Ceramic artist Heather Goldminc has been designing whimsical pieces for Blue Sky Clayworks for over 20 years. She works from her home and studio on the west coast of Canada.
You can fine retired pieces on eBay.
Heather Goldminc Octopus on eBay >
Blue Sky Clayworks Octopus on eBay >
Heather Goldminc is one of the most collected clay artists in North America. She lives and works on Vancouver Island, Canada and her pieces are highly sought after. Her work has been featured in Costco's around the globe and she has created pieces for major companies such as Disney, Celestial Seasonings, Epcot Centre, Cracker Barrel, Home Goods – and your home!
You can find Clayworks Collectables and Heather Goldminc's original pieces handmade in her studio on Vancouver Island on her website, Heather Goldminc Clayworks Studio.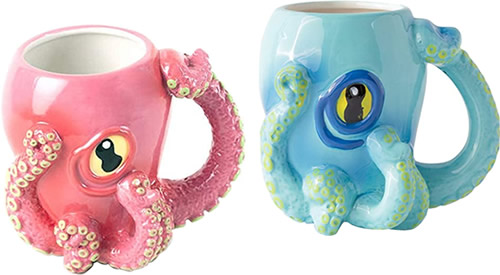 These adorable coffee mugs look similar to Heather Goldminc's ceramics, but they have a little different style.
Pene­lope Gar­cia in Crim­i­nal Minds has this mug in pink. Watch for it on episode 4 of season 12.